Housing Bubble Bursts, Subprime Loans Implode, Recession Coming - Buy the YEN!
Currencies
/
Japanese Yen
Jan 19, 2008 - 04:58 PM GMT


Jack Crooks writes: I wish I had a dollar, or maybe a euro, for every time an analyst equated the current subprime mortgage crisis to the Asian financial crisis, and every time the housing bubble was likened to the tech bubble.
With the "R" word threatening in 2008, analysts and economists find themselves turning to earlier events for guidance.
I plead guilty to making these very same comparisons, and I'm going to do it again today. Specifically, I want to tell you why volatility is returning to the markets and why that's great news for the Japanese yen ...
History Is Repeating Itself, So Listen Up!
Recession reared its ugly head in 1987 and the pain lasted until 1990. You know what happened in the interim? The currency markets went crazy!
Things calmed down until 1998, when the Asian Financial Crisis set in. The result: You guessed it ... a spike in volatility among the world's major currencies (as measured by the JPMorgan G7 volatility index).
Even though volatility quickly came down from that peak, it remained relatively high as the years following the crisis wore on.
Finally, around the beginning of the new century, things were calming down. Until, that is, the overly-inflated technology bubble burst, sending the economy into another recession.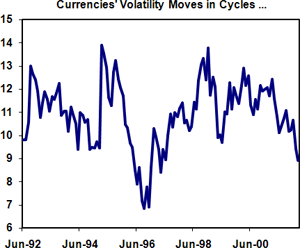 End result: Foreign exchange volatility surged yet again!
It wasn't until after investors accepted the failure of many dotcoms that volatility finally began to wane. As the recession faded, so did unpredictability in the currency markets.
I'm sure you see my point: Volatility in the currency markets follows a fairly predictable pattern. When crisis strikes or recession sets in, the currency markets turn erratic.
And right now, there are plenty of reasons for the cycle to start all over again ...
Housing Bubble Bursts, Subprime Loans Implode, Recession Coming!
One year ago, the JPMorgan G7 volatility index was at a record low. Sure, the housing bubble had already begun deflating, but the subprime meltdown had yet to wreak havoc on the financial markets and recession was a very distant threat.
Conditions were calm and predictable — borrowing rates were low and global markets were rising as far as the eye could see.
It was an ideal environment for the carry trade, borrowing on the cheap and investing in high-yield plays.
Traders didn't have to do very much to make serious profits. They just borrowed cheap money from places like Japan, where interest rates were low and exchange rates were fairly stable.
Then, they plowed it into pretty much anything else that struck their fancy. It was a golden ticket to easy profits.
But Now, Things Have Gotten Risky Again!
In December, volatility spiked to levels not seen in more than nine years.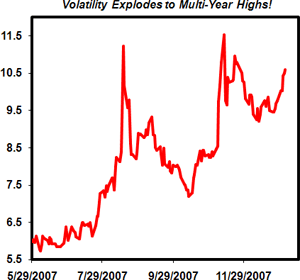 At the same time, the Japanese yen has experienced a substantial rally versus most other major currencies.
Reason: Volatility is anathema to the carry trade. And the yen is a traditional safe haven for traders.
Traders can no longer sit back and rake in returns from yield differentials or the difference in various interest rates.
Prices are moving all over the place. The carry trade is no longer a one-way trip down easy street. In order to be successful, traders need to switch their bets.
So, they're doing the same thing they did during recession in the late 80s ... the Asian Financial Crisis in the late 90s ... and the dotcom bubble eight years ago ...
Traders are turning to the Japanese yen to save their bacon!
Yen Is Poised to Rally Further as Risk Rises
Think of it this way: If you borrowed cheap money to buy something else, but that something else started falling in price you'd want to cut your losses and pay off the loans, right?
Well, that's precisely what's happening now. Investors and institutions inside and outside of Japan are pulling away from risk and repaying their yen loans.
Plus, a growing number of traders are also buying up the yen for pure speculative purposes because they know that the yen will rally against the U.S. dollar and higher-yielding currencies.
Historically, this directional shift is the way market bottoms are often made. And while there are no sure bets, I sure think the Japanese yen has plenty of upside ahead of it.
Best wishes,
Jack
This investment news is brought to you by Money and Markets . Money and Markets is a free daily investment newsletter from Martin D. Weiss and Weiss Research analysts offering the latest investing news and financial insights for the stock market, including tips and advice on investing in gold, energy and oil. Dr. Weiss is a leader in the fields of investing, interest rates, financial safety and economic forecasting. To view archives or subscribe, visit http://www.moneyandmarkets.com .
© 2005-2019 http://www.MarketOracle.co.uk - The Market Oracle is a FREE Daily Financial Markets Analysis & Forecasting online publication.

Only logged in users are allowed to post comments.
Register/ Log in