What Parenting Teaches us About Economics
Economics
/
Economic Theory
Oct 03, 2012 - 12:59 PM GMT


Recent BBC documentaries on the great economists have created quite a buzz in the UK. No doubt the shows are proving popular on the BBC's international channels too. The sorry state of the global economy and withered trust in economics today prompts another look at the giants of this social science. The usual names are re-examined, including John Maynard Keynes and Friedrich Hayek.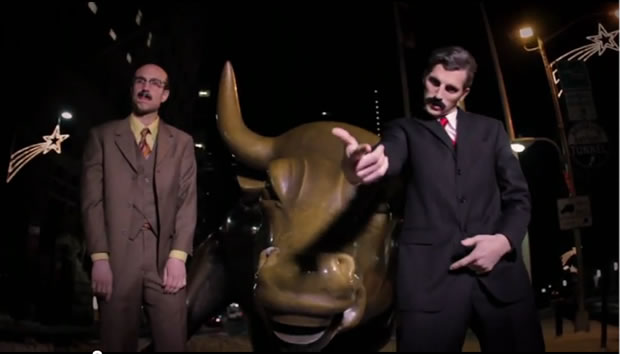 It's is only natural that debates about how we should run our economies have returned centre stage again, after the rich years of 2000 – 2007 have given way to a rude awakening.
Private and public debt levels are worryingly high, as are unemployment levels, whilst inflation statistics are difficult to believe when you look at your real world consumption, weekly shops and filling your car up. Against this backdrop central bank money printing is prolific and government intervention in markets and economies hasn't been as marked since end of World War Two.
Economics has never been more questioned or debated, even if we grow tired of crisis.
The greatest of the Austrians?
Last week the BBC's economic correspondent, Stephanie Flanders, profiled Friedrich Hayek, perhaps the leading light of the Austrian school of economics.
As I watched with the show with friends, mostly less financially minded/interested than us at The Real Asset Co.'s Research Desk (no arrogance or value judgement intended), I couldn't help note their reactions whilst also feeling certain things myself. Many of those watching had also seen the Keynes profile in the weeks before.
Keynesianism as eschewed by the great man is meant to be disciplined, similarly to Bagehot's model central bank. But, reality makes it difficult for the financial authorities to stop giving out freebies. When to stimulate? How much to stimulate? When to stop? Are we in fact able to controllably effect inflation, demand and confidence?
Interestingly, the sound bites reverberating around my TV where focused on feelings of: 'too much of a good thing, that', 'too much to ever control, that stimulation and support that', 'too many unknowns', and most notably 'not sure about these pied-pipers handing out candy'.
Without knowledge of arguments about multipliers, aggregate demand or the like, the assembled viewers intuitively felt unease. This educated part of Main Street – journalists, consultants, accountants, designers and a banker – had a gut reaction to some of Keynesianism's founding premises.
Being a gold and silver investor, naturally I agree, although Keynesian's name and 'theories' have been used to justify plenty he might well not support.
Lessons from parents to economists
When I asked my friends to explain a little further, as the second round of beers went down, some interesting metaphors were thrown around. Keynesianism was compared to a 'parent who doles out the candy too often to appease squabbling brats', before 'I want candy quips' were thrown in too. 'Would too much candy as reward/appeasement make good kids?' was asked.
Fair point. If we molly-coddle kids with treats to soften the realities of life might we also create bubbles in their realities/expectations. 'If we are loose with the pocket money, do they become prudent and self-sufficient or dependent and expectant?' 'If we bail them out of their mishaps and debts too frequently, does that help them become independent and responsible?'
In my opinion, Hayek on the other hand seems to take a more down to earth view, in spite of his similarly highly powered brain. The rationale here being concerns over whether we can really compute and understand the complex myriad of relationships and interactions in a market economy. Don't government interventions just create imbalances that are moved around according to political will, to then fall upon the next constituency?
An altogether different reaction
Phrases like 'easy money', 'sugar rush', 'bailout nation', 'croney capitalism' are indeed part of the lexicon. Keynesianism still rules the roost, in the UK we've just seen groundwork laid for a new state guided investment bank. Keynesianism seems to be seen as more human, more understanding and acceptable. But how kind is the parent that gives their kids too much candy, rotting their teeth, risking diabetes and fuelling weight gain issues?
Knowing the relative dominance of the Keynesians and Neo-Classical economists in controlling what Gillian Tett calls our 'cognitive map', it was interesting to note my friends' reactions to Hayek.
In short they much preferred his teachings to Keynes. Deep in their guts and 'without really making sense it feels right'. Even in such a small potentially unrepresentative sample of men and women, I was pleasantly surprised.
Good for the short term or long term?
Although Hayek's message is still not part of the socio-economic establishment, might this be the kinder, more realistic and more wholesome doctrine over the long term? Like a stricter parent who doesn't claim to know all of your future interests, but at least shields you from your own internal destructive appetites. To be later more appreciated and respected. A contrast from Mum's new boyfriend who's flash with the cash, but time shows to be a bad thing?
Could it be than Hayek is the economic parent who keeps us on a tighter leash, but to be more appreciated and lauded over the longer term? Allowing us less distortive highs, but also less crippling lows? A guide to steadier, surer, more concrete progress?
Like the Austrians we don't claim to know everything, but as we wrote in these pages previously it feels like the rightness or relative wrongness of different ways of doing economics will be illuminated for us to witness as we march through the 2010s and beyond.
Remember who argued, predicted and advised what.
Enjoying the debate, try one of our favourite books: Currency Wars by Jim Rickards.
If you want to keep in touch with this debate, the financial crisis and our research, follow us on Twitter or Facebook. You can also subscribe to our RSS feed: Gold Investment news.
Will Bancroft
For The Real Asset Company.
Aside from being Co-Founder and COO, Will regularly contributes to The Real Asset Company's Research Desk. His passion for politics, philosophy and economics led him to develop a keen interest in Austrian economics, gold and silver. Will holds a BSc Econ Politics from Cardiff University.
© 2012 Copyright Will Bancroft - All Rights Reserved
Disclaimer: The above is a matter of opinion provided for general information purposes only and is not intended as investment advice. Information and analysis above are derived from sources and utilising methods believed to be reliable, but we cannot accept responsibility for any losses you may incur as a result of this analysis. Individuals should consult with their personal financial advisors.
© 2005-2019 http://www.MarketOracle.co.uk - The Market Oracle is a FREE Daily Financial Markets Analysis & Forecasting online publication.

Only logged in users are allowed to post comments.
Register/ Log in