The Technocracy Plague
Politics
/
Social Issues
Apr 02, 2013 - 06:40 PM GMT


CONFUSED ORIGINS
Theories about how Technocracy emerged - and became so powerful it is now a dominant theme in Europe's unraveling macrame player's nightmare mix of economic, financial and political crises - are as confused as its true origins. What we can be sure of is that defenders of what are basically unelected Old Boy administrators like to give their Technocrats a classic pedigree, claiming it can be traced back to Ancient Greece and Rome.
In fact the way the term is used today in the European crisis, has a short murky past - and no future. Technocracy in this format supposedly means "applying scientific method to solving economic and social problems", and eliminating political problems by removing the political process. Political concerns disappear, replaced by a would-be "pure scientific and philosophical approach". A small unelected group of Oligarchs, calling themselves Technocrats, will decide everything. In private.
We can be sure that Technocracy means Crisis because its real modern emergence - in the US of the 1930s and USSR of the 1920s - was strictly due to elites anticipating major economic, natural resource, social and political crises which had to be stemmed in advance. For the US, the single most influential person calling himself a "Technocrat" and promoting Technocracy, was the oil geologist M. King Hubbert who is inescapably linked with the concept of Peak Oil resource depletion. Below is one of his most "classic diagrams" dating from 1949 and published by 'Scientific American' in 1971.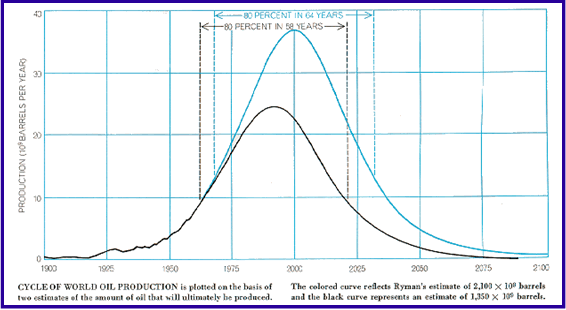 Hubbert's Peak Oil Diagram Source: Scientific America, 1971
Hubbert, from the 1930s believed US and world oil resources would be almost totally exhausted by 2010, and lobbied politicians as high-placed as Franklin Delano Roosevelt, who took power as US president in 1933 during the Great Depression. At the time, the US was by far the world's biggest oil producer. With its current 2013 production averaging about 11.65 million barrels/day it is probably again the world leader. Hubbert however forecast the US would peak in oil output in 1970, and from that peak would spiral down to nothing by about 2025, suffering at least a 75% cut in oil output through 1970-2010. US and world natural gas depletion would follow the same inexorable wipeout curve - but in 2012 the US pushed Russia into No 2 place as the world's biggest gas producer.
HUBBERT'S PITCH
Being an engineering-oriented geologist, Hubbert had little time for "abstract concepts" like the role of monetary masses and economic value, political economic theories and opinions, and what he said were "moralistic mechanisms" in society. He proposed an "energy money unit", very similar to that proposed by Global Warmists, with their carbon finance and taxation. Hubbert was always careful to never link his Technocracy concept with Vladimir Ivanovitch Vernadski (1863-1945), a highly influential Russian geochemists and philosopher who developed his "Noosphere Concept", and found nearly-instant support from Stalin for this concept. This influence is however clear, and admitted by Hubbert in interview late in his life (he died in 1989). Vernadski's beliefs mixed an mingled evangelical Christianity, to be sure not mentioning that to Stalin, with the emerging science of geochemistry, the study of entropy and energy, and the original Christian philosophical concept of the biosphere.
Stalin was highly attracted to the Noosphere concept - promoting Vernadski to the untouchable status of "Father of Soviet science" - which claims an invisible but powerful Noosphere exists on the planet. This "shell of existence" is the third in a succession of development phases of the Earth, after the mineral geosphere and the living biosphere. Humans, of course led by Soviet Man, then develop the Noosphere, mastering the geosphere's nuclear processes and developing unlimited amounts of cheap and safe atomic power. Humans would then evolve to being able to transmute and transform mineral elements and living matter in the biosphere at will. This second part of the "Soviet noosphere program" was to be sure dominated by the Stalin-protected genetics charlatan Trofim Lysenko.
As in western countries during the 1930s, nuclear energy seemed to offer the Soviets a future combination of fantastic military force and unlimited cheap electricity. Hubbert, as an oil geologist had predicted a rapid and inexorable decline in US oil production (and exhaustion of its gas and coal resources), from the 1930s, making this the subject of several books he published starting with 'Facts of Life' in 1935. For this reason nuclear power plants strung across the country were the lynchpin of his Technocratic America, based on what he called "technate design of society".
In the 1930s, when lobbying Roosevelt's advisers, Hubbert argued for a social and economic "disaster scenario" due in main part to what he called "technological unemployment", or machines replacing men, and the rapid depletion of non-oil minerals and metals. His argued that Technocrats must make all decisions and prevent this disaster because: "We have an enormous amount of existing technical knowledge. It's just a matter of putting it all together". The existing political process and society's "moralistic mechanisms" however neutralize our technological prowess, and destroy our "maneuverability and flexibility". Linking this with his lifelong concern about resource depletion, Hubbert argued that concern for the sustainability of the resource base would replace "monetary profitability" enabling the "social-industrial function" to continue into the indefinite future.
MERITOCRACY
Making the pitch even clearer, Hubbert lobbied Roosevelt's advisers to select "Technical and leadership skills" only on the basis of specialized knowledge and past performance, and abandon the democratic process. In this faulty process, in his words: "Those without such knowledge or skills deem what is necessary", and they make their decisions on an "unscientific basis".
Hubbert's circle of supporters included some who used the term technocracy to refer to a form of Meritocracy where the "most qualified" are very simply those who decide who are the most qualified, in other words a pure Oligarchy. This in turn only has two ways to go: it can become a self-perpetuating New Aristocracy, or it can break down into Anarchy. Hubbert himself was aware of the dangers facing his "technocrats", and offered a defence of Technocracy not being oligarchic, saying that "the Controlling Class" will only operate their administrative skills in "discipline-specific" domains with a high scientific or technological component, without the influence of special interest groups, which will disappear alongs with the democratic process.
Hubbert was in fact an unabashed Meritocrat and therefore openly argued for the use of force, possibly by an "intellectual coup" to change society and remove existing political systems, of course on the superior grounds this will "prevent disaster". His analysis - during the 1930s - of industrial technology trends and the sedentary, service-sector based economy was heretical. He said that work is becoming "increasingly unimportant" and that in a forseeable future the work week would have to be limited to a maximum of 10 hours. Bringing in his fear of minerals, metals and energy depletion, he said that depletion itself would force society to radically reduce work weeks and consumption - but this would be the basis of "earthly paradise".
Regarding the sedentary service-sector economy he said: "Most employment now is merely pushing paper around'', adding that the actual work needed to keep a "stable society" running is a very small fraction of presently available manpower. Hubbert claimed that only by means of "sophistries by lawyers and economists" is it possible to fool the people into believing any human being can contribute as much to the underlying "technate basis" of the social system as the "physical equivalent of what it costs the system to maintain them from their birth till death". By this metric Hubbert in fact simply compared human physical energy output (at most about a peak of 125 Watts) with almost any kind of machine used by society. Linked with his alarm about "runaway population growth", Hubbert said, in the 1930s and 1940s, that the present generation is the last generation which can stop catastrophe.
His moral conclusin was that also due to the "sophistries of lawyers and economists", Humanityis unable to understand that minerals and energy resources of the planet are "a free gift from heaven". Only Technocrats understand!
TECHNOCRATS MOVE ON TO MILLENARIANISM - AND TYRANNY
Both Vernadski and Hubbert were millenarian - believers in total, near-instant transformation of society, run by Technocrats, creating Paradise on Earth. Arguments that this Technocracy can or will always give way to autocracy and tyranny were brushed aside, often with a direct appeal to elite intellectuals, for example Hubbert's claim that this form of government, if it is extended to "any kind of management or administration" will be incorruptible.
This "elite intellectualism" is likely at least as powerful today as it was in the 1930s or during the Cold War and is clear from present and recent statements and writings by what can be called "known technocrats". These include high-placed analysts at key institutions such as the IMF, ECB, Goldman Sachs, leading "market maker" banks, and others - notably the expert coterie of the UN system and, another key example, the IPCC group of experts "advising on global warming".
One clear common theme is that economic crisis is sure and certain - both for evident, and for hidden reasons. These latter are only known to the elite. The "secret knowledge of the elite" is a major unifying theme, of the Technocrats. For the economy this "special knowledge" can be presented as follows:
Since about AD 1300, there have been Four Waves in the economy, showing many similarities, the same price movements, falling real wages and rising returns to capital, growing gaps between rich and poor. This creates recurring pressure points triggering a revolution, either economic or political, or both. Each revolution starts silently, develops with increasing instability and ends in extreme crisis which combines social disorder, political upheaval and economic collapse.
The previous crises happened in the early 14th, mid 17th and early 19th centuries, followed by longer or shorter periods of comparative stability shown by prices falling, wages rising and inequality contracting. At any time, in these cycles and the coming Revolutionary Cycle, the similar "wave pattern" occurred and will occur, but not in precisely the same way. Hubbert himself, in several written works explained that his version of the "Noosphere" had already come into existence, but this is not understood by the mass of human beings, also including democratic politicians.
Conversely, the crisis of the modern world is more intense than any previous, and the revolution has been dangerously delayed. This being the case, radical or brutal measures will be needed to install the permanent technocratic elite, who will then create paradise on earth. To be sure, any Tyrant in all human history says the same thing, or employs speechwriters to say it for them, and this underlying trait links Technocracy with all and any religious funamentalist, revolutionary dictatorship or autocratic power grab of the last 2000 years.
By Andrew McKillop
Contact: xtran9@gmail.com
Former chief policy analyst, Division A Policy, DG XVII Energy, European Commission. Andrew McKillop Biographic Highlights
Co-author 'The Doomsday Machine', Palgrave Macmillan USA, 2012
Andrew McKillop has more than 30 years experience in the energy, economic and finance domains. Trained at London UK's University College, he has had specially long experience of energy policy, project administration and the development and financing of alternate energy. This included his role of in-house Expert on Policy and Programming at the DG XVII-Energy of the European Commission, Director of Information of the OAPEC technology transfer subsidiary, AREC and researcher for UN agencies including the ILO.
© 2013 Copyright Andrew McKillop - All Rights Reserved Disclaimer: The above is a matter of opinion provided for general information purposes only and is not intended as investment advice. Information and analysis above are derived from sources and utilising methods believed to be reliable, but we cannot accept responsibility for any losses you may incur as a result of this analysis. Individuals should consult with their personal financial advisor.
© 2005-2019 http://www.MarketOracle.co.uk - The Market Oracle is a FREE Daily Financial Markets Analysis & Forecasting online publication.

Only logged in users are allowed to post comments.
Register/ Log in