Obama's Fatal Errors In Egypt
Politics
/
Middle East
Aug 16, 2013 - 12:24 PM GMT


IKHWANWEB SAYS
Cited on the Muslim Brotherhood's English language site Ikhwanweb, August 16, Brotherhood sympathizer Dr Amr Darrag (also published by the New York Times), said: "....shocking and irresponsible rhetoric from the State Department in Washington and from other Western diplomats — calling on the Brotherhood and demonstrators to "renounce" or "avoid" violence (even when also condemning the state's violence) — has given the junta cover to perpetrate heinous crimes in the name of 'confronting violence'". He went on to claim there was "not a shred of evidence" that anti-coup activists including Brotherhood sympathizers possessed arms or had themselves initiated violence.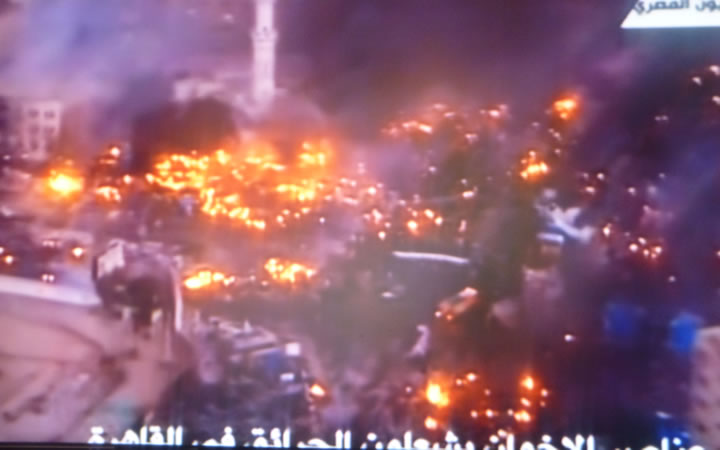 In a fatal sign of being unable to control or even influence events, but more and more openly showing their previously disguised fears of what civil war can mean in Egypt and across the Middle East, western leaders starting with Obama have condemned the Egyptian military's slaughter of Muslim Brotherhood members and sympathizers, and all other protestors against Egypt's "stolen revolution". In Obama's case he canceled the joint US-Egypt military exercise 'Bright Star' scheduled for next month. His Secretary of Defense Hagel, at the same moment, underlined the US will maintain its financial and technical support to Egypt's military, despite the mental gymnastics needed to explain why the US is supporting a military junta which overthrew an elected president – even if unpopular – and then started massacring any opponents and protestors of the junta.
The White House and other western policy makers fail to understand that the Egyptian military has a very long track record of applying its ideas on what "reconciliation" looks like. Former aviation general and long-time dictator Hosni Mubarak was not overthrown only because he refused democracy. His track record of police state repression was long and sometimes gory. Practically his first act, following former President Anwar Sadat's 1981 assassination, was to pass the Emergency Powers Act, by which the security forces were empowered to arrest and detain anybody without charge, and extract confessions under torture. Abuses were a lot more than only "tolerated". At any one time, during Mubarak's 31-year dictatorship, Egyptian human rights organizations claim that on average there were more than 10 000 people in detention -- many of them "disappearing" forever. The Emergency Act has been restored, this week following its lifting since June 2012, a sombre reminder that the last time it was very briefly lifted, for 18 months, before Sadat's assassination.
NO EASY WAY OUT
The Muslim Brotherhood (MB) has what to Western democrats seems a strange set of policies and programs, but is above an Egyptian-origin organization, neither political party nor movement but both, and at almost all times since its 1928 foundation operating in opposition often as a clandestine force. President Moursi's one-year period of power was one of the longest-ever for an MB-linked politician. The Brotherhood's stated goals can be found in many sources, but its Islamic anchor is basic. It says that instilling the Koran and the Sunnite tradition (the Sunnah) are the sole reference points for family life, community life and the State.
The MB has what could be called impeccable revolutionary and socialist principles and a track record from its origins of anti-colonial struggle – against British colonialism in Egypt. Almost inevitably, but often denied by MB intellectuals and ideologues, its political ideology was founded in British Fabian socialism of the 1920s. The MB was a pioneer of what is called "Arab socialism", found in Syria and Iraq's Baath parties, in Lebanese Arab political movements, Palestinian movements, in Jordan and Yemen, and several other Middle Eastern and North African countries. Its revolutionary track record also features armed struggle and political assassination, notably the 1948-1952 anti-colonial struggle against the British, during which its founder Hassan al-Banna was himself assassinated. The short-lived Farouk monarchy set up by the departing British was overthrown in 1952 by Arab socialist and nationalist military officers supported by the Brotherhood, but immediately after Gamal Nasser became president, the MB opposed what it called the "secularist constitution" of the coup leaders. The MB was accused of trying to assassinate Nasser, and was outlawed and repressed by its former allies.
The MB was also discredited following the first Arab-Israel war, 1948, due to accusations in Egypt, Jordan and Syria that the Brotherhood had divided "the Arab nation", had supported Palestinians rather than the governments of Sunni-majority countries opposed to Israel, and was an anarchist and Marxist organization. Certainly by the 1950s, the MB was heavily divisive in Egypt and other Arab nations – you either supported it or opposed it. Since the 1950s little or nothing has changed on that score.
MORE ARAB EGYPTIAN THAN FUNDAMENTALIST
The MB is easy to compare to Hamas. It has a highly active social program including education and healthcare, even commercial enterprises and TV stations. It has a very long track record of being suppressed or repressed by Sunni regimes, cultivates the martyr image, and preaches what today – post Al Qaeda – is not fundamentalism but a partly-modernized variant of traditional Sunnah doctrine. This, in theory, might suggest that Sunni dominated Saudi Arabia and the other Gulf States would support MB but this is totally untrue – only Qatar supported President Morsi's short-lived government. All the other Gulf States were rigorously opposed to Morsi, because of his MB connection, and due to the MB's key role in the continuing Bahraini uprising since 2010 against its Sunni rulers – repressed with at least 1500 deaths to date.
The MB can be considered relatively well-financed by contributions from its active members, probably more than 500 000 in Egypt and several tens of thousands outside Egypt, making it physically impossible for Egypt's military to "kill as many Brothers as possible". If this was possible, it could or might result in a semi-stable situation in Egypt, in other words a return to the "good old days" of Hosni Mubarak. This however totally ignores the track record and the ideology of the MB, which exactly like Egypt's new (and old) military rulers has no time at all for American and western pleading and whining for "reconciliation and compromise".
The shifting and – to Westerners – complex or even incomprehensible alliances operating in the Arab world on political, community, national and ethnic bases, results in the MB being a major opponent of Bashr el Assad's regime in Syria, therefore "on the same side" as Western-backed and Western-armed anti-regime forces, including Al Qaeda djihadists. Of the more-than-15 armed groups in place some are supported by Qatar, others are supported by Saudi Arabia, by the Kurds, by the Druzes and by others. The MB is an ally of Hamas, but an enemy of Hezbollah. MB fighters in Syria already have nearly two years of fighting experience, and the flow of weapons west-to-east from Libya ensures that claims the MB "has almost no weapons" is an exaggeration – or pious hope.
Western dithering and refusal to understand Egypt's complex political history had a 31-year-long lucky break, under Hosni Mubarak, but that break is over. Ahmed Aref, the MB's media spokesman, August 16 said that Obama had made an attempt at "switching roles" by canceling the Bright Star military maneuvers, supposedly showing disapproval of the slaughter of hundreds of civilians in Egypt's cities because they protest against a military junta. Calling the July 3 overthrow of Morsi a "traitorous military coup" in which the US "played a prominent role", Aref was predictably defiant toward Egypt's military. He said the army's task was not to "fight fake wars against its own unarmed people" and that "Egyptians alone will make the world respect their word. They alone shall impose their will and defeat the bloody military coup". The MB says: No Reconciliation.
Egypt's long and leading role in Arab thought and culture is impossible to deny. Its political structure, in part due to the "freezing of change" for 31 years under Mubarak with outright Western backing, is heavily and dangerously divided. What the Egyptian military might imagine it can do – and what it is able to do – is being painfully and bloodily acted out on the streets of Egypt. The feared Islamic crescent of instability and revolution stretching from Libya through Egypt to Lebanon, Syria and Iraq is clearer and more threatening each day. And Obama has canceled Bright Star !
By Andrew McKillop
Contact: xtran9@gmail.com
Former chief policy analyst, Division A Policy, DG XVII Energy, European Commission. Andrew McKillop Biographic Highlights
Co-author 'The Doomsday Machine', Palgrave Macmillan USA, 2012
Andrew McKillop has more than 30 years experience in the energy, economic and finance domains. Trained at London UK's University College, he has had specially long experience of energy policy, project administration and the development and financing of alternate energy. This included his role of in-house Expert on Policy and Programming at the DG XVII-Energy of the European Commission, Director of Information of the OAPEC technology transfer subsidiary, AREC and researcher for UN agencies including the ILO.
© 2013 Copyright Andrew McKillop - All Rights Reserved Disclaimer: The above is a matter of opinion provided for general information purposes only and is not intended as investment advice. Information and analysis above are derived from sources and utilising methods believed to be reliable, but we cannot accept responsibility for any losses you may incur as a result of this analysis. Individuals should consult with their personal financial advisor.
© 2005-2019 http://www.MarketOracle.co.uk - The Market Oracle is a FREE Daily Financial Markets Analysis & Forecasting online publication.

Only logged in users are allowed to post comments.
Register/ Log in