Weapons Of Massive Self-Destruction And Islamic Gangstah War
Politics
/
Middle East
Aug 25, 2013 - 04:18 PM GMT


ISLAMIC WAR OR GANGSTAH WAR?
Salem al Rafei, a prominent cleric targeted in Lebanon's August 23 car bomb attack, the most deadly since the end of Lebanon's previous or most-recent civil war in 1990 is reported by newswires to have a long track record of organizing militias. In his case, he encouraged the formation of Sunni defence militias and popular committees for street patrolling, which he calls Islamic defense councils. These are composed of mostly young males armed with a wide variety of hardware, including grenades, infantry rifles and even home-made guns. Financing of these armed groups is always opaque, and almost always includes a range of criminal activities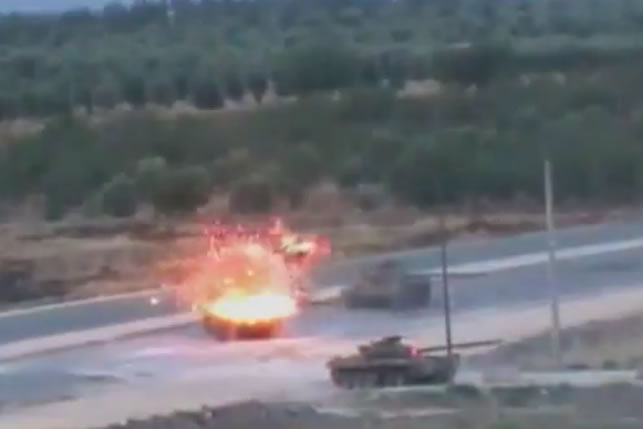 After last week's bombing in southern Beirut of a pro-Hezbollah, Shia majority neighborhood killing 22 and wounding 330, Sunni neighborhood watch groups reinforced their armed checkpoints throughout their neighborhoods and quarters, fearing retaliation. For Salem al Rafei, a Salafist cleric, Hezbollah and its followers are heretics supporting the Bashr el Assad regime in Syria against which Sunni leaders like al Rafei call for jihad. The mosques targeted August 23 in Beirut are influenced by the powerful Salafist cleric and have encouraged its many young male followers to fight in Syria against President Bashar al-Assad and his Hezbollah allies. The goals and motivations of the armed groups sent into Syria are much wider-ranging than "strictly Islamic and ideological" and start with basics as simple as terrorizing local populations to obtain food and fuel.
As in Lebanon, Egypt, Iraq, Yemen and inside Syria, the variety and quantity of small- and medium-calibre arms enabling this "gangstah war" is described by military analysts as "awesome".
NO SHORTAGE OF WEAPONS
Speaking in Washington, August 23, departing FBI chief Robert Mueller said that the nature of terrorism had changed, but his concerns for the future are much the same as when terrorists struck in the US on Sept. 11, 2001 only a week after he'd taken over the bureau. Mueller sees terrorism as a shifting landscape, evolving from Osama bin Laden's global brand in the aftermath of the 2001 attacks, to an ever-widening and splintering set of threats arising from the disappointing-to-many "fallout from the Arab Spring uprisings across the Middle East". Given the domestic focus of the FBI, it was no surprise Mueller focused the Boston Marathon "pressure cooker" bombings that killed three people and injured hundreds in April and the 2009 shooting that killed 13 and injured more than 30 at Fort Hood, Texas as powerful reminders that the domestic protective net against terror is far from infallible. The FBI's sister agency the CIA, and the US State Department have already met the same multiple threats from the failed Arab Spring experiment in several theaters – including the Benghazi, Libya killing on September 11, 2012 of US diplomat Christopher Stevens.
Well before that date but only reported by US news media from May 2013, Libya's "February 17th Martyrs Brigade", a Benghazi-based militia described as containing Islamist elements was hired by the State Department as a QRF or "quick reaction force" to protect the Department's missions in Benghazi, but the Martyr's Brigade had warned the Department that it could not protect the movements of Ambassador Chris Stevens (CNS News, 1 May 2013). Several reasons were given, including movements of Amb. Stevens from Tripoli to Benghazi, needing protection by and payment to other militia groups controlling roads or airports outside the city, as well as "turf war" conflicts and rivalry inside Benghazi with other armed groups, operating their own city protection rackets.
In the Libyan case its militias, or more precisely armed gangs include gunmen proudly waving their AK-47 assault rifle manufactured before they were born – in some cases before their father was born. US recoilless M40 rifles supplied to Libya – before 1968 – are still serviceable, that is lethal today, although ammunition supply is a problem. Weapons provided to anti-Soviet fighters in Afghanistan in the early 1980s are still being used against the US and its remaining allies in Afghanistan. The Taliban also owns and uses British Lee-Enfield 7.62 mm rifles sent to South Asia during the Victorian era. These antique main battle rifles with long barrels and heavier cartridges than main battlefield 5.56 mm light submachine-type "automatic weapons" of today have demonstrably powerful reach.
HANDGUN $50, AK 47 $500
C. J. Chivers (cited for photo, above) is author of the bestselling 2010 book "The Gun" in no way uniquely focuses the small calibre weapons-saturated Islamic Crescent of Instability, or says that this region is uniquely destabilized by the gun plague. The problem is far vaster, almost global, but the regions of west Asia, north and south Africa and the Middle East extending to Afghanistan and the Muslim southern republics of the former USSR are certainly the most exposed to nearly spontaneous armed violence with cheap but highly lethal weapons. In some cases the situation of gun saturation is extreme and in the MENA region Libya, Syria, Lebanon, Iraq, Yemen and Saudi Arabia can be singled out by the sheer stock of smaller calibre weapons relative to the total population of each country.

The extent to which this "Boy Soldier" gun plague has only belatedly been recognized as a real threat to regional and global security is shown by public handwringing by US defence strategists shortly after the US invasion of Afghanistan on 2001, supposedly justified by the 9 / 11 atrocity. At the time, in the early days of the war in Afghanistan, US and Western military planners worried about only two types of "legacy weapons" from the 1980-88 Soviet-Afghan war, shoulder-fired RPG and antiaircraft missiles, and land mines. The United States had provided anti-Soviet djihadists, such as Osama bin Laden with the famous Stinger missile in the 1980s, and if the Taliban or al Qaeda had retained these weapons they would use them against US and Western military aircraft or, heavens forbid, against commercial passenger jets anywhere in the world. The fear of land mines was also given headline treatment because, US strategists in 2001 mused, even after the Taliban had been chased from Kabul, how could Afghanistan be moved forward to development of a consumer society if the country is littered with millions of land mines – mainly produced and supplied by the US?
In fact as proven in Afghanistan and elsewhere, the national and regional long-term security threat against any central government, and its foreign allies, comes not from high-tech missiles or land mines but from massive world stocks of surplus infantry rifles, battlefield handguns, machine guns, vehicle-mounted antiaircraft guns and rifle-adapted grenade launchers. These weapons are very sustainable, to use a keyword, that is they are durable, reusable, portable, cheap and deadly. These qualities make them a much greater long-term menace than either Stinger missiles or land mines.
During the 2011 siege of Misurata, Libya which proved to be a key town for the collapse of Gaddafi's power – and a town which suffered extreme and massive air bombing and missile attacks by US, UK and French forces - Muatassim el-Gaddafi, a high-profile son of Muammar was captured. Being loathed and feared in the town he terrorized, word of his capture sent elation through the ranks of his enemies in town. A typical demand made by young males as young as 12 years, to their parents was: "Please father, I need the rifle, the Kalash." This comment was reported by C. J. Chivers in a New York Times article, 7 December 2011, where he went on to note that in Libya, following the fall of Gaddafi's regime, there was almost total public opinion favour for "liberating the weapons stocks".
Mass firing of rifles and handguns in the air, today, is a now a near-ritual celebration in the Islamic Crescent of Instability, whenever a local militia chief is beaten and replaced by another.
As Chivers' NYT article noted, many Misurata families already owned "a Kalash" (AK47) or several of them, but the general feeling was that if Gaddafi's small arms arsenals had been distributed, the overthrow of Gadafi would have been easier, or the initial takeover by "the Colonel" would never have taken place. The weapons quantities in the arsenals of Gaddafi, which have disappeared, are in fact not known but many analysts suggest they held at least 5 million AK47s – for a total Libyan population, men women and children, of 6.3 million. Similar proportions of total stocks of smaller calibre weapons (over 10 million for a total population of 21 million) also apply in Syria.
Sellers in street markets of Libya, today, offer homemade handguns from as little as $15, with highly lethal 9 mm military handguns from $50, while AK47s can be had for $500, including ammunition. Elsewhere in the Islamic Crescent of Instability prices are generally higher, sometimes much higher but weapons theft and gun-running are major business activities among all the Gangstah groups – or so called Islamic militias.
By Andrew McKillop
Contact: xtran9@gmail.com
Former chief policy analyst, Division A Policy, DG XVII Energy, European Commission. Andrew McKillop Biographic Highlights
Co-author 'The Doomsday Machine', Palgrave Macmillan USA, 2012
Andrew McKillop has more than 30 years experience in the energy, economic and finance domains. Trained at London UK's University College, he has had specially long experience of energy policy, project administration and the development and financing of alternate energy. This included his role of in-house Expert on Policy and Programming at the DG XVII-Energy of the European Commission, Director of Information of the OAPEC technology transfer subsidiary, AREC and researcher for UN agencies including the ILO.
© 2013 Copyright Andrew McKillop - All Rights Reserved Disclaimer: The above is a matter of opinion provided for general information purposes only and is not intended as investment advice. Information and analysis above are derived from sources and utilising methods believed to be reliable, but we cannot accept responsibility for any losses you may incur as a result of this analysis. Individuals should consult with their personal financial advisor.
© 2005-2019 http://www.MarketOracle.co.uk - The Market Oracle is a FREE Daily Financial Markets Analysis & Forecasting online publication.

Only logged in users are allowed to post comments.
Register/ Log in