Obama's Syria Retreat - Middle Eastern Empire In The Sand
Politics
/
Middle East
Sep 11, 2013 - 02:30 PM GMT


OBAMA AND HOLLANDE
Disowned by their own public opinion, abandoned by party faithfuls, with the media also not showing exemplary loyalty and "confusing the public" with devilish details, Obama and Hollande have had to beat a retreat with their Syrian war plans. Outsmarted by hardened chess player Vladimir Putin, they were playing fourth-grade checkers and with no surprise - lost.
What did they want, supposing the really knew? They want a downsized, Saudi-financed, quick-and-dirty Middle Eastern war. Not so long ago, their chosen-few "expert" advisers told them this would be almost as good as the Iraq war of 1991 or Kosovo's NATO war of 1995. It could only lead on to Great Things – and they didn't mean World War III.
The downsized imperial dreams of the US-French-UK Red-White-Blue team however have jumbo-sized competitors and rivals, and one which we didn't see in the late night TV documentaries is the Persian Imperial Dream. Now known as Iranians, they in fact have several imperial dreams, for example the so-called Golden Era Sassanid Empire which held sway until about 650 AD.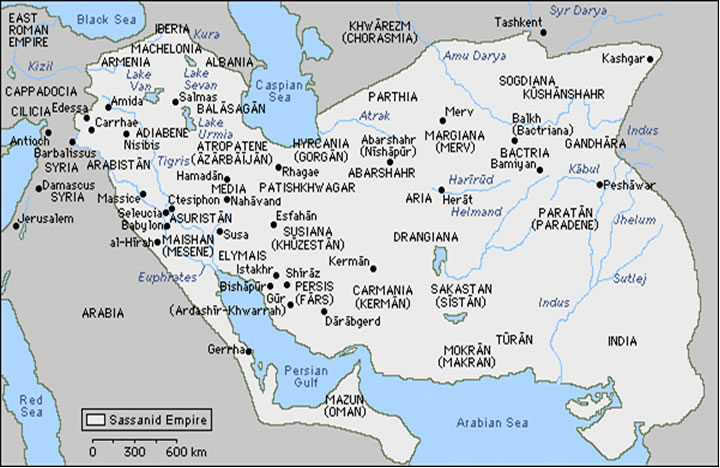 Source Wikipedia
DEVIL IN THE DETAILS
The Persian Golden Era empire was not concerned with desert areas – because nobody lived there – leaving the future Saudi Arabia, minus its eastern main oil-producing regions, as potentially able to be called "never under Persian rule".
Another key detail was this Iranian empire only started falling apart – when Islam started growing as a religious revolution, from about 800 AD. Making things tough for the Saudis, the self-styled Defenders of Islam, much of what was later called Islamic culture expressed as artworks, architecture, poetry and philosophy was transferred from the Sassanids to the Muslim world. The Saudis supplied the religion. The Iranians supplied everything else which today is called Islamic tradition and culture.
During the Great Empires of Persia, it had as many as 13 ambassador-level permanent missions in China. Both empires built and then benefited from trade along the Silk Road, and acted from common interest to preserve and protect that trade. They cooperated guarding the trade routes through central Asia. They built military outposts in border areas to keep caravans safe from nomadic tribes and bandits – not yet including gangstah djihadis in a Toyota Hilux. Shapur I of the Sassanids extended his authority far into the northwestern Indian subcontinent, now Pakistan and Afghanistan, then called the western Kushans. Although the Kushan sub-empire declined from about 400 AD and was finally replaced by the Indian Gupta empire, the two were highly intermixed and the Sassanids remained powerful in what is northwestern India today, for centuries. India has long and deep cultural ties with Iran - and no real interest in applying US-led sanctions against Iran, today.
Persian imperial decline is attributed by historians to a range of factors, including Islam. Other than imperial overreach there was internal ideological conflict firstly on Greek philosophy, then on Christian philosophy, and subsequently on Islam. Sassanid kings were patrons of letters and philosophy. Khosrau I of the empire had the works of Plato and Aristotle translated into Pahlavi and even read them himself. When Roman emperor Justinian I shut down Aristotle's schools in Athens, several of their professors fled to Persia and found refuge at Khosrau's court.
Iran's main religion of Zorastrianism was split into rival or "reform" movements well before the end of the Sassanid empire, and both Christianity and Judaism were widely spread. The so-called Islamic revolution or conquest of Iran was very slow, and probably took 400 years to complete to the point where it was the majority religion, about 1100 AD. During that time, both Sunni and Shia movements co-existed, but by 1300 AD Shia dominated inside Iran and Sunni-Shia conflict raged for centuries through external warfare in which the Persian empire lost sizeable territories, for example to Turkey's Sunni armies of Tughril Beg. Some historians say the speed and extent of secularization, and the separation of the church and state was faster in Iran than in Sunni-majority Muslim countries, simply because of the proven ability of Sunni-Shia rivalry to cause heavy conflict and economic damage.
LATER REVOLUTIONS, DOWNSIZED EMPIRES
Iran's Islamic revolution of 1979-1981 and why Iran is now an Islamic Republic is a subject that fills bookshelves, but Khomenei's rise to power was aided, even enabled by Western meddling. The Shah Reza's ruritanian-style but vicious police state also did not help. One certain but neglected game changer was that long before the last Shah, the ulema-clergy class professionalized itself, somewhat like doctors and lawyers. The previous wayside preachers who spent a half day each week transmitting their favourite one-liner traditions, disappeared and a highly smart and ambitious ulema class emerged. Laws set by Reza Shah that created the infamous SAVAK secret police, made military service obligatory, and forced European-style clothing and even table manners on Iranians, provided ample speech material for the ulemas, talebeh and mullahs. Reza Shah's own Persian Empire Dreaming was pure Hollywood – with zero credibility.
Khomenei's revolution and Islamic Republic, whatever it did, made a point of not setting out to fire up religious sectarian conflict inside the country. The Republic's constitution recognizes Zoroastrian, Jewish, and Christian Iranians as religious minorities, and permits Sunni Iranians to have their own mosques – where they are the local majority of the population.
Stratfor in a report published 4 September, says that while conventional wisdom says that a weakened Syria will undermine Iran's regional influence, a US-led military intervention could actually benefit Tehran. One main argument of Stratfor is that that if the United States launches an attack, this will enable Iran to "exploit Washington's visceral opposition to Sunni jihadist and Islamist groups to gain concessions elsewhere", in the region, and also winding down the creaky but dangerous Iran nuclear crisis. But the big argument of Stratfor is that Iran simply can't afford to run a war with the US, so it is going to arrange things with Washington.
This dovetails with the real abilities – not ambitions but abilities – of the US, France and UK. Their real economic ability to do anything but take the money from Saudi Arabia and Qatar to pay for those so-expensive cruise missiles to hit Damascus, then walk away from the disaster, is so low there is no point talking about it.
PROXY WAR ONLY
Stratfor argues that despite Syria being a critical Iranian ally, and al Assad's survival of prime national security interest to Tehran, it "cannot afford to directly retaliate against the United States". Analysts think and expect it would almost certainly retaliate by proxy war, starting with Lebanon's Hezbollah. The briefing from Stratfor goes flaky from that point, showing the gaps and voids of perception, and potentials for "objective ally" cooperation, or "false flag enemy" fighting, between Tehran and Washington and their proxies.
Iranpulse.monitor, August 29, carries an Op-ed of Hossein Mousavian, a former close associate of new Iranian president Rouhani, saying that present maneuvring by Washington for regime change in Kabul, prior to US departure is "a blueprint for collaboration between Washington and Tehran". This is a crisis programmed for 2014, not 2024, and Washington will need to cooperate with Iran, as well as India and China on its Kabul pull-out unless the US wants a lot of new trouble in the region.
Mousavian calls for US-Iranian cooperation to better manage the MENA's crisis-ridden region and also noted that any unilateral attack by the US on Syria without UN Security Council approval would further undermine the credibility of the entire UN system. This took time to sink into the heads of Obama and Hollande but by 10 September, with Putin aiding, it sank in.
Iran not only has its Hezbollah fighters – more an army than a militia – but other Lebanese and Iraqi allies who are surely heterogeneous but large in number and sometimes well armed. The Iranians, while professing support to al Assad, can in some US analysts' view speed up and better manage the rebellion, tame the radical Islamist elements, and not be the enemy the US fears – and both Saudi Arabia and Israel want. Iran knows this well.
In any case, Syria's "secular opposition" has been overtaken by the sheer scale of the mayhem. Its unarmed and declared non-violent factions are on the sidelines in the civil war which has de facto shifted power to a multitude of anarchic armed groups. Because these elements have been gaining territory, the United States and other western powers will likely need Iranian cooperation to forge any kind of Syrian polity that can survive and hold together, for example in a controlled partition of the present territory into more-viable sub-nations.
By contrast, the incredibly long running Iranian nuclear controversy is downsized by the Syrian crisis – but the Iranian government has linked these two issues and Mousavian says it will go on linking them.
We are in no way obliged to glimpse a Happy Ending in view – the end of the Syrian crisis without the Toyota Hilux mob of djihadi gangstahs taking total control, and the end of the Iranian nuclear crisis – but it may be possible. Iran itself is light years away from being a regime just waiting to fall apart at the first push or knock it gets. With powerful help from the Syrian crisis, this reality dating from 1400 years ago and the Sassanid era has finally seeped into Washington's slow-witted consciousness.
By Andrew McKillop
Contact: xtran9@gmail.com
Former chief policy analyst, Division A Policy, DG XVII Energy, European Commission. Andrew McKillop Biographic Highlights
Co-author 'The Doomsday Machine', Palgrave Macmillan USA, 2012
Andrew McKillop has more than 30 years experience in the energy, economic and finance domains. Trained at London UK's University College, he has had specially long experience of energy policy, project administration and the development and financing of alternate energy. This included his role of in-house Expert on Policy and Programming at the DG XVII-Energy of the European Commission, Director of Information of the OAPEC technology transfer subsidiary, AREC and researcher for UN agencies including the ILO.
© 2013 Copyright Andrew McKillop - All Rights Reserved Disclaimer: The above is a matter of opinion provided for general information purposes only and is not intended as investment advice. Information and analysis above are derived from sources and utilising methods believed to be reliable, but we cannot accept responsibility for any losses you may incur as a result of this analysis. Individuals should consult with their personal financial advisor.
© 2005-2019 http://www.MarketOracle.co.uk - The Market Oracle is a FREE Daily Financial Markets Analysis & Forecasting online publication.

Only logged in users are allowed to post comments.
Register/ Log in