Europe's What-Else-Is-New Crisis Agenda
Politics
/
Euro-Zone
Nov 01, 2013 - 01:06 PM GMT


ECONOMIC SABOTAGE
Whenever Europe's politicians get bored with the perpetual-crisis agenda, they invent new crises. Recent add-ons feature NSA hacking of Angela Merkel's cellphone, proving she has interesting things to talk about. Why Europe is even further from economic recovery than the USA – in fact a long way – was hopefully one interesting thing she talked about with uninvited American listeners.
In France, the Parti Socialiste government of Francois Hollande has invented itself a raft of new taxes with at last what it deserves - growing protest from the bemused public. New taxes on a large range of savings accounts at a flat rate of 15.5%, new corporate taxes added to rates already among the highest in the world – and the new "ecological tax" on goods transport to punish us for emitting CO2. Very officially and sincerely, France believes in global warming. Especially when it helps gouge more tax.
In Germany, its holier-than-thou green energy transition plan delivering electricity to household consumers at around 25 euro cents a kilowatthour will soon be hit by another tax – the surcharge on power transport and distribution, which has grown 400% since 2009. German households now pay their electricity at the equivalent of $544 a barrel for oil. Not $100 a barrel but $544 a barrel.
This boils down to voluntary and deliberate - mindboggling economic sabotage. For reasons that may be due to entropy, world fatigue, disinterest or plain stupidity, the media only weakly comments each new outrage. European media also makes a point of not highlighting the ongoing relegation of the continent's younger workers to oblivion – the following chart is from US Bloomberg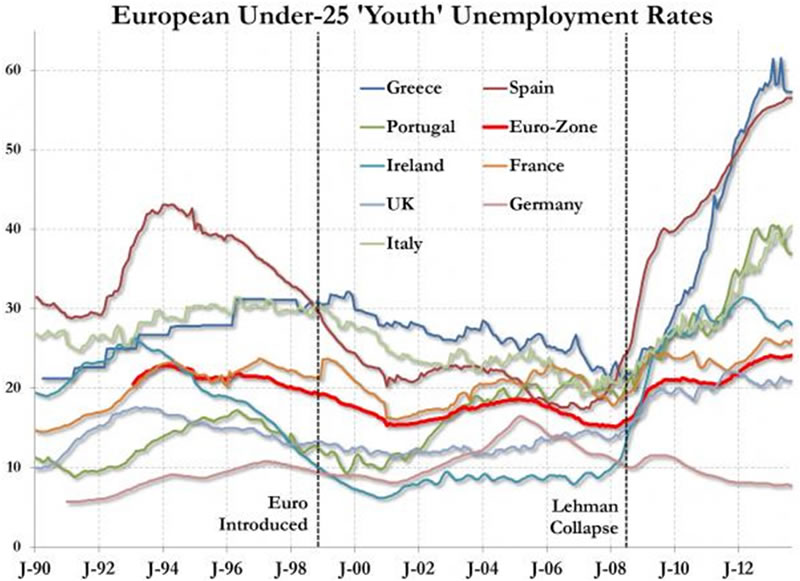 WHEN ENOUGH IS ENOUGH
Instead, the crony media in Europe gives high and continuing coverage of the European Federal "plan", if it can be called a plan, creaking along in cranky after-dinner debates, but Europe's economic ruin is coming a lot faster than a Federal Europe.

In Germany its long-suffering household consumers are paying radical and extreme prices for electricity – but German and European power companies can now be hit with a penalty – not a price but a penalty – for every kilowatthour they produce. In Germany this runs as high as a charge of 10 euro cents for every kWh they put into the grid. But consumers pay 25 euro cents for that same kWh,when and if it trickles down and through the shaky, breakdown-threatened grid to them.

The only solution in Euro-lore is to hike power prices even further. Otherwise the emissions traders and Antarctic's penguins could be menaced. What we can say is: Baloney.

European politicians have invented a Perpetual Crisis Agenda, and they intend to keep that party going. You surely heard of the now 65-year-old Israel and Palestine crisis. One exists and the other doesn't. Likewise, European politicians have invented the Turkey-in-Europe crisis. Either Turkey is in Europe, or it isn't. For the moment it mostly isn't.

Fiddling with the Turkey accession "agenda" is a European crisis special. If it wanted to do so, Turkey could give desperate economic migrants trying to reach fat-and-fatuous Europe, to suck child benefits and emergency social lodging if nothing else, the benefit of a nice official Turkish exit-only visa stamped into their passports. The migrants could then be waved through to "rather troubled" Greece, which will be very happy to get rid of them. They can then leg their way into Bulgaria and Romania – before attacking the real soft underbelly target countries. These are the UK, France, Belgium, Germany, Holland, and Scandinavian countries. Already off the menu Spain, Italy and Portugal are unable to handle huge inflows of economic asylum free riders, today. Spain for example has an adult jobless rate of 26% and a youth unemployment rate of around 55%.

So the Euro-logic says the rich-fatuous remaining players in the European farce must also drag themselves down. Under this bent logic, the ECB can create extra lines of monkey-money printing to finance the continent-wide slowdown and bankruptcy of enterprises, while the nanny states drag in millions of new economic sabotage immigrants every year. Call it the Greater Europe Fund. Payment default and a new raft of printed money is sure and certain.
FANTASY SPECIAL – THE FRANCO GERMAN ENTENTE
In a continent with 27 million jobless the official-media Euro lie says that Germany and France are working on a "road map for European integration". French factories will not simply close down but be moved south and all its truck drivers will be imported from the east. They are already, because East European truckers are paid 550 euros a month, sleep in their cabs and live like hobos. Germany will sell upmarket Audis, Porsche and Mercedes, and not much else to China, Russia and the Arab petro-states. That's what Germany is already doing.

The theoretical Franco-German alliance supposedly drove European integration from the 1960s and still does in the 21st century, but is now officially "frayed" by too many years of crisis. The present and coming slowdown in German economic growth - "Europe's growth machine is sputtering"- and increasing German isolationism makes the EU's biggest economy and country less and less interested in the Euro-fantasy. France has slumped into traditional French ungovernability as its traditional basic industries shut down one after another, which is great for stand-up politicians to whine about, but no good for positive action.

Although it thinks it has a role and place in Europe, British tinkering with how much it can squeeze out of Brussels has mired its standing. The English cult of leadership is thwarted by so many other Little Chiefs in Brussels. While the UK sucks in non-European migrant hordes waved through by other EU states – but so surprisingly the British electorate doesn't like that – its government has a real and low place in the European political pecking order. To be sure, its higher than that of Latvia but not that much. Romania can easily playact "better European" than the British. It has even lower wages, its economy is even more "destroy", its youth hordes of unemployeds roam fat-and-fatuous Europe in an endless job quest. Romania is a classic candidate for Federal Europe.

Far ahead in fantasy, unequalled in fact, the European Central Bank and its own version of QE ensures the collapse of the so-called European Ideal. Whatever it was.

The euromoney and its 18-country Eurozone was sold to naïve and credulous, or simply stupid euro politicians, and their media, and finally their voting public, as a way to drive down interest rates across Europe. After that, investment would flourish as never before. The euro-economy would perpetually boom. All would be wonderful in the best of all possible of worlds. Reality was stupendously different – so different that European politicians are obliged to be schizophrenic, as well as stupid, today. So the federalists now want a Finance Czar for Europe.

After lugubrious wrangling and whining, the European Finance Commissioner would impose spending cuts and emergency taxes in any country that continued to break fiscal rules. This would have been marvelous in 2007 or 2008. Not today. How do you increase the austerity cures that already hit Cyprus, Greece, Spain, Portugal, Italy and Ireland?

A new in-out exit mechanism for and from the Eurozone is most certainly needed, but if it existed and was administered by The Finance Commissioner, about 2016, it would have happened too late. The Eurozone makes no economic sense, and even the former chief economist of the ECB says so.

The lure of these Federal European mechanisms helped to reconcile bailout-weary Finns, Germans and Austrians to the euro project. The latest Euro-treaty's new sovereign-debt restructuring mechanism did not spook financial markets as many had feared. On the contrary, it brought investors the certainty they had craved during the years of muddling through. The certainty that ECB QE will be permanent.
THE 2020 FANTASY HORIZON
Euro fantasy talk says that Europe's creditor countries have dropped some of their resistance to risk-sharing. In 2020 or shortly after, the fantasy continues, the EU can start issuing so-called euro basket(case) bonds in a federal system where each participating country remains liable for its own debt, but continental debt pooling yields even lower interest rates than today – if that's possible. These uber-low interest rates will for example help a still-struggling Italy and Spain to make needed investments in infrastructures and education. To be sure there will also be a new euro-zone budget specifically set up to push austerity restructuring continent-wide, and push lending rates lower still.

The eurozone will of course grow by at least 3 to 5 countries including Poland. Britain will of course stay out but will run European foreign and defense policy with the other Big Four of Germany, France, Italy, Spain. Defence spending will increase, with help from the euro-zone budget and uber-low interest rates. The New Europe will take on previous US-only global security roles.

This picture of about 2022 is pushed by the Euro Federalists as the best-possible of all worlds, when Europeans "emerge from their valley of doom". It will be the latest imagine-its-possible filmscript and morality play for Europe, a fitting sequel to the single market, the euro, and the integration of former communist countries. It can only strengthen the continent.

The late-2013 horizon is wildly different and, even worse, is real. Germany's economy is on the point of moving down several notches on its weak-but-positive GDP growth scale, and the very last thing German politicians wanted is what the US Treasury delivered them. In Washington, U.S. officials held firm to their position outlined in a report published Wednesday October 30 accusing Germany of dragging down its neighbors and the rest of the global economy by consuming too little while running large export surpluses with many of its key trading partners. This is very certainly not "playing the game" of Federal USA, the openly-stated goal of the European Federalists. German officials said the global appetite for German cars and machinery was driven by market factors and nothing else. Its Economics ministry added: "The trade surplus reflect the strong competitiveness of the German economy and the international demand for quality products from Germany".

One reason the German reaction was so fast and hostile is the US Treasury accusation hits a raw nerve. Germany has already internally-deflated its economy several times since year 2000, and for example forced down youth unemployment with a range of work training "apprenticeship" schemes delivering very cheap labor, to employers, and no work training, to youth. Typical monthly wages run at 300 euros.

Signalling the reality of renewed global economic slowdown, China's trade surplus has shrunk to about 2.5% of GDP, Japan is now running a sizeable trade deficit, the U.S. trade deficit is hailed as shrinking due to shale gas + recession, but is still 3% of GDP, but Germany's trade surplus has risen above 7% of GDP and the euro-zone as a whole runs a trade surplus, especially with the US. The so-called answer is for Europe to reflate, that is print more money, import more and consume more.

We therefore come right back to where we started. European economic sabotage. To what extent this is different from or worse than US or Japanese economic sabotage is for the opinion piece scribes and the TV talking head "experts" to ponder.
By Andrew McKillop
Contact: xtran9@gmail.com
Former chief policy analyst, Division A Policy, DG XVII Energy, European Commission. Andrew McKillop Biographic Highlights
Co-author 'The Doomsday Machine', Palgrave Macmillan USA, 2012
Andrew McKillop has more than 30 years experience in the energy, economic and finance domains. Trained at London UK's University College, he has had specially long experience of energy policy, project administration and the development and financing of alternate energy. This included his role of in-house Expert on Policy and Programming at the DG XVII-Energy of the European Commission, Director of Information of the OAPEC technology transfer subsidiary, AREC and researcher for UN agencies including the ILO.
© 2013 Copyright Andrew McKillop - All Rights Reserved Disclaimer: The above is a matter of opinion provided for general information purposes only and is not intended as investment advice. Information and analysis above are derived from sources and utilising methods believed to be reliable, but we cannot accept responsibility for any losses you may incur as a result of this analysis. Individuals should consult with their personal financial advisor.
© 2005-2019 http://www.MarketOracle.co.uk - The Market Oracle is a FREE Daily Financial Markets Analysis & Forecasting online publication.

Only logged in users are allowed to post comments.
Register/ Log in