Marc Faber: Africa is Not Going to Be Another Southeast Asia
Economics
/
Africa
Jul 13, 2014 - 05:50 PM GMT


Georgi Ivanov writes: In the last Squawkonomics interview with Marc Faber, we addressed an entire range of questions impacting regions of the global economy, including one of the most tantalizing topics: will Africa become another Southeast Asia and become the new hotspot growth region of the global economy? After decades and centuries of predictions of an African rise, will it finally be Africa's turn for robust economic development?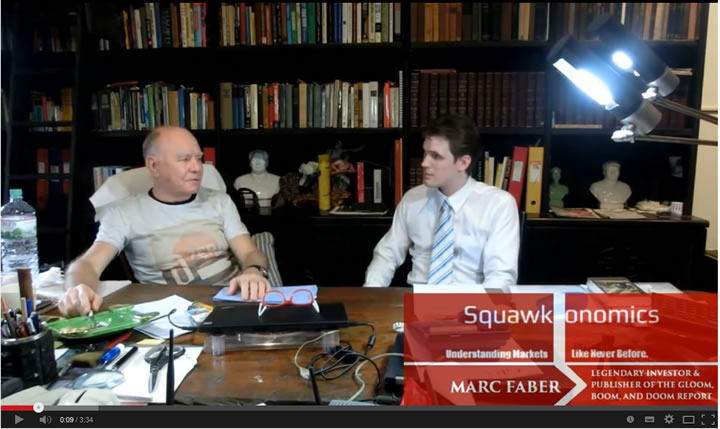 No, according to Faber. Here's why: its strengths are the resources, but the volatile politics of the continent are in the way. That, however, doesn't prevent current investment in Africa, nor should it do so in the future.
China is knee-deep investing in Africa, but it is doing so in the resources and agricultural sector, not in manufacturing. Namely, Chinese investment focuses on mining and arable land, two areas where China has some strategic liability for sustaining not only the economy, but its continued growth, albeit at a slower pace. Africa's economic profile is, for now, different than the Asian economies and a good comparison cannot be made. In 2014, foreign direct investment in Africa is expected to reach $80 billion, $67 billion of which comes from the BRICS group of countries. The BRICS blow away the West by far in terms of investment in Africa, and this is before plans such as the BRICS bank initiative really gets started. The West, comparably, has left Africa in the weeds with a startlingly low percentage of FDI in the continent coming from Western countries. Africa is thus becoming an investment flashpoint of influence, in which BRICS countries are clearly outperforming Western countries in their goal for influence and resource leverage over the continent, driving a linchpin and securing Chinese strategy in Africa in the area through sheer economic influence.
Chinese and UAE money compete with Japanese and Malaysian money building rival ports in the east of Africa in countries like Djibouti, Kenya, and Tanzania. It is a continent-wide contest to see who can build the infrastructure that will be the dominant pipeline bringing in goods from the East to the African continent. The clear trend of what can be seen from large port investments is that the Western countries are largely not participating in the infrastructure rush to connect Africa. If all Western countries do is build bases and project a military presence while the East brings in investment, what is going to happen?
George Friedman's latest piece, The Inevitability of U.S. Foreign Entanglements
talks about how war is a part of American foreign policy, and always has been. That seems to validate the case at least initially to the reader that a military foot forward in Africa seems to be the way to go. However, Friedman also lays out how the US when confronted between siding between a United Kingdom, a country the US previously went to war with- twice- and the much more ideologically aligned France, the US chose to support the UK at the time of the French Revolution in 1789. Why? Friedman espoused that the founding fathers realized that continued US prosperity through the necessity of trade with the much more economically influential United Kingdom was necessary for the country's growth. Even though militarily there was tension between the United Kingdom and the US at that time, the US set out to keep economic ties with the UK at the sake of losing France as its ally.
Africa currently is being sought out by many partners, some military, some economic. Africa is ultimately going to align itself with what it perceives as the country most economically necessary to its development, rather than simply the dominant military power on the planet. If China is that country, then the US better have a wakeup call and realize its military projection is not automatically going to bring Africa to align to itself and the greater West.
China is not well liked by the locals in Africa. But as the Americans found themselves aligning themselves with their old rival Britain instead of more politically-aligned France, the Africans may find themselves finding a way how to deal with their alignment with a China that is culturally, politically, and ideologically very different than themselves- and will do so out of economic necessity in order to further expand trade and therefore prosperity and livelihoods in Africa.
China is also investing in the development of critical infrastructure in Africa, from ports to roads to other large-scale projects, which not only benefits the locals, but also improves China's image on the continent as an investor without the colonial stigma, which is a significant issue for the Western countries operating in Africa. Still, local African pushback against a throng of Chinese ethnic population settlement and claims of uneven working conditions and packages for the locals vis a vis the Chinese population is a bone of contention, and an additional source of tension and stress between the Africa-China relationship.
Faber pointed out how the political and security situation make business hard in Africa, despite the high growth rates. Boko Haram in Nigeria, Libya's inability to pick up the pieces 3 years after Qaddafi and Egypt's annual revolutions are only a few of the issues on the continent. And periodic violent spats of worker uprisings against Chinese bosses continue to be part of the operational tapestry across Africa. Yet, if one picks up a newspaper from 100 years ago and reads about Africa, one would find similar headlines then- solidifying the age old claim of the more things change, the more they remain the same.
Resources will be the best investment in Africa for a while longer still, especially in places like Libya, South Africa and Nigeria, which are traditional resource producers, but also in more undeveloped markets, such as Angola, Zimbabwe or Mozambique, the last of which will have a key role in southern Africa for resource exports to Asia and compete with Kenya for commercial control of the Africa eastern seaboard; these access points will also be critical for suppliers from the interior.
In the global supply chain ,therefore, Africa relies on resource-driven economies to create employment, growth, added value and heighten its competitiveness. As the Asian economies mature over time, their growth rates will slow and profit margins will decline to the point, where they will become comparable to Western economies in terms of their dynamics: high productivity, low growth, and net investors. At that point, we could see Africa's advantageous demographics be utilized for mass-scale manufacturing, but until then, the focus of that added value will be Asia.
Georgi Ivanov is a political scientist with Squawkonomics, focusing on the influence of geopolitical trends on emerging markets. For more information, visit: www.squawkonomics.com
Copyright © 2014 Georgi Ivanov - All Rights Reserved Disclaimer: The above is a matter of opinion provided for general information purposes only and is not intended as investment advice. Information and analysis above are derived from sources and utilising methods believed to be reliable, but we cannot accept responsibility for any losses you may incur as a result of this analysis. Individuals should consult with their personal financial advisors.
© 2005-2019 http://www.MarketOracle.co.uk - The Market Oracle is a FREE Daily Financial Markets Analysis & Forecasting online publication.

Only logged in users are allowed to post comments.
Register/ Log in