Hedge Funds Remain Bullish Crude Oil Price
Commodities
/
Crude Oil
Jan 05, 2016 - 04:23 AM GMT

Just as the case with Silver, so do the hedge funds remain stubbornly long in crude oil.
Here is the updated COT chart as of last Tuesday, December 29, 2015.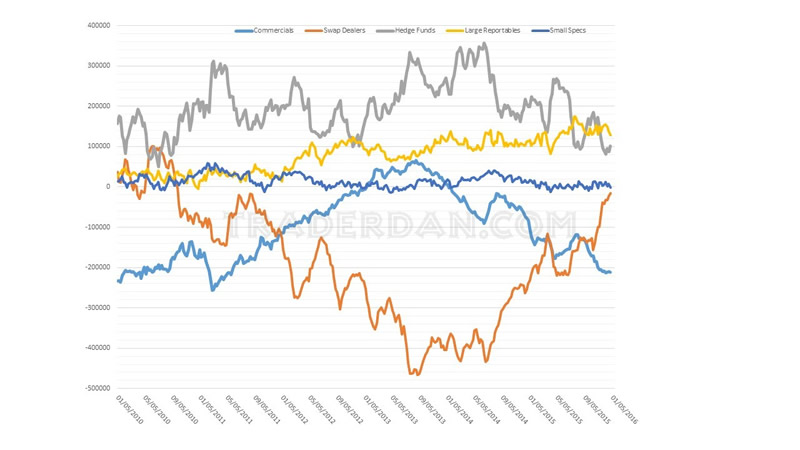 What intrigues me the most about this chart is that the Commercial entities continue to add to their already sizeable net short position. Clearly they are not lifting short hedges in anticipation of a bottom in oil but instead seem to be bracing for a more protracted period of lower prices.
That is a distinct contrast to the hedge fund community which has ridden this entire move lower in crude and managed to lose huge sums of money in the process. Again, I simply am at a loss to explain this incredible blockheadedness on their part. Maybe they will make it back on the way up when crude finally does bottom out but as to when that will happen, who knows? In the interim, they managed to miss one incredible profit making opportunity by misreading or ignoring the price chart and the technical price patterns.
I guess you can call it a case of "Hope Springs Eternal" when it comes to the large specs and their bullish oil posture because other than that, I have no explanation why they are so other than the fact that in the past, crude oil tended to hit spike lows and then rebound. The problem is that this time around, US production is showing no signs as of yet of being sharply curtailed – at least curtailed enough to make a dent in the supply glut.
I understand the knee-jerk reaction to middle East turmoil and tensions but unless these sort of flare ups actually result in a drop in crude oil production or supplies reaching the world market, blindly buying into a bear market is a counterproductive "tactic" for most traders. The same goes for perennial bottom fishing.
If crude oil is to actually produce a solid bottom and enter a bull market, the charts will show it. One does not have to try to nail some sort of "exact bottom" in the hope of bragging about some penchant for prophetic market insights. In a trending move, pulling 70%-80% out of the trend is more than sufficient to make good profits. One DOES NOT NEED TO buy exact bottoms ( impossible on a consistent basis) or to sell exact tops to make money in these markets.
Remember that.
I am still being very careful in these markets at this time. There remain many conflicting cross currents which can buffet these markets in opposing directions. As said many times here, good traders are more concerned about NOT LOSING their trading capital than they are of missing bottoms or missing tops. Leave the latter for the rookies. When the time comes to be aggressive, you can then push for all it is worth. In the meantime, exercise PATIENCE, something most individuals do not have when it comes to trading and one of the main reasons their careers in this profession are so short-lived.

Dan Norcini
Dan Norcini is a professional off-the-floor commodities trader bringing more than 25 years experience in the markets to provide a trader's insight and commentary on the day's price action. His editorial contributions and supporting technical analysis charts cover a broad range of tradable entities including the precious metals and foreign exchange markets as well as the broader commodity world including the grain and livestock markets. He is a frequent contributor to both Reuters and Dow Jones as a market analyst for the livestock sector and can be on occasion be found as a source in the Wall Street Journal's commodities section. Trader Dan has also been a regular contributor in the past at Jim Sinclair's JS Mineset and King News World as well as may other Precious Metals oriented websites.
Copyright © 2015 Dan Norcini - All Rights Reserved
All ideas, opinions, and/or forecasts, expressed or implied herein, are for informational purposes only and should not be construed as a recommendation to invest, trade, and/or speculate in the markets. Any investments, trades, and/or speculations made in light of the ideas, opinions, and/or forecasts, expressed or implied herein, are committed at your own risk, financial or otherwise. The information on this site has been prepared without regard to any particular investor's investment objectives, financial situation, and needs. Accordingly, investors should not act on any information on this site without obtaining specific advice from their financial advisor. Past performance is no guarantee of future results.
© 2005-2019 http://www.MarketOracle.co.uk - The Market Oracle is a FREE Daily Financial Markets Analysis & Forecasting online publication.

Only logged in users are allowed to post comments.
Register/ Log in