On the Stock Market the Federal Reserve Impersonates Dikembe Mutombo!
Stock-Markets
/
Stock Markets 2018
Apr 04, 2018 - 06:48 PM GMT


NBA fans will remember Dikembe Mutombo as the former defensive-minded center who carved his niche in the league by blocking shots. Upon swatting a shot away, Dikembe would shake his head 'no' and wag his forefinger back in forth at his opponent as admonishment for even attempting a shot near his presence.
See the first chart below.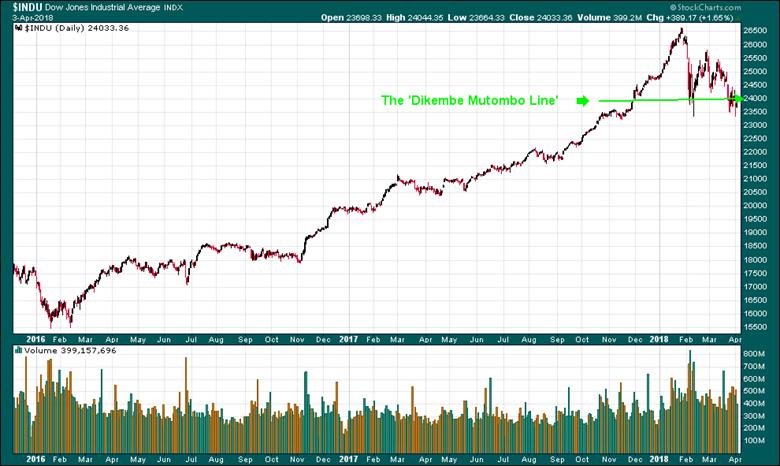 DJIA - Daily since January 2018
Chart courtesy StockCharts.com
This basically shows us the winning, rising unabated pattern of the DJIA since President Trump was elected. With a steady rise in stock prices, the Fed and their PPT arm has been quite. No need for intervention. Besides, the Fed has been buying 'assets' (stocks) like all the other central banks. They announced an end to this policy at the end of 2017. Stock price enjoyed another bubblicious month in January and then there was a pin prick. The Fed raised the Fed Funds rate and promised more. The yield curve compressed more and investors sold down the stock indices. I have marked the 'Dikembe Mutombo Line' in green.
Well, the Fed let the selling go on until the Dow pierced the 24,000 level. Then, Fed Chief Powell jumped out and swatted the selloff snowball back up the hill. He wagged his finger at would-be sellers as if to say, "Don't even try it!!"
February was a busy month for the Fed as another wave of selling hit the Dow. This time, the selloff did not even make it to the 'Dikembe Mutombo Line'. The selling was abruptly blocked and back up went the Dow. The forefinger was again wagging.
You could almost hear them on Wall Street. "On Comet! On Cupid! On Donner and Blitzen!" Wait a minute, that was a different 'Santa Claus'. The point is that everyone is so enamored with an ever-rising stock index value that no one seems to care that the Federal Reserve constantly forces stock prices higher at arbitrary levels. True capitalism cannot function with constant Fed meddling. True prices for anything cannot be discovered with constant Fed meddling. A fair economy cannot ever be realized with constant Fed meddling. Capitalism this is not!!
Yet, another bout of selling hit the Dow as the calendar turned to April. Another sign that the Fed is active in stock pricing is when a month is about to expire with steep losses, like February of 2018, the PPT instigates a massive 'last day of the month rally'. Invariably, this leads to a beginning of the month, April, selloff.
See the next chart below. It is a picture of the Dow for the past two days (Monday 4/2/18 and Tuesday 4/3/18 in 5-minute bars).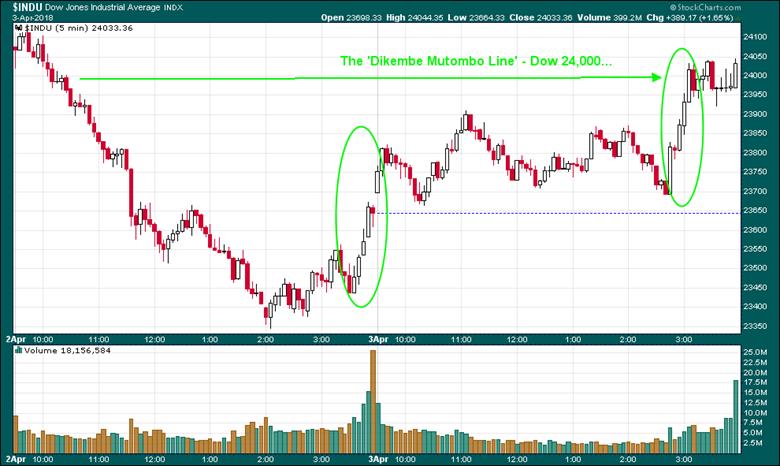 DJIA - 4/2/18 - 4/3/18 5-minute bars
Chart courtesy StockCharts.com
This 2-day chart shows the PPT in action. Monday was the first day of the month following the PPT's nice 'end of the month rally' in March. Naturally, stock prices plunged. Down 700 points or so with only a few hours left in the trading day, stock indices suddenly sprang to life! With so little time to work a miracle rally, the PPT did spur on a nice 300-point rally in the last 30 minutes of trading! Again, I have drawn the 'Dikembe Mutombo Line' in green along the Dow 24,000 level. This is the Fed's target for setting stock prices.
Tuesday was very wild. There were a couple of intraday 200-point selloffs immediately followed by 300-point rallies culminating in the nice 300-point rally at 3 PM. That brought the Dow to what level again? Yes, 24,000. Dikembe was again wagging his finger. So, it only took the Fed's PPT less than 6 hours of trading time to basically erase a 700-point selloff. Whew!
One quick point. With all that wild action, one would think a so-called 'volatility index' like the VIX would rise. It didn't. It fell. So again, the VIX pricing has nothing whatsoever to do with rapidly rising or falling stock prices. It is priced from the value of put options. The Fed, the PPT, drives up stock prices using call options in massive waves thus killing the value of puts thus killing the VIX.
What's so special about Dow 24,000? I have no idea. But this is the only thing investors need to know. The Fed runs everything. America does not have a stock 'market'. America does not enjoy pure capitalism. The Federal Reserve is constantly setting prices. What investors have to look for is a sign from the Fed that they are impersonating Dikembe Mutombo to reject any selling attempt on the part of investors so that the Dow pricing will conform to the level the Fed feels comfortable. My guess is the Fed will always step in when selling looks poised to tank the derivative market. They steal tax money from the citizens, drive up stock prices, and their bankster friends get rich. Welcome to America!
A follow-up. I literally cannot write this fast enough. We all know that stock prices are at least 'elevated' (even in the Fed's opinion). The country is fractured on many faults. US troops are in 75% of countries throughout the world killing and destroying everything in their path. For brevity, we could all agree that there are many reasons stock prices could legitimately fall. Yet, they will not be allowed to do so. On Wednesday, the Dow opened up down some 400 points below the Dikembe Mutombo Line. We all know what happens next. Enjoy the rally back above 24,000. Enjoy the american clown show!
Barry M. Ferguson, RFC
President, BMF Investments, Inc.
Primary Tel: 704.563.2960
Other Tel: 866.264.4980
Industry: Investment Advisory
barry@bmfinvest.com
www.bmfinvest.com
www.bmfinvest.blogspot.com
Barry M. Ferguson, RFC is President and founder of BMF Investments, Inc. - a fee-based Investment Advisor in Charlotte, NC. He manages several different portfolios that are designed to be market driven and actively managed. Barry shares his unique perspective through his irreverent and very popular newsletter, Barry's Bulls, authored the book, Navigating the Mind Fields of Investing Money, lectures on investing, and contributes investment articles to various professional publications. He is a member of the International Association of Registered Financial Consultants, the International Speakers Network, and was presented with the prestigious Cato Award for Distinguished Journalism in the Field of Financial Services in 2009.
© 2018 Copyright BMF Investments, Inc. - All Rights Reserved
Disclaimer: The views discussed in this article are solely the opinion of the writer and have been presented for educational purposes. They are not meant to serve as individual investment advice and should not be taken as such. This is not a solicitation to buy or sell anything. Readers should consult their registered financial representative to determine the suitability of any investment strategies undertaken or implemented.
© 2005-2019 http://www.MarketOracle.co.uk - The Market Oracle is a FREE Daily Financial Markets Analysis & Forecasting online publication.

Only logged in users are allowed to post comments.
Register/ Log in