Spanish Political Crisis - This is the End of the Euro
Politics
/
Euro-Zone
May 25, 2018 - 03:57 PM GMT


The Spanish government is about to fall after the Ciudadanos party decided to join PSOE (socialist) and Podemos in a non-confidence vote against PM Rajoy. Hmm, what would that mean for the Catalan politicians Rajoy is persecuting? The Spanish political crisis is inextricably linked to the Italian one, not even because they are so much alike, but because both combine to create huge financial uncertainty in the eurozone.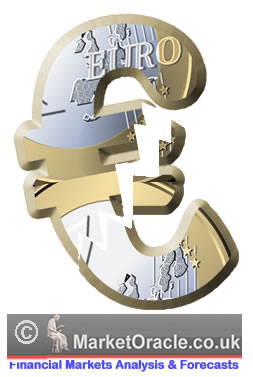 Sometimes it takes a little uproar to reveal the reality behind the curtain. Both countries, Italy perhaps some more than Spain, would long since have seen collapse if not for the ECB. In essence, Mario Draghi is buying up trillions in sovereign bonds to disguise the fact that the present construction of the euro makes it inevitable that the poorer south of Europe will lose against the north.
Club Med needs a mechanism to devalue their currencies from time to time to keep up. Signing up for the euro meant they lost that mechanism, and the currency itself doesn't provide an alternative. The euro has become a cage, a prison for the poorer brethren, but if you look a bit further, it's also a prison for Germany, which will be forced to either bail out Italy or crush it the way Greece was crushed.
Italy and Spain are much larger economies than Greece is, and therefore much larger problems. Problems that are about to become infinitely more painful then they would have been had the countries been able to devalue their currencies. If you want to define the main fault of the euro, it is that: it creates problems that would not have existed if the common currency itself didn't. This was inevitable from the get-go. The fatal flaw was baked into the cake.
And if you think about it, today the need for a common currency has largely vanished anyway already. Anno 2018, people wouldn't have to go to banks to exchange their deutschmarks or guilders or francs, they would either pay in plastic or get some local currency out of an ATM. All this could be done at automatically adjusting exchange rates without the use of all sorts of middlemen that existed when the euro was introduced.
Americans and British visiting Europe already use this exact same system. Governments can make strong deals that make it impossible for banks and credit card companies to charge more than, say, 1% or 0.5%, on exchange rate transactions. This would be good for all cross-border trade as well, it could be seamless.
Technology has eradicated the reason why the euro was introduced in the first place, and made it completely unnecessary. But the euro is here, and it is going to cause a lot more pain and mayhem. Any country that even thinks about leaving the system will be punished hard, even if that's the by far more logical thing to do.
Europe is not ready to call for the end of the experiment. Because so much reputation and ego has been invested in it, and because the richer nations and their banks still benefit -hugely- from the problems the poorer face. The one country that got it right was Britain, when it decided to stay out of the eurozone.
But then they screwed up the next decision. And found themselves with the most incompetent ever group of 'chosen few' to handle the outcome. Still, anyone want to take out a bet on who's going to be worse off when the euro whip comes down, Britain or for instance Italy or France? Not me. Close call is the best I can come up with.
The euro was devised and introduced, ostensibly, to solve problems. Problems with cross border trade between European nations, with exchange rates. But instead it has created a whole new set of problems that turn out to be much worse than the ones it was supposed to solve. That's how and why M5S and the League got to form Italy's government.
In Spain, if an election is called, and it looks that way, you will either get a left wing coalition or more of the Rajoy-style same. Left wing means problems with the EU, more of the same means domestic problems; the non-confidence vote comes on the heels of yet another corruption scandal for Rajoy's party.
And let's not forget that all economic numbers are being greatly embellished all over the continent. If you can claim with a straight face that the Greek economy is growing, anything goes. Same with Italy. It's only been getting worse. And yeah, there's a lot of corruption left in these countries, and yeah, Europe could have helped them solve that. Only, it hasn't, that is not what Brussels focuses on.
Italy for now is the big Kahuna. The EU can't save it if the new coalition is serious about its government program. But it also can't NOT save it, because that would mean Italy leaving the euro. And perhaps the EU.
If Italian bonds are sufficiently downgraded by the markets, Mario Draghi's ECB will no longer be permitted to purchase them. And access to other support programs would depend on doing the very opposite of what the M5S/League program spells out, which is to stimulate the domestic economy. Is that a bad idea? Hell no, it's just that the eurozone rules forbid it.
The euro has entirely outlived its purpose, and then some. But it exists, and it will be incredibly painful to unravel. The new game for the north will be to unload as much of that pain as possible on the south.
Europe would have been much better off of it had never had the euro. But it does. The politicians and bankers will make sure they're fine. But the people won't be.
The euro will disappear because the reasons for it not to exist are much more pressing than for it to do. At least that bit is simple. The unwind will not be.
By Raul Ilargi Meijer
Website: http://theautomaticearth.com (provides unique analysis of economics, finance, politics and social dynamics in the context of Complexity Theory)
© 2018 Copyright Raul I Meijer - All Rights Reserved Disclaimer: The above is a matter of opinion provided for general information purposes only and is not intended as investment advice. Information and analysis above are derived from sources and utilising methods believed to be reliable, but we cannot accept responsibility for any losses you may incur as a result of this analysis. Individuals should consult with their personal financial advisors.
© 2005-2019 http://www.MarketOracle.co.uk - The Market Oracle is a FREE Daily Financial Markets Analysis & Forecasting online publication.

Only logged in users are allowed to post comments.
Register/ Log in