Economic Tribulation is Coming, and Here is Why
Economics
/
Great Depression II
Dec 17, 2019 - 10:57 AM GMT

The global fixed income market has reached such a manic state that junk bond yields now trade at a much lower rate than where investment-grade debt once stood. Investment-grade corporate debt yields were close to 6% prior to the Great Recession. However, Twitter just issued $700 million of eight-year bonds at a yield of just 3.875%. That is an insanely low rate even for investment-grade corporate debt. But, the credit rating on these bonds is BB+, which by the way, happens to be in the junk category.

One has to wonder how fragile the fixed income world has become when investors are tripping over each other to lock up money for eight years in a junk-rated company that is offering a yield only 1.5 percentage points above the current rate of inflation. And, in a company involved in the technology space, which is a sector that evolves extremely rapidly with a high extinction rate. Oh, and by the way, Twitter missed on both revenue and earnings in its last quarterly report. Nevertheless, this issue was so oversubscribed that the dollar amount for the offering was boosted by $100 million just days before coming to market.

The fixed income mania is even worse over in Euroland, where junk bonds are commonly issued with yields of just around 1.5%--and with some even getting paid to borrow money. And, it has become par for the course to find European investment-grade corporate debt that is yielding below zero.
The MSFM will not acknowledge the existence of a bond bubble. This is mind-boggling because the worldwide bubble in fixed income is the largest deformation of an asset value in the history of humankind. Bloomberg's research indicates that the average yield on the 10-year US Treasury Note was 7.3% from the 1960s thru 2007. That yield now has a one handle in front of it. Wall Street explains away this abnormality by claiming low yields are justified because there is no inflation. However, the Bureau of Labor Statistics (BLS) clearly shows that year/year Core CPI is running at 2.3% and has been over 2% for nearly two years! Therefore, the low inflation lie promulgated by Wall Street can't explain the condition of record-low interest rates. And, the fact that the US now has a debt to GDP ratio of 106%--the highest since immediately after WWII--doesn't explain it either.
Negative 10-year bond yields in Europe and Japan can't be explained by extraordinary fiscal prudence as well. The EU's debt to GDP ratio stands at near 90%, which is 20 percentage points higher than it was when the Maastricht Treaty came into force in 1993, and Japan's debt to GDP ratio is 240%, which is the highest on record.
Record low-interest rates should be a function of record low inflation rates and budget surpluses. But global governments get a failing grade on providing either. Not only this, but the future looks even bleaker. Central banks are promising even more inflation at the same time debt, and deficits are soaring.
After the great economic collapse of 2008, we have felt several tremors of the great rate earthquake that still lies ahead. In 2012 we saw the bond market blow up during the EU debt crisis. Rates spiked in most of Europe as bond investors became convinced that systemic sovereign debt defaults were coming. This caused the then head of the ECB, Mario Draghi, to promise to do whatever it takes to push rates lower. He promised to print trillions of euros and buy enough debt until investors became more inspired to front-run ECB bids rather than worry about defaults.
Then, in 2014, there was a big growth scare in China, which has been responsible for one-third of global growth. China launched a massive 10 trillion RMB infrastructure plan to stimulate its faltering economy. The US also deployed a tax cut and stimulus package that the CBO estimated would add nearly two-trillion dollars to the deficit over a decade. Things worked well for a while, with global fiscal and monetary stimulus running full throttle.
But then in late 2018, things all began to fall apart once again, as money market rates began to soar. The Fed had been raising interest rates and selling off its balance sheet. It raised the FFR only two and a half percentage points above the zero line and sold a few hundred billion dollars' worth of its assets. That caused the stock market to plunge and the credit markets to freeze. Jerome Powell's half-hearted attempt at normalization of monetary policy caused the entire phony economic construct to tumble.
This chart
produced by Sprott Asset Management LP
sprott.com
illustrates how feeble the global attempt towards normalization really was and how central bankers have become ensnared in their own trap.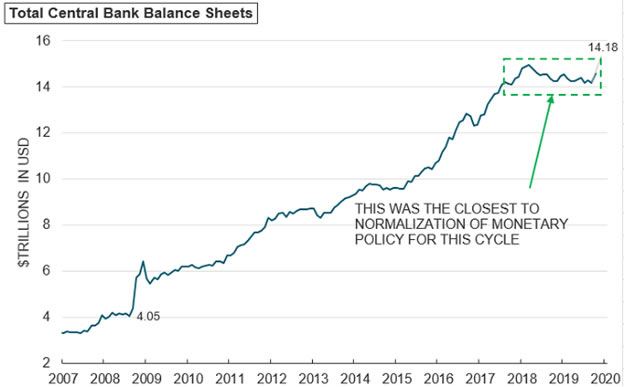 This proves the point: whatever semblance of normalcy that exists in the economy and markets is based upon the continuation of free money forever and the ability to keep interest rates from ever rising.
But for that to be the case, you must believe that the $14 trillion of central bank money printing (and that is just counting what has been done in the developed world) will never cause inflation to rise above central banks' 2% target. And, you also must assume that the surging $250 trillion debt load will never give bond investors cause for concern over debt service costs even though that pile of debt is growing at a much faster pace than underlying growth.
The truth is Central Planners have gone all-in with their fiscal and monetary policies. In their zeal to keep the stock market in a perpetual bull market, they have borrowed and printed to the limit. Interest rates are now at or near zero throughout the developed world, and debt to GDP ratios have risen to the point where solvency is now becoming a real risk.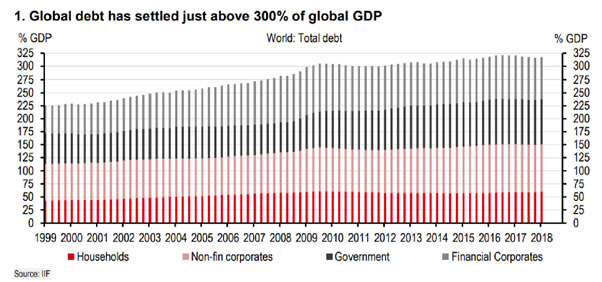 The future guarantees that the junk bond market will someday implode, and probably soon. Repo borrowing costs will soar, the liquidity in the junk bond market will evaporate and equity prices will begin to free-fall. However, since normalization has proved to be a pipe dream, as it has failed miserably whenever and wherever it has been even marginally attempted, policymakers are aware that they will be handcuffed during the next economic downturn. That is why central bankers have become petrified over each downtick in the stock market.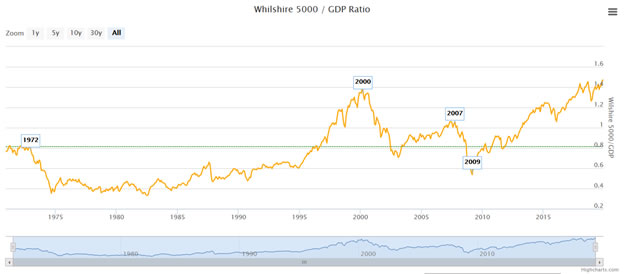 The clock is ticking down towards a period of unprecedented economic tribulation, and its catalyst will be the implosion of the global bond bubble. A recession will destroy the worldwide corporate bond market. But even though that is bad enough, intractable Inflation will destroy the entire global fixed income complex across the board. Modeling when this great reset will occur and capitalizing from it will make all the difference in the world for your standard of living.
Michael Pento produces the weekly podcast "The Mid-week Reality Check", is the President and Founder of Pento Portfolio Strategies and Author of the book "The Coming Bond Market Collapse."
Respectfully,
Michael Pento
President
Pento Portfolio Strategies
www.pentoport.com
mpento@pentoport.com
Twitter@ michaelpento1
(O) 732-203-1333
(M) 732- 213-1295
Michael Pento is the President and Founder of Pento Portfolio Strategies (PPS). PPS is a Registered Investment Advisory Firm that provides money management services and research for individual and institutional clients.
Michael is a well-established specialist in markets and economics and a regular guest on CNBC, CNN, Bloomberg, FOX Business News and other international media outlets. His market analysis can also be read in most major financial publications, including the Wall Street Journal. He also acts as a Financial Columnist for Forbes, Contributor to thestreet.com and is a blogger at the Huffington Post.
Prior to starting PPS, Michael served as a senior economist and vice president of the managed products division of Euro Pacific Capital. There, he also led an external sales division that marketed their managed products to outside broker-dealers and registered investment advisors.
Additionally, Michael has worked at an investment advisory firm where he helped create ETFs and UITs that were sold throughout Wall Street. Earlier in his career he spent two years on the floor of the New York Stock Exchange. He has carried series 7, 63, 65, 55 and Life and Health Insurance
www.earthoflight.ca
Licenses. Michael Pento graduated from Rowan University in 1991.
© 2019 Copyright Michael Pento - All Rights Reserved
Disclaimer: The above is a matter of opinion provided for general information purposes only and is not intended as investment advice. Information and analysis above are derived from sources and utilising methods believed to be reliable, but we cannot accept responsibility for any losses you may incur as a result of this analysis. Individuals should consult with their personal financial advisors.
© 2005-2019 http://www.MarketOracle.co.uk - The Market Oracle is a FREE Daily Financial Markets Analysis & Forecasting online publication.

Only logged in users are allowed to post comments.
Register/ Log in