Financial Markets Regulations, Baseball and the Law of Unintended Consequences
Stock-Markets
/
Market Regulation
Oct 08, 2008 - 03:06 PM GMT


With the World Series coming up soon, it seems timely to compare some key financial regulations to the rules of baseball.
Say the visiting team scores on an error in the top of the first and the home team fails to score in the bottom of the inning. Under the current mark-to-market rule for securities, known as FAS 157, the game would be over at that point -- there would be no chance to play the other eight innings so the home team could try to get the run back.
Say runners are on first and second and the batter fouls off a pitch into the grandstand. If the no-uptick rule for short sales was in force, the runners would be allowed to freely advance around the bases.
Say the visiting team scores a go-ahead run in the top of the ninth, then its players refuse to take the field for the bottom half. Using the weak rules governing naked short-selling, the umpires not only couldn't order the visitors out of the dugout, they also couldn't declare a forfeit.
If any of these scenarios occurred in an actual game, there would be immediate protests and calls for change. And that's what we're now seeing with some of the major financial rules.
The current regulatory regime governing the financial sector appears to be seriously flawed, and those flaws have played a major role in the crisis that required the large-scale rescue that was finally approved by Congress following a week of political theatre during which 9.3 percent of the S&P 500's value was wiped out.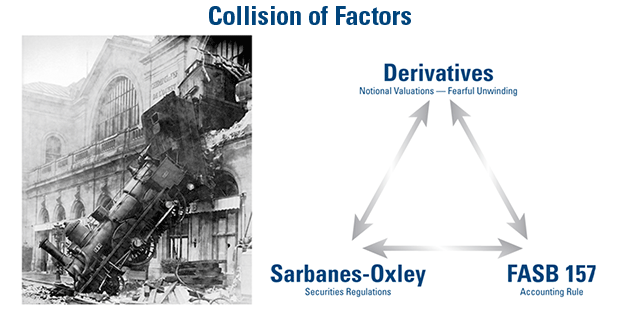 Also playing a major role were the greedy residents of both Wall Street and Main Street that loaded up on debt, apparently without giving much thought to how it would ever be paid back.
This extreme leverage loaded the bases with danger, and the regulations triggered a grand slam against the economy. All of the players involved should be held accountable for the mess.
The rescue plan for troubled assets is important, but it's only a partial solution. I think the economist Nouriel Roubini is on the right track when he suggested recently that the government use a Depression-era approach to recapitalize banks with public money and take preferred shares in exchange.
It's a good sign when you see Warren Buffett spending billions of dollars on what he sees as bargains in the financial sector. In our analysis of Mr. Buffett, he appears to make major investments when a sector is down two standard deviations, and that's where the market is today.
We agree with BCA Research when it says "opportunistic, selective buying remains the cornerstone of our investment strategy." The price correction should lose downward momentum as politicians create policies that reflect current conditions.
Accelerating central bank liquidity is traditionally bullish for commodities, but given how far things have fallen, the transition to a renewed bull market in emerging economies and commodities could take months.
By Frank Holmes, CEO , U.S. Global Investors
Frank Holmes is CEO and chief investment officer at U.S. Global Investors , a Texas-based investment adviser that specializes in natural resources, emerging markets and global infrastructure. The company's 13 mutual funds include the Global Resources Fund (PSPFX) , Gold and Precious Metals Fund (USERX) and Global MegaTrends Fund (MEGAX) .
More timely commentary from Frank Holmes is available in his investment blog, "Frank Talk": www.usfunds.com/franktalk .
Please consider carefully the fund's investment objectives, risks, charges and expenses. For this and other important information, obtain a fund prospectus by visiting www.usfunds.com or by calling 1-800-US-FUNDS (1-800-873-8637). Read it carefully before investing. Distributed by U.S. Global Brokerage, Inc.
All opinions expressed and data provided are subject to change without notice. Some of these opinions may not be appropriate to every investor. Gold funds may be susceptible to adverse economic, political or regulatory developments due to concentrating in a single theme. The price of gold is subject to substantial price fluctuations over short periods of time and may be affected by unpredicted international monetary and political policies. We suggest investing no more than 5% to 10% of your portfolio in gold or gold stocks. The following securities mentioned in the article were held by one or more of U.S. Global Investors family of funds as of 12-31-07 : streetTRACKS Gold Trust.
© 2005-2019 http://www.MarketOracle.co.uk - The Market Oracle is a FREE Daily Financial Markets Analysis & Forecasting online publication.

Only logged in users are allowed to post comments.
Register/ Log in