Investor Sentiment Signaling The Great Depression II
Stock-Markets
/
Economic Depression
Oct 27, 2008 - 12:02 PM GMT


That's what investors simply will not do today because they are the same spoiled brats that make up the bureaucracy. Stubborn – stubborn – stubborn – that's what both investors and bureaucrats are today, with no sense of proportion or morality, and unwilling to give up the ghost in speculation games. The moral hazard that has been instilled into the public and bureaucracy alike over the past twenty years has finally caught up to reality, where as discussed in ' The Missing Ingredient ' the other day, investors are convinced the bureaucracy will engineer another stick save for the stock market right in front of the election, and for this reason speculators are hesitant to short the market. And it's not as if the bureaucracy isn't throwing the book at the problem attempting to arrest the meltdown – they are. But alas, without the suckers (put buyers) to squeeze stocks higher, prices continue to plunge like never before in history .


The following is an excerpt from commentary that originally appeared at Treasure Chests for the benefit of subscribers on Friday, October 10th , 2008.
Add into the mix investors are still margined to the hilt , and guess what, we have a recipe for a system wide meltdown, never mind just the stock market. That is to say, if the stock market were to collapse over the next year or so to the same extent it did in 1929, which saw the Dow down some 90% in the end due to margin debt contraction, then what we are likely looking at moving forward is the Great Depression II . And it's not as if we don't have any modern day examples of what happens after a credit bust, where this has certainly been the experience in Japan, in an economic malaise for the past two-decades now. Of course if the US goes down, which is happening , things will get much worse for everybody no matter what measures are taken. A derivatives neutron bomb has gone off now that will meltdown the financial markets in record time, where it appears the future may be now in this regard.
Of course it wouldn't matter if was derivatives led meltdown or not. (i.e. don't let this guy fool you .) The main criterion that will usher in the Great Depression II is that the larger credit cycle has peaked, which in turn will trigger all the standard emotional responses from the public and bureaucracy alike. You see the credit cycle was extended by the creation of quadrillions in notional value of derivatives that supported the ILLUSION value was present in the financial markets when there was far less. So, despite the size of the numbers involved in our financial system, because it's all an illusion, as you can see in the case of the stock market, a great deal of fictional wealth can get wiped out very quickly. In this respect I do think Roubini is right about one thing, Monday could be a very interesting day in the stock market – a very interesting day indeed.
Turning to the charts to support this view, of note is the fact the Dow / Gold Ratio has sliced right through large round number support at 10 with ease, meaning unless the fall is arrested soon, it could continue sliding in fractal fashion as stocks plunge / gold explodes higher. Further to this it should be pointed out that mirror image structural patterning expectations associated falling stock markets should be abandoned at this point given the degree of irregularity already witnessed in this regard, which supports the view the Dow / Gold Ratio could collapse rapidly. Add to this escalating derivatives related counter-party risk considerations, which was touched on the other day, potentially causing panic buying of gold (and silver) by US banks and hedge funds, and it's not difficult picturing exacerbation in the move.
Need more proof things could get worse from here? Well, in addition to checking out the fact the Rydex Ratio (see Figure 3 ) is nowhere near a top, one might want to check out this attached Daily VIX chart. Here, one should notice that in addition to more room existing on indicators before peaks should be expected, that the ADX (DI+) reading has now broken out. So what? It's only this implies life as you know it has now changed forever as a result, where volatility will rule in many respects, and few will be able to insulate themselves from growing turmoil. Thus, don't be surprised if the CBOE Volatility Index (VIX) continues up over 100, bank / market holidays ensue, and a bunch of people waking up very quickly. (See Figure 1)
Figure 1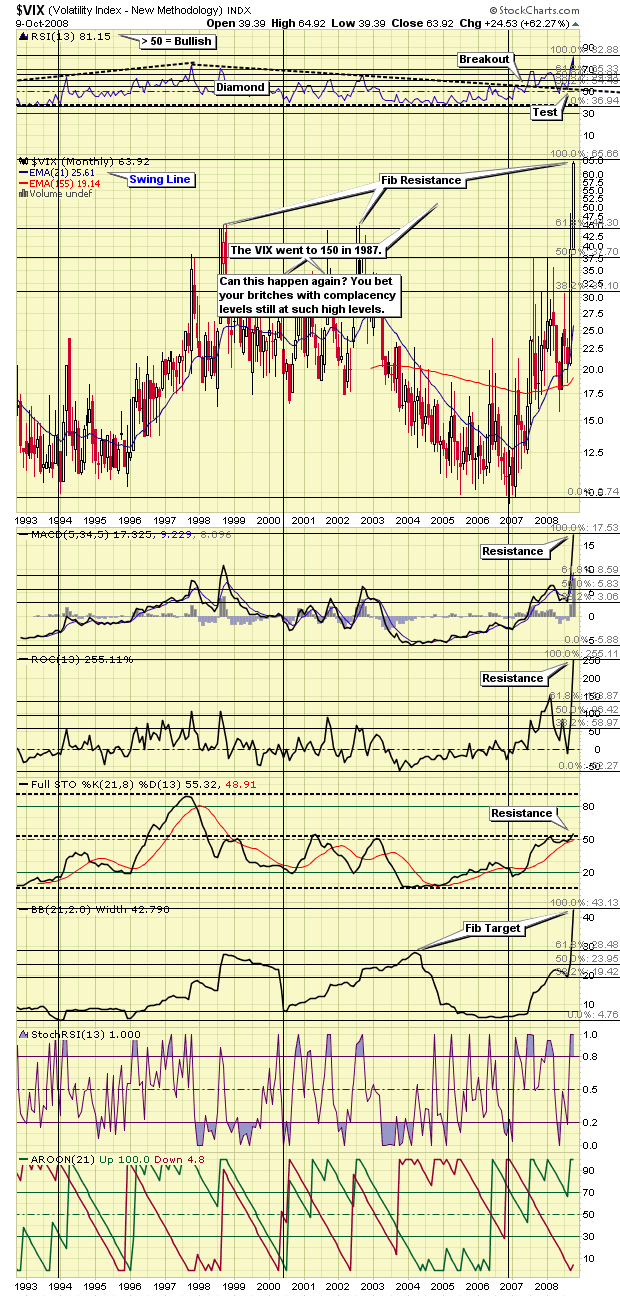 How can I be so sure such a pessimistic appraisal could become a reality? Again, it's investor sentiment that tells the story, where measure after measure continues to signal complacency. In this respect I offer the below snapshot of the Nasdaq / Dow Ratio, where it should be recognized a structural break of indicated support will kick in the afterburners on the larger sell-off in the stock market as crazed speculators finally give up the ghost on both the presidential cycle and unfounded optimism associated with the economy next year. Growth sensitive tech stocks outperform in a strong economy, where again, a crashing stock market should remove any confusion within investors minds regarding the reality of prospects moving forward. (See Figure 2)
Figure 2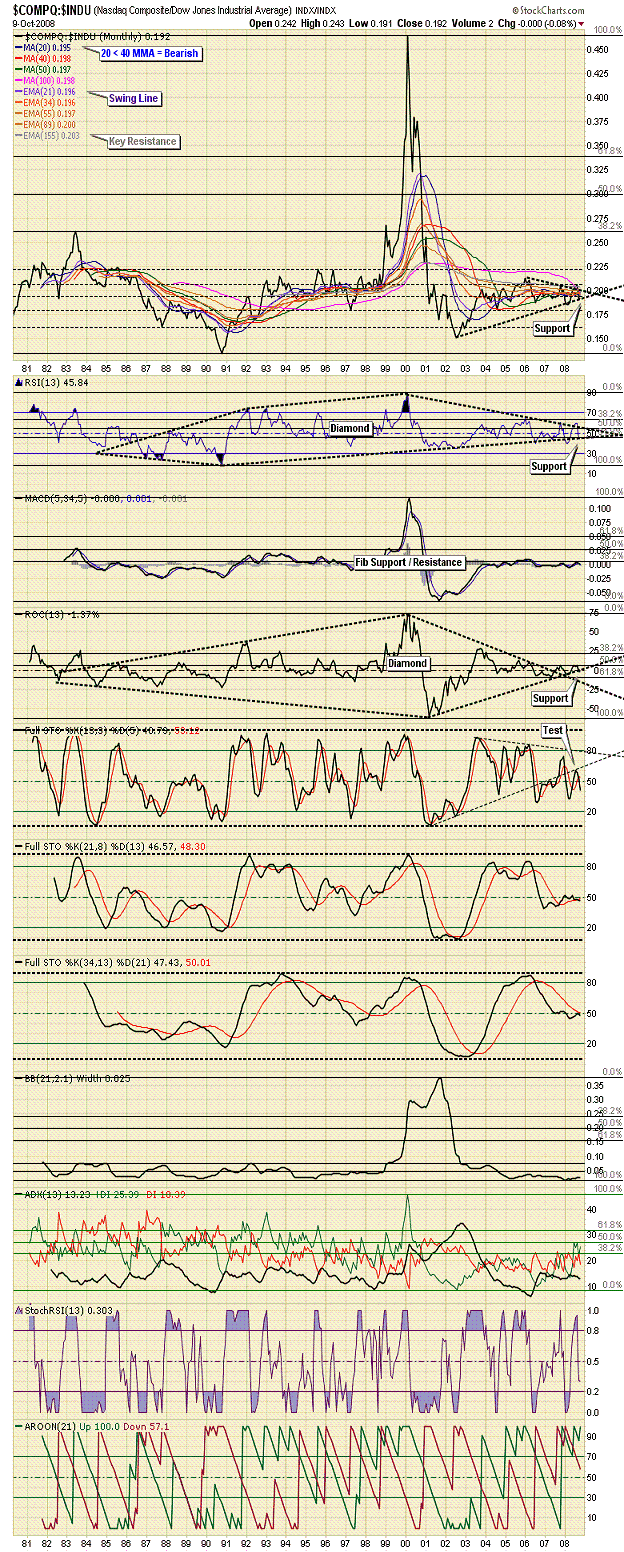 And in solving the mystery of why silver can under-perform gold with a relatively profound short position against it, now we know why, with the prospects for the economy imploding dramatically increasing by the day. Gold outperforms during times of economic uncertainty, and as you can see in the long-term monthly plot below, it's been a rocket against silver over the past few months, and is poised for further fractal like gains. Again, in terms of what this would signal, think in terms of further fractal like losses in stocks, where at this point the best conceptual framework to characterize events likely lies within understanding globalization, fiat currency regimes, and present day bureaucracy's are collapsing in a Grand Super Cycle Degree event, at a minimum. (See Figure 3)
Figure 3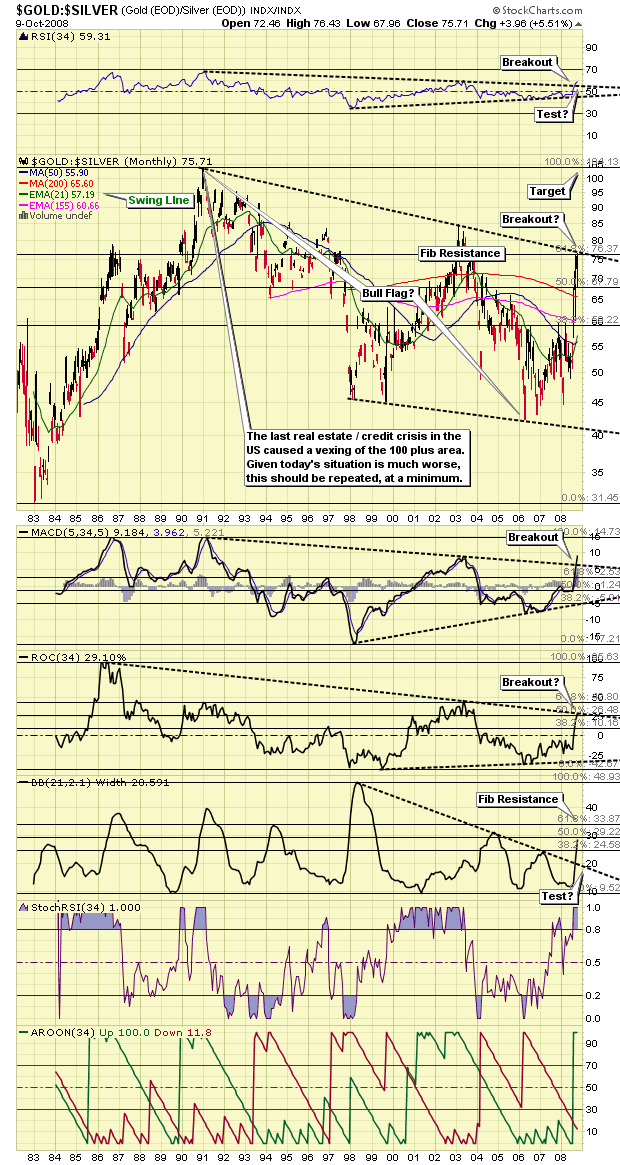 Unfortunately we cannot carry on past this point, as the remainder of this analysis is reserved for our subscribers. Of course if the above is the kind of analysis you are looking for this is easily remedied by visiting our continually improved web site to discover more about how our service can help you in not only this regard, but also in achieving your financial goals. For your information, our newly reconstructed site includes such improvements as automated subscriptions, improvements to trend identifying / professionally annotated charts , to the more detailed quote pages exclusively designed for independent investors who like to stay on top of things. Here, in addition to improving our advisory service, our aim is to also provide a resource center, one where you have access to well presented 'key' information concerning the markets we cover.
And if you have any questions, comments, or criticisms regarding the above, please feel free to drop us a line . We very much enjoy hearing from you on these matters.
Good investing all.
By Captain Hook
http://www.treasurechestsinfo.com/
Treasure Chests is a market timing service specializing in value-based position trading in the precious metals and equity markets with an orientation geared to identifying intermediate-term swing trading opportunities. Specific opportunities are identified utilizing a combination of fundamental, technical, and inter-market analysis. This style of investing has proven very successful for wealthy and sophisticated investors, as it reduces risk and enhances returns when the methodology is applied effectively. Those interested in discovering more about how the strategies described above can enhance your wealth should visit our web site at Treasure Chests
Disclaimer: The above is a matter of opinion and is not intended as investment advice. Information and analysis above are derived from sources and utilizing methods believed reliable, but we cannot accept responsibility for any trading losses you may incur as a result of this analysis. Comments within the text should not be construed as specific recommendations to buy or sell securities. Individuals should consult with their broker and personal financial advisors before engaging in any trading activities, as we are not registered brokers or advisors. Certain statements included herein may constitute "forward-looking statements" with the meaning of certain securities legislative measures. Such forward-looking statements involve known and unknown risks, uncertainties and other factors that may cause the actual results, performance or achievements of the above mentioned companies, and / or industry results, to be materially different from any future results, performance or achievements expressed or implied by such forward-looking statements. Do your own due diligence.
Copyright © 2008 treasurechests.info Inc. All rights reserved.
Unless otherwise indicated, all materials on these pages are copyrighted by treasurechests.info Inc. No part of these pages, either text or image may be used for any purpose other than personal use. Therefore, reproduction, modification, storage in a retrieval system or retransmission, in any form or by any means, electronic, mechanical or otherwise, for reasons other than personal use, is strictly prohibited without prior written permission.
© 2005-2019 http://www.MarketOracle.co.uk - The Market Oracle is a FREE Daily Financial Markets Analysis & Forecasting online publication.

Only logged in users are allowed to post comments.
Register/ Log in