G7 Banking Systems Continue to Plunge into the Abyss
Stock-Markets
/
Global Financial System
Nov 14, 2008 - 05:49 PM GMT

As the G7 banking systems continue their plunge into the abyss, so do the world's economies. Public servants, governments and central banks are firing every policy option they have to keep the confidence of consumers and business from collapsing. NOTHING is working as the dominoes of confidence fall faster then they can run ahead of the game. The US and G7 governments are still trying to PICK winners and losers so confusion reigns supreme. Which set of corporate or financial elites will be let into the financial lifeboats and which shall be allowed to fail? That is the question.


Years of below market interest rates and CRONY capitalism have spawned huge industries which no longer produce more then they consume, so wealth creation has lurched into reverse and is now wealth destruction on an enormous scale never before seen in history. Look no further than the American Auto Industry which has finally come to the end of the line from decades of mismanagement, multiple tries at reinventing itself and FAILURE to control costs and build cars which SELL for more then they cost to create.
NOW THE JIG IS UP! Rest assured they WILL BE RESCUED but the cure will be worse then the disease with respect to the American economy. ZOMBIE companies let politicians decide what they shall build and how much they shall pay their employees WITHOUT regard to PROFITABILITY and cost effective ubiquity. Substituting their fantasies as to what can BEST serve the future needs of consumers and the demands of their campaign supporters and directing PRECIOUS capital to NONPRODUCTIVE uses. Political rather than practical solutions -- one approach works and the other does not. Can you guess which direction will solve the problem? It's not the political one…
100's of thousands of jobs will be subsidized at the expense of the American taxpayer who ultimately pays the cost of public servants follies in supporting campaign contributors such as the UAW and local democratic supporters in the States which host these factories. If the rescue package sustains those gold plated pay, pension and medical benefits rather than move them to the Pension Benefit Guarantee Administration where all pensions of BANKRUPT companies go. It is an outrage; why is an auto worker to being held above any other worker in the US ?
Outrageously overpaid jobs which CONSUME more than they produce are creating permanent WARDS of the STATE paid for by the public at large. Not until this anti-competitive situation is RECTIFIED will the industry even have a chance to recover. Years of cheap financing has brought forward demand creating GLUTS of capacity and inventory and the auto industry is not going to come back for a decade of more. Attempts to put off the destruction of excess capacity, bloated UNION pay packages and bloated inventories will only prolong the unfolding general recession and prevent the painful return to future economic health for these companies and the US economy in general.
If the auto industry is RESCUED without conditions that require they return to profitability, then the markets will PUNISH this moral and fiscal bankruptcy and outrage; as it tips the hand that solvency and profitability issues are BEING IGNORED by the mandarins in Washington DC .
Unions that have monopolies on the labor in the industries they organize have driven off shore every industry except autos, airlines, health care and government services. Health care, airlines and autos are all bankrupt or passing the cost to consumers for the excess compensation; the only industries which could not leave by definition. Now they want to expand there reach to Wal-Mart and others who have remained competitive, and they expect Obama and the Democratic Party to pass laws which will make their organizing activities subject to thugs and fraught with peril for those that dare to cross the bullies. The elite poster child of this effort will be Wal-Mart. Everyday low prices will disappear for everybody so a few unionized employees can be OVERPAID.
Barack Obama has now been elected and his policies will mirror those of Franklin Roosevelt. A new "NEW DEAL" looms and just as the new deal lead to a lost decade economically, it will do so NOW. Hope is not a good trading strategy or a recipe for economic growth. The "something for nothing" constituent will now demand government DO SOMETHING and a wrecking ball looms in our futures. There will be a DEPRESSION and, although deflationary NOW, hyperinflation looms as EVERY government solution will CONSUME more then it creates, producing vast new requirements for MONEY and credit creation; also known as the printing press and deficit spending. They are putting NOOSES around the necks of the public, for now and the FUTURE.
The biggest economies in the world are in freefall with the emerging tigers following in close order. The collapse in income from the WOLFWAVE (see Ted bits archives at www.TraderView.com ) is breathtaking to say the least. Take a look at this chart from a recent New York Times outlining a fall in new orders, provided by the respective regional manufacturing surveys: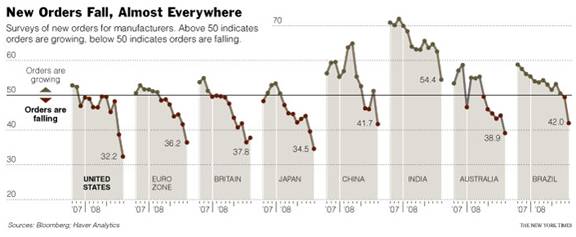 Only India reflects a still-growing economy, the rest are in dire straights. These charts will not be turning around anytime soon and momentum LOWER is ferocious. Capital investment is set to FALL OFF a cliff just as the developed world economies are doing. And why should orders pick up anytime soon as RETAIL sales are in freefall: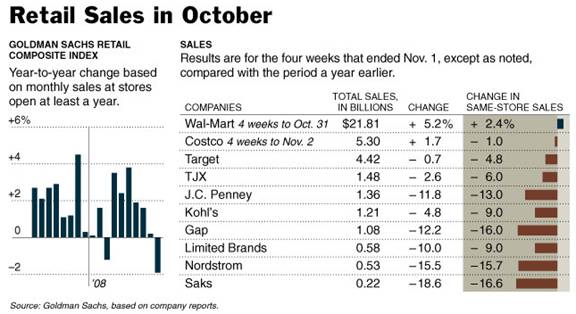 This route in retail sales is echoed across the G7; an economic tsunami of epic proportions is unfolding. Retail sales in the US were announced this morning down -2.2 percent ex aircraft and autos. Any business which relies on cheap financing for customers to drive sales and additional profitability is TOAST. What you see in auto sales is set to be echoed through many industries and industrial titans such as GE (General Electric). Companies that borrowed short term and lent long are going down soon as their short term notes will not roll without GREAT PAIN. In fact, the higher rates may send many of their business models into insolvency.
Meanwhile, the US Federal Reserve, as holder of the world's RESERVE currency, is now becoming the lender of last resort and creating UNLIMITED dollar swaps to prop up the dollar requirements of the world's economies. Why must these swaps be made? It's because borrowers around the world borrow in Dollars creating a synthetic short position in the dollar. In order to pay off their borrowing they must convert their domestic money into dollars to pay off their obligations. When the Dollar rises against their domestic scripts it is basically creating new obligations that are piling up, this is going on around the globe as the dollar rockets higher in a short covering bonfire.
It is one of the biggest reasons the Dollar is rising and will continue to do so as trillions of Dollar-denominated loans must roll over or be paid off in the next twelve months. But it does not change the fact that when they PRINT the money and send it to the other central banks that the printing occurs out of THIN air, as does the printing of the money by the Bank of England, European central bank or whoever the currency swap was conducted with: Australia, Korea, Singapore, Switzerland, etc.
The Federal reserves BALANCE sheet has now MUSHROOMED by over 120% in the last six weeks from under $1 trillion to over $2.2 trillion now. They REFUSE to report the nature of those assets, as to do so would probably reveal they are holding a good amount of WORTHLESS collateral and have exchanged them for the perceived quality of US Treasury Bills; leaving the taxpayer with the junk and the bill. Can you say FLEECED?
This growth is echoed throughout the G7 central banks. Look for those G7 balance sheets and that of the US Treasury to QAUDRUPLE in the coming years. October's budget deficit was almost $240 billion dollars, signaling the oncoming multi-trillion Dollar US budget deficit, my guess is it will arrive this year. Unlimited currency swaps now abound in the trillions of Dollars, Euros, Pounds, etc. all created out of thin air by and between the respective central banks. Money supply growth is rocketing; let's take a look at the numbers from the Saint Louis Fed: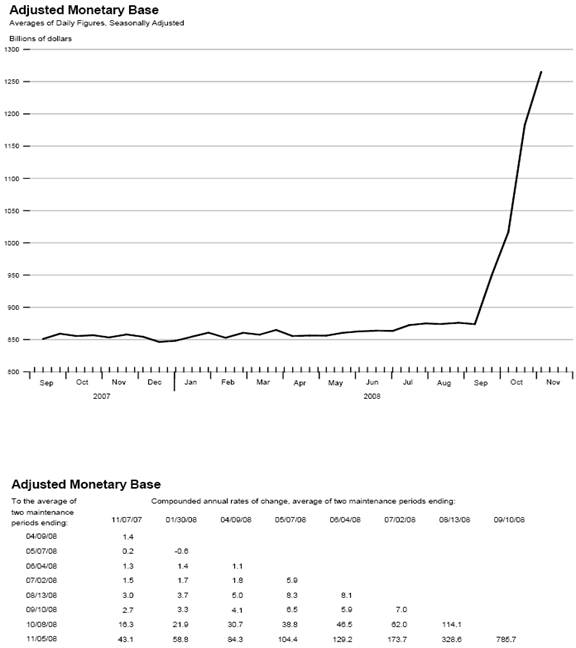 WOW, breathtaking to say the least, 43% growth year over year, 785% annual growth rate since MID-SEPTEMBER brings to mind the WEIMAR Republic . Keep in mind, this is the concentrated growth stock of future monetary growth BEFORE it enters the fractional banking system. So each Dollar you see here can create 10 new Dollars of lending. When you see a chart that goes VERTICAL like that NOTHING good can come of it. Although this is why gold is holding up well into the teeth of the Dollar rally and can be expected to eventually turn higher. The public servant and central bank printing party has just BEGUN.
But it won't matter, as who in their right mind will borrow money at this point except the insane people in WASHINGTON DC, London and the BOE (Bank of England) and Brussells/EU governments; all big DEBTORS. Or those people and companies who are so deep in debt now that they will just drink more poison to their futures to live for a short while longer in HOPE of a miracle. HOPE is not an investment strategy…
Their something for nothing constituents are SCREAMING for them to DO SOMETHING and do something they will; they will try to rescue UNPROFITABLE enterprises and crony capitalist campaign supporters rather than let them fail and be replaced with companies which are PROFITABLE and have bright futures. This is known as WEALTH creation and it is the bedrock to GROWING economies; remove it and misery is just spread in widening circles by FIAT currency and credit creation. And, as economic growth and WEALTH creation are collapsing MORE monetary growth will be required to substitute for the collapsing income.
Investors are now shunning securitized credit card, student and auto loans -- shutting down those lending areas as well. Hank Paulson is now swinging the TARP (troubled asset relief program) in this direction and shunning the assets the program was created to purchase. In the last 8 weeks approximately 8 trillion Dollars, Euros, Pounds, Aussie Dollars, etc have been either CREATED or are slated to be spent and borrowed from investors to then be directed by GOVERNMENTS and CENTRAL BANKS into unfolding BLACK holes of capital; further delaying the direction of capital to where it can produce more than it consumes and creates new growth and JOBS.
Private equity firms face their unfolding DEMISE because they overpaid for the businesses they bought and collapsing revenues will not support the borrowing costs; these are classic MAL- investments in the Von Mises definition. Hundreds of private equity portfolio companies will undergo the convulsion of chapter 11 reorganization SOON. Good companies acquired at inflated prices and loaded up with debt at the top of the credit cycle, now dead men walking, are awaiting their demise as cash flow and profit retreats to unimagined levels, but debt servicing REMAINS.
Energy production, which was such a hot button campaign issue, is now set to go back to the DARK ages. Off shore drilling, sensible clean coal technologies and nuclear power are all set for further reversals and in their place windmills and solar power will be the ANNOITED courses of action. Rolling blackouts and power shortages will begin to appear in the coming years as GREEN energy FAILS to produce the required needs of a growing populous. And trillions of Dollars will continue to be sent OFF SHORE rather than support practical and affordable domestic oil, clean coal, natural gas and nuclear industries. Do you ever wonder if 800 billion Dollars a year into the US might support many new jobs rather than jobs in other countries?
SENSIBLE and COST EFFECTIVE energy development, which takes 5 to 10 years to implement and finish, is now going to be put off indefinitely. Cap and trade global warming legislation (as the tax man in disguise) is set for the very near future and a new BURDEN on the struggling middle class is set to save it from the boogey man. In the UK this legislation was passed LAST WEEK so you can mourn for our UK brethren as the fleecing by government public serpents NEVER ENDS. Those UK public serpents, er servants, know the taxman is "persona non grata" at this point so they are putting a disguise on him telling you he and they will save you.
The decades-long sunspot cycle appears to have turned and rapid cooling and cold winters can be anticipated for many years and decades into the future. You can expect BIG pushes by G7 public serpents to implement brutal new global warming legislation BEFORE it becomes apparent to the public that it is a BIG LIE. Once passed never to be repealed, permanent new obligations on G7 citizens for public servants to REWARD their special interest elites and collect taxes FOREVER on a problem they have NO ABILITY to solve. Can you say FLEECED?
These laws will also allow them to decide the winners and losers in energy production in return for CAMPAIGN contributions from big new industries which would otherwise FAIL if the marketplace was deciding the winners. Look no further than the ethanol industry to see what lay ahead; it serves NO ONE, not the consumer, not the producer, it is a permanent hole in capital formation, government deficits and consumer pocketbooks. Ethanol plants are falling into bankruptcy daily and the cost of food has doubled for this most uneconomical endeavor. Look for windmills and solar to join this parade of the policies of insolvency by the economic wizards in Washington .
Look for ENVIRONMENTALLY friendly energy and practically challenged POLITICAL solutions to affect your pocketbook on an increasing basis. As Barack says, "good high paying jobs", but the high pay WON'T come from profitability but from the taxpayer. Can you say FLEECED!
Electric bills and gasoline prices can be expected to TRIPLE before the end of the new liberal democratic presidential administration ends it first term. This is the definition of hope and a new way of doing things, economic pearl harbors to our future economic growth. When public servants decide how to allocate capital you can expect it to be destroyed. Only the private sector can provide "more for less" money, now you can expect to get considerably "less for more" money. Can you say FLEECED!
Fannie Mae and Freddie Mac are back for more of the money appropriated in September to the tune of another 100 billion dollars and it is clear that much of the money to RESCUE the banks will go to BONUSES for employees and dividends to shareholders. An incredible moral bankruptcy, employees which oversaw deep bankruptcies and shareholders who failed to supervise their investments in a prudent manner are being REWARDED for their incompetence at taxpayer expense. Can you say FLEECED!
Dozens of companies are now lining up for RESCUES from their poor business decisions and suffocating debt levels -- many will be rescued. Just yesterday American Express converted to a bank to QUALIFY for the government gravy train. The AIG recue doubled in size; ultimately look for it to triple from here. Big money creditors and campaign contributors are being rescued by the CENTRAL bank and government. Can you say FLEECED!
Powerful reversals in stock, bond, currency and commodity markets occurred today with rallies that can be expected to last several weeks to a few months. The markets now should move in counter trend fashion. Nothing will reverse the powerful downtrends in G7 economies, but a breather appears to be on the horizon which will probably unfold in Fibonacci time and price fashion. Volume on this reversal is atrocious and on rallies signaling BEAR market rallies.
In conclusion: We are on a one way ride into HELL, with our freedoms taken and the bills sent to you and me. Every Dollar, Euro, Pound, Aussie and Canadian Dollar that is borrowed or printed will go to save corporate, banking and government elites who have conducted themselves in a completely irresponsible manner "morally and fiscally" and created businesses which consume more than they produce.
I have never missed a mortgage payment or borrowed more then I can repay but I am asked to subsidize those that have done so. The world now punishes those who have prudence and rewards those that have practiced irresponsibility. What's wrong with this picture?
" The ultimate result of shielding men from the effects of folly is to fill the world with fools" -- Herbert Spencer, English philosopher (1820-1903)
Thanks Bill King, of the King Report, for this quote.
This is the definition of MORAL hazard and the GREENSPAN/BERNANKE put. After several decades of this we have arrived at this moment in history. Many media reports of government PROTECTING the TAXPAYER are HOOEY; you and I are being taken for a ride to save BIG CAMPAIGN contributors. An expensive one. While the fools and idiots are rewarded and rescued from their own incompetence and corruption. The road to hell is paved with good intentions and we are the road kill.
The path the G7 has embraced virtually guarantees a long decline in net disposable income, they replaced income growth with inflated stocks and real-estate but those have just had a disappearing act. Initially deflationary as the world of business and wealth creation falls to the public servant's incompetence, but ultimately hyperinflationary as they print and spend their way to perceived prosperity when their ideas create increasing failures. Unfortunately, prosperity and wealth creation come from capitalism not socialism and government direction of the economies, capital and means of production.
Intel's warning coupled with the retail sales plunge signal far more bad news to come, it is not priced in. Look no further than 2, 5, 10 and 30-year notes; they are signaling broad fires burning in the financial systems and economies of the G7 and the world.
There is only one good thing about this. WE KNOW what's unfolding. Markets are MISPRICED to this unfolding reality. Stocks, bonds, commodities, currencies and all markets must PRICE in these new and unfolding tsunamis to the future. VOLATILITY IS OPPORTUNITY AND IT IS GOING TO BE WITH US FOR YEARS! Learn to prosper from it. The greatest transfer of wealth in history is UNDERWAY, from those that hold their wealth in paper to those that DON'T! BUY and hold is dead, you must learn to make money in rising and falling markets.
The Crack-up boom just keeps on emerging on the horizon; hold your cash for now as deflation and FEAR reigns supreme but please understand that at some point it will turn on a dime and hyperinflation will loom! Don't miss the next issue of Ted bits and the unfolding drama. Also very soon we will be sending out some analysis to subscribers only so sign up for Tedbits, it's free at www.TraderView.com
Special note: The beginning of the end of the Dollar as the world's reserve currency will be discussed in this weeks G20 meeting. Breton Woods II in the early seventies, when we all went on the FIAT currency bandwagon, was negotiated over a 2 year period and took over three weeks to finalize. This probably is the start of a similar process and will probably take as long. Behind closed doors you can expect that threats are being made by the world's creditors such as the Brics ( Brazil , Russia , India and China ), Asian and Middle Eastern countries to the deadbeat creditor nations of the G7.
The unwinding of the dollar as reserve currency will take careful planning and execution to preserve the values of central bank reserves during the transition. The Dollar is a TARBABY and it is everywhere and in so many contracts. Those contracts now need to transition to settle in other currencies and that is a long process. Remember, the Dollar is the only currency in the world that both the longs and the shorts don't want it to change in value. The longs being those that hold, it including central banks and the shorts are those that are printing it and those that owe money on contracts denominated in it.
As this changes, the Dollar is going to lose its prominence in international finance over a period of several years. At the end of that period the US government will no longer be able to print dollars and steal purchasing from the holders of it currency. The victims of this policy will then become just US citizens rather then the world at large. And if the US wishes to purchase overseas goods, they will do as other have always done, convert/change their currency into that of the provider. Purchasers in America will have to exchange something of REAL value for what it imports. WORTHLESS paper will not be accepted. The result will be a BIG drop in net disposable income for US citizens and massively higher prices for the imported goods they consume and NO LONGER produce for themselves due to misguided economic policies.
Please remember that subscribers receive Tedbits two to three days before it is posted on the web. Subscribers will also start receiving guest essays from leading economic pundits, and a blog looms soon. So if you want it early and the added features SUBSCRIBE NOW it's FREE!
Thank you for reading Tedbits if you enjoyed it send it to a friend and subscribe its free at www.TraderView.com don't miss the next edition of Tedbits.
If you enjoyed this edition of Tedbits then subscribe – it's free , and we ask you to send it to a friend and visit our archives for additional insights from previous editions, lively thoughts, and our guest commentaries. Tedbits is a weekly publication.
By Ty Andros
TraderView
Copyright © 2008 Ty Andros
Hi, my name is Ty Andros and I would like the chance to show you how to capture the opportunities discussed in this commentary. Click here and I will prepare a complimentary, no-obligation, custom-tailored set of portfolio recommendations designed to specifically meet your investment needs . Thank you. Ty can be reached at: tyandros@TraderView.com or at +1.312.338.7800
Tedbits is authored by Theodore "Ty" Andros , and is registered with TraderView, a registered CTA (Commodity Trading Advisor) and Global Asset Advisors (Introducing Broker). TraderView is a managed futures and alternative investment boutique. Mr. Andros began his commodity career in the early 1980's and became a managed futures specialist beginning in 1985. Mr. Andros duties include marketing, sales, and portfolio selection and monitoring, customer relations and all aspects required in building a successful managed futures and alternative investment brokerage service. Mr. Andros attended the University of San Di ego , and the University of Miami , majoring in Marketing, Economics and Business Administration. He began his career as a broker in 1983, and has worked his way to the creation of TraderView. Mr. Andros is active in Economic analysis and brings this information and analysis to his clients on a regular basis, creating investment portfolios designed to capture these unfolding opportunities as the emerge. Ty prides himself on his personal preparation for the markets as they unfold and his ability to take this information and build professionally managed portfolios. Developing a loyal clientele.
Disclaimer - This report may include information obtained from sources believed to be reliable and accurate as of the date of this publication, but no independent verification has been made to ensure its accuracy or completeness. Opinions expressed are subject to change without notice. This report is not a request to engage in any transaction involving the purchase or sale of futures contracts or options on futures. There is a substantial risk of loss associated with trading futures, foreign exchange, and options on futures. This letter is not intended as investment advice, and its use in any respect is entirely the responsibility of the user. Past performance is never a guarantee of future results.
© 2005-2019 http://www.MarketOracle.co.uk - The Market Oracle is a FREE Daily Financial Markets Analysis & Forecasting online publication.

Only logged in users are allowed to post comments.
Register/ Log in