Is China's Economy Too Hot?
Economics
/
China Economy
Apr 25, 2007 - 12:40 PM GMT

I am sure many were concerned on April 19th as it appeared that the markets were in for a repeat of the China led melt-down on February 27. The Chinese Stock Market's negative take on the countries 11.1% first quarter growth rate spilled over to Europe and cast a black cloud over the U.S. Markets as it opened. The surge in growth rate coupled with a higher than acceptable consumer price index and a 23.7% growth in fixed-asset investment prompted statements such as the following from the government:
"If this type of fast growth continues, there is the possibility of shifting from fast growth to overheating. There is that risk," Li Xiaochao, spokesman for the National Bureau of Statistics, told a news conference.
The government will work to "reduce the country's large trade surplus, limit rapid growth in house prices and maintain basic price stability" – was posted on the State council's Web site following a meeting chaired by Premier Wen Jiabao
Obviously an overheating economy will require interest rate increases. There goes the punch bowl! However, Beijing has already raised interest rates three times in the past year. It has also imposed investment curbs on real estate and other areas. How vigilant does the Government really want to be?
By the end of the day, not many were buying the jawboning. John Stephenson, senior vice-president and portfolio manager at First Asset Investment Management in Toronto, said:
"The truth of the matter is it will be short-term negative, but long term [China] is a country that . . . has to continue growing because of the high levels of unemployment and the fact that they're rapidly industrializing. They're not going to go back to an agrarian lifestyle any time soon."
David Cockfield, fund manager at Leon Frazer & Associates in Toronto, said:
"I doubt the Chinese authorities have the will — or even the ability — to rein in growth significantly. Doing so could lead to social unrest at a time when the country is gearing up for the 2008 Summer Olympics."
Quite naturally China wants the good - industrialization and jobs without the bad - overvalued stock and real estate markets. Sounds like a conundrum to me.
As a trader heavily invested in the China growth theme, I am constantly looking for the change of catalyst. However, at least for the next three years it appears that growth will continue to trump other concerns. For instance, the Chinese have taken great pride in hosting the 2008 Olympics. This is their opportunity to showcase to the world the marvels of their country. The benefits will be long lasting to tourism and many other industries. The costs of slowing that build are too high and won't be considered.
The country's infrastructure projects – railways, subways, airports and highways are humongous and are required for industrialization. The following blew my mind. China's 11th Five-Year Guidelines (2006-2010), calls for investing US$155 billion to develop a comprehensive railway and rapid transit system network. Over 10,000 miles of new railway lines will be constructed. That's enough rail for 1 ½ NY to California round trips. These are long term strategic plans that can not be started and stopped easily. Merrill Lynch just identified five key trends in China's economy and infrastructure was number two.
Capitalizing on China's growth has been almost like shooting fish in a barrel – that's if you were interested. It may not be as engaging as DOW 13,000 talk, but it's not like going to the dentist either. Simply think of the common denominator between all of the infrastructure projects and buy the largest company in the world that provides those goods. I have written on numerous occasions about this jewel: "BHP Billiton – Where Opportunity Meets Preparation."
BHP is the world's largest miner. Per their website, BHP is
A leading supplier of core steelmaking raw materials
World's second largest copper producer
World's second largest exporter of energy coal
World's third largest producer of nickel metal
World's fourth largest producer of uranium
World's sixth largest producer of aluminium
A significant producer of oil and gas
Have substantial interests is diamonds, silver and titanium minerals.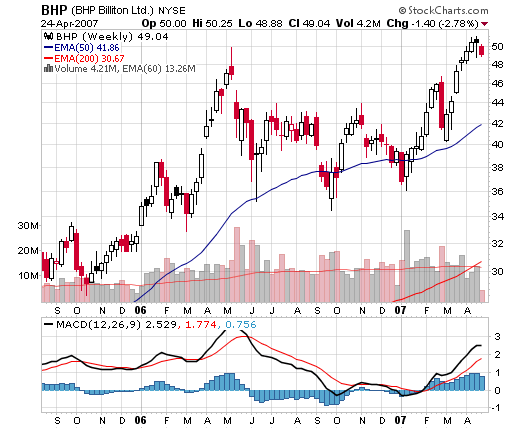 Contemplating 10,000 miles of steel railroad tracks will lead you to the world's second largest miner Companhia Vale do Rio Doce (RIO). Railway rails are subject to very high stresses and have to be made of high quality steel. Thus, rails are composed of Iron and alloying elements such as Nickel and Zinc. RIO just so happens to be the world's largest producer of Iron Ore and Nickel.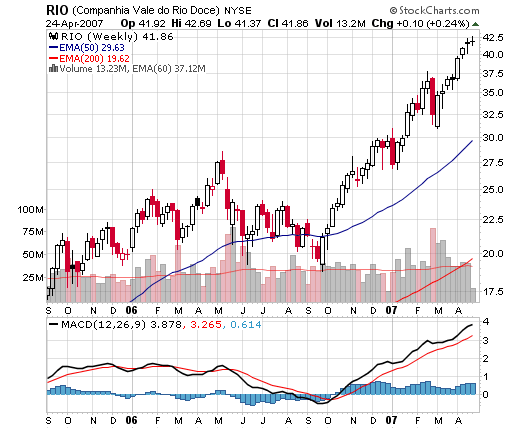 Is China too hot? Based on the data from April 19 – Yes, but there are certain pockets that will remain hot for at least the next three years. This Bloomberg article says enough for me "China, the world's biggest consumer of copper, more than doubled imports of the metal in March as the peak demand period for the construction industry began." BHP and RIO creates a dynamic duo.
By Michael K Dawson
http://www.thetimeandmoneygroup.com
Copyright © 2007 Michael K Dawson
Michael K Dawson founded the Time and Money Group with the aim of educating and sharing 20 years of experience on how to reach financial freedom. "Financial Freedom is freedom to focus on what is truly important to you and your family without having to trade time for a wage. It is enabled by a portfolio of income producing assets, managed by you, which generates sufficient income to cover your yearly expenses on an ongoing basis. It provides both time and money". The intent of his website is to become a repository of information to put you on the fast track to becoming financially free. For further infromation visit http://www.thetimeandmoneygroup.com/
© 2005-2019 http://www.MarketOracle.co.uk - The Market Oracle is a FREE Daily Financial Markets Analysis & Forecasting online publication.

Only logged in users are allowed to post comments.
Register/ Log in