Category: HyperInflation
The analysis published under this category are as follows.

Sunday, September 11, 2011

Inflation is defined as 'too much money chasing after too few goods'. But how about hyperinflation, how do we know whether an economy is experiencing hyperinflation?
Hyperinflation, normally caused by excessive growth of the money supply, usually through the policies of the central banks to print excessively to meet deficits spending.
Read full article...

Read full article...
---

Saturday, September 10, 2011
The United States is not going to get hyperinflation unless Congress nationalizes the Federal Reserve System.
It will get mass inflation at some point: anywhere from 15% per annum to 30%. But it is not going to get 50% or 100% or more.
Read full article...

Read full article...
---

Thursday, May 26, 2011
Every time the US dollar ticks lower, commodity prices tick higher, or the CPI rises two tenths of a percent, hyperinflationists come out of the woodwork with nonsensical predictions and silly comparisons to Zimbabwe or Weimar Germany.
Given that the US dollar recently fell to the lower end of its trading range, hyperinflationists once again came forth with their message of impending doom.
Read full article...

Read full article...
---

Friday, May 06, 2011

Sweeping up pengő banknotes. Hungary, 1946.
Read full article...

Read full article...
---

Tuesday, May 03, 2011
Economic recovery? What economic recovery? Contrary to popular media reports, government economic reporting specialist and ShadowStats Editor John Williams reads between the government-economic-data lines. "The U.S. is really in the worst condition of any major economy or country in the world," he says. In this exclusive interview with The Gold Report, John concludes the nation is in the midst of a multiple-dip recession and headed for hyperinflation.
Read full article...

Read full article...
---

Thursday, April 28, 2011

Every once in a while, some famous defender of a position switches without warning to the rival position. A famous atheist becomes a believer in God (Antony Flew). A famous Protestant becomes a Catholic (Richard John Neuhaus). A famous Chicago School economist becomes a Keynesian (Richard Posner). These events are unexpected, especially by the people who make the switch. When it happens, the former disciples are left high and dry.
Read full article...

Read full article...
---

Wednesday, April 27, 2011

The Federal Reserve is not going to push the economy into Zimbabwean hyperinflation. That's pure bunkum. The Fed's plan is to weaken the dollar to boost exports and to force China to let its currency appreciate to its fair-market value. The policy should help to lower the US's bulging current account deficit. By purchasing $600 billion in US Treasuries (QE2), the Fed effectively reduces the supply of risk-free assets, which sends investors into riskier assets like stocks and commodities. Is there an element of class warfare in the policy?
Read full article...

Read full article...
---

Thursday, March 24, 2011
When Money Dies: The Nightmare of the Weimer Hyperinflation, by Adam Fergusson, was published in 1975 and became a best-seller in 2010. Federal Reserve Chairman Ben S. Bernanke's claim that "inflation expectations are contained" is refuted (once again) by this 35-year, dust-gathering incident, unless the public took a sudden interest in multiplying millions, billions, and trillions - a "delirium of milliards" - the phrase of soon-to-be-assassinated Weimer government minister Walter Rathanau.
Read full article...

Read full article...
---

Monday, March 07, 2011
Tyler Durden writes: A deluge of an unprecedented magnitude is both inevitable and imminent. The consequences of the economic and political mismanagement will have a devastating impact on the world for a very long time. And the consequences will touch most corners of the world in so many different areas; economic, financial, social, political and geopolitical. The adjustment that the world will undergo in the next decade or longer, will be of such colossal magnitude that life will be very different for coming generations compared to the current social, financial and moral decadence. But history always gives us lessons and the one that is coming will be necessary and eventually good for the world. But the transition and adjustment will be extremely traumatic for most of us.
Read full article...

Read full article...
---

Wednesday, February 16, 2011

It is a long standing proposition of many, supported on both theoretical and historical grounds, that one of the surest roads to hyperinflation is one grounded in a government whose answer to every economic and social problem is to borrow and spend the problem away, supported by a central bank able, willing and ready to finance the effort. That support is of course to simply print the money through which to buy the debt so issued by the government – what is euphemistically called monetizing the debt – thereby exploding the supply of money and eventually trashing its value.
Read full article...

Read full article...
---

Tuesday, February 01, 2011
If you look around on the various gold bug web sites, you are likely to see the same crowd posting the same lines of hyperinflation and everything else they can conjure up in order to scare people into loading up on excessive amounts of physical gold. Note the emphasis on "physical gold" rather than gold ETFs.
Never mind that gold has very little utility. Never mind that physical gold is not considered a liquid asset. Never mind that gold hacks are financially tied into rising gold prices and therefore have a financial interest in pumping up the price of gold. You should buy gold and hold it because it's going to continue to rise in price as the end of the dollar nears, right? Not so fast.
Read full article...

Read full article...
---

Tuesday, January 11, 2011
Stronger corporate balance sheets, tighter reins on costs and better stock performance in 2010 haven't swayed ShadowStats Editor John Williams' assertion that the bottom-bouncing economy is weaker than ever, with specters of hyperinflation and systemic financial collapse on the not-so-distant horizon. As he says in this exclusive Gold Report interview, the yellow metal is his "insurance against Armageddon"—or at least the single best asset that people can use to ride out the storm.
Read full article...

Read full article...
---

Tuesday, December 28, 2010

In reviewing the charts from the Chart Room over the weekend I came to the conclusion that in terms of timing the markets you don't want to think in terms of price right now, but in terms of time, where again, we are not looking for a blow-off top in the present intermediate move until sometime in the first quarter next year, with early February the favored target from both historical and cyclical perspectives. How did I come to this conclusion? Answer: As you will see in the charts below, several breakouts and trend blow-offs are in the process of tracing out, meaning more time is needed for this to occur no matter how overbought technical conditions in the market are at this time. And while it's true that everything from stocks to commodities are intermediate degree overbought, what this means is conditions will become even more overbought, and as a result, it's possible hyperinflationary conditions in the US could at a minimum be tested.
Read full article...

Read full article...
---

Saturday, December 11, 2010

John Williams of Shadowstats has repeatedly warned that our economy is not doing as well as some would have you believe. From unemployment to GDP to current and future liabilities, there are fundamental problems that will not be resolved anytime soon - in fact, they're likely to get worse.
The end result according to Williams?
Read full article...

Read full article...
---

Wednesday, December 08, 2010
In a taped interview with CBS' "60 Minutes" that aired on December 5th, Federal Reserve chief Ben "Bubbles" Bernanke tried to brainwash the American public, into believing that "Quantitative Easing" (QE), is absolutely necessary in order to prevent further losses of jobs, and tried to assure his listeners that he has the skills to keep inflation under control. The US-jobless rate would have risen far higher, "something like it was in the Depression, at 25%," -- had the Fed not provided tens of trillions in loans to Wall Street banks and other financial companies, he said.
Read full article...

Read full article...
---

Thursday, December 02, 2010
Unlike Zimbabwe, the U.S. can easily get the currency it needs without being beholden to anyone. But wouldn't that dilute the value of the currency? No.
A month ago, the bond vigilantes were screaming that the Fed's QE2 would be the first step on the road to Zimbabwe-style hundred trillion dollar notes. Zimbabwe (the former Southern Rhodesia) is the poster example of what can go wrong when a government pays its bills by printing money. Zimbabwe's economy collapsed in 2008, when its currency hyperinflated to the point that it was trading with the U.S. dollar at an exchange rate of 10 trillion to 1. On November 29, Cullen Roche wrote in the Pragmatic Capitalist:
Read full article...

Read full article...
---

Wednesday, November 24, 2010

Hyperinflation is not simply inflation times 10. It's most likely to strike – in fact – amidst a real deflation...
SO the FEDERAL RESERVE's second-round of quantitative easing, announced on November 3rd, was a shoo-in – a fait accompli – already decided when the policy team first sat down the previous day.
Read full article...

Read full article...
---

Saturday, October 30, 2010

Back in late August, I argued that hyperinflation would be triggered by a run on Treasury bonds. I described how such a run might happen, and argued that if Treasuries were no longer considered safe, then commodities would become the store of value.
Such a run on commodities, I further argued, would inevitably lead to price increases and a rise in the Consumer Price Index, which would initially be interpreted by the Federal Reserve, the Federal government, as well as the commentariat, as a good thing: A sign that "the economy is recovering", a sign that "normalcy" was returning.
Read full article...

Read full article...
---

Monday, October 25, 2010

Don Miller writes: The U.S. government wants to stimulate growth in the moribund economy by stoking the fires of inflation. But by leaving interest rates low and buying up bonds - a policy known as quantitative easing (QE) - the U.S. Federal Reserve risks debasing the dollar, which could lead to a prolonged period of hyperinflation that would send prices skyrocketing.
Read full article...

Read full article...
---

Friday, October 15, 2010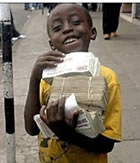 Is it time to throw fundamentals out the window?
The boy from Zimbabwe is a multi-Trillionaire and those Trillions should be just enough to buy him a loaf of bread if he hurries to the store before they change the prices this morning. This is what is happening to our own economy, only on a smaller scale (so far). Our government, like Zimbabwe, has gotten into so much debt that they can never hope to repay it but new bills keep coming in every day so - What is a government to do?


Read full article...

Read full article...
---