Stock Market, Commodities and Economic Forecasts 2010
Stock-Markets
/
Investing 2010
Dec 20, 2009 - 07:29 AM GMT

I think 2010 will be dominated by many of the same themes that shaped 2009, but new forces will come into play as well: Forces including …
A Split Personality Global Market. I expect developed markets to continue to lag, and emerging markets to lead. To be sure, there is a big debate in the investing world over whether China's recovery is real or not. I think China's recovery is as real as our recovery, which is also based on government stimulus.
And when you think about it, considering the Fed has printed nearly $1.5 trillion and the U.S. government injected about $500 billion thus far via the fiscal stimulus, as well as the money for the Fannie/Freddie bailouts, the AIG bailout, GM bailout, the TARP, as well as other additional spending — well I think the Chinese are getting a bigger bang for their buck.
So yes, China should outperform. But it's not just China. We're also seeing recoveries in India and other Pacific Rim countries, as well as Latin American nations and emerging markets generally. So, they may lead the global economy in 2010.
I think global ETFs, and country-specific ETFs, like the iShares MSCI Chile Index (ECH) will be good ways to play this trend.
Government Will Be America's Big Spender. The Fed is making noises about winding down its fiscal stimulus — that includes the bank bailouts, because I guess even public-trough-fattened bankers can only fatten up so much. But I believe this is just a precursor to the government shifting spending to more direct support of the economy. We'll see more government creation of jobs, and also the "cash for caulkers" program, which will be a huge boost for the home-makeover industry, plumbers, electricians, independent contractors, and more.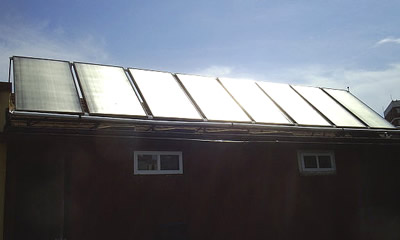 Billions of dollars will be spent on "green" technologies in 2010.
Also, companies that can profit on "Smart Grid" technology will do well. More than $80 billion will be spent on energy projects, appliances, health-care information systems and wind farms, and $3.4 billion will be spent specifically on America's electrical grid.
Defense stocks will also do well — America is fighting two wars that show no sign of ending. Military budget could rise to as much as $734 billion, or 10% more than the peak under Bush.
There are a number of ways to play this trend. As I've been saying on my blog, the shift in stimulus should be a big boost for Lowe's (LOW) and Home Depot (HD). But you can play the boost in new energy tech with the PowerShares Clean Energy Portfolio (PBW). And you can ride the defense wave with the PowerShares Aerospace & Defense ETF (PPA). Heck, if Uncle Sam is footing the bill, you don't want to fight this trend.
Natural Resources Feeding Frenzy. Nothing goes in a straight line, so it's no surprise that the big commodity bull market has been taking a break. And they could go lower yet, as the U.S. dollar rally probably continues into the early part of 2010. But the big trend is up for commodity prices …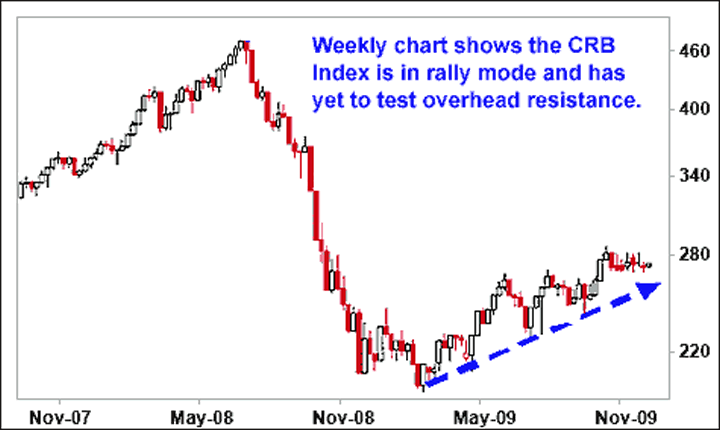 The big miners and producers can see the strengthening trend in commodities as well, and I think this will precipitate a shopping spree in natural resources. Even before last year's financial crisis knocked them for a loop, the big companies had already cut back on exploration and production, canceling or scaling back new projects. Now, there are big gaps in their pipelines of projects — gaps they need to fill. It's easier for them to buy resources than to develop the resources themselves.
That's why, earlier this week, we saw ExxonMobil buy XTO Energy. In one fell swoop — at a cost of $31 billion in stock — Exxon is expanding in shale gas, an area that has seen tremendous growth, and increasing its gas resources by 45 trillion cubic feet, roughly equivalent to two years of domestic demand.
There has been a trickle of mergers and acquisitions going on in the resource space, but it could quickly turn into a flood in 2010.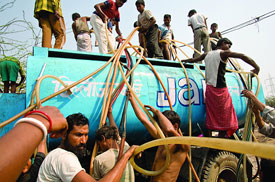 The booming population is putting massive strains on the global freshwater supply.
If you're looking for likely takeover targets, check out the components of funds like the Van Eck Market Vectors Junior Gold Miners ETF (GDXJ) and the U.S. Global Investors Global Resources Fund (PSPFX).
The Water Wars Could Start to Heat Up. You probably know that experts are worried about future water supplies not only for the developing world, but also Europe and America. Earth's population has tripled over the past 100 years, meaning water requirements have soared. In fact, global water consumption has increased nearly twice as fast as population growth in recent years, and some projections expect the water industry to be a trillion-dollar market as early as 2020. Some other facts from the experts …
Only 3% of all the water in the world is fresh water. However, of that 3%, two-thirds is locked up in icecaps and glaciers. In the end, we can only consume 1% of the world's water supply.
Experts estimate the global population will rise from 6.8 billion today to 9.2 billion by 2050. I think we'll run into Malthusian limits before then, but there will still be significant new demands on the existing water supply. The daily Western requirement for water — just to assure survival and minimum living standards — is about 13.2 gallons per person.
It takes 14 gallons of water to grow a pound of grain, 435 gallons to grow a pound of beef, 2,000 gallons of water to make one gallon of milk, nearly 20,000 gallons of water is needed to make one ton of steel. The growing world is using more commodities all the time, and people in emerging markets want to eat and drink like the big good ol' boys in America. That means each person will be using even more water.
And while you can substitute various alternate fuels for fossil fuels like crude oil, there is no substitute for water.
So, I think water is a commodity for the long term. The conundrum for investors is that water doesn't trade on an exchange. However, there are three exchange-traded funds listed in the U.S. that track the water industry to varying degrees: The PowerShares Water Resources (PHO) focuses on U.S. stocks. The PowerShares Global Water (PIO) is more global in scope, as is the Claymore S&P Global Water ETF (CGW).
Do your own due diligence before you add any of the funds I've mentioned to your portfolio.
Come what may, 2010 should be an interesting year for investors. I hope 2009 was good to you, and 2010 will be even better.
All the best,
Sean
This investment news is brought to you by Uncommon Wisdom. Uncommon Wisdom is a free daily investment newsletter from Weiss Research analysts offering the latest investing news and financial insights for the stock market, precious metals, natural resources, Asian and South American markets. From time to time, the authors of Uncommon Wisdom also cover other topics they feel can contribute to making you healthy, wealthy and wise. To view archives or subscribe, visit http://www.uncommonwisdomdaily.com.
© 2005-2019 http://www.MarketOracle.co.uk - The Market Oracle is a FREE Daily Financial Markets Analysis & Forecasting online publication.

Only logged in users are allowed to post comments.
Register/ Log in