Climate Crisis Apocalypse - But Not Quite Yet
Politics
/
Climate Change
Mar 27, 2013 - 11:52 AM GMT


REAL AND FAKE THREATS
Cocktails of real, partly real, mostly false and entirely false threats and menaces support a business niche for self-proclaimed Salvation Artists, usually modestly calling themselves unrecognized geniuses. Importantly, these geniuses only operate with entirely fake threats. Al Gore was a classic in this genre and his line of business - global warming and climate change - is still being given life support despite it being clinically dead, but only because "we ain't yet thought of anything else".
The Wall Street Journal of 26 March reported a meeting of American "Smart CEOs and Experts" who discussed the following hit parade of Fear Themes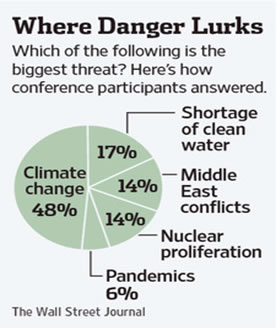 Apart from Middle East conflicts and Nuclear proliferation where direct business spinoff is relatively low, all these Fear themes generate business openings - but in the case of the Big One, global warming, the expected turnover and profits have not happened. As one Expert noted when asked why the payback from promoting the global warming theme has been so low: "We're truly not going to make a huge change [on global warming] unless we have a price on carbon".
In other words, political deciders have backed off, they will not load huge new taxes on energy users - but this unsurprising fact is treated as if it was a surprise - by Experts! Even worse for charlatans, large sectors of public opinion no longer believe in the global warming story, or myth. Cold winters in the northern hemisphere do not help, but few of the assembled "smart" CEOs and their "Experts" at this US meeting added the most basic real world problem: if the public no longer believes in a Fear Theme, it will be hard to use it to suck more cash out of consumers on the "just in case" basis that the probably-fake crisis was real. The euphemism for this is "the precautionary principle".
NO WANT OF TRYING
Energetically knitting highly different and unrelated crises together, to get bigger media impact and terrorise public opinion more effectively is an old trick, known for centuries. Interestingly enough, in the early 1940s, Nazi propagandists toyed with the idea of adding climate change as another of the evils assailing the Aryan race, ivented by Foreign Devils, but dropped it: it was too far-fetched.
For the recent crop of global warming and climate change charlatans the "learn nothing-forget nothing" storyline runs this way.
Climate change is the greatest risk mankind has ever faced and is a massive "problem multiplier". It exacerbates the risk of pandemics. It will cause massive flooding of all low-lying cities while it also exacerbates the risks of water shortage, raising the risk of military conflict for diminishing water. One supposed major example and threat is in South Asia, where China owns the ice, India owns the water and both of them deprive or limit Pakistan and Bangladesh, who are out of luck. Pakistan's food production is largely dependent on two other nuclear-armed countries. The experts do not add the counter-examples. One is that nuclear armed USA depends on oil imports from non-nuclear Canada. Nuclear armed Britain depends on wine exports from nuclear armed France, which also exports its camembert cheese to several (non nuclear) countries. What else is new? Is this a crisis?
Real crises get very short shrift from either "experts" or "smart" CEOs, in the real world. One great example was the 2008 financial and economic crisis with its "Truth moment" when Lehman Bros bank collapsed - in fact a tiny financial establishment in global terms. This was above all a "surprise event", especially to "experts". Quite a few not-smart CEOs lost their businesses, especially in the hedge fund industry or "community". Despite this, the global warming-climate change business sailed blithely along, from pre-crisis to post-crisis proving it had become a New Tradition - for charlatans. Only in Dec 2009, at the ill-fated Copenhagen conference or "summit" on global warming, was this fake threat massively rejected and disowned by about 130 countries, who refused to enact or apply the "carbon limiting" policies, taxation and trading that are only applied in Europe, at present.
More than three years after that "Copenhagen moment" and crisis for charlatan purveyors of climate crisis and its underlying junk science, we might be impressed by the dog-like tenacity of "experts" and "smart" CEOs who still move their lips to the right climate slogans and Talk the CO2 Talk. But this is unlikely ever to restore the global warming business to what it was in the high times, when Al Gore could demand and get $100 000 for a 45-minute talk to a concert hall-full of the brain dead. The level of fear has evaporated - revealing the scum line around the bathtub, separating truth from lies.
INVENT SOMETHING ELSE
The near-complete absence of replacement Great Themes for building mass fear and apprehension is for starters one reason why lazyminded "experts" continue flogging this dying horse. They are unable to invent another fear theme with the apparent, hoped-for Mass Reach of climate change. Over the years, this highly flexible almost go-anywhere fear theme was able to be reworked as simply worrying in public about the weather, unusual storms or floods, winds and hurricanes, drought or anything else related to the weather - even thunderstorms which frighten cows and horses. As we all know, the weather is the ultimate "safe thing" for small talk. Even kids talk about the weather!
Fear themes built on the basis of weather are socially acceptable. With its accompanying junk science downsized to suit low-IQs, it had the right "scientific" veneer to suit the Consumer Masses. To be sure "it wasn't scientific" but for consumer civilization that is a distinct advantage!
Finding another junk crisis with the same apparent global reach as "the climate crisis" is proving difficult, with mooted replacements like "the water crisis" pale and unconvincing. This of course totally ignores the real crisis of the economy, national debt, mass unemployment and extreme income inequality - but highlights the real important of fake crises for the elites.
They are invented to divert public attention from real crises - and enrich the charlatans who peddle them. Those members of the public, especially the middle classes, who are fooled by the fake crisis will often "soldier along" even when they know they have been fooled, pretending to believe in the crisis. This is simply because of their pompous self-esteem and self-importance: "if I, Mister Muggins believe in global warming it must be real!" The great have spoken!
Typically spurious supporting rationales invented by the middle classes include the notion of "carbon effluent" being "pumped into the atmosphere and oceans", where it will menace the wellbeing of those photogenic polar bears. Of course, but of course these worriers are among the greediest members of society, highly attached to their "carbon spewing" family saloon cars and airplane travel.
Inventing the next "workable crisis" must therefore closely analyse the target population of middle class zombies, committed to hogging down and consuming the remaining riches of the Baby Boom, while depriving even their own children of employment, to do it. The type of crisis that attracts this greedy slice of the population can be identified, but the most basic fundamental is that the new fake crisis must be as unreal as the global warming crisis, to pass muster! It must also be pseudo scientific, because the middle class surprisingly imagine themselves to be "educated and high IQ" - despite decades of intense dumbing down. Finally the new "designer crisis" should be multi-facet and linkable to a large number of other fake crises of the type the middle class thrill to. Nothing that concerns the real world, please.
OH NO NOT THE ECONOMIC CRISIS
The middle class zombie slice of consumer society is of course far too "sophisticated" to be interested in anything as "tacky" as the economic crisis - unless of course it is them who lose their job and home. The economic crisis is "boring". It concerns the real world and now. Global warming concerns the fantasy world "towards the end of the century". This is ideal for the zombies. They will be dead long before their pseudo crisis hits - so they can gurgle about it long and loud, today.
Their tame media, which feeds off the middle class by feeding them the mix of mindwarp and titillation that they call "news and views" adds what it can as side dishes to spice the fare - for example blood-drenched body parts on the sidewalk after a car bomb in Baghdad. This is just great to view when guzzling a pizza, on the couch! Before getting out the worry beads and "meaningfully" repeating the carefully-learned slogans they heard in the "news" about menaces facing the world's polar bears.
For quite a long time it was possible to further fool the middle classes about the gravity of the non-existant warming threat, by producing vast estimates of "economic loss due to climate change". This was however before the 2008 financial meltdown knocked these tinpot fantasy estimates of hundreds and hundreds of billions of dollars being "lost due to warming by about 2075", into the Little League.
Simply since Jan 2009, the Obama administration has added about $9500 billion of debt based "liquidity" to the US economy.
To be sure, this QE funny money was almost as unreal as the global warming losses "that would come late in the century" like Cinderella's pumpkin coach. The global warming circus act, by early 2013, in one of the northern hemisphere's coldest winters for 50 years is drifting like a lost ship ever further towards its inevitable fate of simply being dumped in the memory hole of Fake Crises. Global warming? What was that?
By Andrew McKillop
Contact: xtran9@gmail.com
Former chief policy analyst, Division A Policy, DG XVII Energy, European Commission. Andrew McKillop Biographic Highlights
Co-author 'The Doomsday Machine', Palgrave Macmillan USA, 2012
Andrew McKillop has more than 30 years experience in the energy, economic and finance domains. Trained at London UK's University College, he has had specially long experience of energy policy, project administration and the development and financing of alternate energy. This included his role of in-house Expert on Policy and Programming at the DG XVII-Energy of the European Commission, Director of Information of the OAPEC technology transfer subsidiary, AREC and researcher for UN agencies including the ILO.
© 2013 Copyright Andrew McKillop - All Rights Reserved Disclaimer: The above is a matter of opinion provided for general information purposes only and is not intended as investment advice. Information and analysis above are derived from sources and utilising methods believed to be reliable, but we cannot accept responsibility for any losses you may incur as a result of this analysis. Individuals should consult with their personal financial advisor.
© 2005-2019 http://www.MarketOracle.co.uk - The Market Oracle is a FREE Daily Financial Markets Analysis & Forecasting online publication.

Only logged in users are allowed to post comments.
Register/ Log in