Ukraine Standoff Signals Global Power Shift
Politics
/
GeoPolitics
Aug 27, 2014 - 07:48 PM GMT


Power Shift
Following from and related to the economic proxy war, by sanctions, engaged by the EU28 and US against Putin's Russia, and counter-sanctions by Russia against the "Atlantic Alliance", we do not have to look very far for sequels. Plenty of EU28 banking groups are now on a short fuze, for example on the borrowing of PKO Bank Polski, Poland's largest lender. Able earlier this year to raise over 2 billion euros this lender's timing was very lucky. Even "EU28 core" private banks, including BNP of France and Deutsche of Germany may soon face "unexpected difficulties" recapitalizing their bad debt. Banks of the "southern tier" or Club Med countries will soon face serious difficulties, like Portugal's Banco Espirito Santo group's "unexpected difficulties".
http://www.telegraph.co.uk/finance/financialcrisis/...
Attempts at maintaining blissful ignorance of reality feature the "equities strategy" of steamrolling daily and continued increases of nominal share values on European stock exchanges. The EU28 economies are now forced to continue and intensify the unreal blowout of house price and real estate nominal values – as a fragile alternative to economic growth in a shrinking economy.
As any sane economist will conclude, this is only "pre-crash" arranging of the deckchairs on the Titanic.
Lessons From the Ukraine Crisis

Historians still trying to piece together the puzzle of World War I and its origins, 100 years after the event, often apply the well-known saying that "My enemy's enemy is my friend". Before 1914, relations between the Ottoman Empire, the Austro-Hungarian Habsburg Empire, pre-Soviet Russia, the future "Atlantic alliance" of France and the UK partly-allied with the USA, and east Europe-leaning Germany, featured beggar-my-neighbor feints and lunges. The game especially used the unstable and fractious Balkan states and its ethnic communities as a handy lever for limited conflict, including military, but the game was always complicated and got more so.

Several historians say this dance to war developed "escape velocity" or runaway momentum and then generated World War I, with its dramatic sequels. These included World War II, the creation of Israel and the Middle East of 2014.

Today in the Ukraine standoff between "the Western powers" and Putin's Russia it can count on high level diplomatic support from China and possibly also from India. Russia also has arms-length diplomatic support from Iran and Turkey, equivocal in the case of Turkey. Public opinion in some EU28 states, especially Germany, is knife-edged balanced on the Ukraine issue. Outright hostility to Russia over Ukraine is concentrated in "the Atlantic powers" of the US, France and UK, and most ex-Warsaw Pact countries of east Europe.

For purely ideological reasons notably concerning the Syrian crisis, anti-Russian sentiment is also significant in Saudi Arabia and the Arab Gulf states
Economic Proxy War 2014

During the second World War Stalin realized that he needed the Western allies or Atlantic powers to thwart and defeat German Nazi invasion. In turn the Allies realized the Soviet Union was necessary for their war effort but under any other scenario the Allies would have been arch enemies of Stalin and vice versa, as shown by the Cold War of 1948-1989 rapidly following the defeat of Nazi Germany.

As a direct consequence "proxy war" was declared. The Soviets and China aided North Korea during the Korean war, and aided the Viet Cong during the Vietnam war, and the Soviets directly aided Cuba and the MPLA movement in its war against western-backed South Africa for the control of Angola. The US and its "Atlantic allies" then aided Islamic terrorists opposed to the USSR in Afghanistan.

Moving up to today, Putin has applied counter-sanctions on food exports from the EU28 the economic impact of which was initially and often under-estimated (see Statista table below)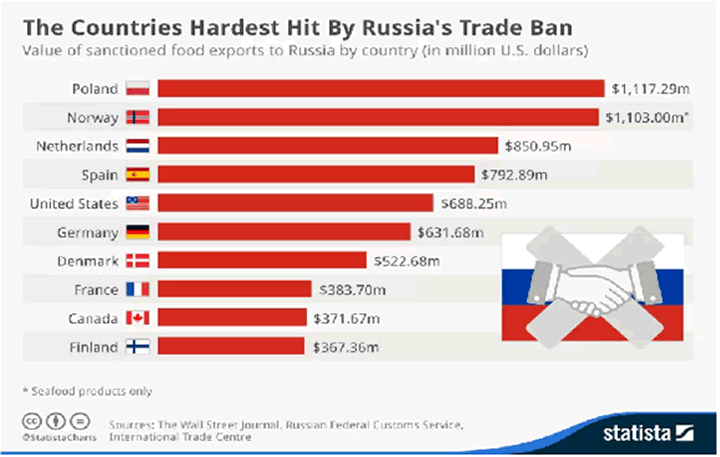 These initial estimates, only dating from a few weeks, have been updated and completed by national trade and agriculture agencies and associations, and in some cases have been massively increased. As one example, the major food exporter France now estimates the likely annual cost to France of the Russian food import ban to exceed 1 billion euros or $1.32 billion, tripling the Statista estimate. Denmark's estimated likely economic losses have also been increased by a large amount. Finland's estimated losses are now placed at nearly twice the earlier estimate of $367 million per year.

To be sure Russia will also suffer serious economic loss from "economic proxy war", including food price inflation. This explains the rapidity of Putin's action to seal trade and economic relations agreements with other BRICS countries, Iran, Turkey and SE Asian nations. When or if economic sanction are extended to industrial and manufactured goods, and Russia applies counter-sanctions, Germany will be especially hard hit.
Economic War Can Turn Hot – Or Cold

The cold war's proxy war process resulted in many dictators being propped up, and many others changed, in a long list of often-disastrous "local civil wars" or the shoehorning to power of outright oppressors. On the western side of the ledger this would include Mobuto Sese Seko of Congo, Augusto Pinochet of Chile, the single-name Soeharto of Indonesia, Saddam Hussein of Iraq and the current royal families of the Arab Gulf states and Saudi Arabia. Soviet-backed one party states of east Europe were sometimes repressive and little better than the western-favored dictatorships.

This only concerned the overarching politics of the 1948-1989 Cold War and its sequels. It ignores the economics of long-term standoff and the "economic proxy wars" that were generated. Arguably and today, it is economic proxy war that is the most important – and able to shift either way, to outright military conflict or the end of conflict. This is especially the case in the Ukraine crisis.

In the last 5 months, we can list these events:
Russia and China sign $400 billion gas deal, previously stalled for years
Russia, China, Iran and other countries agree trade currency swaps to bypass the dollar
The BRICS group agree on a development bank to start operating by 2016 and replace western institutions including the World Bank and US Ex-Im Bank
Russia signs historic $20 billion oil deal with Iran and India removes sanctions on Iran trade
Nigeria's Central Bank will move more of its reserves to Yuan
Short Fuze

Historians will readily admit that for example before World War I, the role of "economic proxy war" was low or even absent. Trade and commerce between rival and opposed powers was often almost entirely unaffected, and was only (and massively) hit by the direct effects of war. This makes the reverse process of warmaking preceded by economic war very different, today.

Among the present-day dangers however, mainstream media and political treatment, in the west, of the Ukraine crisis has willfully distracted attention away from the easily-predictable economic, and then political impacts in Europe of running an economic proxy war with Russia. Perhaps unlike the USA (although this is in no way certain) everything is in place for the dreaded Triple Dip of the European economy. The negative political sequels will be sure and certain, and especially negative for the "incumbent governments" and ruling parties.

To the extent that Europe's present ruling elite is either nihilist or self-destructing, this degenerate elite could say "Putin Godsend". Supplying a ready-made and instant excuse for the Triple Dip, increased austerity, further unemployment, more bankruptcies of enterprises, more bank failures – and so on.

Certainly never, ever reported by mainstream media or mentioned by any western politician who wants to stay high up the greasy pole of power, action such as the creation of the BRICS development bank was firstly in no way at the initiative of Vladimir Putin, and was secondly dictated by rising alarm over "western sabotage of the global economy". This is the exact accusation, made several times this year, by India's central bank chief (and former chief economist of the IMF). The development bank, for sure and certain can be followed by "the BRICS-MF" or alternative to the western-dominated IMF, charged with protecting the monies of the west's new enemies, chosen by the west for purely political and totally irrational reasons.

Whether or not the escalating economy proxy war of the "Atlantic alliance" against Russia achieves escape velocity and "decants" into military war, the economic war phase will have major and lasting sequels – all of them negative for the west.
By Andrew McKillop
Contact: xtran9@gmail.com
Former chief policy analyst, Division A Policy, DG XVII Energy, European Commission. Andrew McKillop Biographic Highlights
Co-author 'The Doomsday Machine', Palgrave Macmillan USA, 2012
Andrew McKillop has more than 30 years experience in the energy, economic and finance domains. Trained at London UK's University College, he has had specially long experience of energy policy, project administration and the development and financing of alternate energy. This included his role of in-house Expert on Policy and Programming at the DG XVII-Energy of the European Commission, Director of Information of the OAPEC technology transfer subsidiary, AREC and researcher for UN agencies including the ILO.
© 2014 Copyright Andrew McKillop - All Rights Reserved Disclaimer: The above is a matter of opinion provided for general information purposes only and is not intended as investment advice. Information and analysis above are derived from sources and utilising methods believed to be reliable, but we cannot accept responsibility for any losses you may incur as a result of this analysis. Individuals should consult with their personal financial advisor.
© 2005-2019 http://www.MarketOracle.co.uk - The Market Oracle is a FREE Daily Financial Markets Analysis & Forecasting online publication.

Only logged in users are allowed to post comments.
Register/ Log in