The No.1 Biotech Stock Of 2021?
Companies
/
BioTech
Nov 03, 2021 - 02:15 PM GMT

It's an industry that will never retire or ever go obsolete.
It's a revolutionary virtual marketplace, and it's one of the fastest-growing markets on the planet.
The world has gone full-on mobile, and nothing is nothing anymore without an app.
The global mobile app sector generated over $365 billion in revenue in 2018 …
In just a year-and-a-half, it will exceed $935 billion in revenue via paid downloads and in-app advertising.
But more importantly, investing in early-stage app development can be one of the quickest ways to make 10X…20X...50X...and even 100X returns on your investment.
Take the case of Adobe Inc. (NASDAQ:ADBE), a diversified digital media and app development company.
Adobe was founded in 1982, and for the first 18 years of its life, the company was a rather humdrum maker of on-premise IT tools … until the mobile and cloud revolutions suddenly sent this stock skyrocketing. ADBE has gained a stunning 1,878% over the past decade, and an unfathomable 14,500% since 2000.
Then there is Salesforce.com (NYSE:CRM), an app company that was one of the first big successes in the Software-as-a-Service (SaaS) cloud space.
Salesforce used the improved bandwidth and hosting technology of the cloud to provide enterprise-grade CRM software accessed with a web browser.
Had you bought $1,000 worth of CRM shares at its 2004 IPO, your investment would now be worth $88,000 after accounting for the 4 for 1 share split in April 2013.
The app development space is littered with dozens of success stories just like Adobe and Salesforce.com that have minted millionaires.
Over the past 10 years …
Intuit (NASDAQ:INTU), maker of the wildly popular financial software QuickBooks, increased 923%;
Atlassian Corp. (NASDAQ:TEAM), maker of the popular JIRA workflow management system, increased` 826% since its December 2015 IPO;
AutoDesk (NASDAQ:ADSK) is up 690% in 10 years.
In comparison, the broad-market S&P 500 Index has climbed a more pedestrian 236% since the turn of the decade.
Why?
Because it's all about scalability.
Most apps have revenue models that rely heavily on monetizing their users through subscriptions and ads, and with the right launch users can rapidly scale from 1 to millions in a matter of months.
Once an app or software service has been built, the costs associated with expansion and service maintenance are often minimal, and any incremental gains in users and revenue can be highly profitable very soon out of the gate.
Plus, the app revenue stream is recurring--unlike traditional on-premise software products that rely on selling one-time licenses.
That's a huge reason behind the wild growth of the medical app industry.
Currently, there are over 1 billion Web MD searches a year, while Google receives more than a billion healthcare questions every single day…and for good reason.
You see, patients are no longer willing to wait in endless queues to be served by a medical practitioner…
While others simply don't trust doctors…
The fact of the matter is that healthcare is overwhelming, expensive, and confusing.
So, consumers are turning to digital technology to help manage their health and regain control over diagnostics and treatment.
Now we are seeing a rapidly growing trend in which tens of millions of people are turning to the next generation of health apps powered by artificial intelligence ("AI")…
Luckily, these cutting-edge apps are statistically proven to be better than actual doctors at performing correct diagnoses , and certain 'next-generation' AI platforms are providing solutions for ongoing medical care, guidance, monitoring and prescriptions!
HEALTHCARE APPS ARE A $390 BILLION+ MARKET
What most investors don't know is that multi-billion-dollar medical apps are the next big trend in healthcare.
Healthcare apps are a $390 billion market... and growing, fast.
Why?
Apps are a direct-to-consumer product.
They essentially cut out the scheduling… the long wait times… the overworked doctors…and, increasingly, the wrong diagnoses and/or prescriptions.
Indeed, studies have shown that mobile healthcare apps have many potential benefits, such as improving a patient's overall wellness, reducing hospital readmissions, decreasing patient costs and ER visits, and helping patients manage chronic conditions.
What's more, healthcare organizations are increasingly tapping into the realm of mobile healthcare and adopting or developing their own mobile healthcare apps.
Meanwhile, patients are using these apps to view and schedule appointments, see a summary of their patient history, review prescriptions and, most importantly, video connect to their providers directly from a smart device.
Their biggest attraction: Mobile healthcare apps mean the doctor is just a tap away …waiting to serve a huge and rapidly-expanding market.
There are 300 million potential customers in the U.S. alone.
And thanks to massive advances in artificial intelligence ( AI)…the "doctor on your phone app" model has become significantly more effective. It is arguably, now, better than the doctor, which makes the market for healthcare powered by AI breathtakingly huge.
BETTER THAN YOUR DOCTOR: AI HEALTHCARE IS THE HOTTEST SECTOR
IBM's Watson diagnoses heart disease better than cardiologists do.
Smartphone apps now detect skin cancer with expert accuracy.
Algorithms identify eye diseases just as well as specialized physicians.
Chatbots dispense medical advice for the United Kingdom's National Health Service in lieu of nurses, and more efficiently.
Some forecast that medical AI will pervade 90% of hospitals and replace as much as 80% of what doctors currently do.
The red-hot artificial intelligence in healthcare market is expected to reach $120.2 billion by 2028, expanding at over 40% CAGR by 2028.
AI is being used to empower patients and disrupt the $11.9-trillion global healthcare industry.
Why?
Because AI-powered apps are outgunning human doctors.
AI-apps are trained to a level that a human doctor would be hard-pressed to match.
Machine Learning and Deep Learning form the core of most AI applications. Deep Learning breaks down complex tasks in a way that makes Machine Learning possible.
Today, apps and machines can be trained to perform complex tasks such as image recognition, speech recognition, image search, malware detection, spam filtering and Netflix's recommendation engines better than humans.
Training a neural network is computational-intensive and involves inputting massive amounts of data into the system where individual neurons assign a weighting to the input (how correct or incorrect it is). This is repeated over and over again, millions of times, with the system gradually learning and becoming more proficient at the task at hand.
Through the process of Deep Learning, Google's AI-powered AlphaGo was able to fine-tune its neural network by playing against itself over and over again and finally beating Ke Jie, the world's best Go player, 3-0 in a three-part match series in 2017.
A big advantage that AI-powered apps have over human doctors is that they are far less prone to errors.
The National Center for Biotechnology Information (NCBI) pegs the annual cost of medical errors in the United States alone at $20 billion. These include errors of omission as a result of actions not taken, such as failing to strap a patient into a wheelchair or not stabilizing a gurney prior to patient transfer, as well as errors of the commission due to the wrong action taken such as administering a medication to which a patient has a known allergy or not labeling a laboratory specimen that is subsequently ascribed to the wrong patient.
That's not to mention the profound psychological effects such as anger, guilt, inadequacy, depression, and suicide that healthcare professionals experience due to real or perceived errors.
Despite their best efforts and intentions, doctors are only human and can become error-prone due to overwork, fatigue, and stress. In extreme cases, these errors can lead to loss of life or even having a wrong limb amputated as happened recently to this very unfortunate 82-year old Austrian gentleman.
Even without fully replacing man or completely eliminating human error, AI can certainly limit it.
In circumstances where human error might occur due to a lack of knowledge, the cognitive augmentation enabled by AI can make the operator more fool-proof by providing them with an operating procedure and guiding them step-by-step.
Real-life tests show that autonomous cars are much safer than human drivers: In 1.8 million miles of driving for the project, Waymo-- Google's subsidiary--autonomous vehicles have been involved in 13 fender benders and zero fatalities, and not a single one was the car's fault.
YOU JUST MISSED OUT ON THESE BIG AI HEALTHCARE GAINS
The healthcare system is impossible to navigate, and 73% of Americans don't know how they will afford their care.
Consumers are increasingly turning to at-home solutions. Telemedicine grew 46% from 2019 to 2020, while wellness apps were downloaded 1.2 billion times in 2020, and the pandemic has given that a major boost.
The U.S. spends more than any other country on healthcare at $10,000 per capita annually (avg.)
These trends have been fueling unprecedented growth by the medical app industry…
And mad profits for early-in investors.
You don't have to look very far...
CloudMD, a telemedicine company that connects patients to licensed physicians through videoconferencing technology, has climbed 263.5% over the past 12 months and is currently valued at $410.3 million.

Babylon Health, a value-based care company that combines an AI-powered platform with virtual clinical operations, plans to go public for the first time since its 2013 founding in a deal that values the company at $4.2 billion.

Teladoc Health, a $25-billion multinational telemedicine and virtual healthcare company, has seen its stock increase more than 1,500% from January 2018 to -January 2021.
In case you missed out on those incredible gains, don't lose sleep over it: You're just in time to ride another massive healthcare app wave.
Because one little-known company has developed the most personalized, intelligent healthcare AI app to date.
It's so effective that a leading medical school in the United States has licensed it to test medical students.
And this little-known company is now going mainstream.
CARA: COULD BE THE NEXT ZERO TO MULTI-BILLIONS MEDICAL APP
This could be the next 1,500% gainer like Teladoc …

Treatment.com International Inc. (CSE: TRUE; OTC: TREIF), a highly disruptive healthcare technology company, is harnessing the power of AI to help us improve our health.
After six years of intense research and collaborative work from a global team of doctors, engineers, mathematicians, and AI specialists, Treatment delivered the unique Global Library of Medicine, The global library of medicine is a tri level architecture with limitless applications in healthcare. Treatment.com has just unveiled its bleeding-edge AI-powered healthcare app, CARA, trained to think like a doctor.
Here are 5 reasons why CARA and Treatment.com could turn into a homerun for early investors.
Telemedicine Is Taking over and TRUE's Timing Is Impeccable
Modern healthcare presents a big problem in need of a big solution.

Google fields 1 billion health-related questions a day, or about 70,000 every minute.

But it can sometimes be a minefield of misinformation, that is—for better or worse--"accessible to everyone".

Treatment.com International Inc. (CSE: TRUE; OTC: TREIF).seeks to change all that thanks to the Global Library of Medicne and cutting-edge AI app, CARA.

Using the latest artificial intelligence and machine learning, paired with a global team of doctors, Treatment.com has created an engine that can assess symptoms and provide a probable diagnosis with the same reasoning approach as a trained doctor—or, in this case, a team of 40 decorated doctors from around the world.

Treatment.com's Global Library of Mediicine driven AI has the ability to process thousands of data points and analyze a patient's symptoms, making CARA, Treatment's Digital Assistantideal for supporting consumer healthcare decisions, and integrating it all into the medical industry to improve cost and efficiency.

CARA Digital Health assistant driven by AI can optimize symptom assessment and diagnosis functions for patients and caregivers alike. The CARA app also offers a comprehensive health and wellness tracking and analytics platform that integrates seamlessly with wearables and should allow TRUE to capitalize on the multi-trillion-dollar wellness industry.

In developing CARA, The Treatment.com team had to build it from the ground up, in the exact same manner that doctors are taught in medical school. The company then tested its AI app in a real medical setting in a busy medical clinic and also with a leading medical school. The doctors vetted the results, including the accuracy and efficiency of the patient on-boarding, and found that CARA made their visits more effective and improved overall care.

CARA can act as a powerful tool for health care professionals and medical schools to test diagnoses and to provide doctors with a detailed medical history that makes each visit more informed and more accurate.
2. Great Opportunity for Early-in Investors
For six years, Treatment.com International (CSE: TRUE; OTC: TREIF) has been quietly working behind the scenes to develop the CARA app.
The company's access to individualized health data has helped it develop deep insights, trends and predictions that will be invaluable to insurance providers and governments in the quest to provide better health services.
Using the massive Global Library of Medicine, the CARA Digital Health Assistant has been so effective that the University of Minnesota Medical School has licensed it to test medical students!
The AI engine references a continuously updated medical knowledge library called the Global Library of Medicine (GLM). This enables it to provide medical reasoning services that will scale to all 1,200 primary care diagnoses, and eventually to all 8,000-10,000 diseases known to man.
This proprietary IP could be worth billions of dollars… and now they are rolling it out to the public.
Early-in investors will have a once-in-a-lifetime opportunity to ride the CARA wave as the company unlocks the full value of its highly valuable IP.
3. The Team Has Experience Scaling Healthcare Technology Startups from Zero to over a Billion…
Treatment.com International (CSE: TRUE; OTC: TREIF) is founded by John Fraser, a computer scientist and entrepreneur with a background in healthcare technology, and Dr. Kevin Peterson, a leading doctor and tenured professor at the University of Minnesota Medical School.
Together, their combined expertise has brought the latest in modern technology to the Western medical field with the mission to make healthcare information more accessible and improve healthcare around the globe.
TRUE co-founder and CEO John Fraser has been involved in software IT for 20 years, starting at the Minnesota Department of Health, and is a bit of a celebrity in the unicorn space, known for his expertise in scaling tech products and building valuable IP.
Fraser sold his first unicorn—Vision Share (now Abilities Network)--for $1.2 billion.
And prior to that, Fraser was the architect of a statewide cancer surveillance system—or a pathology-based library of everyone in the state of Minnesota with cancer--one of the first large studies of this kind ever done, anywhere in the world.
It's the perfect background for the development of a potentially game-changing medical app powered by AI that is trained by doctors and fully personalized for customers for real healthcare results.
In developing the Treatment AI engine, the company built out a team of leading doctors and tested the AI in a real medical setting in a busy medical clinic and also with a leading medical school. The doctors vetted the results including the accuracy and efficiency of the patient on-boarding.
An even better reason to have full confidence in the Treatment.com International (CSE: TRUE; OTC: TREIF) -- insiders own a lot of stock.
The company's 41% reporting insider ownership suggests the Treatment AI team is not looking for quick exits, knowing full well the value of its product is set to be fully unlocked and improved with time.
4. Integrated with the Biggest Mobile Ecosystem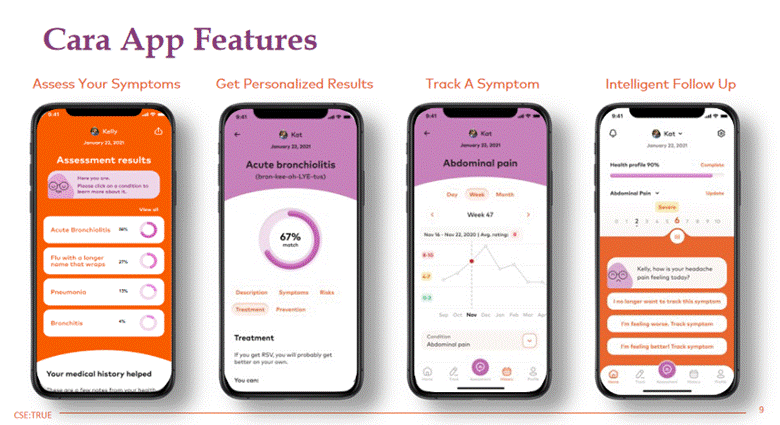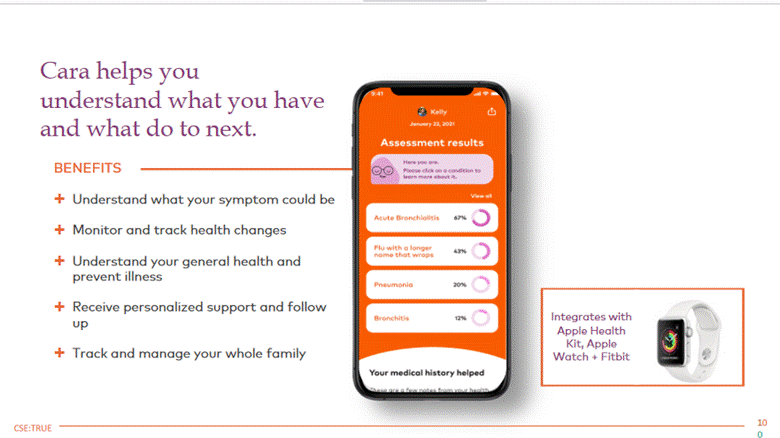 Apple is one of the most influential and recognizable brands in the world, responsible for the rise of the smartphone with the iPhone. Valued at over $2 trillion, it is also the most valuable technology company in the world.
Apple dominates the global mobile ecosystem thanks to its highly dominant iOS Operating Systems.
Apple controls major gateways through which people download apps or browse the web on their mobiles -- whether they want to shop, play games, stream music or watch TV.
It, therefore, makes sense for a mobile app that intends to go global to be tethered to the massive Apple ecosystem.
That's why Treatment.com has designed CARA to seamlessly integrate with Apple Health Kit, Apple Watch + Fitbit.
That gives the company access to each and every of the 1.5 BILLION Apple devices currently in use--a huge addressable market.
Even better, CARA's superior AI engine could make it an acquisition target for Apple and other tech companies with virtual healthcare segments such as IBM and Oracle.
5. Massive Growth Runways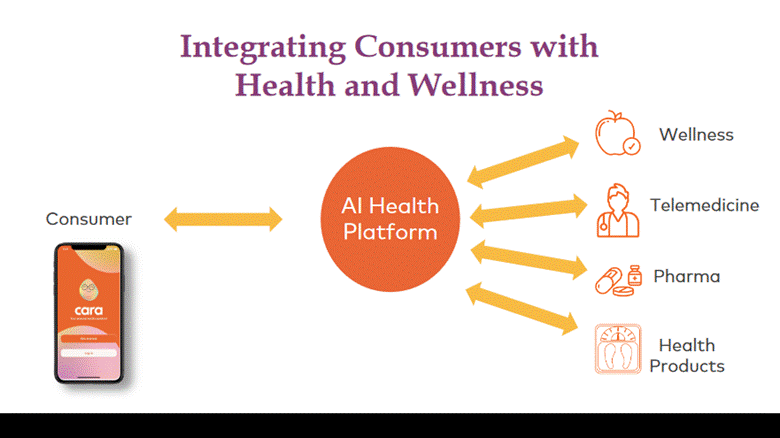 Treatment.com intends to leverage its healthcare AI to build a multi-billion-dollar business.
Luckily, the company is well positioned to do exactly that thanks to its highly scalable and diversified revenue streams.
The company has an attractive revenue model featuring 3 main revenue streams:
Mobile app subscriptions
Health and Wellness Platform
Clinical + Academic Applications
Even better, CARA is capable of scaling massively—and rapidly. It's the reason why the market values Treatment.com (CSE: TRUE; OTC: TREIF) at approximately $130 million -- just five years after its founding.
We're in the early innings of the health-tech revolution, and with outsized growth on the horizon, the intelligent small cap investors will focus on product, people and process, and it's hard to argue that there is a more promising technology, team and strategy than TRUE. You won't want to miss this launch…
Big Tech is making major waves in the healthcare industry:
Most people know Microsoft Corporation (NASDAQ:MSFT), but what they might not know is hoow the tech giant is involved in the $11 trillion healthcare industry. In fact, Microsoft Corporation is no stranger to the healthcare industry. Just last year, the technology giant expanded its cloud services into healthcare, allowing providers to manage healthcare data at scale, making it easier for clinicians to provide excellent patient experiences, coordinate care, and more, all while keeping data safe and in compliance. And that's just the tip of the iceberg.

Microsoft Corporation has also created new infrastructure to help provide telehealth services and other virtual offerings. "We're introducing new Microsoft Dynamics 365 patient access features to streamline virtual experience for patients by allowing more flexibility in self-scheduling both virtual and in-person appointments through their existing patient portal and integrating virtual health assistants, like the Azure Health Bot service, for triaging, scheduling, and making it seamless to receive follow-up and wellness guidance from their care team," Tom McGuinness, Corporate Vice President, Worldwide Health, at Microsoft explained in a company blog post.

By. Stacy graham


** IMPORTANT NOTICE AND DISCLAIMER -- PLEASE READ CAREFULLY! **
PAID ADVERTISEMENT. This article is a paid advertisement. GlobalInvestmentDaily.com and its owners, managers, employees, and assigns (collectively "the Publisher") is often paid by one or more of the profiled companies or a third party to disseminate these types of communications. In this case, the Publisher has been compensated by Treatment.com International Inc. ("Treatment.com" or "Company") to conduct investor awareness advertising and marketing. Treatment.com paid the Publisher four hundred and fifty thousand US dollars to produce and disseminate four articles profiling the Company. This compensation should be viewed as a major conflict with our ability to be unbiased.
Readers should beware that third parties, profiled companies, and/or their affiliates may liquidate shares of the profiled companies at any time, including at or near the time you receive this communication, which has the potential to hurt share prices. Frequently companies profiled in our articles experience a large increase in volume and share price during the course of investor awareness marketing, which often ends as soon as the investor awareness marketing ceases. The investor awareness marketing may be as brief as one day, after which a large decrease in volume and share price may likely occur.
This communication is not, and should not be construed to be, an offer to sell or a solicitation of an offer to buy any security. Neither this communication nor the Publisher purport to provide a complete analysis of any company or its financial position. The Publisher is not, and does not purport to be, a broker-dealer or registered investment adviser. This communication is not, and should not be construed to be, personalized investment advice directed to or appropriate for any particular investor. Any investment should be made only after consulting a professional investment advisor and only after reviewing the financial statements and other pertinent corporate information about the company. Further, readers are advised to read and carefully consider the Risk Factors identified and discussed in the advertised company's SEC, SEDAR and/or other government filings. Investing in securities, particularly microcap securities, is speculative and carries a high degree of risk. Past performance does not guarantee future results. This communication is based on information generally available to the public and on interviews with company management, and does not (to the Publisher's knowledge, as confirmed by Treatment.com) contain any material, non-public information. The information on which it is based is believed to be reliable. Nevertheless, the Publisher cannot guarantee the accuracy or completeness of the information.
SHARE OWNERSHIP. The Publisher owns shares and / or options of the featured company and therefore has an additional incentive to see the featured company's stock perform well. The Publisher does not undertake any obligation to notify the market when it decides to buy or sell shares of the issuer in the market. The Publisher will be buying and selling shares of the featured company for its own profit. This is why we stress that you conduct extensive due diligence as well as seek the advice of your financial advisor or a registered broker-dealer before investing in any securities.
FORWARD LOOKING STATEMENTS. This publication contains forward-looking information which is subject to a variety of risks and uncertainties and other factors that could cause actual events or results to differ from those projected in the forward-looking statements. Forward looking statements in this publication include, but are not limited to, the size and anticipated growth of the market for the companies' products, the prospects for success of the Company's to be launched health and wellness app – "CARA", the reported scheduled release of CARA, the ability to acquire customers for CARA, and the projected growth and profit margins of the Company's core product offerings. Factors that could cause results to differ include, but are not limited to, the companies' ability to fund its capital requirements in the near term and long term, the management team's ability to effectively execute its strategy, the degree of success of the launch of CARA, competition, market saturation, pricing pressures, etc. The forward-looking information contained herein is given as of the date hereof and we assume no responsibility to update or revise such information to reflect new events or circumstances, except as required by law.
INDEMNIFICATION/RELEASE OF LIABILITY. By reading this communication, you acknowledge that you have read and understand this disclaimer, and further that to the greatest extent permitted under law, you release the Publisher, its affiliates, assigns and successors from any and all liability, damages, and injury from this communication. You further warrant that you are solely responsible for any financial outcome that may come from your investment decisions.
TERMS OF USE. By reading this communication you agree that you have reviewed and fully agree to the Terms of Use found here http://GlobalInvestmentDaily.com/Terms-of-Use. If you do not agree to the Terms of Use http://GlobalInvestmentDaily.com/Terms-of-Use, please contact GlobalInvestmentDaily.com to discontinue receiving future communications.
INTELLECTUAL PROPERTY. GlobalInvestmentDaily.com is the Publisher's trademark. All other trademarks used in this communication are the property of their respective trademark holders. The Publisher is not affiliated, connected, or associated with, and is not sponsored, approved, or originated by, the trademark holders unless otherwise stated. No claim is made by the Publisher to any rights in any third-party trademarks.
© 2005-2019 http://www.MarketOracle.co.uk - The Market Oracle is a FREE Daily Financial Markets Analysis & Forecasting online publication.

Only logged in users are allowed to post comments.
Register/ Log in