Gold GLD and Natural Gas UNG, Splicing with Gene & Thom
Commodities
/
Investing 2009
May 07, 2009 - 11:37 AM GMT


Thom Calandra of Ticker Trax™ and Gene Arensberg of Got Gold Report go way back as friends, colleagues and students of natural resources. They're talking about tracking the people worth their salt in metals and mining.
Thom: So Gene, I found those numbers on how much of each company Robert Friedland owns among his cabal of mining companies. It's in a proxy … as of Dec. 31st. It lists companies that Mr. Friedland has stakes in and that also share costs for travel, offices, administrators, telephone bills, I guess, and an aircraft. So Robert owns 25.6% of Ivanhoe Mines (IVN in USA and Canada), 17.6% of Ivanhoe Energy (IE in Canada and IVAN in USA), and 100% of, I guess you would call it the mother ship, Ivanhoe Capital Corp.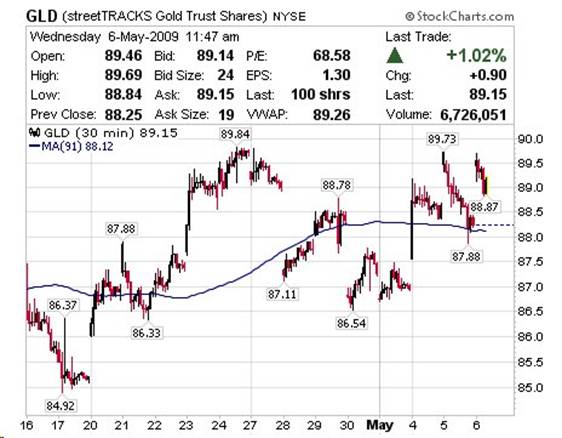 Gene: What about those other companies that are spinoffs in Asia, like Ivanhoe Australia and the one in China, is it?
Thom: Well, this does not mention Ivanhoe Australia, which went public last year. I was just talking to the CEO of that one, Peter Reeve, but I didn't ask him. The management proxy does say that Mr. Friedland has indirect ownership of SouthGobi Energy Resources (SGQ in Canada) and Jinshan Gold Mines (JIN in Canada) because Ivanhoe Mines owns pieces of those – to be exact, Ivanhoe Mines in Mongolia owns 80.19% of the shares of SouthGobi and 0.92% of the shares of Jinshan.
Gene: Today is insider activity search day for me. I'll be at it all day for all the companies on my list. But first I saw the ADP (National Employment Report) reported a much lower than expected 491K jobs lost. And wouldn't you know it, a very large seller showed up for gold precisely at the breakout point. Obviously $90 on GLD (the ETF that represents a tenth of an ounce of gold per share) is the Maginot Line in the sand for the gold battle, I think. I'll send you the chart, Thom. (See chart above)
THOM: OK. You know me, Gene …I'm so not huge on technicals, but I understand.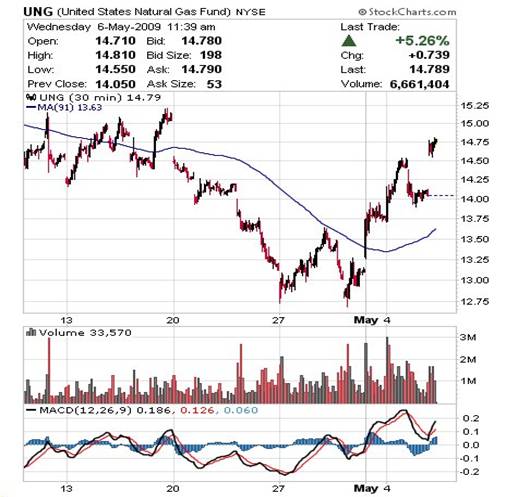 GENE: Well, NatGas is simmering just below $3.90 resistance in the $3.80s. How about them bananas? Fingers crossed. Salt over the shoulder, knock wood and all that ... Look at UNG (another ETF representing natural gas) .. it's holding the gap higher. (This chat between Gene and Thom took place Wednesday May 6.) But let's remember the inventory report tomorrow (Thursday). If there is a smaller than expected injection reported by the EIA, there could be quite a short-covering rally. If it holds, it would be the second gap higher to do so since the April 29th nadir.
Thom: Anything on the Inside Sales and Purchases reports, Gene?
Gene: Well, remember Radius Gold, (click here for insider activity info), which I own? Simon Ridgway, the financier, continues to add shares of Radius (RDU in Canada). Remember his tax loss sale of last year (September) of 3.5 million shares at Canadian $0.11? Well, he's apparently on the road to replacing them now, but at higher prices. Just so you know, I have a bid in just below the trading.
Thom: Right. You might think about getting that trademarked – The Gene Splicer Stink Bid. Mr. Ridgway is connected to, yes, Fortuna Silver as well as Radius, as I recall. Table below is courtesy of Ink Research.

Thom: Niente, piacere. So que mas, hombre?
Gene: Timberline Resources (TLR in USA) – is your Instant Value candidate for Ticker Trax? Its plan to regain compliance with the AMEX was accepted. As expected. Here is the release – on Stockhouse.
Thom: I'd love to see that Montana property of theirs sometime.
Gene: So would I. Shorts beware, if there are any left. I am glad I own that one. Now check this one out. Another one I own and ran across on the inside hunt today. It's an old Bob Bishop and former Doug Casey favorite -- Columbus Gold (CGT in Canada) (click here for insider activity info). So it has another insider buyer besides Anglo Pacific. Meet Peter Gianulis and Carrelton Asset Management. Remember that Anglo Pacific took a big part of the recent pipeline … and was buying in buckets last year? And remember that Robert Giustra – the CEO -- was involved last year in August?
Thom: What does it all mean, my friend?
Gene: Well, I think it means attention must be paid. This tells us that funds are moving back into the speculative explorers - at least a little.

Thom: That's it for now, Gene. Gotta go! Thanks man.
Please feel free to browse www.Stockhouse.com under the "portfolio setting" for user TCALANDRA. Thom's holdings are public and free to view right here. Thom and family own none of the companies in this report. Gene Arensberg does own some of the companies in this report.
THOM CALANDRA in 27 years of road work has helped his audience find value in a quagmire of investment choices. Thom co-founded CBS MarketWatch and MarketWatch.com. He can be seen at www.tickertrax.com on Stockhouse.com.
GENE ARENSBERG is a land developer, self-taught bullion trader and investor since 1980, Gene analyzes technical and fundamental developments in the precious metals markets. In 2000 Gene started sharing his own market research with fellow traders and fund managers. Those e-mail reports evolved into his Got Gold Report.
Visit The GOLD Report- a unique, free site featuring summaries of articles from major publications, specific recommendations from top worldwide analysts and portfolio managers covering gold stocks, and a directory, with samples, of precious metals newsletters. To subscribe, please complete our online form (http://app.streamsend.com/public/ORh0/y92/subscribe)
The GOLD Report is Copyright © 2009 by Streetwise Inc. All rights are reserved. Streetwise Inc. hereby grants an unrestricted license to use or disseminate this copyrighted material only in whole (and always including this disclaimer), but never in part. The GOLD Report does not render investment advice and does not endorse or recommend the business, products, services or securities of any company mentioned in this report. From time to time, Streetwise Inc. directors, officers, employees or members of their families, as well as persons interviewed for articles on the site, may have a long or short position in securities mentioned and may make purchases and/or sales of those securities in the open mar ket or otherwise.
© 2005-2019 http://www.MarketOracle.co.uk - The Market Oracle is a FREE Daily Financial Markets Analysis & Forecasting online publication.

Only logged in users are allowed to post comments.
Register/ Log in