Central Bankers - What's their long-term plan for Gold?
Commodities
/
Gold & Silver
Jun 19, 2007 - 02:58 PM GMT

Last week, the Bank of Switzerland announced that they plan to sell 250 tonnes of gold bullion into the market over the next two years. This comes shortly after news that the Bank of Spain had dumped more than 100 tonnes of the metal and word of additional sales by Belgium.
With the words "global inflation" on the lips of billions of people around the world and a rising price of gold sure confirmation of such, you have to wonder what the long-term plan is for Western central banks and their gold.
Do they plan to just keep selling the stuff until they have none left?
Why do they hold gold at all if it is simply a relic of some former, barbarous time - a metal that long ago lost its relevance in a world of advancing economic theory and practice?
So far this year, with each new press release detailing additional supply being pushed into the market, the gold price has taken another nose-dive only to trudge back up toward $700 an ounce, the level at which a line appears to have been drawn.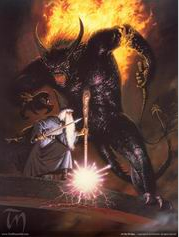 Like Gandalf to Balrog in the Mines of Moria, central bankers appear to be warning, "You shall not pass!"
Of course in the first Lord of the Rings movie, both Gandalf and Balrog took a perilous fall, Gandalf eventually gathering himself and averting disaster.
Will Western central bankers hold off their nemesis for a while longer and, if so, is it their intention to just stand there on the bridge indefinitely hoping that Balrog will get tired and walk away?
Balrog seems full of energy - not the type to tire easily.
Or, in the world of central banks and their gold, does Gandalf lose?
Surely their long-term plan can't be to continue to sell gold into the market indefinitely, keeping the price of the metal artificially low, until all their vaults are empty.
What will they do then when the price of gold continues to rise?
Raise interest rates to 20 percent?
With the amount of debt and leverage that has become commonplace in the world today?
Reality Check
As more and more of the world's citizens doubt their government's reporting of a "low inflation" world - as they see prices rising quickly around them, watch asset bubbles inflate, and hear of double-digit money supply growth - more and more of the world's citizens buy gold.
Like other commodities, the supply of gold is limited.
Unlike the paper and its electronic equivalent that spews from the global financial system at a dizzying rate, the supply of gold can not be increased with the push of a button on a computer keyboard.
That is why its value goes up.
The more the world's citizens buy gold, the higher the price goes, and the more that Western Central Banks are likely to sell - up to the point that they either decide to stop selling or they run out of gold.
Which will it be? When will it be?
Does anyone really think that this same discussion will be taking place ten years from now or fifty years from now?
Surely Western central bankers have some sort of a plan to keep the price of gold from making them look bad.
Don't they?
By Tim Iacono
Email : mailto:tim@iaconoresearch.com
http://www.iaconoresearch.com
http://themessthatgreenspanmade.blogspot.com/
Tim Iacano is an engineer by profession, with a keen understanding of human nature, his study of economics and financial markets began in earnest in the late 1990s - this is where it has led. he is self taught and self sufficient - analyst, writer, webmaster, marketer, bill-collector, and bill-payer. This is intended to be a long-term operation where the only items that will ever be offered for sale to the public are subscriptions to his service and books that he plans to write in the years ahead.
© 2005-2019 http://www.MarketOracle.co.uk - The Market Oracle is a FREE Daily Financial Markets Analysis & Forecasting online publication.
Comments
Dan Goodyear
20 Jun 07, 22:55
Price of gold an silver control


Gold is back by every currency in the world. You can take this money an buy gold with it. But yes the gold would run out in the matter of seconds if all we tried to do this. An gold is endless supply because the gold they have is proven reserves in the ground. I bet the world had 500million ounces to be had easy. But i believe the price is controled my the goverments an for it to go up. There has to be an auction for it like on ebay. Have some rich real guy no Goverment shills like soras or kickorian. Say he pay $20 an ounce an they price will rise like never before. Like lighting a match to a hay stack.




Only logged in users are allowed to post comments.
Register/ Log in