The Gold of the Pharaohs - Egyption Gold Mining
Commodities
/
Gold & Silver Stocks
Jun 28, 2007 - 01:36 PM GMT

Sean Brodrick writes: Just the mention of "the gold of the pharaohs" conjures up images of pyramids, enormously rich rulers, sparkling statues, bejeweled beauties, and forgotten treasure troves.
Heck, the famous funerary mask and coffin of King Tutankhamen was made from more than 242 pounds of pure gold! And King Tut was just a taste of the vast wealth gathered by the ancient society by the Nile.
It's everyone's dream to find the gold of the pharaohs. Now, someone has discovered the source of that gold! What's more, Egypt is now reviving its 2000-year-old gold mining industry. In a moment, I'll tell you how to get your own piece of Egypt's gold.
First, let's talk about that recent discovery …
The Source of Egyptian Gold: Here Today, Gone Tomorrow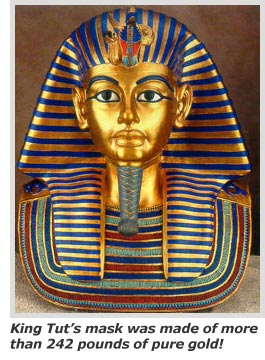 Much of Egypt's gold was chipped from quartz source rock by the Kushites. Kush was a country that ruled the Southern Nile — now Northern Sudan — from 2000 BC to 1500 BC. They used the gold to trade with Egypt for everything from basic grains to consumer goods.
Gold was such a powerful draw that the Kushites set up a mining camp more than 200 miles from their capital — a huge distance in the days when a chariot was about the fastest way to get from here to there. And this gold bonanza made Kush one of the richest, most powerful countries in the ancient world.
But as always, gold is both a blessing and a curse. The Egyptians got sick of trading for the Kushite gold and angry at how the Kushite kings schemed to take over Egypt. So they conquered their meddlesome neighbor in 1500 BC.
We don't know when the Egyptians stopped panning for Kushite gold, but the sands of time … and the desert … eventually covered up the gold camp. It was only recently uncovered by a team led by University of Chicago archaeologists Geoff Emberling and Bruce Williams.
The team from Chicago is in a race against the clock to uncover as much of the old gold camp as they can in the next year. That's because the site will be covered again — this time not by sand, but by water, as the land on either side of the Nile for 100 miles is submerged permanently.
To blame is the Merowe Dam, which is being built in Sudan by Chinese, French and German engineers. When it is completed, it will create a lake two miles wide and 100 miles long. More than 50,000 people will be displaced, and 10,000 years of history will be drowned.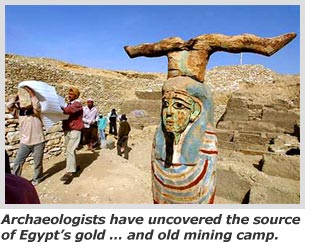 That's a shame. The good news is that we're seeing …
The Return of Egypt's 2000-Year-Old Gold Mining Industry
For decades, it was virtually impossible for foreign mining players to exploit Egypt's huge gold reserves thanks to government over-regulation. Meanwhile, local companies lacked the capital or expertise to develop a commercial, home-grown industry. Egypt's commercial gold production ended in 1958.
Finally, things are changing:
Last November, Egypt awarded eight concessions to five companies from Canada, Australia, Europe and the United Arab Emirates.
In January, Egypt signed a memorandum of understanding with the International Finance Corporation (IFC), the World Bank's private sector lender, to replace the country's antiquated mining laws.
And now, Egypt plans to offer eight new gold mining concessions.
Hussein Hammouda, the chairperson of the Egyptian Geological Survey and Mining Authority, has said that the country's gold output should hit 14,000 ounces this year. And production from the combined concessions should raise Egypt's gold output to eight metric tonnes in 2008. That's more than the country's total production in the last century!
Gee, wouldn't it be great to own a piece of a company that's an early mover in the resurgent Egyptian gold industry? Well, I've found just such a stock …
How to Get Your Own Piece Of the Pharaoh's Treasure
This up-and-coming miner has a known resource of over eight million ounces of gold, and is busily drilling to expand and define its resource even more.
It should be able to produce 200,000 ounces of the yellow metal per year. And it expects to start production as soon as the third quarter of next year!
This company's market cap is less than $800 million. That means you can buy its resource for about 15 cents on the dollar. Sure, gold in the ground isn't the same as gold in the vault. There are mining costs and so on. But even adding those in, this stock looks like a steal worthy of a band of tomb raiders.
It's certainly not for everyone, and definitely not for your keep-safe money. And this stock, while a precious find, is too small for me to mention by name here. However, it is one of the many small-cap wonders I'm considering for my Red-Hot Global Small-Caps portfolio.
Of course, if small-caps aren't your cup of tea, you can always get a stake in gold mining companies with the Van Eck Market Vectors Gold Miners ETF (GDX). It contains large-cap miners, but at least it will give you a way to participate in the price of gold.
You can also check out U.S. Global Investors' World Precious Mineral Fund (UNWPX). This no-load mutual fund returned 52% in 2006 and is outperforming its benchmark, the Amex Gold Bugs Index, by a wide margin.
Yours for trading profits,
By Sean Brodrick
P.S. There is still more research to be done on that Egyptian miner, and I'm looking for a great entry point. But I could pull the trigger very soon. To ensure you get my recommendations, call 800-898-0819 and talk to Jasper. He'll set you up with Red-Hot Global Small-Caps immediately. Or to order online, click here .
This investment news is brought to you by Money and Markets . Money and Markets is a free daily investment newsletter from Martin D. Weiss and Weiss Research analysts offering the latest investing news and financial insights for the stock market, including tips and advice on investing in gold, energy and oil. Dr. Weiss is a leader in the fields of investing, interest rates, financial safety and economic forecasting. To view archives or subscribe, visit http://www.moneyandmarkets.com .
© 2005-2019 http://www.MarketOracle.co.uk - The Market Oracle is a FREE Daily Financial Markets Analysis & Forecasting online publication.

Only logged in users are allowed to post comments.
Register/ Log in