Are Penny Mining Stocks Your Ticket to Great Wealth?
Commodities
/
Gold & Silver Stocks
Dec 02, 2009 - 07:57 AM GMT


Let's call this a sneak preview of coming attractions.
Have you ever wanted to have the opportunity to make a lot of money? How about getting rich?
How about getting Filthy Rich? If so, you must read this.
Everyone has heard the term, penny stocks, but what are they? Should you consider investing in them?
The general definition of a penny stock would be any stock trading under $1.00. With the thousands of Canadian junior mining and energy companies I would guess that 80% are still selling for less than $1.00 and thus are classified as penny stocks selling on the TSX Venture Exchange.
If we were at any other time in the investment cycle for gold and natural resources I would probably suggest that investors stay away, far away, from these penny stocks, unless you really know what you are doing. But that is not the case.
We are on the verge of a possible breakout in the shares of these penny stocks and some of us have been licking our chops in anticipation and now it is here.

If one looks merely at the charts below for the CDNX representing the TSX Venture Index and the HUI, Gold Bugs Index you would conclude that everything is great. But if you compare these indices to gold, now you have an entirely different picture. In effect, gold is very strong but both the CDNX and HUI are lacking and thus the shares at this time have not caught on fire but we anticipate this will change very soon.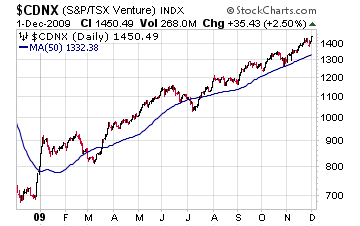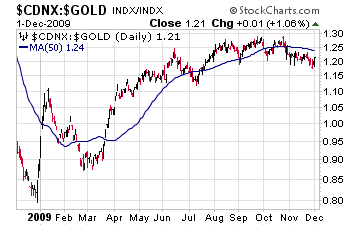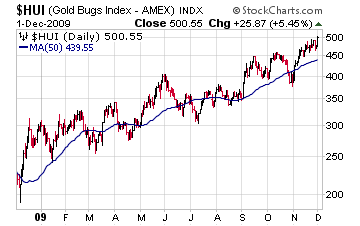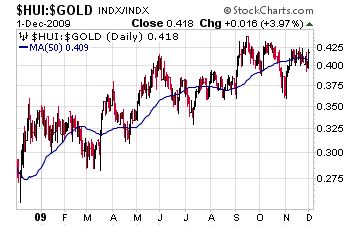 Doug Casey of CaseyResearch.com is very bullish on the prospects for the juniors and is on record as saying:

"the day will come when no shares will be selling for less than $5.00".
Again, I am guessing here that the average junior mining and energy company is selling for much less than $1, probably more like $0.25 to $0.50. Well if Doug Casey is right we could easily see these penny stocks generating gains of 1,000% to 2,000% in the coming years.
Remember, this will be the average share price even for those dogs and cats in your portfolio. Many shares will be selling for $10, $20, $50 or $100 and more……It happened in 1980 and it will happen again.
Think for a moment about the last great bull market in gold and the juniors, 1976 to 1980.
Heck no one had computers and no one was day trading this very small market sector of the junior mining and energy companies. What if, this time, investors around the world get excited about these mining and energy stocks?
The sky is the limit and want it be fun?
Frankly, we smell the potential for a major once in a life-time opportunity to make a killing.
Are these penny stocks risky? Sure as heck they can be risky, but if you only allocate only a portion of your investment dollars to this group and then further diversify into 10, 20 or 30 different companies, you are greatly reducing your overall risk exposure. It is all about timing and the time is now to be preparing your strategy if you are not yet on board.
Another interesting thought is that some of the junior mining and energy shares have LEAPS and long-term warrants trading which could increase your gains even further with little or no additional risk. If you can find LEAPS and warrants trading on some of your favorite shares and with 2 years or more of remaining life now you have a really interesting situation.
These long-term warrants and LEAPS give you the opportunity to double or better your already outrageous gains in the common shares.
This is a must opportunity for all investors and I am sure that all investors will be 'in the game' eventually.
The question for each of you is:
1. Are you already in the game? If so, great, just be patient.
2. If not, are you preparing to enter 'the game' and buy a basket of these undervalued junior
mining or energy shares or the long-term warrants or LEAPS trading on them?
3. Are you going to wait until prices rise substantially and start to peak before entering 'the
game'?
Yes, most investors will wait and wait and wait and then buy near the top and then complain that they couldn't make any money and they will blame the markets, the penny stocks and everyone in the business before taking responsibility for their own poor judgment and timing.
We are being given the rare possibility of a once-in-a-lifetime-opportunity, what will you do with it?
For those readers unfamiliar with our services:
PreciousMetalsWarrants.com provides an online database for all warrants trading on the natural resource companies in the United States and Canada.
InsidersInsights.com tracks the buying and selling of corporate insiders with a focus on the junior mining and natural resource sectors. Buy and Sell Alerts are issued as deemed relevant based upon our analysis.
We encourage all readers to sign up for our free weekly email.
Dudley Pierce Baker
Guadalajara/Ajijic, Mexico
Email: support@preciousmetalswarrants.com
Website: PreciousMetalsWarrants
Website: InsidersInsights
Dudley Pierce Baker is the owner and editor of Precious Metals Warrants and Insiders Insights. Articles are written by Dudley Baker along with contributing editors, Arnold Bock of Mendoza, Argentina and Lorimer Wilson of Toronto, Canada. PreciousMetalsWarrants provides an online subscription database for all warrants trading on junior mining and natural resource companies in the United States and Canada and a free weekly newsletter. InsidersInsights alerts subscribers when corporate insiders of a limited number of junior mining and natural resource companies are buying and selling.
Disclaimer/Disclosure Statement:PreciousMetalsWarrants.com is not an investment advisor and any reference to specific securities does not constitute a recommendation thereof. The opinions expressed herein are the express personal opinions of Dudley Baker. Neither the information, nor the opinions expressed should be construed as a solicitation to buy any securities mentioned in this Service. Examples given are only intended to make investors aware of the potential rewards of investing in Warrants. Investors are recommended to obtain the advice of a qualified investment advisor before entering into any transactions involving stocks or Warrants.
© 2005-2019 http://www.MarketOracle.co.uk - The Market Oracle is a FREE Daily Financial Markets Analysis & Forecasting online publication.

Only logged in users are allowed to post comments.
Register/ Log in