Bernanke, Time's Person of the Year Drives the Debt Crisis Spiral
Politics
/
Recession 2008 - 2010
Dec 23, 2009 - 09:53 AM GMT


Fed President Ben Bernanke has been named Time magazine's Person of the Year for 2009. However, in looking back at former People of the Year it becomes crystal clear that this title doesn't necessarily mean that the honored person has done something good for the world …
It only meant that he or she had made a big influence on the course of history during the preceding year. Some have brought us blessings, while others have brought plagues.
And this year it surely seems that Time's journalists think of Bernanke as a blessing for the world.
Well, I have to strongly disagree …
It Didn't Work in Zimbabwe, And it Won't Work in the U.S.
It's really surprising how acclaimed a monetary politician can become nowadays by doing just one thing: Printing money like there's no tomorrow.
Yet it didn't come to pass for Leonard Tsumba and Gideon Gono, respectively the former and the current Governors of the Reserve Bank of Zimbabwe. So they may very well feel snubbed by Time's choice for Person of the Year.
You see, both central bank chiefs were printing boatloads of money long before Bernanke ordered the helicopters into overtime.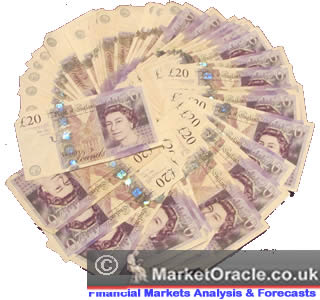 Zimbabweans have felt the pain of irresponsible monetary policies.
And under their policies, prices for basic necessities were doubling as fast as every 24.7 hours!
Then this past January, with inflation running at 500 billion percent, the Zimbabwe government ditched their dollar in favor of various currencies such as the U.S. dollar, South African rand, sterling and Botswana pula.
Consequently, the government hasn't been able to attract any budgetary support because donors distrust Zimbabwe's central bank.
Only a few months ago Mr. Gono was interviewed by Newsweek. And I think one his answers should have been given much more media attention than it received. Read it for yourself and see what I mean:
Newsweek: "Your critics blame your monetary policies for Zimbabwe's economic problems."

Gono: "I've been condemned by traditional economists who said that printing money is responsible for inflation. Out of the necessity to exist, to ensure my people survive, I had to find myself printing money. I found myself doing extraordinary things that aren't in the textbooks.

"Then the IMF asked the U.S. to please print money. I began to see the whole world now in a mode of practicing what they have been saying I should not.

"I decided that God had been on my side and had come to vindicate me."
At least Mr. Gono is fully aware of the similarities of his and Mr. Bernanke's monetary policies. So maybe, just maybe, the same reckless policies will yield the same hyperinflationary results!
We'll soon find out.
What's more, we have the undeniable conclusion that …
The Great Recession is the Result Of Unsound Monetary and Fiscal Policy
By now there is the widely held consensus that the crisis of the last two years is the result of a burst real estate bubble. Even the economists who didn't see it coming and who had no clue about the bubble and its unavoidable aftermath have finally come to this conclusion.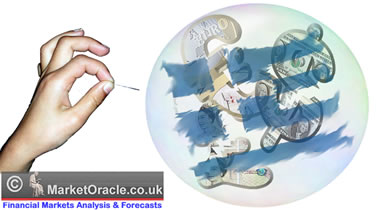 The central bank is responsible for monetary growth.
But here their analysis and their economic curiosity stop. It's hard to believe, but mainstream economists do not even raise the obvious question about what caused this huge bubble. They don't seem to be interested in truth and cognizance.
That's very sad … because the answer to this question gives us very important insights into what I call the "Crisis Spiral" or the "Inflation Trap." And it's theoretically well founded and empirically well documented by financial history. Here it is:
The necessary condition for the development of speculative bubbles is superabundant money and credit growth.
Of course you know who is ultimately responsible for money and credit growth: The central bank, that is Mr. Bernanke himself.
After all, the central bank laid the necessary groundwork for this huge bubble to develop. Hence, the central bank is also responsible for the devastating outcome of the unavoidable bursting of this bubble.
A blessing or the plague?
Bernanke Is Not The Savior of the World …
There is no doubt in my mind that Bernanke — along with his predecessor Alan Greenspan — are the most notable creators of the Great Recession. And Bernanke is not the savior of the world as Time wants you to believe. In fact, he's the opposite!
When Greenspan implemented the very same policy as Bernanke does now, the latter was already a Fed governor strongly supporting Greenspan. I used to call this policy "the great experiment of Dr. Greenspan" and forecasted the horrible outcome we have witnessed now.
Today, Bernanke is in the driver seat. And he's doing the very same things as his predecessor, but even more so.
The politically correct answer to a crisis stemming from easy money is — more, much more, easy money. Therefore, it stands to reason that the outcome of this even grander experiment will be much worse.
So stay tuned. The coming years are promising to become very interesting and challenging.
Best wishes,
Claus
This investment news is brought to you by Money and Markets . Money and Markets is a free daily investment newsletter from Martin D. Weiss and Weiss Research analysts offering the latest investing news and financial insights for the stock market, including tips and advice on investing in gold, energy and oil. Dr. Weiss is a leader in the fields of investing, interest rates, financial safety and economic forecasting. To view archives or subscribe, visit http://www.moneyandmarkets.com
© 2005-2019 http://www.MarketOracle.co.uk - The Market Oracle is a FREE Daily Financial Markets Analysis & Forecasting online publication.

Only logged in users are allowed to post comments.
Register/ Log in