Debt Crisis Market Chaos Coming Soon To A Theatre Near You
Stock-Markets
/
Global Debt Crisis
May 31, 2010 - 01:52 PM GMT


Make no mistake about it, what is happening in Greece and Thailand right now will be coming soon to a theatre near you as well, with a war between our bloated bureaucracy and the public at center. It's important to understand that the weaker periphery states in the Western alliance is just the beginning in a global affair, as Martin Armstrong points out in his latest, and that while being 'big daddy' of the sovereign debt debacle will postpone crisis in the US briefly as capital seeks safety in her markets, once this reaction is exhausted the U$$ Titanic America will be going down too. Therein, after the panic into US bonds (and stocks as a result of artificially lower rates) is done, rates will rise in the States as well, forcing the same budget cuts and austerity measures now being imposed on what is being described by the Western media sources (in justifying trading action) as the economic basket case, better known as Europe.
Of course upon closer inspection of just who's who in terms of economic basket cases in the world as measured by the deficits a country is running, it might surprise some (people who live in a vacuum) that the idiot child Obama has the US right up near the top in this regard, meaning once the panic money runs out for Treasuries, rates will go through the roof overnight here too. This is naturally why we school getting out of debt as soon as possible, as when this trend begins, it will be both relentless and merciless, and in the end reveal the insolvency of America as well. It's only a matter of time in this regard. And again, it's coming to a theatre near you soon – to the stock exchanges, banks, and larger economy – so be prepared. Pay off your debts. Don't keep much money in the banks. Get stock certificates for precious metals shares you intend to keep. And buy as much gold and silver bullion as you can safely store. (i.e. in physical and allocated accounts.)
The following is commentary that originally appeared at Treasure Chests for the benefit of subscribers on Thursday, May 20th, 2010.
With all this it's difficult believing in Martin Armstrong's call for new highs in stocks before a more severe collapse comes, however as you would know in reading these pages for sometime, if sentiment conditions remain favorable (bearish), anything is possible in our faulty and fraudulent markets. All we need is for US index open interest put / call ratios to begin trending higher and stocks would begin to rise as they are squeezed by liquidity and buying spurred by our price managing bureaucracy. Remember, it's there job to deceive the public in furthering their own interests (so they can tax you to death), and they will perform this function in borg like fashion until they ruin the economy long-term. This of course has now occurred, which is why they must work harder at it, but are still failing.
The European Union's recent attempts to revive the euro is perhaps the best example of this we have had in some time, where after bailout measures to stabilize the PIGS failed to stabilize markets, along with yesterday's short selling ban, it's now anticipated a currency intervention will be announced prior to the weekend to goose the currency, bonds, and stocks higher in an effort to avoid a complete loss of confidence from developing. And the threat of currency intervention has been working into options expiry this week, as can be seen here, however one does need to wonder how long this will last once bearish euro speculators are squeezed out and / or options expire. And the same holds true for stocks in the States. Again, if the downtrends in US index open interest put / call ratios persist, which are updated here, while a bounce may arise, it's difficult see stocks getting much traction here all things considered.
Side note: Remember, open interest put / call ratios are more important and can trend counter to those that simply measure volume, as positions are held overnight, making them a far stronger indication of true sentiment. What's more, not many traders / speculators are either aware and / or appreciate their importance in gauging sentiment today, which is why they still work while most other indicators have become redundant.
Further to this, because of the present open interest configuration that has good put option related support for the S&P 500 (SPX) at 1100, which can be seen here in the May SPY option series, further price declines might not be possible until next week. It should be remembered however this might be exactly what the doctor ordered in terms of further tracing a potentially developing head and shoulders pattern in the trade, which can be seen below in the attached chart of the Dow. In terms of putting the larger picture together right now, you will remember from our last meeting the Dow / TSX (TSE) Ratio is possibly in the throws of triggering a monthly breakout above the 21-month exponential moving average (EMA), which Dr. Copper (a strong leading indicator) is suggesting will happen with its recent collapse. (See Figure 1)
Figure 1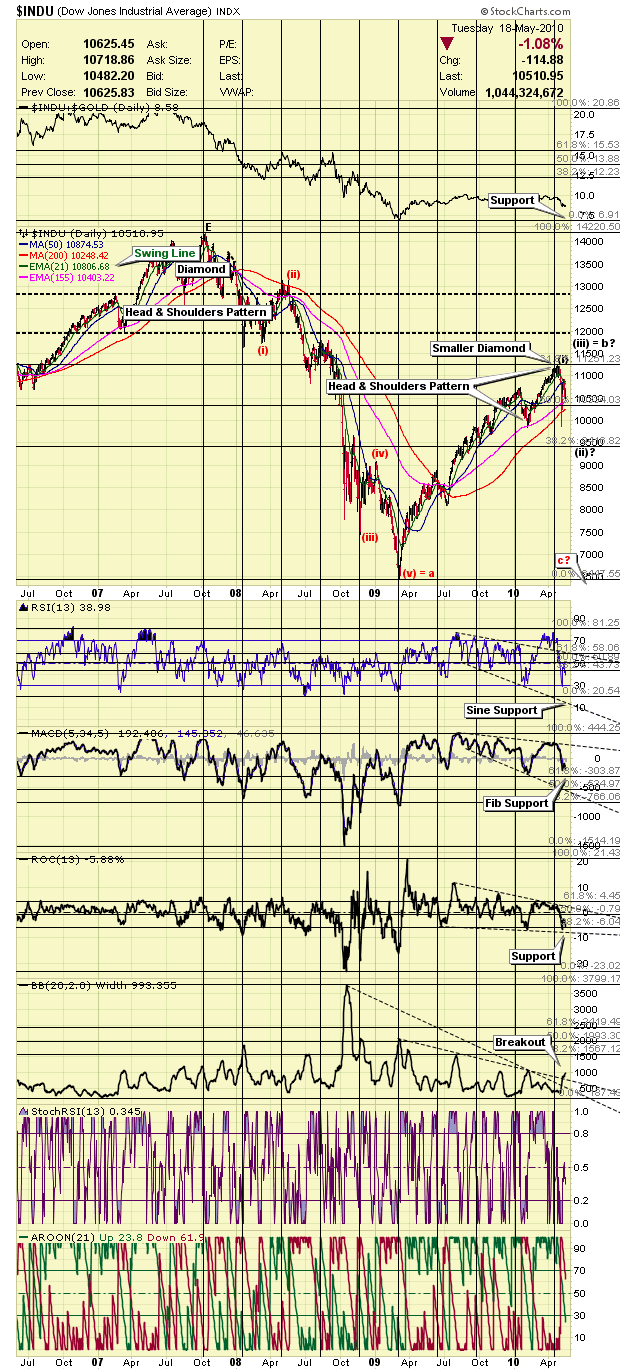 This is of course suggestive that despite the best laid plans on the part of the bureaucracy, that underneath it all, what's really happening is the economy is crashing again, led by round two of a real estate credit related collapse. What's more, as you can see in the attached data it's happening in real time, which when coupled with the likelihood bearish speculators are now exhausted on an intermediate-term basis, brings the curious mind to the conclusion stocks could be heading lower here, perhaps substantially lower. How much lower is substantially lower? Well, if the larger degree head and shoulders pattern in the Dow pictured below traces out, as you can see the 'crash zone' target is between 3,000 and 4,000, which is where one should expect to see the Dow / Gold Ratio (pictured in Figure 1) hitting a ratio of 1. Please note that in both Figures 1 and 2 the time lines are suggesting a turn lower is due right now as well. (See Figure 2)
Unfortunately we cannot carry on past this point, as the remainder of this analysis is reserved for our subscribers. Of course if the above is the kind of analysis you are looking for this is easily remedied by visiting our web site to discover more about how our service can help you in not only this regard, but also in achieving your financial goals. As you will find, our recently reconstructed site includes such improvements as automated subscriptions, improvements to trend identifying / professionally annotated charts, to the more detailed quote pages exclusively designed for independent investors who like to stay on top of things. Here, in addition to improving our advisory service, our aim is to also provide a resource center, one where you have access to well presented 'key' information concerning the markets we cover.
And if you are interested in finding out more about how our advisory service would have kept you on the right side of the equity and precious metals markets these past years, please take some time to review a publicly available and extensive archive located here, where you will find our track record speaks for itself.
Naturally if you have any questions, comments, or criticisms regarding the above, please feel free to drop us a line. We very much enjoy hearing from you on these matters.
Good investing all.
By Captain Hook
http://www.treasurechestsinfo.com/
Treasure Chests is a market timing service specializing in value-based position trading in the precious metals and equity markets with an orientation geared to identifying intermediate-term swing trading opportunities. Specific opportunities are identified utilizing a combination of fundamental, technical, and inter-market analysis. This style of investing has proven very successful for wealthy and sophisticated investors, as it reduces risk and enhances returns when the methodology is applied effectively. Those interested in discovering more about how the strategies described above can enhance your wealth should visit our web site at Treasure Chests
Disclaimer: The above is a matter of opinion and is not intended as investment advice. Information and analysis above are derived from sources and utilizing methods believed reliable, but we cannot accept responsibility for any trading losses you may incur as a result of this analysis. Comments within the text should not be construed as specific recommendations to buy or sell securities. Individuals should consult with their broker and personal financial advisors before engaging in any trading activities, as we are not registered brokers or advisors. Certain statements included herein may constitute "forward-looking statements" with the meaning of certain securities legislative measures. Such forward-looking statements involve known and unknown risks, uncertainties and other factors that may cause the actual results, performance or achievements of the above mentioned companies, and / or industry results, to be materially different from any future results, performance or achievements expressed or implied by such forward-looking statements. Do your own due diligence.
Copyright © 2010 treasurechests.info Inc. All rights reserved.
Unless otherwise indicated, all materials on these pages are copyrighted by treasurechests.info Inc. No part of these pages, either text or image may be used for any purpose other than personal use. Therefore, reproduction, modification, storage in a retrieval system or retransmission, in any form or by any means, electronic, mechanical or otherwise, for reasons other than personal use, is strictly prohibited without prior written permission.
© 2005-2019 http://www.MarketOracle.co.uk - The Market Oracle is a FREE Daily Financial Markets Analysis & Forecasting online publication.

Only logged in users are allowed to post comments.
Register/ Log in