China and Hong Kong Stock Markets - Don't Bet Against China!
Stock-Markets
/
Chinese Stock Market
Nov 21, 2007 - 01:23 AM GMT

Tony Sagami writes: You'll have to excuse your portfolio if it's feeling a little dizzy. After all, the Dow shot up 320 points last Tuesday but then dropped 207 points the next two days. Yesterday, it had another awful time, falling more than 200 points.
Investors are worried about the usual suspects — subprime woes, a weakening dollar, and signs of a rapidly slowing economy that is suffering from $90-plus oil.
In fact, the volume of the recession-or-no-recession debate is growing louder and louder.
Meanwhile, all this uncertainty is taking other stock markets for a roller coaster ride, too:
The Hong Kong Hang Seng Index closed last Friday at 27,614, which is 4,000 points lower than its 31,638 peak reached on October 30. That's a 12% haircut.
The Shanghai Composite Index has dropped from its record high of 6,092 on October 16 to 5,316 — another 12% decline.
And the iShares FTSE/Xinhua China 25 Index exchange-traded fund (FXI) has done even worse, falling from $218 on October 31 to $178, an 18% drubbing.
This volatility, and the resulting pullback, have brought out a flock of China boo-birds proclaiming the end of the Chinese miracle economy and calls for a horrible conclusion to the Asian bull market.
Their squawking reached a crescendo last week when the ProShares mutual fund family launched a new exchange-traded fund (ETF) that can profit from falling Chinese stock prices.
Called the ProFunds UltraShort FTSE/Xinhua China 25 (NYSE: FXP), it's designed to produce twice the inverse of the FTSE/Xinhua China 25 index. In other words, if a measure of the Chinese stock market falls by a point, this ETF will rise by two.
But, that's a rather big "IF!"
I Wouldn't Bet Against China Right Now!
In my opinion, betting against China is a fool's errand. In fact, it might just be the single worst bet you could make today.
That's especially true when you're talking about a fund that will magnify your losses if you're wrong. Remember, that two-to-one leverage works both ways. If China's market rises, the inverse ETF will fall twice as much!
That's a real risk. Especially because the big picture for China has never been more spectacular.
According to Lipper Analytical Services, China-focused funds were up an average of 65.47% this year through November 8 and a whopping 92% over the last 12 months! That is the best performing investment style or regional category by a wide, wide margin.
Translation: China has been the most profitable place to invest on Earth — PERIOD !
Nothing has fundamentally changed, either. The recent weakness is largely a factor of two things:
(1) The state-run China Securities Journal reported that the People's Bank of China has directed banks in Shenzhen to limit individual withdrawals in hopes of stemming the flow of money from mainland China to the Hong Kong stock market.
(2) There is widespread fear of another increase in Chinese interest rates.
But look, both of these concerns are just indications of how very strong China is! Heck, China's central bank may raise interest rates because their country's economy, unlike that of the U.S., is still growing faster than Jack's beanstalk.
Through the first nine months of 2007, China's GDP rose at an 11.5% annualized rate. Plus, 2007 will mark the fifth year in a row that the Chinese economy has expanded at a breakneck, double-digit pace.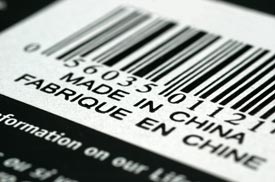 China is still the world's workshop, and that's propelling its economy into the stratosphere!
China continues to be the workshop of the world. In the first nine months of this year, the country's exports increased 27.1% to $878 billion worth of products and it enjoyed a trade surplus of $185 billion, which is $75 billion more than last year.
That stunning economic growth is rapidly creating an enormous middle class. From January to September, the per-capita income of urban residents hit 10,346 yuan, a 13.2% increase over the same period last year. That's important because it means China is developing its own consumer-based economy and becoming increasingly independent from a U.S. slowdown.
So rather than try to go against the long-term trend in Asia, I suggest you ...
Take Full Advantage of This Lucky Break!
My point is pretty simple — treat any drop in China as temporary and use it as a buying opportunity because today's prices are going to look like bargain-basement prices a year or two from now.
I love to hear the boo-birds complain about a Chinese bubble. And I love seeing the what-have-you-done-for-me-lately crowd selling first and asking questions later. Why?
Because when they do, some of my favorite stocks often go on sale. My Asia Stock Alert subscribers, for example, had open orders to buy E-House, the largest real estate broker in China at $22 or lower and GPS giant Garmin at $81 or lower.
Sure enough, both orders were filled last week. Then, E-House jumped past $30 in just a couple days and Garmin zoomed to $97 last Friday. Do the math; those are spectacular gains and they were made in very, very short periods of time.
My subscribers couldn't have made those gains without the help of the China boo-birds. In fact, those very same people were probably the ones selling while we were buying!
I encourage you to put together your own wish list of great Asian stocks that you'd love to own. Then, place low-ball limit orders so you can buy them the next time they go on sale.
I think that's the better way to play any weakness in China's stock market. Reason: It allows you to profit from knee-jerk sellers and the fantastic buying opportunities they create for longer-term investors.
Best wishes,
Tony
This investment news is brought to you by Money and Markets . Money and Markets is a free daily investment newsletter from Martin D. Weiss and Weiss Research analysts offering the latest investing news and financial insights for the stock market, including tips and advice on investing in gold, energy and oil. Dr. Weiss is a leader in the fields of investing, interest rates, financial safety and economic forecasting. To view archives or subscribe, visit http://www.moneyandmarkets.com .
© 2005-2019 http://www.MarketOracle.co.uk - The Market Oracle is a FREE Daily Financial Markets Analysis & Forecasting online publication.

Only logged in users are allowed to post comments.
Register/ Log in