Is the Stock Market on the Verge of a Rally?
Stock-Markets
/
Stock Markets 2011
Oct 04, 2011 - 02:10 PM GMT


Only 5 short months ago the S&P 500 was trading at the 2011 highs around the 1,370 price level on the S&P 500 Index. Since then, the price action has devastated investors and traders alike. As of the close on Monday, the S&P 500 had worked over 270 handles lower in 5 months. The price action since September 27th has been a bloodbath.
It is true that the S&P 500 could be carving out a double bottom on the daily chart, but I am of the opinion that there may be more work to do to the downside. We are oversold on the daily and weekly price charts, but I have yet to see the kind of panic level selling that typically precedes a price reversal. The chart below illustrates the number of stocks that are currently trading above the key 50 period moving average: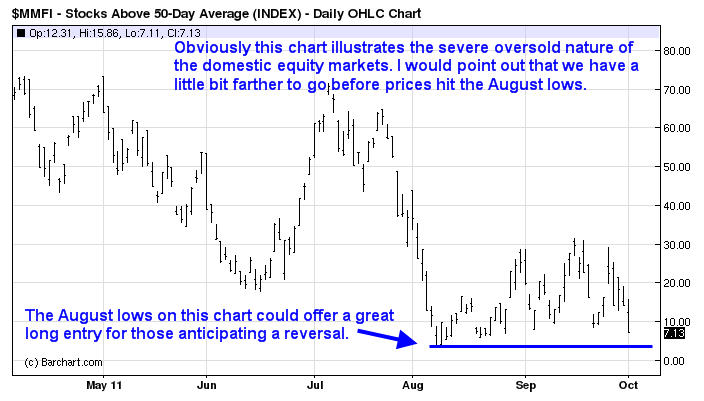 While most market participants are concerned about a trap door that causes prices to cascade lower, I am concerned that at some point news will come out that could rip the bears' faces off. The majority of retail investors are running for cover. The sentiment levels are decidedly bearish and the last thing most traders are looking for is a rally. The contrarian trader in me cannot deny that a rally would do a lot of damage in the near future, but Mr. Market needs to suck in a few more bears in order to do the most harm.
One sound bite out of Europe could alter the price action almost instantly in favor of the bulls. The ECB could suddenly cut interest rates or announce that Eurobonds are going to be made available. Either two headlines or a combination of both headlines would most likely drive prices significantly higher.
After the nasty downside probe today, there are layers of buy stops above current price levels. If price worked high enough, the stops would be triggered and an all out rally could play out. Anything coming out of the Eurozone that appears to be either stimulative or that appears to push an ultimatum out on the time spectrum will be viewed as positive.
Often news and price action play out together at key support/resistance levels and it would make sense that some form of announcement will be made when the S&P 500 price is sitting right at a long term support level. As can be seen from the weekly chart of the S&P 500 Index ($SPX) below, the 1,008 - 1,050 price level is of critical importance.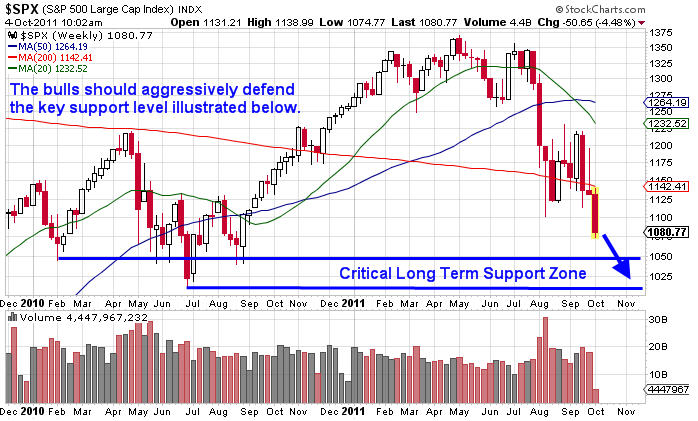 The primary support levels I am watching on the S&P 500 if it continues lower are the 1,080 price level which should act as short term support. If that level breaks the 1,050 area will become a major support level that bulls will likely defend fervently. Additional long term support will come in around 1,008. I would be shocked to see the S&P 500 push through both the 1,050 and the 1,008 price level on the first attempt, but stranger things have happened.
If price works down to the 1,008 – 1,050 support zone it would not be shocking to see a strong reversal higher. With the recent carnage we have seen in the S&P 500, I find it hard to believe that we could see another 10 – 15% more downside before a reversal plays out. The 1,008 – 1,050 price zone seems ripe for a test, but one other scenario would be a test of the 1,080 support zone that fails intraday and by the close is regained. The chart below illustrates the two most probable scenarios: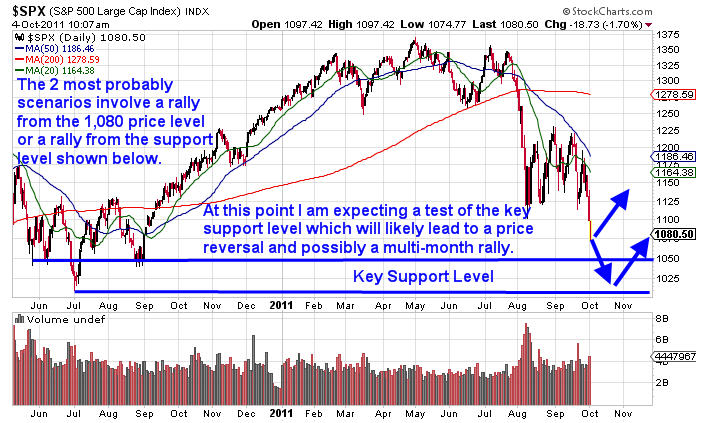 Financial markets do not offer a sure thing, however it is without question that bulls will aggressively defend the 1,008 – 1,050 price level on the S&P 500. If that level fails, the price action is going to get far worse and an all out crash could be underway. For now, I am of the opinion we are within 7% – 8% of an intermediate term bottom which could produce a strong multi-month rally into the holiday season.
As always anything could happen, but traders need to keep their eye on both sides of the price action. A rally would do a lot of damage to the bears as well as the under-invested retail traders and investors. Ultimately the price action is in the hands of Mr. Market, but it is a well known fact that Mr. Market likes to trap traders and inflict pain on as many market participants as possible. A forthcoming rally would offer yet another opportunity for a lot of traders to eat another slice of humble pie.
Review my track record and join now at http://www.optionstradingsignals.com/specials/index.php and receive a 66% off coupon which expires tomorrow.

J.W. Jones is an independent options trader using multiple forms of analysis to guide his option trading strategies. Jones has an extensive background in portfolio analysis and analytics as well as risk analysis. J.W. strives to reach traders that are missing opportunities trading options and commits to writing content which is not only educational, but entertaining as well. Regular readers will develop the knowledge and skills to trade options competently over time. Jones focuses on writing spreads in situations where risk is clearly defined and high potential returns can be realized.
This article is intended solely for information purposes. The opinions are those of the author only. Please conduct further research and consult your financial advisor before making any investment/trading decision. No responsibility can be accepted for losses that may result as a consequence of trading on the basis of this analysis.
© 2005-2019 http://www.MarketOracle.co.uk - The Market Oracle is a FREE Daily Financial Markets Analysis & Forecasting online publication.
Comments
Craig
05 Oct 11, 17:20
re..suckers game!


Behind the expensive suits and the talking heads and the constant reassurances there is a simple truth. The Stock Market is and has always been a suckers game!

Consider the following:

1. The S&P 500 is a big barrel of money. When the money gets to a certain level, the Psychopaths drain it off. In order to get it to a certain level, you have to buy the B.S. and turn your life savings over to them.

2. Only a few insiders actually buy and sell stocks. These institutional investors and market makers bring the market down by selling stock into the market.

3. The S&P 500 represents 75 cents of every dollar invested in the stock market. That means 500 company stocks to sell when they want the market to crash. Not that hard to accomplish when you think about it.

4. The other branch of the Satanic Psychopaths catch all that falling money buy buying Put Options against the S&P. AS the S&P goes down, they are capturing all of that lost wealth.




Only logged in users are allowed to post comments.
Register/ Log in