Fait Accompli by George Papendrou Regarding the Greek Referendum
Politics
/
Euro-Zone
Nov 03, 2011 - 03:21 AM GMT

Can you just visualize the look on the face of Nicolas Sarkozy when George Papendrou explains his actions as a fait accompli. The Greek Prime Minister can not back down now that he has made an announcement to hold a referendum, as it would look as though he was weak and capitulated under the pressure from his European masters.
There is an emergency dinner date being held on the eve of the G20 meeting between the German Chancellor, Angela Merkel, the head of the IMF, Christine Lagarde, the French President, Nicolas Sarkozy and the Greek Prime Minister George Papendrou.
They should be selling tickets for this dinner date despite the harsh words that may be bandied between them, it could be be quite comical.
A fait accompli can be described as something that has already happened and therefore is unlikely to be reversed. So they are more or less saddled with it.
In a recent article we entitled:
Do You Trust The Eurocrats To Deliver?
We wrote:
Now ask yourself, do you trust these Eurocrats to deliver, of course not. They have well and truly blown it and the fallout will effect every citizen in the Eurozone via increased taxation, reduced benefits, regulatory controls, the continued debasement of the euro, etc.
Well, as we can now see they couldn't have made more of a pigs ear out this as the financial markets have been thrown into turmoil. We have just witnessed multi-billion banks gain up to 20% in one day, on the good news of the 'deal' and fall apart again on the news of a referendum as the Greek tail wags the euro dog. Also bear in mind that Greece is only a tiny part of the euro zone and there are other larger nations that are also in trouble. (Keep an eye on the bond yields for Italy as they are under considerable pressure.) One dreads to think about how these buffoons will handle the larger issues. One suggestion has been to persuade the Chinese to lend into this 'deal'. This may well come to pass, but at what cost? The Chinese will be seeking to get the eurocrats off their back regarding the 'pegged' nature of their currency, the Renminbi, for starters. On the political front they may also push for an easing of pressure regarding Tibet, bye bye, Dalai lama. A capital injection may go one way, but favors will need to go other way.
Now, take a look at this caption spotted on
BNN
earlier today: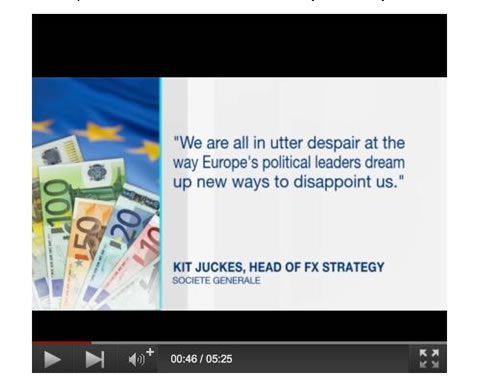 How right he is. Such political bungling beggars belief.

So what does this all mean for us?

Nothing has improved, in fact the economic situation disintegrates on a daily basis, aided by our political masters. With or without the Chinese funding, sooner or later the printing press will swing into action, producing euros at an unimaginable rate. The debasement of this currency will once again cause investors and indeed ordinary people to look for an alternative form of preserving their wealth. Each will have their own unique 'take' on where the value lies. Our very humble opinion, for what it is worth, is to turn to the precious metals sector. Physical gold and silver will be the outright winners in this war of the currencies. We also retain a core position of the associated stocks, although as we have pointed out many times, they are not without their own inherent risks. Finally, when the set-up is right, we will sally forth with the occasional options trade, which is also a rather risky vehicle to adopt in these times, however, they have paid off handsomely for us.

Keep your chin up and have a good one.
To stay updated on our market commentary, which gold stocks we are buying and why, please subscribe to The Gold Prices Newsletter, completely FREE of charge. Simply click here and enter your email address. (Winners of the GoldDrivers Stock Picking Competition 2007)
For those readers who are also interested in the silver bull market that is currently unfolding, you may want to subscribe to our Free Silver Prices Newsletter.
DISCLAIMER : Gold Prices makes no guarantee or warranty on the accuracy or completeness of the data provided on this site. Nothing contained herein is intended or shall be deemed to be investment advice, implied or otherwise. This website represents our views and nothing more than that. Always consult your registered advisor to assist you with your investments. We accept no liability for any loss arising from the use of the data contained on this website. We may or may not hold a position in these securities at any given time and reserve the right to buy and sell as we think fit.
© 2005-2019 http://www.MarketOracle.co.uk - The Market Oracle is a FREE Daily Financial Markets Analysis & Forecasting online publication.

Only logged in users are allowed to post comments.
Register/ Log in