Real Estate Pro's Head for the Exit as Bush Asks Banks to "Come Clean" on Losses
Stock-Markets
/
Financial Markets
Dec 22, 2007 - 11:12 AM GMT


The U.S. housing recession has worsened since the credit collapse in August. Because of it, economic growth will slow to an approximate 1% annualized rate in the fourth quarter, according to estimates given by economists to Bloomberg News . President George W. Bush said he's concerned about the housing slump dragging on the economy and said financial institutions must be open about how much they may lose because of the collapse of the subprime mortgage market.


``Wall Street needs to put it all out there for everybody to see,'' he said during a news conference today at the White House. ``If there are some writedowns to be done, they need to do it now.'' The problem, Mr. President, is that if we saw the real magnitude of the problem, we would lose confidence in the banking system.
The Half-Trillion Dollar Problem in Europe.
The European Central Bank made a $500 billion loan to troubled banks in order to alleviate the credit crunch through the end of the year. Those loans will come due on January 4 th . It is not known whether those loans will be renewed at similar terms beyond that time. "Atop the usual uncertainty, the ECB was worried about what the year-end market might look like," said Erik Nielsen, chief Europe economist at Goldman Sachs in London . "So they put a lid on it like only central banks can do."
The bank of England extended $20 billion in short-term loans to banks in the U.K. and the Federal Reserve opened a new loan facility that started with a $20 billion loan on Thursday. The Fed claims it is prepared to make similar loans every two weeks for " as long as necessary ." There is discussion that the Canadian Imperial Bank of Commerce may need a "cash infusion" very soon, as well. Folks, these are not cash infusions. All of the activities described above are loans that must be repaid as early as January 4 th .
The central banks of the world have created a monster, whose name is debt. The ammunition they use to contain the monster is more debt, so the monster grows every time these so-called cash infusions are made. When the Bank of Japan was lending money at .1%, you could have made the argument for "free money." At today's rates, the compounding of interest adds even more to the problem, especially when the subprime debt still hasn't been dealt with.
A relief rally…but how far will it go beyond today?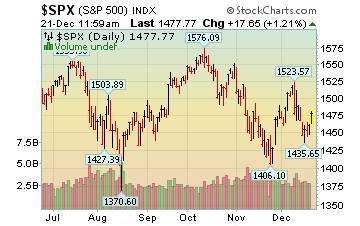 Consumers have been finding their way to the checkout aisles as spending increased in November by 1.1%. However, their incomes didn't keep pace with their spending, which means consumer debt is also growing. Consumer sentiment for December was revised upward, but it was a scant improvement from the earlier low reading. Although the data does not yet signal an impending recession, it does indicate that consumer spending "will nearly come to a halt" in coming months, researchers said.
Treasury Bonds jumped this week. Savings bonds shrink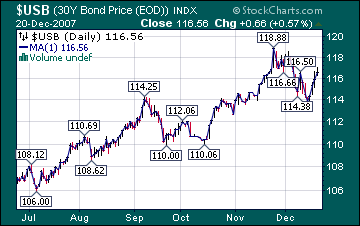 Treasury bonds may be headed for yet another fall as the Core Inflation rate accelerated to 2.2%, well above the Fed target for inflation. Bonds fall as demand slows due to the perception of higher risk from inflation. Meanwhile the Treasury Department has issued new limits on U.S. Savings bonds, effective January 1, 2008 . The former limit on Series EE and I bonds was $30,000 per year. As of the first, the new limit will be $5,000 per year. The excuse is that most Americans aren't saving that much anyway, but it causes me to wonder, since Savings Bonds are normally bought at banks. Might they be closing the door on large withdrawals in January?
Gold still in a trading range.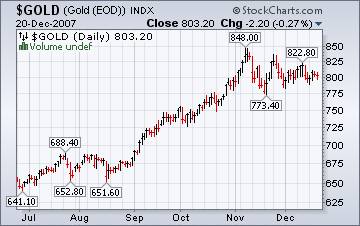 MarketWatch re ported an $11.50 rise in the gold futures market, but it still hasn't broken out of its trading range of the last month. The speculation is that the dollar will fall in 2008, bolstering the price of gold. Gold stocks rose as well, but haven't yet broken out of their new down-trend. This is known as a divergence, where two related asset classes go in opposite or diverging directions. It is a warning sign to stay on the alert for a breakout or breakdown.
Will Japan stay away from the subprime mess?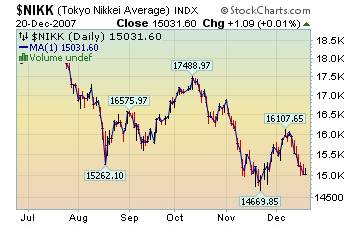 After a grueling 7-day loss, the Nikkei eased up today. The big issue is whether the megabanks of Japan will be involved in bailing out the troubled U.S. or European banks.
Why shouldn't they? It was the low interest loans from the Bank of Japan that extended the debt-driven bubble in real estate and stocks far beyond anyone's imaginations. Now that the cost of money and defaults are rising, couldn't they own up to the fact that they had their part in it?
Investors forge ahead while central planners put on the brakes in China .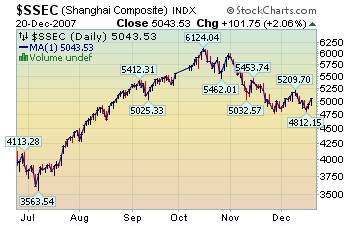 The bargain hunters came out of the woodwork today in China to pick up beaten down shares of stock. They may want to take heed from the fact that the central planners have hiked a key interest rate for the sixth time this year to 7.47%. As in the U.S. in 2005, property developers have taken it hard in China as they were being hit with rising fuel and commodity costs as well as higher interest rates. Will the rest of the economy follow?
Rodney Dangerfield need not apply.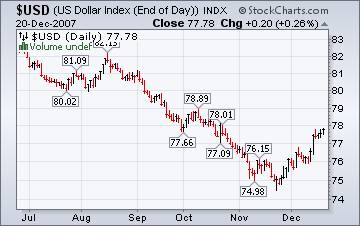 The U.S. dollar finally is getting some respect as traders and investors take notice of the rally. Our investors got on board the dollar in late November. It is a little late to try to profit from the rising dollar at this level, but once it clears $79.00, it may be good to evaluate its strength again. Rodney Dangerfield may want to look for greener pastures for "I can't get no respect!"
Real Estate Pros looking for the exits.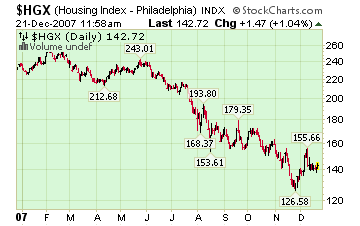 Since a large number of agents are chasing a shrinking pool of qualified purchasers, many are looking for the exits. It's not just the realtors that are leaving. Mortgage brokers are also packing it up for other jobs, if they can find them.
Foreclosures in the month of November were up 10% from the previous month, but more significantly, down 68% on a year-over-year basis. AP reported the 10% gain, while Business Week reported the higher loss. That is how statistics can be deceiving sometime.
Expectations of lower gasoline prices?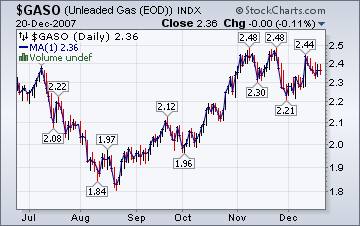 The Energy Information's Weekly Report says, "The U.S. average retail price for regular gasoline dropped below $3.00 a gallon for the first time since October 29. Following the fifth consecutive week of reduced prices, the average totaled 299.8 cents per gallon as of December 17, 2007 , 0.2 cent lower than last week but 67.8 cents above a year ago. All regional prices decreased except for the Midwest where prices advanced 4.8 cents to 294.3 cents per gallon." Let's hope the trend of lower prices continues.
Prepared for peak heating.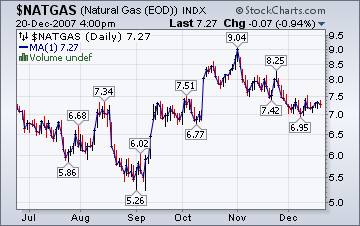 The price of natural gas has stayed in a narrow range for the last week, according to the EIA. Energy costs are stable, despite decisions made by energy executives not to expand production due to higher costs and the inability to get commitments for additional gas from end-users. Things might get a little more interesting after the holidays.
A pattern of waning confidence and speculative intensity.
Alan Newman has recently published his latest views. Always a good read.
"Delinquencies and defaults are not a problem if you understand what you own. Defaults and delinquencies create a panic when operating in the dark - which is what has been happening in the credit markets this year."
We're on the air every Friday.
Tim Wood of www.cyclesman.com , John Grant and I normally have had a running commentary on the markets. This week, John is on vacation and Tim has decided to interview a lady who has been caught up in the real estate/mortgage crisis. You will be able to access the interview by clicking here . I'll be back with Tim next week.
Merry Christmas and a Happy New Year!
Please make an appointment to discuss our investment strategies by calling Claire or Tony at (517) 699-1554, ext 10 or 11. Or e-mail us at tpi@thepracticalinvestor.com .
Regards,
Anthony M. Cherniawski,
President and CIO
http://www.thepracticalinvestor.com
As a State Registered Investment Advisor, The Practical Investor (TPI) manages private client investment portfolios using a proprietary investment strategy created by Chief Investment Officer Tony Cherniawski. Throughout 2000-01, when many investors felt the pain of double digit market losses, TPI successfully navigated the choppy investment waters, creating a profit for our private investment clients. With a focus on preserving assets and capitalizing on opportunities, TPI clients benefited greatly from the TPI strategies, allowing them to stay on track with their life goals
Disclaimer: The content in this article is written for educational and informational purposes only. There is no offer or recommendation to buy or sell any security and no information contained here should be interpreted or construed as investment advice. Do you own due diligence as the information in this article is the opinion of Anthony M. Cherniawski and subject to change without notice.
© 2005-2019 http://www.MarketOracle.co.uk - The Market Oracle is a FREE Daily Financial Markets Analysis & Forecasting online publication.

Only logged in users are allowed to post comments.
Register/ Log in