Agri-Equities and the Global Food Crisis
Commodities
/
Agricultural Commodities
Jan 24, 2012 - 02:26 AM GMT


Some may have considered a planter of herbs on the patio for that taste only freshly picked gives. Many of us have a garden for fresh vegetables in the back yard. In the city that is about all that most can do. For in the city, no chickens are allowed. Most communities have strong ordinances against raising a flock of chickens in the backyard. And forget it, no cows for milk either.
Anyway, why bother, in the city food comes from grocery stores. Milk does not come from cows, milk comes out of plastic bottles. Bacon doesn't come from a hog, it comes from aisle six. Jesting? Ask your children where hamburger comes from.
By the miracle of Adam Smith's "invisible hands" comes the groceries that fill all those aisles and aisles of food stores every day of the week. How many trucks are involved in the near continuous flow of foods from the farms to the stores of our own hometown?
Now, imagine the monumental task of delivering food to those cities in China that are now home to 690 million people? Those city dwellers now number twice the population of U.S. We read from China's Urban Population Exceeds Countryside for First Time, Bloomberg News, 18 January,
"China's urban population surpassed that of rural areas for the first time in the country's history after three decades of economic development encouraged farmers to seek better living standards in towns and cities."

"The world's most-populous nation had 690.79 million people living in urban areas at the end of 2011, compared with 656.56 million in the countryside, the National Bureau of Statistics said today in Beijing. That puts the number of people residing in China's towns and cities at double the total U.S. population." [Emphasis added.]
With the trend toward urbanization in China well in progress, more than half of the entire world's population now lives in urban areas for the first time in all of history. Reuters, 18 January, reports in China city dwellers exceed villagers for first time,
"Globally, about 51 percent of the world's 7 billion people live in cities, the United Nations says, with developing countries generally more rural than rich countries. In India, the world's second-most populous nation, only 30 percent live in cities while 82 percent of Americans are urbanites."
We know several things about urban dwellers. First, they grow no food, they buy it all. With higher incomes than they had back in the village, they consume more and better quality food. They eat more often in restaurants, both consuming and wasting more food than if they ate at home. Total food demand is higher when the population lives in the city. More importantly, the money spent on food is significantly higher.
In second place in terms of population is India, with a mere 1.2 billion people. There more than 370 million people living in cities. Then, imagine another100 million more moving to the cities over the next few years. That trend will continue till ultimately more than 600 billion people reside in Indian cities. The line of lorries delivering food to the cities may tax the Indian infrastructure. India's shifting population is portrayed in the chart below.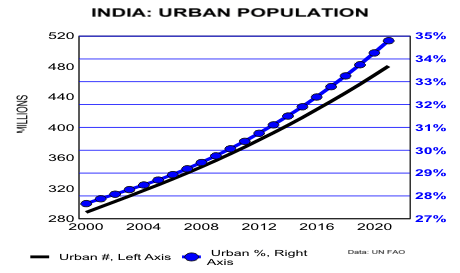 Central planners, another incredibly bad idea favored by Keynesian socialists, might be one approach to insuring that urbanites have their food. No effort at that approach has succeeded, all have failed. A far more efficient approach, but far more ancient mechanism than Keynesian central planning, delivers most of the world's food today. Concept of free markets may not appeal to the elitists of the left, but free Agri-Markets have fed the world more efficiently than any other mechanism.
Agri-Food markets will feed the world's urban centers. However, to do so that system requires fuel, one that is repeatedly recycled. That fuel is money. Urbanites will swap money, in massive and increasing quantities, to Agri-Food producers. Urban centers are actually fed by money, not trucks and factories. In the graph that follows is an indication of how some of those companies have been performing.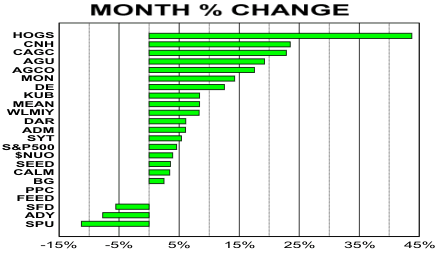 After that money flows to Agri-Food producers, it then flows to all the Agri-Suppliers necessary to produce Agri-Food. In the above chart is plotted the January to date returns on a selection of Agri-Equities. Seems the investment world is again discovering the potential of Agri-Equities. Has your portfolio discovered them, or is it still bogged down with tired technology and battered bank issues?
By Ned W Schmidt CFA, CEBS
AGRI-FOOD THOUGHTS is from Ned W. Schmidt,CFA,CEBS, publisher of The Agri-Food Value View, a monthly exploration of the Agri-Food grand cycle being created by China, India, and Eco-energy. To contract Ned or to learn more, use this link: www.agrifoodvalueview.com.
Copyright © 2012 Ned W. Schmidt - All Rights Reserved
© 2005-2019 http://www.MarketOracle.co.uk - The Market Oracle is a FREE Daily Financial Markets Analysis & Forecasting online publication.

Only logged in users are allowed to post comments.
Register/ Log in