Invest in Apple Incorporated or Silver Wheaton Corporation?
Companies
/
Gold & Silver Stocks
Mar 05, 2012 - 01:57 AM GMT


Apple Incorporated (AAPL) or Silver Wheaton Corporation (SLW) some would say its a little like David and Goliath or Bambi meets Godzilla. Apple is currently the darling of technology sector and Silver Wheaton is hugely popular in the precious metals space.

As investors we need to continually ask the following question:

Is this the best investment vehicle for my hard earned cash?
So, we took a look outside of our precious metals box and duly noticed the meteoric rise of Apple. No doubt the supporters of Apple would find it laughable to be compared with a much smaller silver streaming company. And if we take a quick look at the performance of both since January 2011 we can see that AAPL is the winner by a long way.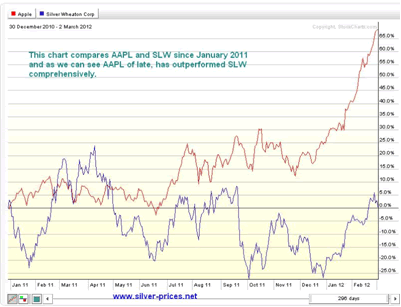 However, if we select a longer time period and compare APPL and SLW over a period of six years, then we can see that they have both performed extremely well and are much closer than one might have first imagined, as per the chart below: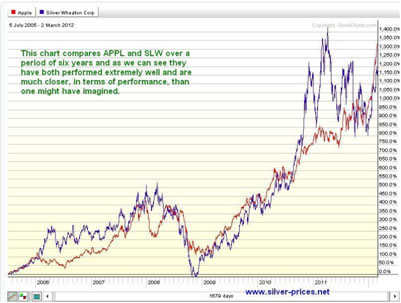 Apple Corp has a market capitalization of $508.31Bln, an EPS of $35.11, a 52 week low of $310.50 and a high of $548.21, average volume of shares traded is between 15.00Mln and 19.00Mln, so the liquidity is very good allowing ease of access and exit when trading, with 932.37 million shares outstanding. Current stock price is $545.18.

Silver Wheaton Corporation has a market capitalization of $13.29Bln, an EPS of $1.32, a 52 week low of $25.84 and a high of $47.60, average volume of shares traded is between 5.00Mln and 6.00Mln, so the liquidity is good, with 353.50 million shares outstanding. Current stock price is $37.59.

In terms of market capitalization APPL is 38 times bigger than SLW, also of note of interest is that its EPS is almost as large as SLW's stock price.

Now, when we acquire a stock we do it with the expectation that it can double in 12 to 18 months. For Apple to double it will need to become a trillion dollar company. This is a tall order, even for a stock market darling, however, its not impossible. On the other hand, SLW will need to grow its value from $13Bln to $26Bln, which is also a tall order, but again its not impossible.

Apple Inc. (Apple), along with its subsidiaries is engaged in designs, manufactures and markets mobile communication and media devices, personal computers, and portable digital music players, and sells a range of related software, services, peripherals, networking solutions, and third-party digital content and applications. The Company's products and services include iPhone, iPad, Mac, iPod, Apple TV, a portfolio of consumer and professional software applications, the iOS and Mac OS X operating systems, iCloud, and a range of accessory, service and support offerings. It also sells and delivers digital content and applications through the iTunes Store, App Store, iBookstore, and Mac App Store. During the year ended November 24, 2011, the Company, as part of a consortium, acquired Nortel Networks Corporation's patent portfolio. In February 2012, the Company acquired app-search engine Chomp.

Established in 2004, Silver Wheaton has quickly positioned itself as the largest metals streaming company in the world. The company currently has fourteen silver purchase agreements and two precious metals agreements where, in exchange for an upfront payment, it has the right to purchase all or a portion of the silver production, at a low fixed cost, from high-quality mines located in politically stable regions. Based upon its current agreements, forecast 2011 attributable production is 25 to 26 million silver equivalent ounces, including 15,000 ounces of gold. By 2015, annual attributable production is anticipated to increase significantly to approximately 43 million silver equivalent ounces, including 35,000 ounces of gold. Beyond the initial upfront payment, no ongoing capital expenditures are required to generate this growth and Silver Wheaton does not hedge its silver production.

These are two totally different companies in different market sectors so its very much like comparing apples (excuse the pun) with oranges. Although we expect both stocks to do very well, the recent rapid rise in Apple's stock price is matter of concern for us. As of December 2011, it stood at $378.00 and today it is $545.00, a rise of $167.00 or 44% in just three months. This sort of upward move puts the technical indicators on the ceiling, suggesting that the stock is now extremely oversold. Many chartists will be looking for this aberration to correct itself and therefore could well be looking to take profits. Also, those who are active traders and not long term investors are being tempted by the paper profits now on offer to them. There is also a yawning gap developing between the stock price and its 200dma which is currently $394, another factor that could act as a drag on the stock price.

Silver Wheaton has experienced some gains, however, it has progressed at a much slower rate and its stock price is only a few dollars above its 200dma, thus allowing a little more room for this stock to head north.

Putting the excitement to one side we do expect Apple to undergo a correction in the short term and Silver Wheaton to gain on the back of rising silver prices and therefore humbly suggest that Silver Wheaton will outperform Apple between now and the year end. By outperform, we mean that it will experience a bigger price increase in percentage terms. We will monitor both companies between now and then and provide an update as and when there are any indications of substantial changes in direction for either stock. So its race to the end of the year between the Techies and the silver bugs, may the best stock win.
For disclosure purposes we must point out that do own stock in Silver Wheaton and we do not own stock in Apple Incorporated, so our view should be considered in the light of that knowledge.
To find out which trading signals we are sending to our subscribers and to receive our market updates, please visit www.skoptionstrading.com for more information and to sign up.
To stay updated on our market commentary, which gold stocks we are buying and why, please subscribe to The Gold Prices Newsletter, completely FREE of charge. Simply click here and enter your email address. Winners of the GoldDrivers Stock Picking Competition 200
DISCLAIMER : Gold Prices makes no guarantee or warranty on the accuracy or completeness of the data provided on this site. Nothing contained herein is intended or shall be deemed to be investment advice, implied or otherwise. This website represents our views and nothing more than that. Always consult your registered advisor to assist you with your investments. We accept no liability for any loss arising from the use of the data contained on this website. We may or may not hold a position in these securities at any given time and reserve the right to buy and sell as we think fit.
© 2005-2019 http://www.MarketOracle.co.uk - The Market Oracle is a FREE Daily Financial Markets Analysis & Forecasting online publication.

Only logged in users are allowed to post comments.
Register/ Log in