The French Elections: Flirting With The Abyss
Politics
/
Euro-Zone
May 06, 2012 - 12:18 PM GMT


May 6 is Maybe not 5 years more for Sarkozy, but for France and Europe, and even for the world this election process and sequence has been and will continue to be a dangerous flirt with the abyss. Whether political, social, cultural, economic or otherwise, the election process which has dragged on for months has never ceased throwing red flags and danger signals, all of them ignored and snowed under by the rush to talk and not do, letting the glacier-like advance continue. Until the abyss is reached, everything seems fine; after it nothing is fine.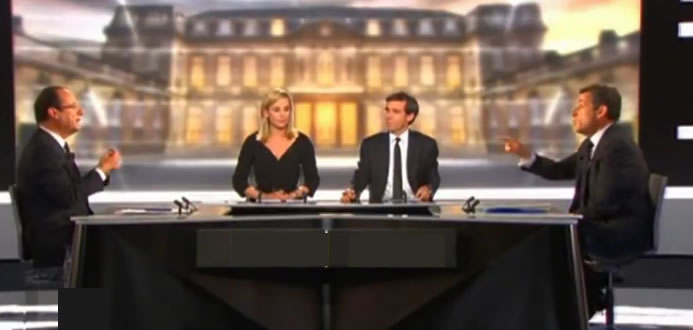 Inside France at least, but almost never on the endless TV talking head political analyst shows, often lasting 3 hours or more, nor in the goverment-friendly newspapers and journals, rarely on the social networks, average and normal persons are outright alarmed. To the extent that one major plank of Francois Hollande's campaign was that he is setting out to be "a normal president for normal people". But those normal persons know things can't be put back together again, even if they hate outgoing president Sarkozy, universally called "Sarko". The changes wreaked by Sarko, or under his presidency were too massive - and anyway started long before: the creeping undertow of conflict and chaos now threatens to spill right over the dam.
The election turnout in the first round of 22 April was high, abstention was low, people felt they had to make a choice and had to vote - but the results only underlined that disarray, confusion and fear are lurking everywhere. The first round of elections gave a combined vote for Sarko and Hollande that only just scraped past 50% of all votes cast. The extreme left and extreme right took nearly all the rest. Pet themes like ecology, represented by Europe Ecologie Les Verts took a minuscule 2.3% of votes cast, because comfort ecology is for comfortable and secure persons - not a society and nation that feels its on the brink of the abyss.
AS THE FIGURES SHOW
On what criteria and how is France so different from Spain, Italy and Greece ? Portugal and Ireland ? Many candidates in the first round hammered that theme, and the TV talking heads were obliged to hand out the figures, to be sure spinning them to Sarko's advantage wherever they could. All of France's 24/7 news channels are owned by Big Business, and the State owns 5 TV channels which also host "the right news and views" for the people, Sarko-friendly of course. Showing the disarray however, even big business broke ranks with him, with Rothschild's propaganda sheet, the 'Liberation' newspaper, leading the anti-Sarko charge and getting heavily insulting one-liners from Sarko as a result.
Hollande had no problem aligning the killer figures: 400 000 industrial jobs lost since Sarko grabbed power, a permanently growing, now massive trade deficit, debt, insecurity and all the rest. What exactly did Sarko intend doing about that ? Basically nothing, but gosh was he going to cut the deficit and trim the national debt, honest. Why didnt he do that previously ?
The biggest problem with Sarkozy as a huge number of Frencch say outright is that he not only can, but always and compulsively does say one thing, forgets it instantly, and then tries another red herring along his weaving and whining path that leads nowhere but the abyss. His opponents homed in on Sarko's outright and outrageous lies, not half-truths and expedients, and "didnt have the choice", these were the meat of hundreds of hours of campaign speeches that the TV channels felt obliged to broadcast - possibly because they come so cheap - but the damage done to Sarko was awful.
His own speeches, written or "crafted" by his own paid speechwriter, who himself was often interviewed for hours on end, sometimes not so discreetly yawning, rapidly became more incoherent than ever. Was this yet another Sarko trick, was it confuse and rule instead of divide and rule ? Whatever it was, it earned him a new and even more contemptuous nickname "Le Prince de l'Esquive", the dodgy snakeoil salesman. If it was "a strategy", it backfired as heavily as anything else he tried in his game of convincing the public it really wasn't his fault and only he can Save The Nation.
From what ? From the abyss.
SAVING THE NATION
Not so long ago, in 2008 and 2009, Sarko was regularly on French national TV and in places like the UN General Assembly, telling all and sundry that his fight against global warming was so exemplary, that he was Saving The Planet. At the time, despite the facts and figures, it was burning with CO2 and French nuclear power if not perfumes and camembert cheese were going to solve the crisis. By 2010 however, this line of speechifying suddenly went absent from Sarko's teleprompter, and was replaced by Saving Europe and The Nation - the blue, white and red version and not the Anglosaxon red, white and blue version. Of course.
He had a new playmate - Angela Merkel with plenty of dosh - and things were going to be fixed in a jiffy. France was going to be rich again, no problem. No pain, no suffering. This was not so far away from the actual content and style of Sarko speeches, incredible as that could seem - to normal persons. Sarko and Angela were going to create a Stability Fund with amounts of cash you can hardly believe (and cant believe) starting at 1000 billion euro, even 1500 bn euro. This went on right through 2011 as the Eurocrisis deepened, and deepened. Perhaps by design, perhaps through incompetence or sheer disinterest in how their red herrings swam or smelled, the Merkel-Sarko show became so long-running and lurid that many normal French people thought the crisis was all over. It had literally been talked to death. What crisis ?
Always waterproof and shockproof to any real world data, Sarko sailed on. French unemployment rose, but only slowly if continually, like the trade deficit, like the youth delinquancy figures, like the closure of schools, hospitals, research programmes and centres - nothing mattered. Except the rising number of immigrants from outside Europe, which really concerned Sarko, after 22 April. Extreme right Marine Le Pen, also an adept at incoherent speechifying, had scored about 6.5 million votes. Apart from her delirious anti-immigrant talk the main problem was her raging anti-Sarkozy talk, ripping the man apart at every one of her campaign meetings. Marine was also going to Save The Nation. Gauging the killer incoherence of Marine's "expert backed programme" is easy: she was going to run a national crusade against Islamic Fascism, but was also in favour of the Taliban, because cruel Anglosaxons were oppressing the Afghan people. The Eurocrats were going to be trounced by Marine and it was certain, through restoring the French Franc (at an exchange rate 25% less than at its introduction) and imposing punitive customs tariffs on Chinese imports, running to 100% or more. No worries.
NOT TO BE BEATEN
Sarko is often described by French as being combative and pugilistic, hitting back always, and hitting first when he can. Against Marine Le Pen and extreme left, scarcely reformed communists like Jean-Luc Melanchon, who scored about 4 million votes on April 22, Sarko had to go one better. He was going to make sure the minarets of mosques were moderate and unshocking, because tourists entering France dont like them. He could or might deport a few immigrants, time would tell. He would introduce a new consumer tax on all imported products of any kind, an anti-delocalization tax, even imported bananas from tropical countries using unfair trading advantages - like producing bananas - could be covered. And as for oil, well look out, that has to be further taxed. There is No Alternative to gasoline at $9 a US gallon, and anyway its already $8.75 a gallon.
In the very same speech, each time, Sarko added that forecourt filling station prices would fall "several cents a gallon". He knew it was coming, but didnt have the time to explain why, and anyway this concerns semi-secret projects with friendly governments, like Obama's administration and of course Angela Merkel. France might have to "slow down" its last few remaining iron and steel plants, all of them threatened with closure, but French video games were (at least probably) the best in the world. The future was therefore not at all scary or dangerous, and the French birth rate was about the highest in Europe. Chinese couturiers were lining up to copy French fashions. What else do the people want ?
Sarko's No 1 trick was therefore setting out to confuse everything and anything, which was his style of government or non-government, deny what he said previously, do a pirouette, then grab a new gimmick. The only problem was that things always got worse. This problem got so bad that as Sarko also said plenty of times: "If the French people reject me, I will quit politics", and move to a country which doesnt have an extradition treaty with France ?
The Sarkozy era in France was not only an interlude of slapstick farce. Things had gotten really bad. After his defeat, the political checkerboard will be very different - ripped apart into two massive extremes that Hollande's PS party and government will have such big problems cajoling into the mainstream that they might not even try. Sarko's own party, the UMP can easily collapse, implode and be taken over by Marine Le Pen's FN. The extreme left will also grow ever stronger - and will not be fobbed off with scrapings from Hollande's PS power elite enjoying its ministries and official limo's.
After Sarkozy all is possible - mostly the worst - and a rising number of French say this, outright. They are unfortunately right.
By Andrew McKillop
Contact: xtran9@gmail.com
Former chief policy analyst, Division A Policy, DG XVII Energy, European Commission. Andrew McKillop Biographic Highlights
Co-author 'The Doomsday Machine', Palgrave Macmillan USA, 2012
Andrew McKillop has more than 30 years experience in the energy, economic and finance domains. Trained at London UK's University College, he has had specially long experience of energy policy, project administration and the development and financing of alternate energy. This included his role of in-house Expert on Policy and Programming at the DG XVII-Energy of the European Commission, Director of Information of the OAPEC technology transfer subsidiary, AREC and researcher for UN agencies including the ILO.
© 2012 Copyright Andrew McKillop - All Rights Reserved Disclaimer: The above is a matter of opinion provided for general information purposes only and is not intended as investment advice. Information and analysis above are derived from sources and utilising methods believed to be reliable, but we cannot accept responsibility for any losses you may incur as a result of this analysis. Individuals should consult with their personal financial advisors.
© 2005-2019 http://www.MarketOracle.co.uk - The Market Oracle is a FREE Daily Financial Markets Analysis & Forecasting online publication.

Only logged in users are allowed to post comments.
Register/ Log in