Capital Controls, Border Controls and Bank Freezes: European Union Prepares For Emergency
Politics
/
Eurozone Debt Crisis
Jun 14, 2012 - 12:36 AM GMT


Bank runs in Greece are now in full swing. Withdrawals from Greek banks ahead of the weekend elections have spiked to more than 800 million euros per day. Is the Greek exit or "Grexit" now imminent? If so, what is the European Union going to do about it?
Capital Controls, Border Controls and Bank Freezes
Less than a week before the Greek elections, European finance officials have made public their discussions on potential economic sanctions on Greece, and other EU nations, in the event of a withdrawal or breakup within the European Union. Those sanctions would include capital controls, border controls when travelling between nations, and bank freezes limiting the size of withdrawals from ATM machines. European officials have also discussed suspending the Schengen agreement, which allows for visa-free travel amongst 26 countries, including most of the EU. The raison d'être of the European Union -- open borders and free trade -- is about to go down in the flames of a misplaced decades-long infatuation by the EU governing authorities with a single currency and its banker creators.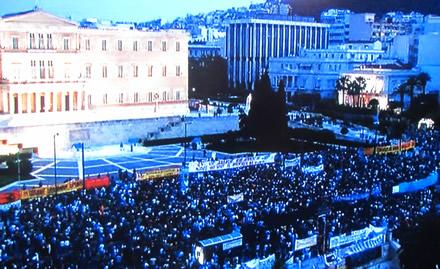 Emergency Scenario
Central banks and government authorities across Europe have a collective emergency scenario: It is of the day Greece defaults on its debts and some major ports and airports across Europe face fleeing Greeks -- and other nationalities from Eurozone peripheral nations -- all clutching suitcases full of euros in cash. Guards using cash-sniffing dogs patrol borders across Europe in an attempt to prevent the flight of capital. Despite the best efforts of policymakers in Athens, Brussels and Frankfurt, it may prove impossible to contain the panic, which then spreads to Portugal, Ireland and Spain, the other three bailout countries going through tough austerity programmes with high youth unemployment.
Why Border Controls?
The move to create border controls across the European Union is primarily about stopping people from fleeing with their cash money when the collapse comes. The government and regulatory authorities in Europe are watching the bank runs in Greece and now Spain and know that when the big crash comes similar runs may occur not just in Portugal and Ireland but perhaps throughout most of the peripheral Eurozone countries within the European Union.
Neighbouring Countries' Perspective
As a result of the Greek exit, the delicate balance of power in the Eastern Mediterranean could easily be upset as the borders lose their integrity and the valuable assets such as oil and gas fields cannot be adequately protected by their owners. From the perspective of Turkey, protecting their border from fleeing Greeks is extremely difficult given the extensive coastline. In parallel, Syria is descending into a severe civil conflict and possible genocide. The deterioration in Syria will no doubt spill over into Lebanon. There is a reason why the Russians are now offering military hardware to the Assad regime: Russia is building and strengthening two naval bases in Syria, including Tartus, which they see as an alternative to Sevastopol as their southern most naval presence. The Syrian port of Tartus is now the only naval base Russia has outside the former Soviet Union and it serves as the Mediterranean base for its Black Sea Fleet. Russia's leases in Sevastopol are due to expire shortly. Cyprus has long been a Russian off-shore tax haven. As it has fallen on hard times, Russia has strengthened its presence in Cyprus by bankrolling it. No one should be surprised as Russians take advantage of regional instability caused by the Eurozone crisis to increase their strategic presence. Perhaps, the extensive natural gas fields that lie between Cyprus and the Levantine coast line, some of which are owned and operated by Israel, may be contested. The power vacuum presents an ideal opportunity for all state and non-state actors that would like to challenge ownership of those natural gas fields. Taken together, the cascading effect of the Greek exit is not benign for Turkey, which is likely to face colossal security risks on multiple borders.
Grexit Imminent?
Greek people have an "important choice" to make on June 17th when Greece holds its second election in six weeks after a first effort in May failed to deliver a conclusive result. The June election is shaping up to be a referendum on whether Greece stays in the euro, as parties opposed to austerity measures needed for future bailouts gain significantly in the polls. The radical leftist Syriza party, which wants to tear up Greece's unpopular bailout deal with the European Union and the IMF, came second on May 6th and is expected yet again to emerge in a strong position in the next ballot.
Contingency Planning
Across Europe, governments are now engaged in contingency planning for this sort of Grexit scenario. In the UK -- which had first-hand experience of how financial crises can escalate when there was a three-day run on the Northern Rock bank in 2007 -- the Bank of England, Her Majesty's Treasury and the Financial Services Authority have been simulating alternative scenarios in regard to what might happen in the event of Greece defaulting on its debts and leaving the single currency.
Switzerland
The Swiss National Bank is considering imposing capital controls on foreign depositors if Greece leaves the euro, as the Swiss franc comes under heavy demand from investors seeking a safe haven in Europe. Thomas Jordan, chairman of the Swiss central bank, has said the Swiss government and the SNB are looking at ways of dealing with an expected flood of foreign money arriving into their country in the event of a Greek exit from the eurozone.
Lehman Brothers II
Big businesses have also made preparations for a euro meltdown, fearful not just of the direct impact on their sales revenue but of a drying up of credit lines and trade finance. A Greek exit from the euro and default on its sovereign debt obligations could lead to a credit crunch at least equal to if not greater than the severity of the contraction which followed the collapse of Lehman Brothers in September 2008. The contagion and ripples of a potential Greek exit are going to be felt globally. The reality which unfolds may be more complex than the simulated scenarios. What happens, if in parallel, there is a manifestation of some unknown unknowns or black swan events that have geo-political and geo-strategic dynamics?

What are your thoughts, observations and views? We are hosting an Expert roundtable on this issue at ATCA 24/7 on Yammer.
By DK Matai
Asymmetric Threats Contingency Alliance (ATCA) & The Philanthropia
We welcome your participation in this Socratic dialogue. Please access by clicking here.
ATCA: The Asymmetric Threats Contingency Alliance is a philanthropic expert initiative founded in 2001 to resolve complex global challenges through collective Socratic dialogue and joint executive action to build a wisdom based global economy. Adhering to the doctrine of non-violence, ATCA addresses asymmetric threats and social opportunities arising from climate chaos and the environment; radical poverty and microfinance; geo-politics and energy; organised crime & extremism; advanced technologies -- bio, info, nano, robo & AI; demographic skews and resource shortages; pandemics; financial systems and systemic risk; as well as transhumanism and ethics. Present membership of ATCA is by invitation only and has over 5,000 distinguished members from over 120 countries: including 1,000 Parliamentarians; 1,500 Chairmen and CEOs of corporations; 1,000 Heads of NGOs; 750 Directors at Academic Centres of Excellence; 500 Inventors and Original thinkers; as well as 250 Editors-in-Chief of major media.
The Philanthropia, founded in 2005, brings together over 1,000 leading individual and private philanthropists, family offices, foundations, private banks, non-governmental organisations and specialist advisors to address complex global challenges such as countering climate chaos, reducing radical poverty and developing global leadership for the younger generation through the appliance of science and technology, leveraging acumen and finance, as well as encouraging collaboration with a strong commitment to ethics. Philanthropia emphasises multi-faith spiritual values: introspection, healthy living and ecology. Philanthropia Targets: Countering climate chaos and carbon neutrality; Eliminating radical poverty -- through micro-credit schemes, empowerment of women and more responsible capitalism; Leadership for the Younger Generation; and Corporate and social responsibility.
© 2012 Copyright DK Matai - All Rights Reserved Disclaimer: The above is a matter of opinion provided for general information purposes only and is not intended as investment advice. Information and analysis above are derived from sources and utilising methods believed to be reliable, but we cannot accept responsibility for any losses you may incur as a result of this analysis. Individuals should consult with their personal financial advisors.
© 2005-2019 http://www.MarketOracle.co.uk - The Market Oracle is a FREE Daily Financial Markets Analysis & Forecasting online publication.
Comments
gAnton
14 Jun 12, 12:34
Sounds Like SELF-DESTRUCTION To Me


The reality is that whenever the various EU Fascistic controls now on the table are implemented, the European Union will no longer exist. This is the European political intelligensia paradox of the year: "The way you save a distressed union is to break it up in little piecies".



RSD
17 Jun 12, 19:23
asset deflation/inflation


Nadeem,

Help me out with two things:

1) Greece has experienced inflation in spite of their economic crash. But their stock market is down over 90%. Why?

2) In Japan, its been 25 years since the top in their markets. Why can't they inflate their assets markets higher?

Could we have mega trend inflation like you say but crashing markets anyway?




Only logged in users are allowed to post comments.
Register/ Log in