US Presidential Debate: Defending Vultures
ElectionOracle
/
US Presidential Election 2012
Oct 05, 2012 - 06:05 AM GMT


The 2012 American election will be seen as a watershed event, but not so much for defining any future outline for the United States, but in illustrating the absolute unwillingness of both political parties to openly admit hard and ugly facts that underlie the enormous problems engulfing most Americans and their democracy.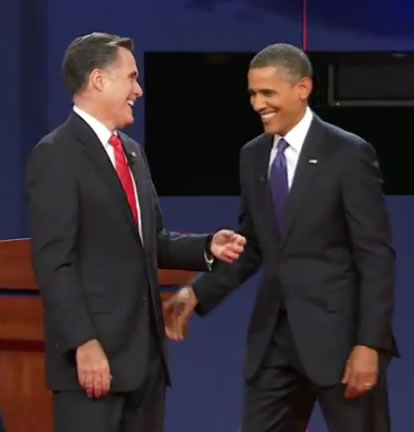 War vs. peace (both parties want war, war and more war - no discussion);
Democracy vs. Oligarchy (both parties are whores of Wall Street and corporatists - no discussion);
Predatory capitalism vs. human welfare (both parties want to eradicate safety nets, further deregulate the private sector, privatize government services, extend regressive taxation, arguing only over degrees of pain inflicted);
Unemployment, foreclosures, loss of health care, protection of Social Security, Medicare, Medicaid, entitlements (Agreements #1-#2: blame the other; Agreements #3-#7: cut, cut, cut, cut, cut, - ignore causes or consequences, disregard plight of victims, focus on money saved)
Economic development and job creation (both parties know high unemployment and declining wages are advantages for Corporate America and the "job creators" - each blames the other for not making the rich richer);
Civil liberties and attacks on Constitutional guarantees (since everyone knows they are under US-Corporate surveillance, since everyone knows the world is our enemy, why question the obvious? Besides, what can any President do about reducing the enormous size of the nation's military-intel-security state built surreptitiously with trillions of tax dollars under George Bush and Barack Obama in defense of Liberty (i.e. Empire)? - consider it "off topic", never addressed);
Freedom of the press, lawful protest and dissent (If you stay in line, keep your mouth shut and do what you're told, you'll be OK. If not, just ask New York City Mayor Michael Bloomberg what he does to kids who step off sidewalks when protesting Wall Street and you'll think again about criticizing bankers, banksters, money, capital or "capitalist pigs" that have made this country the envy of the world [note: since the press is already gagged, they didn't touch this topic]).
A silent coup has occurred that wrested national wealth and power belonging to the people from the people. In a broad sense, the population, diverted by a devotion to material values expressed in decades of consumerism, mindless of their country's military hegemony and global economic wars, ignorant of a world trajectory pointing toward globalization, unread and unlearned in affairs of the world-at-large, ethnocentrically cocky and arrogant about Americanism, and ever-trustful of "the system" are the actual enablers of their own present victimization by the system. They "believed" and continue to believe in a system that grows money on trees and a world that is their oyster. There are no penalties for corporate crimes and none for killing one million innocents in Iraq. They don't salute Old Glory, they salute the flag of America Inc., and that was the only flag discussed and defended in the past Presidential debate. Money.
* * * *
The author Darryl Robert Schoon, who I much admire not only for his financial savvy but also for his prescient mind and ability to foresee events, recently updated his book Time of the Vulture to encompass events up to summer 2012. This book is about a time when the value of paper money dramatically falls becoming practically worthless; when retirement and pension funds are appropriated by government to pay debt service or used by corporations to fatten a bottom line; where health care isn't affordable or is deemed unnecessary and wasteful; where the bottom will drop out of world currencies and sink global monetary systems leaving gold alone to retain any universal value; where banks will own most of the country and most of the country will be forfeited to them or auctioned for pennies on the dollar in order for citizens and local/state governments to survive. It is a time when home values sink into ever-deeper waters along with their owners. It is a time when the Vulture arrives to feast upon a ravaged economy, a near-death economy, an economy that it - the Vulture - created. I think Mr. Schoon would agree: the Vultures now are assembling to view us from the tree tops to await a time they believe is fast approaching. The Vultures would know, of course, because they are in control.
* * * *
While the right-wing has highly vocal representatives who range from far-right to ultra-right, the left-wing doesn't exist within or occupy a place in the current political landscape for two simple reasons: The stage is owned and controlled by two parties that are funded by the wealth, corporate and banking sectors; both parties in turn fund the bottom lines of major media outlets with money from multi-million dollar campaign chests they spend on media advertising. Hence, advertisers (the political parties) control the media as most advertisers do; and the media does their bidding as most media does. In this sense, the media didn't deliver a Presidential debate it delivered an advertorial.
However, after November 6, no matter who wins the Presidency and who occupies a majority in Congress, the country will see the emergence of a REAL LEFT and Americans will be escorted into a full-spectrum political battleground that hasn't been seen since the late 1960's. Representative Paul Ryan might be the warm-up act to austerity schemes about to be imposed on the nation after the elections, but Occupy is the warm-up act for other things to come.
There is no question America is headed for social and civil combat no matter who wins the Presidency. It is inevitable.
Given the intense anger of Conservatives, libertarians, Paulites, the Christian-right and assorted ultra-right extremist cells, an Obama victory will mobilize their hate into action with helpful instigation from media and church demagogues. Given the intense hatred of Mitt Romney by Democrats, Liberals and Progressives, a Romney victory will represent a return to George Bush and Dick Cheney. Since Conservatives cannot see they have become John Birchers, a group that the dean of Conservatives in the early 1960's, William F. Buckley, labeled quacks and "extremists", and Liberals and Progressives cannot see their President is every inch a tool of finance, intel and the Pentagon, the coming battlefield might be ridden with bodies that went to war under false pretenses, under illusions, under the spell of political miscreants, manipulators and liars. And it is so in every war.
* * * *
If war is not immoral, nothing is immoral.
* * * *
There is a silver lining for the reader to keep in mind during the turbulence ahead. Both Darryl Robert Schoon and myself agree that this world is undergoing a systemic paradigm shift that we feel, in simple terms, is rooted in destiny, and a momentous change will result in an evolutionary leap for all humankind. It is my opinion that the harshest sufferings during the time of the Vulture will not fall on obvious economic victims, but on those who are morally bankrupt, those who refuse to "let go" of the past, those who fight against the setting of their sun, those who defend the Vulture, those who think they can "make a killing on Armageddon and live to spend it", those who think "when you're dead you're dead", and those who wish "to die with the most toys".
The Vulture will have its day and then die from the blazing sun of a new world that - in time - we are about to enter together.
When the Vulture dies, wherever he may go, his toys will not follow him.
By Michael T Bucci
Michael T Bucci is a retired public relations executive from New Jersey presently residing in New England. His essays have appeared at The Market Oracle. He is the author of nine books on practical spirituality including White Book: Cerithous.
© 2011 Copyright Michael T Bucci - All Rights Reserved Disclaimer: The above is a matter of opinion provided for general information purposes only and is not intended as investment advice. Information and analysis above are derived from sources and utilising methods believed to be reliable, but we cannot accept responsibility for any losses you may incur as a result of this analysis. Individuals should consult with their personal financial advisors.
© 2005-2019 http://www.MarketOracle.co.uk - The Market Oracle is a FREE Daily Financial Markets Analysis & Forecasting online publication.

Only logged in users are allowed to post comments.
Register/ Log in