Electric Car Dreamride To Nowhere - French Style
Companies
/
Sector Analysis
Oct 10, 2012 - 01:37 PM GMT


KEEP ON TRUCKIN'
More precisely, keep on charging. Among the biggest no-no items on potential buyers, drivers and owners minds, when it concerns electric cars and vehicles, or "EVs", is the time needed to charge the things. Just slightly behind that no-no is the already well known horror of potential or possible EV owners: running out of 'juice', that is a flat battery and no way to charge it, on a Sunday night, in winter, far from anywhere. All they needed to do was buy a hybrid!
All major EV producers are also regular or normal car producers - and all of them integrate EVs into their survival strategy of panhandling government aid, bailouts, handouts and big subsidies for purchasers of cars, whether electric or not - therefore the more cash they can drain, the more they can burn. Global overcapacity in regular or normal car making is rampant and still increasing: this means the bailout show must go on. What we can call late-stage capitalist logic.
Battery charging is therefore a key marketing and communication target for corporate lying and hype, in the quest to produce even more cars, either 'thermal', hybrid or electric, that people do not want or need. French players in the EV circus are headed by two of ex-president Sarkozy's closest corporate friends: cigarette paper making billionaire Vincent Bollore, and Renault's Carlos Ghosn. Both use the purplest of prose, the loftiest phrases of their highest-paid communicators to peddle their electric wares - and fish for government money. Big government money. Showing their legendary flexibility, both seamlessly migrated from Sarkozy's sunken ship of crony corporate capitalism, to the successor model, called Parti Socialiste, where EV fanatics exist and have their new hands on the public purse.
Above all the show must go on. Producing everything for an EV, except the battery and how to charge it, is now simple. Any set of chassis-and-wheels, and the rest of the wagon can be thrown together in any shape, size or imaginative form - science fiction influenced (the public are told) - and pretty cheap if not downright low cost. Ghosn brags he can produce EVs in Romania, Morocco or almost anyplace where he pays his factory workers $300 a month, compared with his take-home of around $300 000 a month. There is no problem, Monsieur. But the battery and the headache of constantly charging it are the Achilles Heels.
THE PROTECTOR STATE
France might have a debt pile of about $2400 billion (claimed as around $1800 bn as of late 2011 according to the CIA Factbook), increasing of course, more than 3 million unemployeds even using official CIA-type figures, called "facts", declining average household discretionary incomes, and all the rest - especially a massive and ongoing fall in car buying with Renault's sales YOY at 33% down - but oh gosh it needs EVs. They are becoming cheaper, that is decreasingly expensive, the media says. In the US, surplus and unsaleable Renault-Nissan Leafs are being snapped up, several thousand of them in a 12 month period, because they can now be had for $2500 down and $139 a month for eternity.
What we might expect from the French Parti Socialiste state when it concerns a great new way to hand out massive subsidies to no hope industries - more protector than that you have to be Sarkozy - is set to make the pumpkin EV Cinderella into a People Princess and shower cash upon the greedy upturned hands of Bollore and Ghosn, and other EV hopefuls. These could or might include the now shadowy and mega cash burning Better Place mob, if they come out of their secret hiding places of Tel Aviv, but if not there is no worry, Monsieur. The line-up at the French EV feeding trough is already crowded.
The goal of Big government is to spend big. Modern type Big government also has the self-awarded obligation to reward the 3C, Corporate Crony Capitalists, as well as waste money. What's ideology got to do with it ? Electric cars are simply fabulous for this twin role and twin goal and what better place to start the government cash burn than EV batteries and charging gimmicks ?
YOU WANT FAST CHARGE, MONSIEUR?
Renault is already way out in front with sci-fi ideas, that Bollore's Blue Car and derivatives, like the Blue Ray Car "concept", could or might also use, the media says. Renault engineers have cooked up the Big Chill for super-rapid battery charging. They propose battery charge stations equipped with Space Station goodies able to pump liquid helium and other super-refrigerants (or perhaps only cold water) into special, specially expensive EV batteries, making the batteries able to withstand Super Charging at a massive 86 kiloWatts. Several times over! Thanks to this, a Renault Fluence ZE sedan, whose battery stores a supposedly impressive 22 kWh of charge (equal to about 2.2 litres of gasoline), can be recharged in 15 minutes only. The driver can go for several dozen miles, literally, with that.
For low market and lower market sedans, with boring old style lithium-ion batteries, the max charge claimed for Renault's concept charging stations (to recharge concept cars) will be a measly 43 kW, and even lower range EVs, like Nissan Leafs, for example, will scrape along at 10 kW.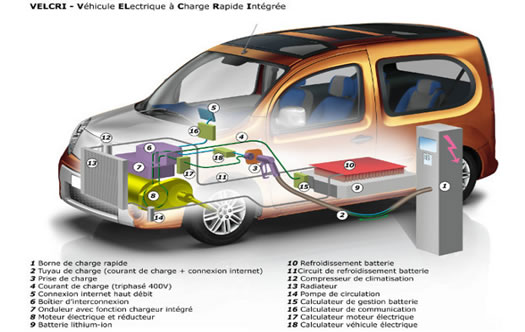 Both Ghosn and Bollore regularly talk up France's EV future in the government-friendly and corporate-friendly media of France (practically no other media exists). Both talk about: "at least 1 million EVs on Fench roads by...", this is often the end of the interview, the date wasnt clear. The music and the ads had started. Did they say 2015? Did they say 2018? Did they say next week? Ghosn has sometimes said he personally will be producing 1 million EVs a year......when the French government, or any other government has handed over to him, personally, all he wants. That is billions of dollars, euros or any other hard currency. Being Lebanese origin, he is "high;y flexible" with money.
Suppose each of these miracle things bringing Freedom to French car drivers, protection against oil shocks, and the nick-of-time saving of the world's polar bear fleet was a super-duper Fluence. What influence would that have on power demand in France?
One million Fluence charging at 86 kW each is already 86 million kW or 86 000 MW. Since Carlos has also opined that he has always loved nuclear power, specially French nuclear power we could work out the bill to build the nukes to power up his chill-out Fluence seadans. The price is around $7500 per kW for French nuclear - they even say so, themselves. The power plants needed to charge those 1 million Fluence, to be sure if they all plugged in at the same time, like a Sunday evening, in winter, would cost around $600 billion to build. If they ever could be built, because 86 000 MW is very close to France's entire total power capacity, of which 63 000 MW is nuclear.
France has a total road vehicle fleet, real world and thermal of course, of 39 million cars. Substituting a little more than 2.5% of the present road fleet with Rapid Charge Fluences would need some ultra radical spending on raising the generating capacity of France, or any other country stupid enough to take EV snakeoil seriously.
To be sure, why would a cigarette paper making billionaire care a damn about that? Let alone Carlos the Ghosn ("gaune" meaning an idiot child in French slang) ? They exist to suck down and waste government cash and spin lies to the couched potatoes at home, watching the all electric car show on 24/7 News Channels.
By Andrew McKillop
Contact: xtran9@gmail.com
Former chief policy analyst, Division A Policy, DG XVII Energy, European Commission. Andrew McKillop Biographic Highlights
Co-author 'The Doomsday Machine', Palgrave Macmillan USA, 2012
Andrew McKillop has more than 30 years experience in the energy, economic and finance domains. Trained at London UK's University College, he has had specially long experience of energy policy, project administration and the development and financing of alternate energy. This included his role of in-house Expert on Policy and Programming at the DG XVII-Energy of the European Commission, Director of Information of the OAPEC technology transfer subsidiary, AREC and researcher for UN agencies including the ILO.
© 2012 Copyright Andrew McKillop - All Rights Reserved Disclaimer: The above is a matter of opinion provided for general information purposes only and is not intended as investment advice. Information and analysis above are derived from sources and utilising methods believed to be reliable, but we cannot accept responsibility for any losses you may incur as a result of this analysis. Individuals should consult with their personal financial advisors.
© 2005-2019 http://www.MarketOracle.co.uk - The Market Oracle is a FREE Daily Financial Markets Analysis & Forecasting online publication.

Only logged in users are allowed to post comments.
Register/ Log in