How Mitt Romney Might Win the U.S. Presidential Election ….
ElectionOracle
/
US Presidential Election 2012
Oct 23, 2012 - 07:03 AM GMT


…..and resuscitate the US economy, and stimulate the World Economy, and also facilitate peace in the Middle East.
It seems clear that, for Governor Romney to win the US Presidential election, it will be necessary for him to win in the states of Ohio and Florida.
To achieve this he should be leveraging off his two most compelling areas of strength relative to President Obama:
He has unambiguously stated that wants to ensure that the US will become energy independent, which implies that the US will need to embrace natural gas with both arms. (For reasons why this latter action will be necessary, see

http://www.beyondneanderthal.com/what-caused-the-global-financial-crisis/

)

From decades of experience in business (President Obama has zero such experience) he understands in his gut that small entrepreneurial business as a category is the most powerful (and the most sensible) engine of economic growth and jobs
If Governor Romney promises to move to enthusiastically embrace natural gas as an energy paradigm after his presidential inauguration, then significant entrepreneurial opportunities will open up. If he does this in a way that he can show, in advance of the elections, that the states of Ohio, Florida (and Louisiana) are likely to be the most significant beneficiaries – and he can do this in a manner that is believable by voters – then he can win both Ohio and Florida and, hence, the presidential elections.
Here's how he might make it all work:
If you look at the grey lines on the first map (http://www.eia.gov/todayinenergy/detail.cfm?id=4090) Ohio has the densest existing coverage of natural gas pipelines in the US, after Oklahoma and Louisiana. i.e. It is ready and waiting for the natural gas starter gun to be fired.
Map #1 – US natural gas pipeline network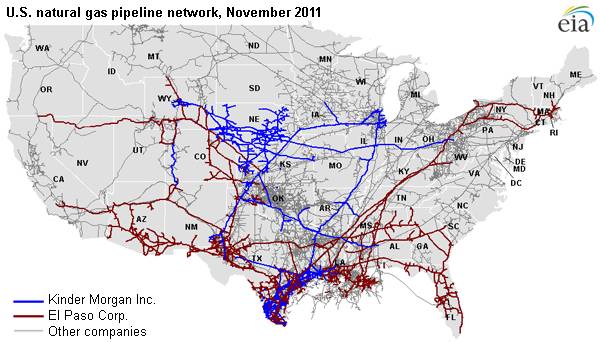 To make it easier for the reader to follow the argument, the second map below shows the states by name (Source: http://maps.google.com.au/maps?hl=en&sugexp=les%3B&cp=6&gs_id=l&xhr=t&q=us+map&bav=on.2,or.r_gc.r_pw.r_qf.&bpcl=35466521&biw=1366&bih=629&wrapid=tljp1350963436516010&um=1&ie=UTF-8&sa=N&tab=wl )
Map # 2 – US with the names of states clearly identified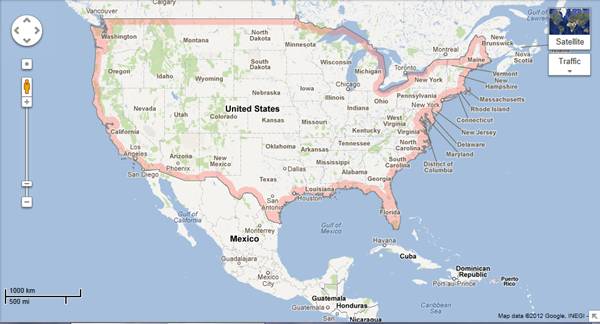 It can be seen from these two maps that, from a strategic perspective, Ohio is in a very advantageous location to facilitate it's becoming a sensible home for "early adopters" of natural gas related technologies, and entrepreneurial small business suppliers thereof.
In addition, it well placed to become a gas distribution hub because it sits on a main gas pipeline that already connects it to the Gulf of Mexico. Further, if the red pipeline in Georgia were to be connected to the red pipeline in Kentucky, then Canadian and Alaskan gas could be delivered via the Trans Canada pipeline to Niagara falls and then directly to Florida through Ohio via the Tennessee Gas Pipeline. (See map # 3 below http://www.arcticgas.gov/Moving-Alaska-gas-from-Canada-to-the-Lower-48 )
Map # 3 - Canadian Gas Pipeline Grid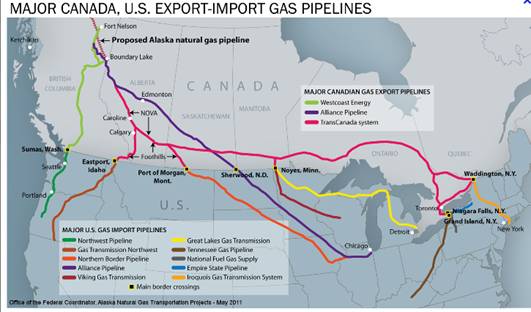 Why should Ohio become the distribution hub? Why not, say, Wisconsin?
The answer lies in map #4 (source: http://geology.com/energy/shale-gas/)
Map #4– US Shale Gas Plays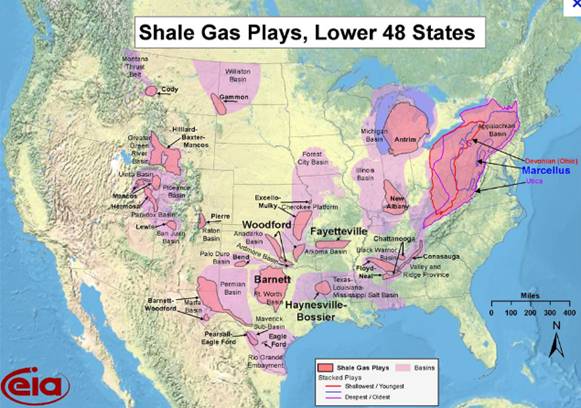 Ohio is in close proximity to the Michigan Basin and the Appalachian Basin from the perspective of shale gas plays. Therefore, shale gas from the US's North East can also be piped to Ohio and then down to both the Gulf of Mexico and Florida.
Why should there be pipelines to both Louisiana and Florida from Ohio?
Because:
Gas piped to Louisiana can be delivered on to Mexico and further south– either by pipeline or in the form of LNG; and gas piped to Florida can be delivered as LNG to the Caribbean islands and also to some countries that surround Venezuela, thereby neutralising the political power that Mr Chavez derives from Venezuela's oil deposits.
Importantly, the cost of Natural Gas is a fraction of the cost of oil.
As at July 2012, the export price per thousand cubic feet of natural gas was as follows (Source: http://www.eia.gov/dnav/ng/ng_sum_lsum_dcu_nus_m.htm )
By pipeline: $3.05

As LNG: $8.49
The conversion of natural gas to barrels-of-oil-equivalent (boe) is:
In gaseous form: 6,000 cubic feet per boe (Source: http://en.wikipedia.org/wiki/Barrel_of_oil_equivalent )
In LNG form: 4,865 cubic feet per boe (source: http://www.santos.com/conversion-calculator.aspx )
The following is a rough comparison of the dollar value per barrel of oil (using yesterday's price per barrel) and the price per boe of natural gas and LNG (using July 2012 US export prices)
Light crude oil: $89.16

LNG: 4.865 X $8.49 = $41.30

Natural Gas: 6 X $3.05 = $18.30
Interim Conclusions
Goodbye:
The political and financial influence of Mr Chavez in Venezuela, Iran's staunch ally as a sanction buster and, therefore,

goodbye Iran and, therefore,

goodbye President Bashar al-Assad of Syria and, therefore

goodbye Hezbollah, and, therefore
Hello:
Peace in the Middle East.

A buoyant US economy

The commencement of a world-wide economic recovery
Now, to understand the likelihood of all this from a political perspective, see the article entitled:
"Morgenthau: The Link Between Iran and Venezuela -- A Crisis in the Making?" http://www.laht.com/article.asp?ArticleId=343289&CategoryId=10718 ) and also http://en.wikipedia.org/wiki/Hezbollah_foreign_relations
To understand why/how the momentum of the US economy might be given an afterburner by what is contemplated above, one needs to understand the difference between "value add" investment and "mal-investment".
Mal-investment is what gave rise to the $45 trillion global sovereign debt and declining real personal incomes in the industrial world. Why? Because socialist governments (President Obama's included) believed they could stimulate their countries' economies by stimulating consumer spending – by printing money and by enabling the commercial banks to make low interest loans. The result was widespread wealth consumption and rising debt amongst the middle class borrowers; and also obscene incomes to executives of organisations whose snouts were buried in the troughs of readily available low priced capital that they could lend at wide margins and/or invest in all sorts of wild schemes. (Are you listening, Mr Obama? The wealth you want to "redistribute" was accumulated by the rich as a consequence of socialist policies that assume that wealth can be created out of thin air by way of the printing press.)
By contrast, Value-Add investment is the type of investment that stimulates "real" (as opposed to ersatz) economic activity because it serves to address market needs. Right now, the US has a life-threatening need to reduce its dependence on imported oil. The world economy in general has a life threatening need to increase global annual output of energy per capita. By investing heavily in further natural gas infrastructure of the type discussed above, the following will be achieved:
The capital invested in the pipeline/s, distribution hub/s and LNG production infrastructure will create jobs in the first instance, and these jobs will facilitate spending that, via the economic multiplier, will stimulate the US economy in general and rejuvenate the Ohio and Florida (and Louisiana) economies in particular.

Entrepreneurial opportunities will flow from positioning Ohio to become an early adopter of natural-gas related technologies (transport is an obvious one but there will be others). Entrepreneurs will move to capitalise on these opportunities and this will create more jobs that will have a similar effect to 1 above.

Eventually, once the infrastructure has been built, and once the technological challenges of fracking natural gas have been addressed (to prevent methane emissions escaping into the atmosphere and fracking chemicals escaping into the waterways), gas extraction will create even more jobs, and US exports of natural gas will win market share away from oil; Venezuelan and Iranian oil in particular. US natural gas related technologies can also be exported in the form of manufactured goods and this will create even more jobs.

The primary beneficiaries of this jump in activity will be the owners of the natural gas fracking facilities, who should be expected to pay an "excess profits" tax to be determined on the basis of fairness, benchmarked against generous after tax returns on gross capital invested.

With rising tax income flowing from 1-4 above, the US economy will once again become sufficiently robust to allow the Federal Government to operate at a significant surplus and the $16 trillion of sovereign debt can begin to be repaid.

The economies of the US's trading partners – in particular its EU trading partners – will begin to benefit from increased US imports.

Energy investment opportunities in other countries will emerge, which will have a similarly stimulative effect outside the US. (Excess profits tax should be applied here too.)

Global output of natural gas will increase because whilst the US will be the first major producer of fracked natural gas, it will not be the only such producer.

Net energy output per capita on a global basis will increase, and this will buy the world the time to move to embrace next-generation (Fast Breeder) nuclear energy by mid century.
Overall Conclusion
If Governor Romney can "sell" the relevant portions of above strategy to US voters in general and to voters in Ohio and Florida in particular, then he can win the presidential election with a slam dunk, and the entire world can start to breathe again as he moves to implement it. Finally, as an additional bonus, the balance of political power in the Middle East will shift further towards democracy as the fangs of the Middle Eastern oil-fed snake are milked of their paralysis inducing poison. Of course, all this will have negative implications for the technically overbought gold price, but that's another story.
Author, Beyond Neanderthal and The Last Finesse
Beyond Neanderthal and The Last Finesse are now available to purchase in e-book format, at under US$10 a copy, via almost 60 web based book retailers across the globe. In addition to Kindle, the entertaining, easy-to-read fact based adventure novels may also be downloaded on Kindle for PC, iPhone, iPod Touch, Blackberry, Nook, iPad and Adobe Digital Editions. Together, these two books offer a holistic right brain/left brain view of the current human condition, and of possibilities for a more positive future for humanity.
Copyright © 2012 Brian Bloom - All Rights Reserved
Disclaimer: The above is a matter of opinion provided for general information purposes only and is not intended as investment advice. Information and analysis above are derived from sources and utilising methods believed to be reliable, but we cannot accept responsibility for any losses you may incur as a result of this analysis. Individuals should consult with their personal financial advisors.
© 2005-2019 http://www.MarketOracle.co.uk - The Market Oracle is a FREE Daily Financial Markets Analysis & Forecasting online publication.

Only logged in users are allowed to post comments.
Register/ Log in