Who Will Lead America Over the Next Four Years?
ElectionOracle
/
US Presidential Election 2012
Nov 05, 2012 - 11:42 AM GMT


Americans will be united in heading to the polls Tuesday to determine who they want to be the next president and vice president. After months of experts, news reporters and the candidates inundating us with a barrage of facts and opinions, voters have the last word.
Research finds that historically Americans' say has been swayed by very recent stock market performance. Last July, I covered the work of Adam Hamilton from Zeal LLC, who analyzed that the market has typically determined whether an incumbent leader wins. He used InvesTech research dating back to 1900 to look at market results covering the two months leading up to the presidential election.
The majority of the time, when stocks rose in September and October, the incumbent party was reelected; when equities dropped, the incumbent typically lost. He discovered that "out of the last 28 presidential elections, this simple indicator has proven correct 25 times. This is an astounding 89 percent success rate!"
This shows that Americans "make political decisions based on how our families are faring economically," he explained in an October update on this topic. The stock market, as a proxy for the broader U.S. economy, "heavily influences how we cast our ballots."
However, during September and October of this year, the S&P 500 Index rose 0.40 percent, which makes it too close to call an incumbent win. This "essentially dead flat" result has made the few days leading up to the election "super-important." Adam says, "We all figured it would be a close race in our heavily-divided country, and the stock markets are certainly exacerbating this with their schizophrenic September-October ride."
There has also been a close relationship between President Obama's approval rating from Gallup and the performance of the S&P since he took office. Immediately after Obama took the oath, there appeared to be an inverse correlation between the stock market and the approval rating while the president enjoyed a "honeymoon" period. We "had high hopes his leadership would bolster a rapid economic recovery in America," says Adam.
However, following the honeymoon, "Americans' views on the job Obama is doing have been closely tied to the fortunes of our stock markets." Beginning in mid-2010, as the stock market rose, the approval rating for the president climbed; when the market corrected in 2011, so did the Gallup poll.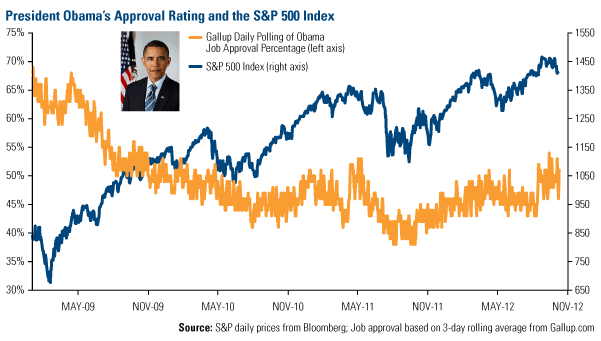 What's interesting is that while the S&P has climbed an outstanding 68 percent over the president's term, the president's approval rating sits at only 51 percent as of the end of October 2012. This weak approval has been attributed by several experts to stagnant job growth, a slowing global economy, weak U.S. GDP growth, and a mountain of rules and regulations that have hindered businesses over recent years.
Alan Zafran of Luminous Capital believes that these reasons are why "CEO confidence remains listless, lethargic and dispirited." According to the YPO Global Pulse Confidence Index, which measures executives' perspectives on the business climate, leaders' confidence around the world, except for in Latin America, "fell modestly over the past three months and remains in largely uninspiring territory." As you can see, a majority of CEOs responded that there would be no change in their businesses' employee count and fixed investment.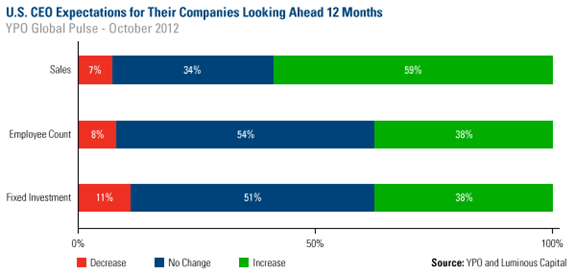 He indicates that the most important reason for a slump in CEO confidence is that "uncertainty relating to America's tax code and regulatory environment as well as its health care and retirement systems - particularly in the face of our nation's 'fiscal cliff' - has stymied many American CEOs' willingness to add jobs and buy business equity today."
Zafran concludes his article by calling for "meaningful fiscal action" to get the U.S. economy out of its "financial ditch" and raise the confidence of CEOs. As I often say, it's not about the political party, it's the policies.
Regardless of which candidate wins, Goldman Sachs' research shows that the market is indifferent during the president's first year. As you can see in the chart below featured on Business Insider's website, since 1976, the S&P has experienced a median return of 10 percent over the twelve months following the election of both a democrat and a republican.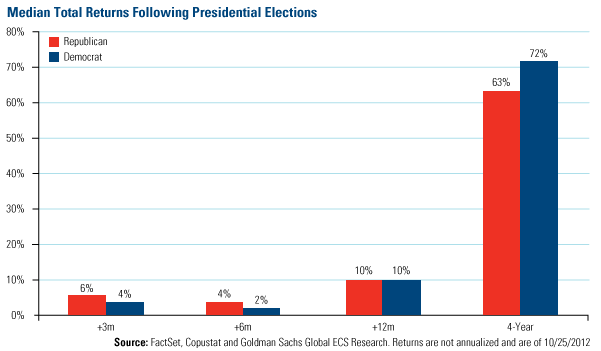 How is Energy Affected by the Candidates?
If President Obama is reelected, it could be a negative for certain energy companies involved in natural gas fracking, says International Strategy & Investment (ISI). The research firm put together an "Obama Portfolio" which includes sectors such as taxes, defense, discretionary spending, energy and infrastructure. ISI says that companies "highly leveraged to fracking and onshore drilling in the U.S." could be negatively affected "if regulatory costs are substantially higher in a second Obama term."
Conversely, a Governor Mitt Romney win could be significant for energy companies. In its "Romney Portfolio" ISI's rationale is that Romney and the GOP "will try to do more to promote traditional forms of energy, including offshore drilling, approving the Keystone pipeline, and exploiting the nation's coal resources."
U.S. Global's Director of Research John Derrick also discussed the impact of energy companies as well as tax policy differences between the two candidates with AdvisorOne. Read the article now.
Join Our Post-Election Outlook Webcast
After casting your ballot, make sure to tune into our post-election webcast where I'll be discussing the questions that have been on investors' minds with Money Map Press Investment Strategist Keith Fitz-Gerald. We'll talk about a variety of issues, including the "fiscal cliff," the housing recovery and the future of energy prices. Don't miss it! Add to your calendar today.
For more updates on global investing from Frank and the rest of the U.S. Global Investors team, follow us on Twitter at www.twitter.com/USFunds or like us on Facebook at www.facebook.com/USFunds. You can also watch exclusive videos on what our research overseas has turned up on our YouTube channel at www.youtube.com/USFunds.
By Frank Holmes

CEO and Chief Investment Officer
U.S. Global Investors
U.S. Global Investors, Inc. is an investment management firm specializing in gold, natural resources, emerging markets and global infrastructure opportunities around the world. The company, headquartered in San Antonio, Texas, manages 13 no-load mutual funds in the U.S. Global Investors fund family, as well as funds for international clients.
All opinions expressed and data provided are subject to change without notice. Some of these opinions may not be appropriate to every investor.
Standard deviation is a measure of the dispersion of a set of data from its mean. The more spread apart the data, the higher the deviation. Standard deviation is also known as historical volatility. All opinions expressed and data provided are subject to change without notice. Some of these opinions may not be appropriate to every investor. The S&P 500 Stock Index is a widely recognized capitalization-weighted index of 500 common stock prices in U.S. companies. The NYSE Arca Gold BUGS (Basket of Unhedged Gold Stocks) Index (HUI) is a modified equal dollar weighted index of companies involved in gold mining. The HUI Index was designed to provide significant exposure to near term movements in gold prices by including companies that do not hedge their gold production beyond 1.5 years. The MSCI Emerging Markets Index is a free float-adjusted market capitalization index that is designed to measure equity market performance in the global emerging markets. The U.S. Trade Weighted Dollar Index provides a general indication of the international value of the U.S. dollar.
© 2005-2019 http://www.MarketOracle.co.uk - The Market Oracle is a FREE Daily Financial Markets Analysis & Forecasting online publication.

Only logged in users are allowed to post comments.
Register/ Log in