The Solar Energy Tipping Point, Polysilicon Prices in 2012
Commodities
/
Solar Energy
Nov 27, 2012 - 03:37 AM GMT


David Fessler writes: Solar energy detractors point to the fact that it can't compete without "huge" government subsidies. And up until now, I couldn't argue to the contrary.
But very soon, those detractors will likely be eating their words. I've said it many times in the past: Technology marches on, and the cost of manufacturing will come down.
Well the cost of manufacturing solar isn't just coming down; it's dropping through the floor. By the end of this year, solar will be so cheap it will compete with just about any other form of generation. It already does in some places, and at commercial scale levels. The best part? It will do it without subsidies.
You see, solar panel prices are about to cross a tipping point. It's all due to the drop in price of a solar module's most crucial ingredient: polysilicon.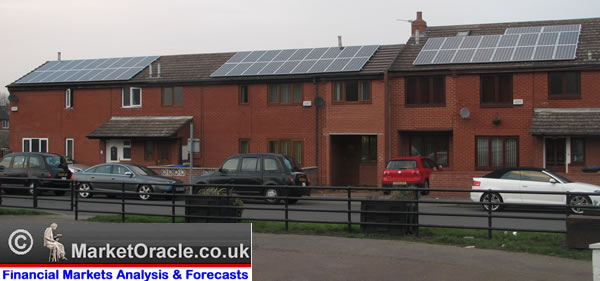 The Polysilicon House of Cards
Polysilicon prices have collapsed 90% in the last five years. That translates directly into lower module costs, lower panel prices and ultimately into a lower installed cost per watt.
How did this happen? Way back in 2006, there was a run on polysilicon. It turns out it's the same material used to make integrated circuits. But all of a sudden, the solar industry was booming, and competing for what was then a limited supply.
Its use for solar was rising rapidly, and 2006 was the first year that 50% of all polysilicon went into the manufacture of modules for solar panels. And panel manufacturers were clamoring for even more.
Polysilicon makers were laughing all the way to the bank, and then some. They essentially were an oligopoly, and were earning upwards of 40% margins on their product, according to a recent research report published by GTM Research.
Prices just kept rising along with demand, and by 2008 the shortage was so severe, polysilicon was selling for over $400 per kilogram on the spot market. Margins had risen to 70%.
Naturally, this lured new players into the market, and led existing makers to expand manufacturing capacity. But they overestimated how much was really going to be needed.
By 2011, much of this additional capacity began to come online, and polysilicon prices started falling. By March of 2011, the spot price had dropped to $80 per kilogram, and by this past December, it was all the way down to $30 per kilo.
This incredibly low spot price was all the leverage customers with long-term contracts needed to renegotiate lower prices.
GTM Research predicts that in 2012, these declining silicon prices will lead to even lower module prices. At the beginning of 2011, module prices were $1.80 per watt. By the end of 2011, they were halved to $0.90 per watt.
Closing in on Grid Parity
This year, GTM expects module prices to breach the $0.70-per-watt barrier and continue to head south. Of course, with other manufacturing costs and installation being relatively fixed, lower raw material means lower panel prices. And $0.70 per watt is below the magic $1.00-per-watt level that's widely viewed as "grid parity" for solar.
That's the point where it makes just as much sense to use solar as any other form of generation.
The system I installed at my farm is 10.08 kilowatts (KW). Over its 25-year lifetime, it's expected to produce an average of 12,000 to 18,000 kilowatt-hours (kWh) per year.
I'm leasing my system for five years, and will then purchase it. My total all-in cost is about $27,000. (Since I'm leasing the system, I don't receive any government subsidies or tax breaks.)
Let's assume that the system produces the minimum amount per year, 12,000 kWh.
Multiplying by 25 and then dividing by the cost of the system, we come up with $0.08 per kWh. My current electricity from the grid operator costs $0.14 per kWh.
That's almost a 50% savings. If I produce even more, my savings will be even higher.
And this system has panels that were manufactured in 2011. Panels made this year will be even cheaper, and so will the all-in cost.
Misinformation and Black Eyes
So what's keeping solar from being widely adopted? Lack of information, for one…
The industry got quite a black eye over the Solyndra deal.
GTM Research Senior Analyst, Brett Prior, believes the industry will continue to grow at 10% to 20% per year for the foreseeable future. He had this to say about the polysilicon market today:
"After a half-decade of silicon demand outstripping supply, the aggressive expansion plans finally overshot.

"This supply/demand imbalance will push producers to lower contract prices closer to the level of manufacturing costs at $20 per kilogram, and will force higher-cost manufacturers to exit the industry.

"The end result is that the current roster of over 170 polysilicon manufacturers and startups will likely be winnowed down to a dozen survivors by the end of decade."
I believe that as prices continue to drop, solar will continue to gain in popularity.
Big panel manufacturers like U.S.-based SunPower Corporation (Nasdaq: SPWR) will be around when the dust settles. They currently make the most efficient (19%) commercially available panels in the world. The stock is way off its highs of a year ago, but is up a healthy 22% since the beginning of the year.
So is it solar boom time? I don't have a crystal ball, but with module prices continuing to drop, it becomes more attractive every day. That's good news for panel manufacturers, as they'll continue to improve as volumes ramp up. Investors certainly won't find them any cheaper than they are right now.
Source: http://www.investmentu.com/2012/January/polysilicon-green-energy.html
by David Fessler, Advisory Panelist, Investment U
Copyright © 1999 - 2012 by The Oxford Club, L.L.C All Rights Reserved. Protected by copyright laws of the United States and international treaties. Any reproduction, copying, or redistribution (electronic or otherwise, including on the world wide web), of content from this website, in whole or in part, is strictly prohibited without the express written permission of Investment U, Attn: Member Services , 105 West Monument Street, Baltimore, MD 21201 Email: CustomerService@InvestmentU.com
Disclaimer: Investment U Disclaimer: Nothing published by Investment U should be considered personalized investment advice. Although our employees may answer your general customer service questions, they are not licensed under securities laws to address your particular investment situation. No communication by our employees to you should be deemed as personalized investment advice. We expressly forbid our writers from having a financial interest in any security recommended to our readers. All of our employees and agents must wait 24 hours after on-line publication or 72 hours after the mailing of printed-only publication prior to following an initial recommendation. Any investments recommended by Investment U should be made only after consulting with your investment advisor and only after reviewing the prospectus or financial statements of the company.
© 2005-2019 http://www.MarketOracle.co.uk - The Market Oracle is a FREE Daily Financial Markets Analysis & Forecasting online publication.

Only logged in users are allowed to post comments.
Register/ Log in