Pope Francis And Global Poverty
Politics
/
Religion
Mar 14, 2013 - 12:16 PM GMT


CONSPIRACY THEORISTS SAY
The new Pope wafts in on a magic carpet of Oppression theology, not Liberation theology: Pope Francis will tell the people to accept poverty, distribute poverty, tone it down a little, tuck it under the carpet. Keep the party going - for the rich.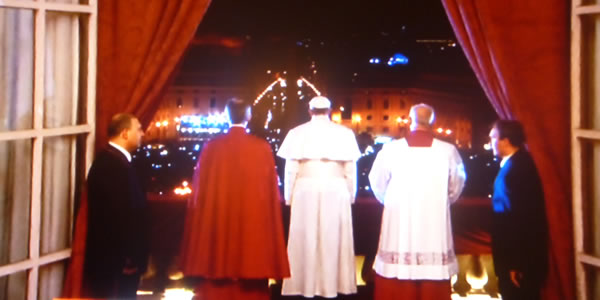 Conspiracy theorists say the new Pope had an "ambiguous stance" on Argentine's military junta, although he did not give the junta the yip-and-yaller it got from the Kissinger mob. Declassified State Department documents obtained in Dec 2003 by the National Security Archive under the Freedom of Information Act showed that in October 1976, Secretary of State Henry Kissinger gave his full support to the Argentine military junta and urged them to hurry up and finish their "dirty war" before Congress cut military aid. A verbatim transcript of Kissinger's comments to Admiral Guzzetti of the junta on October 7, 1976 gives the flavour. Kissinger says:
"We read about human rights problems but not the context. The quicker you succeed the better… The human rights problem is a growing one.....We want a stable situation. We won't cause you unnecessary difficulties. If you can finish before Congress gets back, the better. Whatever freedoms you could restore would help." The dirty war raged on, with Kissinger's benediction. http://www.gwu.edu/~nsarchiv/NSAEBB/NSAEBB104/index.htm
Human rights for Pope Francis likely do not include the right to torture, but how far he goes with his own Liberation theology will be the big question.
WHAT WE KNOW
The devotion of the former Cardinal Jorge Bergoglio, the new Pope Francis, to social justice and alleviating poverty by a range of means - possibly including social non-violent mass action - is not possible to question. He has said that: "The unjust distribution of goods......cries out to heaven and limits the possibilities of a fuller life for so many."
Writing in 'Forbes' magazine, Jerry Bowyer with more than 30 years experience of philosophical and theological issues says the new Pope is, for starters, a "cultural conservative": there is no daylight between him and his predecessor on abortion, birth control and same sex marriage. But Bowyer adds: "the Pope will probably move the Church culturally to the right, and more likely move it economically to the left.....the answer to the question, "Is the Pope capitalist?" is "Probably not."
Anti-capitalism has so many variants that we cannot be surprised that many observers like Bowyer see the new Pope as politically center-right democrat, and certainly not Black Bloc Hard Left, Marxist or Anarchist. Like a rising number of persons from all sides of the political spectrum he attacks Neo-liberalism - which for years was only attacked by the Left, at a time (the early 1980s) when some leaders, like Thatcher and Reagan believed they were acting to move the world towards free-markets, of the "classical liberal" type as defined or described by writers such as Turgot, Smith, Say, Ricardo.
Also at the time, what today we should call "classic Neo-liberalism" attacked the State's encroachment or suppression of personal freedom. Freedom, like the Johnny Cash song says, ended as "Just another word for nothing left to lose", as this phase of Western political economy and ideological posturing ended with vast and unpayable sovereign, corporate and housegold debts. Getting rich was replaced with the freedom to run up debts that will have to be repudiated, as any fraudster or thief will do.
That is how the cheated creditors see it: the debitors can see it very differently.
The attack on Neo-liberalism by the new Pope was only slightly related to this set of politics and this outcome: in Argentina, the dividing line between Peronist state control, and military junta rule proved to be porous. Marxism seemed to offer a clean break, but the new Pope was and is totally opposed to Marxism, which seeks to replace God by Man.
ANTI MARKET RIGHT
Pope Francis' politics could easily be categorized as anti-market right.
In Argentina this was an is easy to place on the ground: The long-running debate runs between two Statist camps, Peronism on the 'right' and Marxism on the 'left'. Elsewhere in the world, neither of these 'models' has ever worked on a sustained basis.
In turn this makes the new Pope even more radical, even more dangerous. According to the 'Catholic Herald' his ideological orientation is essentially anti-market right. The "anti-market" needs to be underlined. The 'right' and 'left', in Argentina, have a bad track record.
Looking at Argentina's interesting political economic history, and switchback economic ride since 1945 the new Pope's life and work, for decades, brought him close to the strand of popular Peronism which confronts "classic liberal capitalism" with the Peronist "organized market". During the post-default crisis of 2001-2002, Argentina witnessed large-scale mass demonstrations and supermarkets were looted, but then-Cardinal Bergoglio denounced the neo-liberal banking system which had left Argentina with unpayable debt. The so-called "free market" of international capital had once again revealed its greedy face. He rarely denounced supermarket looting.
In official Peronist doctrine this is: Argentina sacrificed at the altar by loan sharks of the international investment community forcing the country to accept excessive neo-liberal deregulation, and criticising the Pernoists' bloated government sector spending. This, of course, is inviolable and at the limit can be presented by "Peronist intellectuals" as Divinely approved. The dovetailing of the new Pope's position, and what we can call traditional Peronists (not "Kirchnerists") is easy to see.
For the new Pope "the market" essentially does not exist; for traditional Peronists it is manipulated by outsiders hostile to Argentina. Their common ground is easy to identify.
In a static world this would have little importance, but the new Pope arrives in very troubled times, including unpayable sovereign debts, in a large number of former-rich countries, and an increasing number of other countries. Put another way, the number of net creditor nations is constantly falling, creating the prospect of a global economy where all nations are unable to honour their debt. This itself is a revolutionary prospect - which Pope Francis woul find salutary.
By Andrew McKillop
Contact: xtran9@gmail.com
Former chief policy analyst, Division A Policy, DG XVII Energy, European Commission. Andrew McKillop Biographic Highlights
Co-author 'The Doomsday Machine', Palgrave Macmillan USA, 2012
Andrew McKillop has more than 30 years experience in the energy, economic and finance domains. Trained at London UK's University College, he has had specially long experience of energy policy, project administration and the development and financing of alternate energy. This included his role of in-house Expert on Policy and Programming at the DG XVII-Energy of the European Commission, Director of Information of the OAPEC technology transfer subsidiary, AREC and researcher for UN agencies including the ILO.
© 2013 Copyright Andrew McKillop - All Rights Reserved Disclaimer: The above is a matter of opinion provided for general information purposes only and is not intended as investment advice. Information and analysis above are derived from sources and utilising methods believed to be reliable, but we cannot accept responsibility for any losses you may incur as a result of this analysis. Individuals should consult with their personal financial advisor.
© 2005-2019 http://www.MarketOracle.co.uk - The Market Oracle is a FREE Daily Financial Markets Analysis & Forecasting online publication.

Only logged in users are allowed to post comments.
Register/ Log in