"Save Our Swiss Gold " - Game Changer For Gold?
Commodities
/
Gold and Silver 2014
Oct 17, 2014 - 02:36 PM GMT


We believe that the "Save Our Swiss Gold" campaign has the potential to be a game changer in the gold market - both in terms of the ramifications for the current global monetary system and in terms of higher gold prices.
There has been a lack of coverage of this important story and there is therefore a lack of awareness about the possible implications for the gold market. Thus, in the weeks prior to the referendum on November 30th, we are going to analyse the referendum, the important context to the referendum and the ramifications of a yes or a no vote.
Mark O'Byrne, Head of Research GoldCore
Introduction
In less than six weeks, on November 30th a federal referendum is being put to the Swiss electorate, which, if it passes, will have very significant ramifications for the Swiss currency and the global gold market.
If it passes it will force the Swiss National Bank to substantially increase Switzerland's monetary gold reserves and make it harder for Swiss monetary policy to informally peg the value of the Swiss Franc to the Euro below 1.20.
Even if it does not pass, it has the potential to be a "wedge issue" and lead to a fractious debate about gold and monetary policy in a leading industrial nation. This has the potential to create a new found awareness of gold's importance as a monetary asset and as a safe haven asset.
The upcoming referendum on Switzerland's gold has evolved via a Swiss popular initiative, which is a form of direct democracy campaigning by citizens in Switzerland. In this case, the initiative is called the "Save Our Swiss Gold (Gold Initiative)".
To really understand the "Save Our Swiss Gold (gold Initiative)" and the upcoming Swiss gold referendum on 30 November, it's important to understand how this initiative arose and what its motivations are.
It's also important to understand the Swiss political system, since this provides a framework to explain how the initiative proceeded through the Swiss political system to a referendum, and how the referendum voting system works in the Swiss Confederation.

Success of Swiss People's Party (SVP)
The Swiss gold initiative was launched by members of the Swiss People's Party (SVP) in 2011. Politically, the SVP is considered to be a conservative or right-wing nationalist populist party, although it's also known as the Union Démocratique du Centre in French (Democratic Union of the Centre).
Ideologically, the SVP is nationalist, conservative, Eurosceptic and against mass immigration. The SVP were the party that successfully brought the anti-immigration popular initiative to a successful referendum outcome in Switzerland in February 2014. This happened despite the majority of the Swiss body politic and Switzerland's other political parties calling for a 'no' vote in that referendum.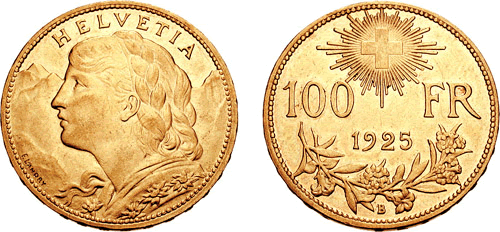 This highlights the fact that popular referendum results in Switzerland do not necessarily follow party voting lines.
The SVP grew to be the largest political party in Switzerland in the late 1990s, with a notably strong power base in German speaking Zurich, and it continued to strengthen across Switzerland in the 2000s.
Currently, the SVP has one elected representative on Switzerland's seven member governing Federal Council, 5 representatives in the upper house of parliament, and 54 representatives (the largest grouping) in the lower house of parliament.

Direct Democracy and Popular Initiatives
Switzerland's political system is world renowned for including many of the features of direct democracy including direct initiatives and referenda. Initiatives are campaigns via a petition which aim to bring a proposal to a vote by an electorate.
In Switzerland, a 'popular initiative' is a form of initiative that can be activated by Swiss citizens to propose a change to a law.
According to the Swiss Federal Administration, popular initiatives are the driving force behind direct democracy. Since the Swiss political system is structured along federal, cantonal, and communal (municipal) lines, there can be federal popular initiatives, as well as popular initiatives on a canton and commune level [1].
Federal Palace of Switzerland
Federal popular initiatives aim to change an aspect of the Federal Constitution. Cantonal popular initiatives aim to change an aspect of that canton's constitution (each canton has its own constitution in addition to the Federal Constitution).
Switzerland is a Confederation made up of 26 cantons and half-cantons and over 2,600 communes (local communities) [2].
A canton is analogous to a state of the Confederation. On the cantonal level, there are 20 full cantons and 6 half-cantons, a point which comes into play in federal referendums under the concept of 'double majority', which is explained below. The 6 half-cantons were created at various times in Swiss history when three previous full cantons each split in half.
The requirement of a federal popular initiative calls for the collection of more than 100,000 signatures among the Swiss electorate over an 18 month period in order to advance the popular initiative to a federal referendum [3].
Petition Filing
The SVP filed their initiative petition with the Swiss Government on 26 August 2011, and a preliminary review of the initiative was approved on 6 September 2001 by the Federal Chancellor, Corina Casanova, who concluded that "the title of the Swiss federal popular initiative 'Save our Swiss Gold (Gold) initiative' meets the legal requirements of Article 69 Paragraph 2 of the Federal Act of 17 December 1976."
As part of the legal process for federal popular initiatives, the text of the initiative was then published on 20 September 2011 in an official government publication called the Federal Gazette. At that time, the Federal Chancellery listed 17 creators and authors of the initiative, namely:
Toni Bortoluzzi, Yvette Estermann, Hans Fehr, Sylvia Flückiger, Patrick Joyous, Oskar Freysinger, Thomas Fuchs, Andrea Geiss Buhler, Alfred Army, Hans Kaufmann, Lukas Reimann, Ernst Shibli, Ulrich Schlüer, Jürg Stahl, Luzi Stamm, Christoph von Rotz, and Walter Wobmann [4].

Initiative Launch
The Swiss gold initiative was launched by the SVP at a press conference on 20th September 2011, in Bern where it was stated that the initiative had been launched by four members of the Swiss parliament, including SVP National Councillor Luzi Stamm.
The title of the initiative was, at that time, stated to be "Gold Initiative: A Swiss Initiative to Secure the Swiss National Bank's Gold Reserves", although the official name of the initiative was filed as 'Save Our Swiss Gold initiative'.
Luzi Stamm stated that there were three parts of the initiative, namely:
- The gold of the Swiss National Bank must be stored physically in Switzerland
- The Swiss National Bank does not have the right to sell its gold reserves
- The Swiss National Bank must hold at least twenty percent (20%) of its total assets in gold.

Motivation for the Initiative
The SVP said at their launch campaign that they had various motivations in launching the initiative.
Firstly, given that the European Central Bank and Federal Reserve had rapidly expanded their money supplies, thereby devaluing the Euro and the US dollar, this impacted the relative strength of the Swiss Franc, and put pressure on the Swiss Franc to also devalue.
To counteract these pressures, holding a certain percentage of reserves in gold would allow the Swiss Franc to act as a strong, gold-backed currency, and constrain its devaluation.
Secondly, according to the SVP, Switzerland's gold had always been considered to be the "property of the Swiss people".
This historical right was severed in 2000 via a Constitutional change, after which the Swiss National Bank proceeded to sell 1,550 tonnes of the country's original 2,590 tonnes of gold reserves.
The SVP maintain that selling these gold reserves was a mistake and that the Swiss National Bank and Swiss politicians should not have this right to sell the nation's gold.
Lastly, to increase transparency, the SVP reasoned that the Swiss National Bank should be forced to reveal where the Swiss gold reserves are located and to repatriate any gold reserves held abroad back to Switzerland (since at that time in 2011 the Swiss National Bank would not comment on the locations of the remaining gold reserves).
In summary, the SVP said that having transparency and a currency which does not continually devalue would become a model example to other countries and central banks around the world [5].

Gathering the People's 100,000 Signatures
Article 139 of the Swiss Constitution is titled "Popular Initiative for Partial Revision of the Federal Constitution" and it states that any 100,000 citizens may request a partial revision of the Federal Constitution. Article 139 also details the rules under which a popular initiative proceeds through and is treated by the Federal parliament.
Initiative campaigners request a revision via collecting signatures on an official form, and can collect signatures anywhere, for example in households, workplaces, public places, and at public events. The signatures are then verified locally by local government offices who issue certificates of authenticity for the signature lists [6].
The signatures and their certificates are then handed in to the Federal Chancellery for 'verification of petitions'.


Credit Suisse Gold Bar
Gold Initiative Gets Over 107,000 Signatures
The Swiss gold initiative committee filed their signatures with the Federal Chancellery on 20 March 2013.
The gold initiative committee and their campaigners managed to collect 107,380 signatures. Of the 107,380 signatures submitted, 106,052 were said to be valid and on 16 April 2013, the Chancellor Corina Casanova deemed that the "Save Our Swiss Gold (gold Initiative)" had arrived at 100,000 valid signatures in accordance with Article 139.
This information was then also published in the Federal Gazette. Given the specific wording of the suggested constitutional change, the initiative was classified as a specific draft as opposed to a general proposal. This is important since a specific draft initiative has to attain a double majority of voters and cantons if it is to pass.
The signatures were collected across all 26 cantons and represent just over 2% of the most recent total electorate figure of 5.22 million Swiss voters.
Over 27,000 signatures were collected in Zurich, representing 3% of the Zurich electorate, over 15,000 signatures from Bern, representing 2.1% of the Bern electorate, and over 13,300 from Aargau, representing 3.25% of the Aargau electorate.
Aargau is a canton in the north of Switzerland between Basel and Zurich. In total these three cantons represent 40% of the Swiss electorate. Overall the signature total per canton was in the range of 0.22% to 3.32% of the canton electorate total [7].
Selling The Swiss Family's Gold
The SVP's concerns with the previous sale of Swiss gold reserves refers to two distinct periods between 2000 - 2005 when the Swiss National bank sold 1,300 tonnes of gold, and following that, between 2007 -2008, when the Swiss National Bank sold a further 250 tonnes of Swiss gold reserves.
The gold sales between 2000 - 2005 are especially contentious since they arose after a substantial series of legal changes were introduced between 1997 – 1999 by the Swiss government and parliament with substantial advice and planning by the Swiss National Bank.
In 1997 the previous requirement that the Swiss Franc be 40% backed by gold was replaced with a 25% backing, as a precursor to the demonetisation of gold.
An 'Expert Group' compromising Swiss National Bank and Swiss Federal Administration staff then recommended in 1997 that Switzerland should sell 1,300 tonnes of gold.
They did this by revaluing the gold reserves from a historical fixed price to a higher market related price, and then argued that the 2,590 tonne gold holdings was excessive as part of the SNB's reserve portfolio.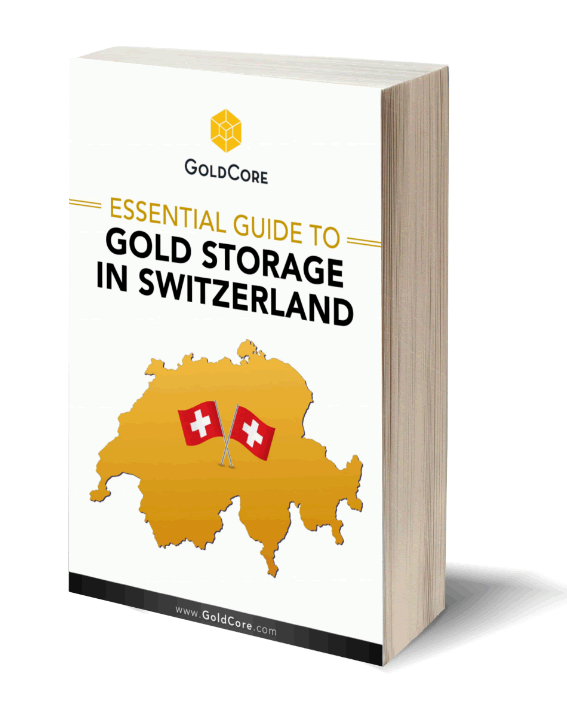 In April 2000, further legal changes occurred for the Swiss currency, when constitutional amendments were passed by the Swiss electorate which severed the link between the Swiss Franc and gold, and dropped the 25% gold backing for the currency.
The Swiss parliament also passed new Federal currency laws which demonetised gold. Taken together, all of these changes then left the door open for the Swiss National Bank to begin gold sales.
The SNB sold 120 tonnes of gold over a six month period from May 2000 until September 2000. This was followed by a sale of 200 tonnes over the following 12 months from October 2000 until September 20)1.
The majority of these sales (220 tonnes) were conducted by the Bank for International Settlements on behalf of the SNB.
The SNB then began direct gold sales, selling 980 tonnes over four years from October 2001 until September 2005.
In total, this amounted to 1,300 tonnes. Of the total, 730 tonnes were sold to 25 counterparties, with the physical gold sale trades settling at the Bank of England.
The other 350 tonnes were sold using derivative overlays in tranches of approximately 50 tonnes each. These Swiss gold sales formed part of the first and second Central Bank Gold Agreements on coordinated gold sales.
The proceeds of the Swiss gold sales were paid out as distributions in the ratio of one third for the Swiss Confederations and two thirds for the cantons.
The additional 250 tonnes gold sales over the years 2007 and 2008 were said by the Swiss National bank to be due to a need to rebalance the reserve portfolio between currencies and gold.
In total, these sales between 2000 and 2008 amounted to 1550 tonnes of Swiss gold.
End of Part 1
by Ronan Manly, GoldCore Consultant
Editor, Mark O'Byrne, Head of Research
[1] http://www.iniref.org/swiss-dd.html
[2] http://direct-democracy.geschichte-schweiz.ch/switzerlands-political-sys...
[3] https://www.ch.ch/en/popular-initiatives/
[4]https://translate.google.com/translate?act=url&depth=1&hl=en&ie=UTF8&nv=1&prev=_t&rurl=translate.google.com&sl=auto&tl=en&u=http://www.admin.ch/ch/d/pore/vi/vis415.html
[5] http://gold-initiative.ch/wp-content/uploads/2014/09/goldinitiative-engl...
[6] http://www.iniref.org/swiss-dd.html
[7]https://translate.google.com/translate?act=url&depth=1&hl=en&ie=UTF8&nv=1&prev=_t&rurl=translate.google.com&sl=auto&tl=en&u=http://www.admin.ch/ch/d/pore/vi/vis415.html
See Essential Guide To Gold and Silver Storage In Switzerland
GOLDCORE MARKET UPDATE
Today's AM fix was USD 1,238.00, EUR 966.89 and GBP 769.61 per ounce.
Yesterday's AM fix was USD 1,241.00, EUR 969.38 and GBP 775.87 per ounce.

Gold climbed $1.70 or 0.14% to $1,239.50 per ounce and silver slipped $0.05 or 0.29% to $17.38 per ounce yesterday.

Gold in U.S. Dollars - 2 Years (Thomson Reuters)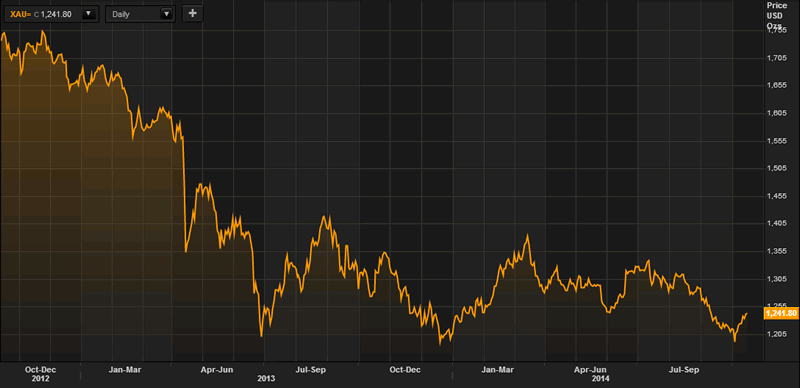 Gold edged higher on Friday and was poised for a second straight week of gains as growing
fears over the health of the world economy took a toll on global equities and the dollar, leading to safe haven gold buying.
Platinum and palladium were the biggest precious metal gainers of the day, recovering about 2% from sharp overnight losses.

Gold is up about 1.4% for the week after reaching a one-month high of $1,249.30 on Wednesday.
Gold has seen safe haven buying along with U.S. Treasuries on increasing concerns over financial markets, the Eurozone, the emergence of Ebola and the global economy
Weak data from China and Europe have in particular badly spooked markets, though U.S. jobless claims and industrial output data on Thursday were slightly better than expected.
Dollar weakness has also supported gold and silver as the sluggish data stoked worries that the U.S. Federal Reserve would have to delay the long threatened increase in higher rates.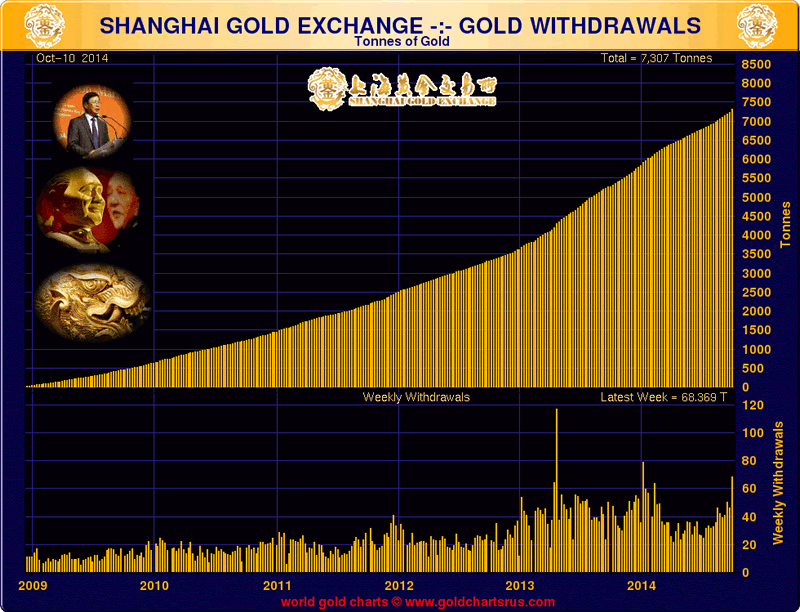 SPDR Gold Trust, the world's largest gold-backed exchange-traded fund, said its holdings rose 0.24 percent to 760.94 tonnes yesterday.

In the world's largest gold buyer China, premiums recovered to $2-$3 an ounce from $1-$2 overnight, showing higher demand and lending support to global prices. SGE gold withdrawals were very high this week and saw a very large rise for the week of 68.4 tonnes with most of the buying after their Golden Week holiday.
Get Breaking News and Updates On Gold and Markets Here
This update can be found on the GoldCore blog here.
Yours sincerely,
Mark O'Byrne
Exective Director
IRL
63
FITZWILLIAM SQUARE
DUBLIN 2

UK
NO. 1 CORNHILL
LONDON 2
EC3V 3ND

IRL +353 (0)1 632 5010
UK +44 (0)203 086 9200
US +1 (302)635 1160
WINNERS MoneyMate and Investor Magazine Financial Analysts 2006
Disclaimer: The information in this document has been obtained from sources, which we believe to be reliable. We cannot guarantee its accuracy or completeness. It does not constitute a solicitation for the purchase or sale of any investment. Any person acting on the information contained in this document does so at their own risk. Recommendations in this document may not be suitable for all investors. Individual circumstances should be considered before a decision to invest is taken. Investors should note the following: Past experience is not necessarily a guide to future performance. The value of investments may fall or rise against investors' interests. Income levels from investments may fluctuate. Changes in exchange rates may have an adverse effect on the value of, or income from, investments denominated in foreign currencies. GoldCore Limited, trading as GoldCore is a Multi-Agency Intermediary regulated by the Irish Financial Regulator.
GoldCore is committed to complying with the requirements of the Data Protection Act. This means that in the provision of our services, appropriate personal information is processed and kept securely. It also means that we will never sell your details to a third party. The information you provide will remain confidential and may be used for the provision of related services. Such information may be disclosed in confidence to agents or service providers, regulatory bodies and group companies. You have the right to ask for a copy of certain information held by us in our records in return for payment of a small fee. You also have the right to require us to correct any inaccuracies in your information. The details you are being asked to supply may be used to provide you with information about other products and services either from GoldCore or other group companies or to provide services which any member of the group has arranged for you with a third party. If you do not wish to receive such contact, please write to the Marketing Manager GoldCore, 63 Fitzwilliam Square, Dublin 2 marking the envelope 'data protection'
© 2005-2019 http://www.MarketOracle.co.uk - The Market Oracle is a FREE Daily Financial Markets Analysis & Forecasting online publication.

Only logged in users are allowed to post comments.
Register/ Log in