Sheffield School Places Admissions Crisis - End of Catchment Areas Labour Election Bribe?
Local
/
Sheffield
Dec 05, 2014 - 05:53 PM GMT


The Labour controlled Sheffield City Council is desperately attempting to address the perfect storm that the city faces as the demand for places at Sheffield's best state schools far exceeds places available that for some schools is resulting in twice the number of applications as there are places (i.e. Dobcroft Infants Sch. places 90, applications 150). The perfect storm is as a consequences of several converging factors of year on year real terms budget cuts at a time of a rising natural birth rate, continuing out of control immigration and its consequences in terms of disruption of social cohesion in areas of the city, desperate parents utilising every trick under the sun to circumvent the catchment area rules such as encouraging over eager psychologists to expand the scope of the Special Educational Needs statements (SEN's) that for some schools has now been expanded to include 1/3rd of all children, and an epidemic in outright fraudulent school applications in terms of use of catchment area addresses.
In view of the worsening crisis in Sheffield school places, it appears likely that the Labour controlled councils' strategy in the lead up to the May 2015 general election in an attempt to fight off the UKIP threat will be by placating and persuading the mass of potential Labour voting parents to continue to vote Labour through a myriad of encouragements (bribes) one of which would be to greatly relax the significance of the catchment area rule so as to appeal to the demands of Labour voting parents who tend to reside in the less affluent areas of the city, not in the catchment area of Sheffield's best state schools, and one such tactic towards this end is the 'School Admissions Review Survey', a survey that appears designed to diminish the significance of the catchment area rule.
In terms of importance the school admissions survey listed 14 options such as 'friends at the same school' or 'school deals effectively with bullying' or 'position in the league tables' in addition to 'catchment area'. Where parents were asked to select the 5 most important factors, but not in any order so that even those parents that chose catchment areas as being the most important factor would still dilute their choice through the selection of a further 4 factors that would carry an equal weighting.
Furthermore, as approx 80% of Sheffield's children do not reside in the catchment area of Sheffield's best schools thus approx 80% of parents will rank factors other than catchment area as being of more importance and so the survey by weight of numbers and design will achieve the pre-desired outcome for one of building a case towards ending the significance of the catchment area rule that will likely not even be ranked in the top 5 in terms of importance in determining a school place, and thus achieve the political objective towards policy announcements ahead of the general election of that which would appeal to some 80% of Sheffield's most probable Labour voting parents, by implying that Labour voters will now have a higher probability of gaining a school place at a good Sheffield state school compared to the current catchment area rule system.
The following is a summary of some of the key factors that are resulting in the crisis in Sheffield School places, and followed by the consequences of ending the significance of the catchment area rule.
Continuing Out of Control Immigration
Continuing out of control immigration continues to put public services such as schools under immense pressure. When David Cameron took power in 2010 he promised that he would cut net immigration towards the end of the parliament to the tens of thousands rather than the 205,000 at the time, instead the latest data from the ONS shows that net immigration has SOARED to a level even far higher than in 2010 to now stand at 260,000.
"Overall, net immigration would be kept in the tens of thousands, rather than the current rate of hundreds of thousands". - David Cameron 2010
Furthermore the net immigration trend is ACCELERATING as 260,000 in the year ending June 2014 is up 42% from the 182,000 in the year ending June 2013. As 583,000 people immigrated to the UK in the year ending June 2014, compared to 502,000 in the previous year which is set against emigration of 323,000 in the year ending June 2014 compared to 320,000 in the previous year.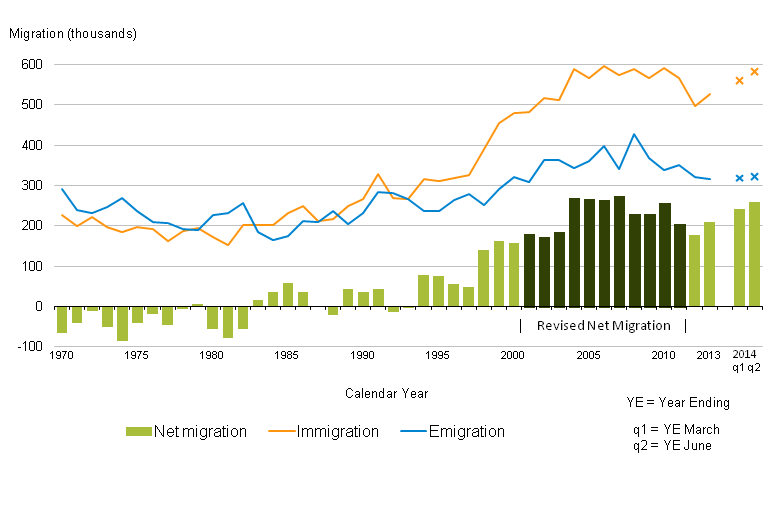 And as repeatedly warned during much of 2013 to expect a surge in immigration from Eastern European countries such as Romania which has now materialised as whole villages have apparently moved to places such as Sheffield (Page Hall) resulting in huge disruption in social cohesion.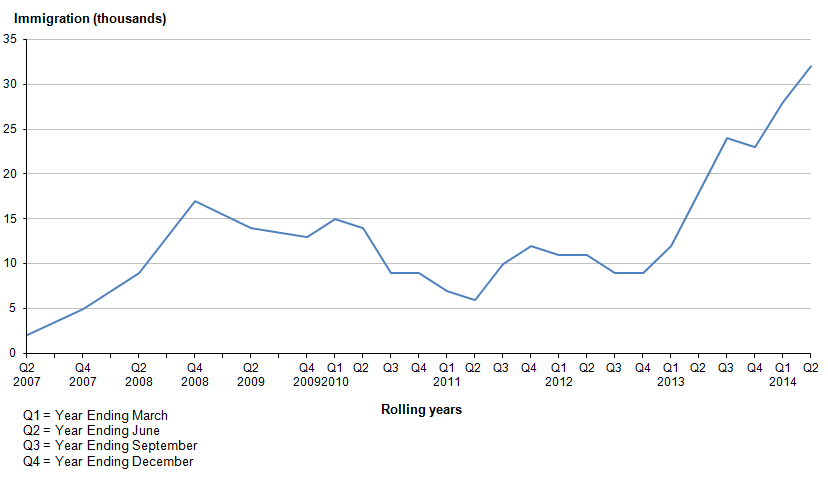 Whilst the primary reason for migrating to the UK is work (250k) with studying second (170k), prompting the BBS to iterate that most migrants come to the UK to work and not claim benefits, however as I next illustrate the actual reality of which is the exact opposite.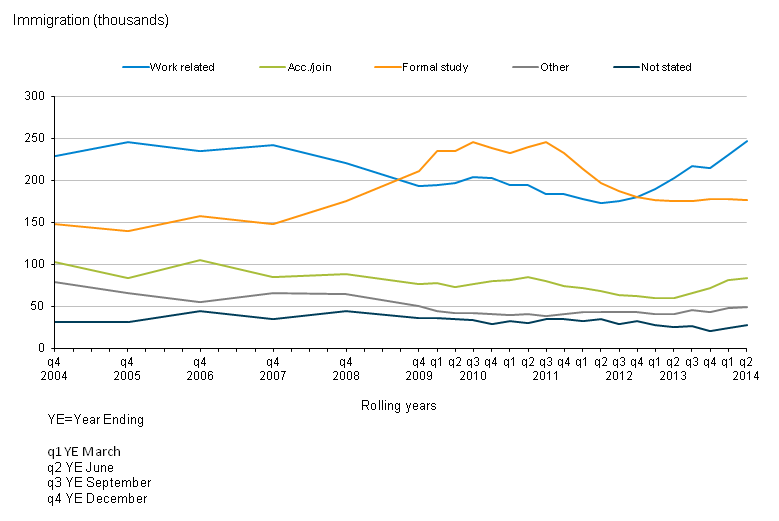 Out of control immigration continues to push public services such as health, housing and schools to the breaking point as a decade of mass immigration both as a Labour party policy for the importation of 2 million new labour voters and continuation of the legacy of EU membership treaties.
Even the usually timid BBC's Look North news programme has recently broadcast several reports of the consequences of Sheffield's Roma migration on Sheffield's schools by focusing on Hinde House secondary school as the local catchment area school for Page Hall / Firth Park, with reports of violence in the school and disruption of the day to day functioning of the school to an extent that a number of parents have withdrawn their children form Hinde House school, demanding that their children be placed elsewhere in the city. Furthermore over 2,000 signed an online petition demanding that something be done about the crisis at Hinde House School.
BBC Look North News reporting on the crisis
A parent who has taken her children out of the school stated:
"I don't think hinde house school is safe no more for my children."
There's a lot of gangs, a lot of beating people up and its just not safe"
"Its the slovakian Roma's what are sticking in the same gangs all of the time, people have tried to involved them what they are doing but they just do not want to join in, in anything just stick in their gangs , intimidating our kids and scaring our kids".
Sheffield Education Budget Cuts
My earlier analysis mapped out one of the key factors for the unfolding crisis in Sheffield's Schools as a consequence of year on year budget cuts in the face of a growing school age population.
09 Jun 2013 - Sheffield School Admissions Appeals Help - What You Should Do
Sheffield School Places Chaos
The reason so many children fail to get a place at for instance a catchment area school, is as a consequence of the Labour run Sheffield City Council continuing the Liberal Democrats programme for spending deep cuts in Sheffield's education budget as the below graph illustrates that in nominal terms has seen the education budget already cut by 11% since 2010 and 17% in real terms for the year 2012-13 and with the budget for 2013-14 announced continuing the the deep cuts to 14% and 24%, (after inflation of 3% per annum).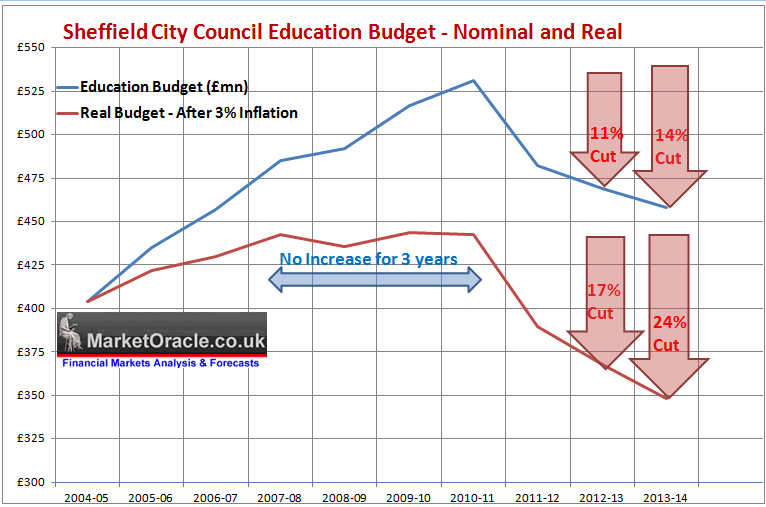 The impact of these cuts on child places in effect reverses the picture of more than a decade earlier, when Sheffield's children could more or less have expected to receive a place at a catchment area school of their choice at the application stage, with the remaining accepted on appeal, this was as the below graph illustrates by virtue of the fact that for many years Sheffield had a surplus of 5,000 school places (about 5%). However over the past 2 years deep cuts in the budget in real terms has reversed the situation from a an estimated 5,000 surplus places to a deficit of 5,000 places as of 2012-13, i.e. a cut of 10,000 school places through school closures and reductions in the number of classes running at exiting schools, against that which were available during 2010-11, the consequences of which is that schools are being effectively stuffed full to the rafters with the number of children per class now far exceeding the recommended guidelines for maximum class sizes which is resulting in the lack of school places at catchment area schools.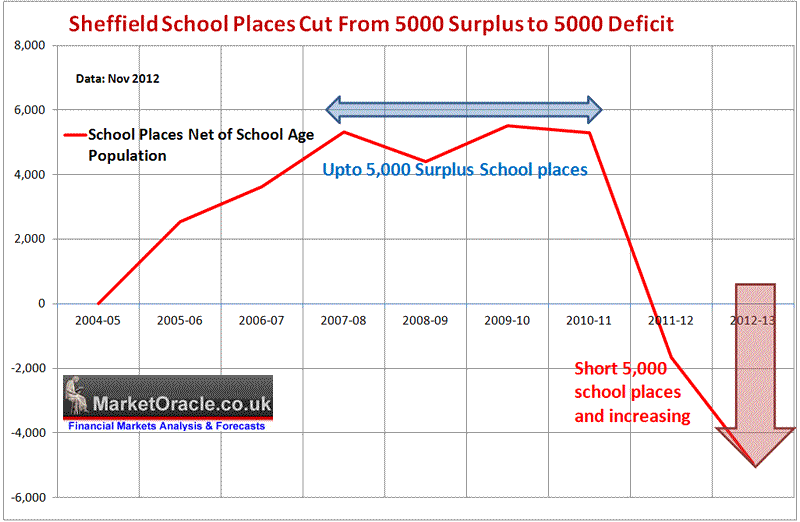 The consequences for 2013 school places has been that many families face a crisis of failure to attain a place in catchment area schools even if siblings attend the school due to an estimated deficit of 8,000 school places for 2013-13 which is resulting in children being placed at schools right across the city thus making it impossible for children with siblings to be in receipt of an effective education service that parents are still forced to pay for through high council and payroll taxes.
The consequences of this is not just lack of school places at schools of choice but that ALL existing schools will be stuffed full to rafters with children they have no room for with severe consequences in terms of the quality of teaching and social consequences in terms of breakdown in school systems including the the behaviour of students, and ultimately in the performance of schools as all schools are likely to see a worsening in the attainment levels of their students.
Sheffield School Place Application's Fraud Perfect Storm
Parents desperate to avoid crisis at their local catchment area schools have increasingly gone for what now amounts to an epidemic in fraudulent school place applications so as to avoid their child going to the local catchment area school. Especially as this fraud has NO consequences in law and is seen by the perpetuators as being a victimless crime, where as the system currently stands that even if the fraud is subsequently discovered once the child starts school, then the child would still be allowed to continue at that school which effectively amounts to fraud being rewarded rather than punished.
Therefore many more parents will be pressurising family members, friends, acquaintances or even using addresses without the householders knowledge, all in pursuit of a place at one of Sheffield's best ranked state schools as illustrated by the following graph that represents Sheffield's Top 14 Secondary schools out of a total of 26 rated in terms of consistency in attaining high rankings in the school league tables from 2001 to 2014.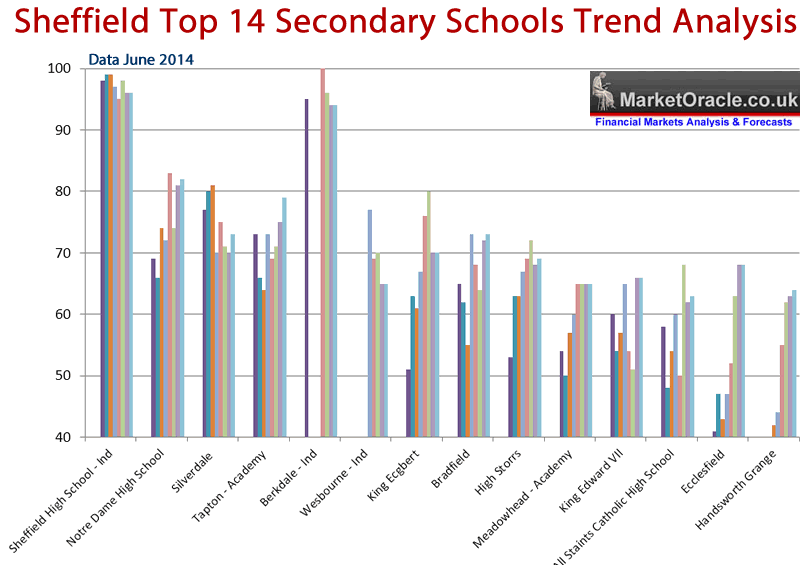 SEN Statements
Another significant factor that contributes to the crisis in Sheffield schools such as the epidemic in 'Special Educational Needs statements' (SEN) as a means of gaining advantage in terms of school place admissions at one of Sheffield's best ranked schools, as the meaning of Special Educational Needs has been subverted to now apply to virtually any child that is not being competently looked after by their parents which results in those few children who actually are in need of educational support no longer given adequate help due to the expansion in numbers of children with SEN statement that given the numbers most schools now provide little actual support as SENs are mostly seen as means of securing extra funding per child with a SEN statement that can result in DOUBLE the funding per year for a SEN child than a none SEN child, despite the fact that little actual additional support tends to materialise.
However, Sheffield's loving and caring parents need to realise there are consequences for effectively having their child labeled for life as schools see SENS as a revenue stream and therefore are likely to dump any children with actual needs of educational support onto other state actors such as the NHS to deal with in terms of medicating and life long labeling.
The Consequences of Ending Catchment Areas
Parents that reside in Sheffield's less affluent areas can look on with envy at those in the catchment of Sheffield's best ranked schools. And so the less affluent have been increasingly demanding places for their children at Sheffield's best schools (outside of catchment area) as illustrated by the increasing numbers of rejected school place applications and appeals each year. However, are under the misguided assumption that just by sending their child to a good school will all they need to do to turn their child into a little Henry or Olivia, which fails to grasp the fundamental factor that it is NOT the teachers that determine whether a school is good or bad but rather it is the PARENTS! As the teachers are of virtually the same caliber across all state schools, as most teachers go through the same system of coming out of University with average degrees, followed by post graduate certification allowing to start work as a teacher, all usually without any real world experience to differentiate from one another and therefore all Schools tend to be staffed by teachers of the same system of theory based capabilities. After all teachers can only teach what they have been taught by other teachers!
The reality has always been that it is the Parents who make good schools and that is the reason why all of Sheffield's good schools are situated in affluent areas because middle class PARENTS go out of their way to educate their children to far beyond the capability of that which state school teach. Therefore it is middle class 'pushy' parents through a whole host of extracurricular activities, tuition, fund raising and actively pushing the state school to outperform through a myriad of suggested bolt on parent funded activities that determine why the state schools in affluent areas are a good state schools, and conversely populating a good state school with children of parents who in large number may have parked their lard asses on benefits for most of their adult lives whilst only paying lip service to their child's educational needs other than in having their child labeled as having special educational needs as a consequence of bad parenting and / or by securing a place by means of fraudulent school place applications will eventually result in turning a good school into another bottom ranking state school.
This is not just theory of what could happen but has already happened in Sheffield several times before, for instance the Socialist Labour City council opened up one of Sheffield's best state secondary schools at the time (early 1990's), Abbeydale Grange to any child in the city, that given its good league table standing was soon swamped by children from across the city, that subsequently resulted in the school going from being one of the best ranked schools in the city to literally the worst all within a few short years, where it eventually got to the point that NO parent wanted to send their child to Abbeydale Grange ultimately resulting in the school being closed down some 3 years ago. That's what happens to good state schools when they are open to outside catchment area applications and what has already been happening to many good state schools as a consequence of the school place applications fraud.
The bottom line is that Labour being in opposition only has a few cards to play with in terms of bribing voters, they can either make promises that can never be financed or announce bribes that are in their power to implement ahead of the general election. At the end of the day Sheffield can vote to turn ALL of its state schools into nationally bottom ranking schools that few will want to send their children to by scrapping catchment areas etc, as most of the middle class can always elect to either opt out of state education altogether or move out of the city at huge determent to Sheffield's economy that will further result in a widening gap between Sheffield and Leeds that Sheffield in economic terms was once ahead of, for once the middle class has all gone then who will generate the economic activity of the city and pay taxes to finance Sheffield's socialist utopian dream / nightmare?
Source and Comments: http://www.marketoracle.co.uk/Article48517.html
By Nadeem Walayat
Copyright © 2005-2014 Marketoracle.co.uk (Market Oracle Ltd). All rights reserved.
Nadeem Walayat has over 25 years experience of trading derivatives, portfolio management and analysing the financial markets, including one of few who both anticipated and Beat the 1987 Crash. Nadeem's forward looking analysis focuses on UK inflation, economy, interest rates and housing market. He is the author of five ebook's in the The Inflation Mega-Trend and Stocks Stealth Bull Market series that can be downloaded for Free.

Nadeem is the Editor of The Market Oracle, a FREE Daily Financial Markets Analysis & Forecasting online publication that presents in-depth analysis from over 1000 experienced analysts on a range of views of the probable direction of the financial markets, thus enabling our readers to arrive at an informed opinion on future market direction. http://www.marketoracle.co.uk
Disclaimer: The above is a matter of opinion provided for general information purposes only and is not intended as investment advice. Information and analysis above are derived from sources and utilising methods believed to be reliable, but we cannot accept responsibility for any trading losses you may incur as a result of this analysis. Individuals should consult with their personal financial advisors before engaging in any trading activities.
© 2005-2019 http://www.MarketOracle.co.uk - The Market Oracle is a FREE Daily Financial Markets Analysis & Forecasting online publication.

Only logged in users are allowed to post comments.
Register/ Log in