Yikes! Major Reversal in Fortunes for the US Dollar and Gold
Currencies
/
US Dollar
Aug 15, 2008 - 05:52 PM GMT

Tell us again about the safe haven qualities of gold? It has been going straight down ever since Russia decided to spread its wings again. Maybe it's just a correction. But maybe it is, as it has always seemed to us, that gold is only a reflection of global purchasing power that simply ebbs and flows with the world's money and its safe have reputation is just that, reputation. And in case anyone was confused as to the world's money; it is the financial gurus' favorite whipping boy—the good old US dollar.


And aghast they are lamenting over the possibility that their favorite asset—gold—may have topped and, dare we say it again, the US dollar may have bottomed. We've laid out our reasons why the dollar may have bottomed many times over the last few months in these pages. If we are right about a dollar bottomed, we have high confidence gold has topped! Global conflict ain't going to save the gold bugs if the dollar trend has changed, unless of course it is "different this time."
In almost every major time frame (though exception do apply and 2005 was one of them) in which you compare gold to the dollar, you will see a simple correlation—dollar up gold down or dollar down gold up. Again, in our book gold is the reflection of global purchasing power against real stuff and as it is priced in the world's money--$'s—it must go up when the value of the world's money is going down, and vice versa.
We have attached our long-term chart comparing gold to the US dollar index for your review; readers that have been with us for a while will recognize it.
Gold is the blue line, the US$ index is the black line. Notice too we added the note "credit crunch" at the bottom right of the chart as the possible key global macro event ushering a change in the long-term trend in the dollar. Why the credit crunch? Isn't that supposed to hurt the US more than anyone else?
Here's our simple logic why we think, though we won't know without our elusive hindsight, the credit crunch may have done the trick for the dollar:
Global deleveraging is forcing money flow from the periphery to the center. And the center is where the deepest and most efficient capital markets lie. And that is in the US.
US$ Index vs. Gold Monthly: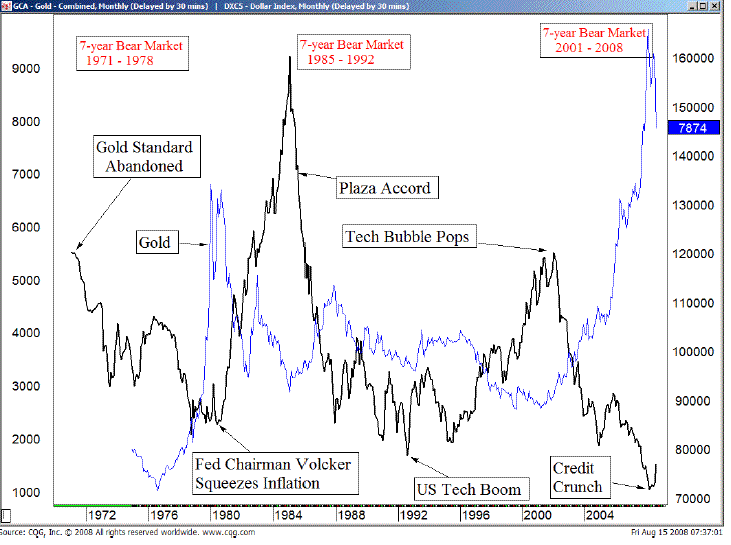 Now, all this being said, the dollar bears still have a solid argument when they say this move in the dollar is simply a small bounce in long-term bear market that is far from over. This argument is still in play. But it becomes less and less in play. Already the US dollar has broken above its long-term down trend going back to 2001 as you can see in the chart below: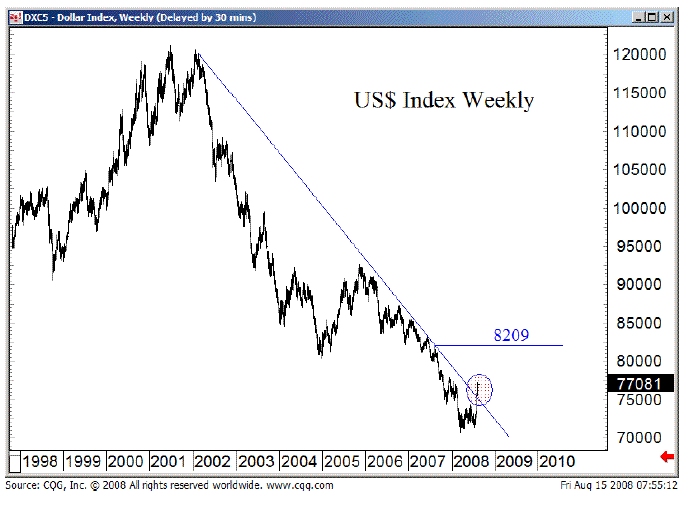 Using simple trend line analysis, the key weekly resistance comes in at around 8209. You will notice that the last time we had a big dollar correction in a bear market was back in the beginning of 2005. The dollar rallied for 11 months. And using the same simple trend line analysis, it closely defined key resistance for the dollar index then (red trend lines in the chart on the next page)…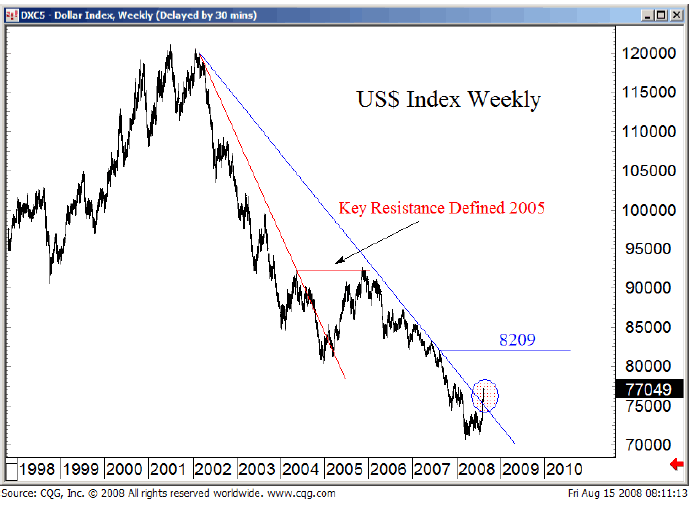 So, although we have high confidence in our story, we have to respect the idea of a bounce in a bear market until the market says otherwise. And that otherwise is above 8200 on the US$ index.
What adds a bit more weight to our view the bottom is in this time, as opposed to the 2005 time frame is gold. During 2005, when the dollar was correcting for eleven months, it was not correlated with gold i.e. gold was rising along with the dollar then, unlike now.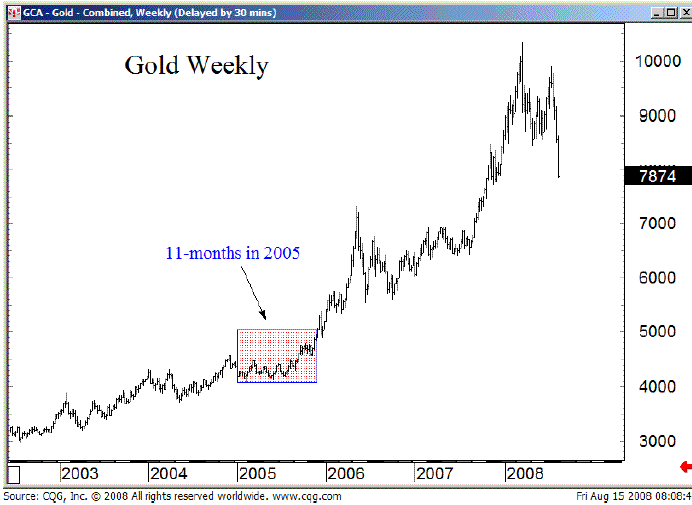 Whether we are right about this, or dead wrong, we have to admit to strong case of Schadenfreude (satisfaction or pleasure felt at someone else's misfortune) at the moment. Satisfaction that all those cocky mindless dollar bears that believe(d) the world's money could only go one way for ever—down are finally feeling some pain.
Keep in mind this is our long-term view. Traders have to consider at some point here, and maybe it is today, this dollar run will need to be congested. The buck is extremely overbought on the near-term price oscillators. But, that said, when a major trend change is in play based on a conversion flow of expectations about the alignment of global fundamentals, the technical stuff takes a back seat. In short, if you are trading against this trend be quick and keep stops tight.
Have a great weekend!
Jack Crooks
Black Swan Capital LLC
http://www.blackswantrading.com/
Black Swan Capital's Currency Snapshot is strictly an informational publication and does not provide individual, customized investment advice. The money you allocate to futures or forex should be strictly the money you can afford to risk. Detailed disclaimer can be found at http://www.blackswantrading.com/disclaimer.html
Currency Currents is available for only $49 per year. Just visit the sign-up page on our website to subscribe: http://www.blackswantrading.com/Currency_Currents.html
© 2005-2019 http://www.MarketOracle.co.uk - The Market Oracle is a FREE Daily Financial Markets Analysis & Forecasting online publication.

Only logged in users are allowed to post comments.
Register/ Log in