Only Economic Collapse Will Bring Down the American Empire
Politics
/
US Military
Apr 16, 2018 - 03:34 PM GMT


Despite the vehement pleas and letter-writing campaigns by a significant portion of his political base including notable media personalities such as Tucker Carlson against military action in Syria, President Trump committed what looks like political suicide by ordering air strikes on Friday evening. The bombing, thankfully, appeared to have been thwarted by Syrian air defenses, nor, as of this date, has the insane American, British and French action led to a wider conflagration.
The Bomber-in-Chief announces air attacks on Syria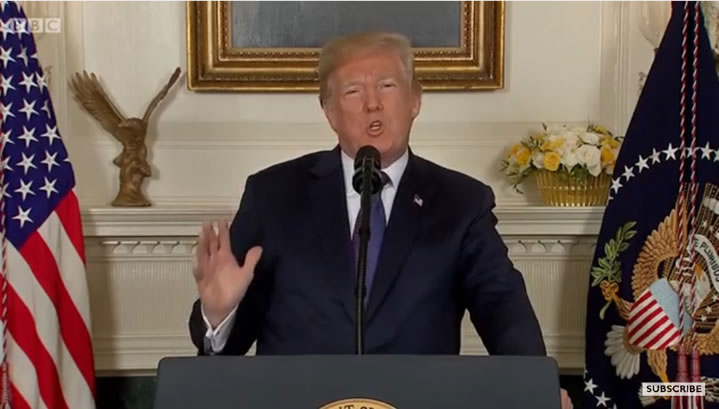 As of yet, no doubt due to Divine Intervention, WWIII has not erupted and although the ramifications of the attack will reverberate for weeks to come, what is clear is that President Trump is now firmly in the clutches of the neocons, Israel, and the American Deep State, all of who are the direct beneficiaries of the wanton attack on the Assad regime.
A good portion of Trump's base is rightfully enraged by the action, which will dash any hope of it coming to his aid if future impeachment proceedings are commenced over the Mueller investigation. Many of Trump's supporters have been seething ever since he signed off on the $1.3 trillion omnibus spending package in March and his continued failure to start construction on a border wall.
Talk about shooting one's self in the foot!
Whether President Trump survives until 2020 or is replaced in the interim by neocon Mike Pence, American foreign policy will, in all likelihood, continue its bellicose ways. Ever since WWI, which the current Bomber-in-Chief mentioned in his address announcing the air strikes, America has been an interventionist, destructive, and murderous empire.
The reason for this is that the nation's ideology had changed where it had once trumpeted the ideas of non-intervention and peace (except, of course, for the people of the South during their heroic attempt at independence) to those that glorified empire and war, largely based on the British model which, ironically, was the system that America seceded from in 1776. By the time of WWI (actually the disgraceful Spanish-American War), the ideals of non-intervention, peace, free trade, and hard money had been gradually replaced by those of empire, central banking, war, and debt.
Until there is a change in ideology, it is unlikely that the US will refrain from its interventionist foreign policy. And, typically, social change comes after men's minds have been convinced of a different paradigm which, of course, does not happen overnight.
Like the British Empire before it, the only way the US will stop its murderous ways will be from economic collapse or a severe financial panic which threatens or ends the US dollar's status as the world reserve currency.
Candidate Trump may have been the last hope of an American Firster who had the wherewithal to attain the Presidency. Although not an ideologue, Trump spoke of getting along with Russia, disengaging from the Middle East, and backing out of, or making NATO members pay for their own "defense." These qualities faded once elected and the ominous talk about scuttling the Iranian arms deal and spending more on the military were pushed ahead.
After WWII, Britain had simply exhausted itself with its insane participation in the world wars and could no longer maintain its empire. Britain's ideology did not change, but reality stepped in: it simply did not have the capacity (wealth) to fund a world-wide empire. It had squandered its resources and men on the battlefields of Europe.
The US is headed in the same direction, which is what both Russia and China are counting on. Its crushing debt burden, costly wars, and out-of-control spending are sapping its productive capacity, which the military industrial complex taps to sustain itself.
The US' enemies have based their strategies on this. In reference to the US' involvement in the Afghanistan quagmire, Osama bin Laden reportedly said:
We, alongside the mujahideen, bled Russia for 10

years, until it went bankrupt and was forced to

withdraw in defeat . . . So we are continuing this

policy in bleeding America to the point of bankruptcy.*
The question that remains is when will a collapse occur or at least another crisis like in 2008 take place? The warning signs abound. The most pressing is the exploding US deficit which has soared in March to $209 billion. In 2007, the entire deficit for the year was less than $200 billion!
The collapse of the US economy is unavoidable, however, it is not "if" but "when." For world peace, it had better be sooner than later.
*Brian Whitaker, "Al-Qaida is Bleeding US to Bankruptcy, Bin Laden Claims." The Guardian, 3 November 2004. https://www.theguardian.com/world/2004/nov/03/usa.alqaida
Antonius Aquinas@AntoniusAquinas
By Antonius Aquinas
© 2018 Copyright Antonius Aquinas - All Rights Reserved Disclaimer: The above is a matter of opinion provided for general information purposes only and is not intended as investment advice. Information and analysis above are derived from sources and utilising methods believed to be reliable, but we cannot accept responsibility for any losses you may incur as a result of this analysis. Individuals should consult with their personal financial advisors.
© 2005-2019 http://www.MarketOracle.co.uk - The Market Oracle is a FREE Daily Financial Markets Analysis & Forecasting online publication.

Only logged in users are allowed to post comments.
Register/ Log in