'Tin soldiers and Nixon coming, We're finally on our own'
Politics
/
US Politics
Apr 17, 2018 - 12:28 PM GMT

Neil Young pinned those lyrics to his song, 'Ohio'. The tin soldiers were the National Guard and Nixon was the President. The song was about the Guard's execution of four students at Kent State in 1970. But today, these lyrics seem truer than ever. Governments for the governed have turned on the governed. Governments conduct the business of governed in secrecy for the benefit of the government. Governments initiate acts of aggression against other peoples who have no representation in their government. The media is a propaganda arm of the government. The governed have no idea what is really happening. How do we 'know' anything today? In a vacuum of leadership, it does feel like 'we are finally on our own.'
American President Trump just ordered a military strike on Syria. Or so we are told. Did they? I don't know. We are told the US mercenaries fired 103 Tomahawk cruise missiles at Syrian targets that allegedly manufactured or stored chemical weapons. The Russians claim their defense systems installed in Syria shot down 70 of these missiles. Syria claims there never was a chemical attack.
It seems to me that if a chemical weapons warehouse was blown up by a Tomahawk missile, these deadly chemicals would be released into the air. None has been reported. It also seems odd to me that given Syria boasts of having a population density of one person per every two-squared kilometers, that no one was killed or injured. Given that each missile cost the american taxpayer over a million dollars, 103 missiles cost over $103 million dollars to launch and the end result being a few demolished buildings seems preposterous. This is especially true given what we 'know' about 9/11. That is, the US could have used a couple of old planes to remotely fly into these buildings thus causing a fire which would be followed by a perfect implosion of the buildings thus causing even less harm to anything nearby. Wouldn't this have been a lot cheaper?
And where did the US get its chemical weapon intel? Defense Secretary Mattis admits that 'evidence' of a chemical weapon attack in Syria is non-existent. Yet, he believes an attack happened because of what he read on 'social media'.
With the Syrian false flag being the most recent example of the people, the governed, getting snowed by lies, we should not forget the poisoning of the Skripals. A video was released showing the UK authorities readying the bench on which Mr. Skripal and his daughter were found unconscious for removal. Obviously with such a powerful Russian made nerve agent used as the poison, the bench could well be contaminated. The UK authorities took all precautions. Several workers were outfitted from head to toe in hazmat suites. There were carefully wrapping the bench in some sort of clear wrap to limit possible contamination. That's when the video clearly showed a pigeon walking past the workers and the bench in question. The pigeon was not wearing a hazmat suit. The pigeon appeared to be perfectly fine. Our slave owners will go to great lengths to carry on their theatre of the absurd. Sadly, the governed are stupid enough to believe their government minders.
'America' is now a joke. Truth has been exterminated so the rich can get richer, the government can grow more powerful, and the slaves can argue over social injustice. The result is world with rules and laws being applied differently to different groups.
For example, the american judicial system a few years ago fined a Christian bakery in Oregon $135k for refusing to make a wedding cake for a gay couple whose lifestyle the bakery disagreed with. Yet, Bank of America and several other banks, are now refusing to do business with gun manufacturers citing a moral conflict. It seems to me that a group of people who consider themselves to be members of a 'nation' should all adhere to the same laws. Clearly, this is not the case in the US.
As I always find, I have a solution. These gun companies should appoint a gay person as CEO. Better yet, appoint a gay transgender non-Christian person of color who is privileged in today's america to choose a letter to identify their sexual orientation. Then the banks would have to do business with the gun manufacturers. You're welcome!
The poorly informed ignorant masses may be wondering what all this military involvement is about. Again, allow me to help. It is about enslavement. Consider the following.
By the end of year 2000, there were only seven countries without a Rothschild international central bank in charge. Those countries were: Afghanistan, Iraq, Sudan, Libya, Cuba, North Korea, and Iran. And again, who are the mortal enemies of the US? Yes, each of those countries are on the list.
By 2011, only three countries had still not surrendered: Cuba, North Korea, and Iran. Now readers know the targets of the US military. Today, North Korea is the last holdout. They too, will soon surrender, bow down, and worship at the alter of the Satan's debt printing press.
In return, we slaves are treated to stock indices that cannot fall. The central bankers will see to that because it keeps their rich supporters happy. As I have written in previous articles, the Dikembe Mutombo line (Dow 24k) is still intact. Sellers who worry about hundreds of trillions in world debt, slow economic growth, high equity valuations, rising interest rates, ebbing QE, and bubbles everywhere, will try to sell down stock prices. They will be met at the Dikembe Mutombo line at Dow 24k with a ferocious buying volley from the central bankers. This will no doubt be followed by a finger wagging. Don't try it! The slaves don't set prices. Slave owners set the prices!
Take a look at the chart below. I shows one year of activity on the Dow Jones Industrials. I have marked the chart with the obvious Dikembe Mutombo Line at Dow 24k. Clearly the Fed will defend this line with great determination. Why? Who knows? Who cares? America is a joke! It is the great 'Nanny State'. The other green line shows a descending series of lower highs thus creating a bearish descending triangle. The Fed of course helped draw this formation with their spirited defense of Dow 24k. Over the next few days, we will see how serious the Fed is about continuing the stock bubble. This descending triangle will have to be destroyed by a pretty good rally. The Fed will need to engineer a series of higher highs and higher lows to get their shills of TV and print talking about the new 'uptrend' in stock prices.
Nothing else really matters. Governments no longer represent the people. They represent the banksters. We are finally on our own.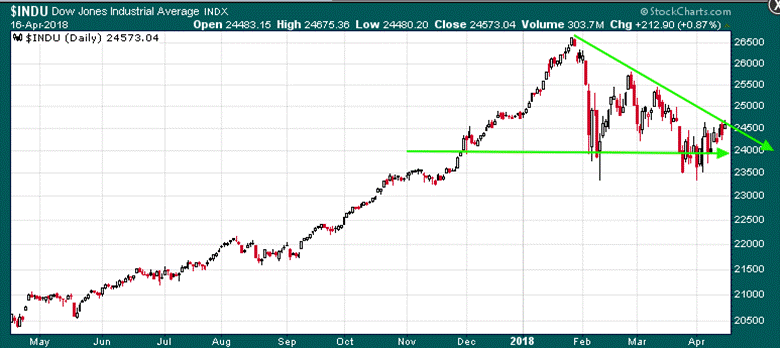 DJIA - 1-year daily
Chart courtesy StockCharts.com
Barry M. Ferguson, RFC
President, BMF Investments, Inc.
Primary Tel: 704.563.2960
Other Tel: 866.264.4980
Industry: Investment Advisory
barry@bmfinvest.com
www.bmfinvest.com
www.bmfinvest.blogspot.com
Barry M. Ferguson, RFC is President and founder of BMF Investments, Inc. - a fee-based Investment Advisor in Charlotte, NC. He manages several different portfolios that are designed to be market driven and actively managed. Barry shares his unique perspective through his irreverent and very popular newsletter, Barry's Bulls, authored the book, Navigating the Mind Fields of Investing Money, lectures on investing, and contributes investment articles to various professional publications. He is a member of the International Association of Registered Financial Consultants, the International Speakers Network, and was presented with the prestigious Cato Award for Distinguished Journalism in the Field of Financial Services in 2009.
© 2018 Copyright BMF Investments, Inc. - All Rights Reserved
Disclaimer: The views discussed in this article are solely the opinion of the writer and have been presented for educational purposes. They are not meant to serve as individual investment advice and should not be taken as such. This is not a solicitation to buy or sell anything. Readers should consult their registered financial representative to determine the suitability of any investment strategies undertaken or implemented.
© 2005-2019 http://www.MarketOracle.co.uk - The Market Oracle is a FREE Daily Financial Markets Analysis & Forecasting online publication.

Only logged in users are allowed to post comments.
Register/ Log in