Wall Street is Screaming BUY Emerging Market Stocks
Stock-Markets
/
Emerging Markets
Sep 16, 2008 - 12:57 PM GMT


Tony Sagami writes: Wow — talk about a disaster. Bad news at AIG, Lehman, and throughout the financial sector led to a world-class pummeling on Wall Street. The Dow lost more than 504 points, while the S&P 500 dropped more than 4.6%, the worst single-day decline since right after the 9/11 terrorist attacks.
Definitely stay tuned to Money and Markets for more updates on where we're going next.
What else is on my mind? Well, whenever the pinstripe suit crowd in Manhattan starts to agree with me ... I get real worried.
I start to sweat ... I begin to question my research ... And I look for every possible hole in my conclusions.
Why?
Because the Wall Street crowd is better at being a day late and a dollar short than anybody I know. And I've learned over the years, that you can make a ton of money by NOT listening to them!
It's not that they're stupid
The Wall Street crowd isn't stupid. Heck, most of them attended more prestigious colleges than I did. And they can drop more names than I ever could.
So what has me worried?
The chief investment strategist at Citigroup just recommended that investors increase their stock portfolio's allocation in foreign stocks to 55%.
Wall Street is screaming: BUY, BUY, BUY foreign stocks!
That's way, way up from the 30% he had been recommending. And it's roughly quadruple the 12% to 15% that the typical mutual fund investor owns in foreign funds.
Why the sudden and dramatic increase?
Jeffrey Applegate, the head of Citigroup's Global Wealth Management, said: "The primary engines of growth have shifted away from the United States. Investors need to position themselves to take advantage of global opportunities."
Applegate is right ... but a little late to the party.
From 2003 to the end of 2007, the average annual return for the Dow Jones Wilshire Emerging Markets Index was 46% while the S&P 500 only returned 12.8%.
Those gangbuster returns have increased the impact of foreign stocks on global markets. According to Russell Investments, the value of U.S. stocks in the world market fell below 50% in 2005. And now they only represent 43% of the capitalization of the Dow Jones Wilshire Global Total Market Index.
If you think those oversized returns mean that investing in foreign markets automatically means more risk ... you would be wrong. According to Morningstar, the standard deviation (a measure of an investment's volatility) of the U.S. stock market was 15.4 for the past 10 years. And for foreign stocks it was 15.5.
That's right. Investing in foreign markets has no more risk than investing in U.S. stocks ... plus you get paid a lot more for doing so.
China's the best house in a great neighborhood
I think Citigroup and Russell are dead right. And investors should have a meaningful, if not heavy, weighting in foreign stocks. I may be biased. But I believe Asia — particularly China — will be the most productive part of the global market to invest in over the next decade.
I say that because the fundamental news coming out of China in the past week has been very, very positive ...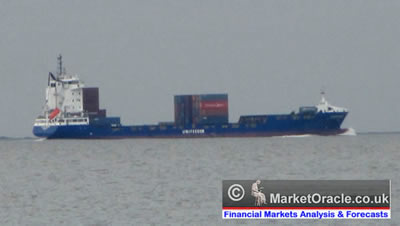 China's exports are soaring ... up a whopping 21.1%!
Chinese retail sales increased by 23.2% in August. That brings the year-to-date growth rate to 21.9%, a huge jump from the 15.7% during the same period last year.

Inflation is dropping in China. Consumer prices rose 4.9% for the 12 months ending in August, falling from 6.3% in July.

China's trade surplus for August was 14.9% higher than a year ago. And its exports surged by 21.1%.

Chinese officials are working on a stimulus plan for as much as 400 billion yuan (US$58 billion) in tax cuts and government spending to keep its economic train on track.

The 'smart' money still believes in the China growth story. Foreign direct investment pumped another $7 billion into China last month. And it's up an amazing 41.6% for the year.
Investing in Asia has never been easier
I am not suggesting that you put 55% of your stock portfolio into Asia. But I believe that you should have at least 20% of your portfolio in Asian equities. And it is easier than you may think because there are three ways to invest in Asia without ever leaving the comfort of your current brokerage firm, through ...
Mutual funds,
Exchange traded funds (ETFs), or
Individual stocks.
Did you know that over 100 Asian companies are listed on the New York Stock Exchange and Nasdaq? I'm talking about companies like Toyota (TM), China Mobile (CHL), Korea Electric Power (KEP), Taiwan Semiconductor (TSM), and Telekomunikasi Indonesia (TLKM.JK) to name a few.
And the time is right, too.
The Shanghai Composite Index is down by 50% since November 2007, despite the strong Chinese fundamentals. But unlike the U.S., China is still growing like a weed.
The Chinese economy has grown by more than 10% in the first half of the year. And it's on track for its sixth consecutive year of double-digit economic growth.
That combination of cheap prices and high growth has me licking my chops. And while I am nervous that the Wall Street crowd has finally jumped on the foreign stock bandwagon, I am very confident that you'll be thrilled with the results if you add more Asian spice to your portfolio today.
Best wishes,
Tony
P.S. Want to share your thoughts on the economy — or any other investment topic — with our entire Money and Markets audience? Then check out the Editor-For-A-Day contest that we're running right now
This investment news is brought to you by Money and Markets . Money and Markets is a free daily investment newsletter from Martin D. Weiss and Weiss Research analysts offering the latest investing news and financial insights for the stock market, including tips and advice on investing in gold, energy and oil. Dr. Weiss is a leader in the fields of investing, interest rates, financial safety and economic forecasting. To view archives or subscribe, visit http://www.moneyandmarkets.com .
© 2005-2019 http://www.MarketOracle.co.uk - The Market Oracle is a FREE Daily Financial Markets Analysis & Forecasting online publication.

Only logged in users are allowed to post comments.
Register/ Log in