Artificial Intelligence Could Solve This $11 Trillion Problem
Companies
/
AI
Nov 04, 2021 - 12:28 PM GMT

The $11-trillion healthcare industry is going fully digital, disrupting industry giants & government monopolies, and finally giving the power back to the people.
That means no more googling of symptoms for a panic-driven self-diagnosis… where a spot on the skin can turn into a rare fatal disease, or an upset stomach into Stage IV cancer.
The digital revolution in healthcare is about far more than simply scheduling an appointment with a clinic through an app …
It's about empowering the individual to take control of their health.
It won't be Google that leads this revolution. And it most certainly won't be Cortana or Alexa.
It will be the end of the trend for one billion people who enquire about their health concerns on Google, every day.
The American healthcare system isn't just prohibitively expensive …
It's impossible to navigate. Not even WebMD provides any real clarity because it's not powered by sophisticated AI, and it's not personalized to the user.
CARA, the new AI-powered application developed to empower people to manage their own health care and diagnose health problems with expertise and proper follow-up, may be the answer to it all.
And the company behind it is Canada-based Treatment.com International.
Here are 5 Reasons to Watch Treatment.com International Inc. (CSE: TRUE; OTC: TREIF).
#1 Google Doesn't Have a PhD
Google fields one billion health-related questions a day, or about 70,000 every minute.
Google's Health VP David Feinberg, M.D., once even boasted that Google made health information "accessible to everyone".
That's a dangerous claim for a search engine that can't possibly be adequate to address your most pressing health concerns. It's a minefield of misinformation. Yes, it's free, but it's not even close to reliable.
CARA plans to change all of that.
#2 Meet CARA, Cortana's Highly Educated Counterpart

For the past 6 years, a team of over 40 global world-class medical experts at
Treatment.com International ( CSE: TRUE; OTC: TREIF) have been working to build some of the most sophisticated AI on the planet. It must be if it's going to manage healthcare.
They taught CARA to think like a doctor. And one pre-eminent medical institution is standing behind it.
The University of Minnesota Medical School has licensed CARA to assist with teaching and testing medical students.
The CARA app serves as a health assessment and monitoring tool, with seamless integration of medical records and tests. It's not gambling with google to diagnose your symptoms … it's using your own medical history and a proper assessment of current symptoms.
CARA's AI can optimize symptom assessment and diagnosis functions for patients and caregivers alike. The CARA app also offers a comprehensive health and wellness tracking and analytics platform that integrates seamlessly with wearables and should allow Treatment.com to capitalize on the multi-trillion-dollar wellness industry.
The AI gets smarter as time goes on and has been meticulously designed to scale.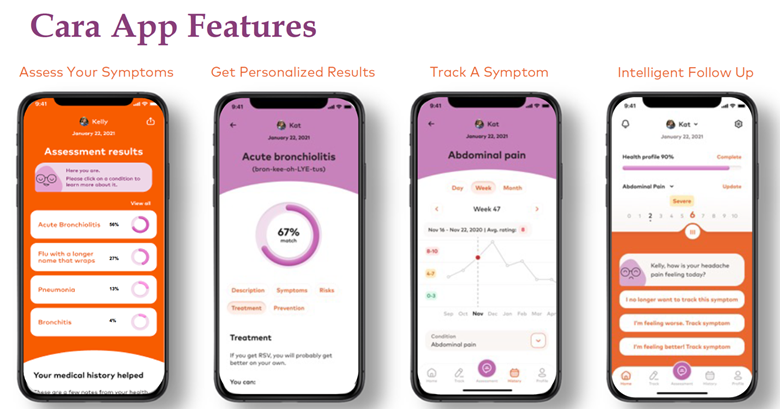 CARA doesn't just assess your symptoms, give you personalized results based on your actual medical history, track your symptoms, and give you intelligent follow-up …
It helps you understand what you really need to do next, and it monitors everything along the way.
It can even help manage your entire family at once.
It's seamless, smart and could completely change the way Americans manage their healthcare.

The best part? It's expected to launch in just two months.
#3 Telemedicine Is Taking over and Treatment.com's Timing Is Impeccable
The telemedicine market was worth about $42 billion in 2018. By 2026, it is set to hit nearly $400 billion.
That's an increase of over 850% in less than a decade.
And it's clear why …
Americans are fed up with healthcare, and they're fed up with spending more than any other country. On average, the US spends $10,000 a year per capita on health care.
That's why we saw wellness apps downloaded 1.2 billion times in 2020 alone. The pandemic furthered the adoption of telemedicine exponentially, and now it's not only here to stay—it's here to disrupt, thoroughly.
But "telehealth" is only one piece of the puzzle.
According to Allied Market Research, medical apps are projected to become far bigger. That's bigger than the $400 billion value telemedicine is headed for.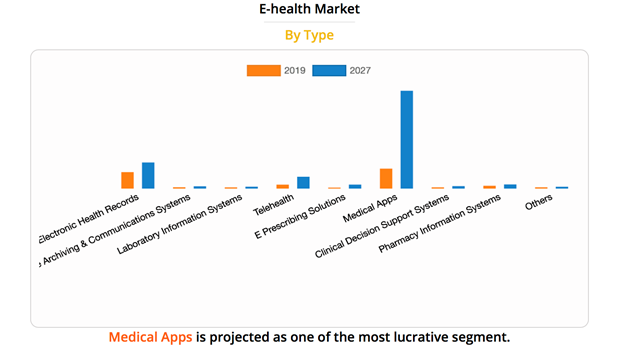 Source: Allied Market Research
That's where Treatment.com International Inc. (CSE: TRUE; OTC: TREIF) is laser focused.

TRUE brings it all together … from health assessments powered by AI to wellness products, TRUE has all the tools patients are looking for.
TRUE also has all the tools insurance companies are looking for in a partner. Not only insurance companies, but also large corporations and potentially governments increasingly looking to offer health incentives to constituents.
That's a huge advantage right at the lucrative crossroads of an $11-trillion healthcare market, and a telemedicine market surging towards $400 billion faster than anyone could have ever anticipated …
And an IT healthcare market that is expected to be worth $390 billion by 2024.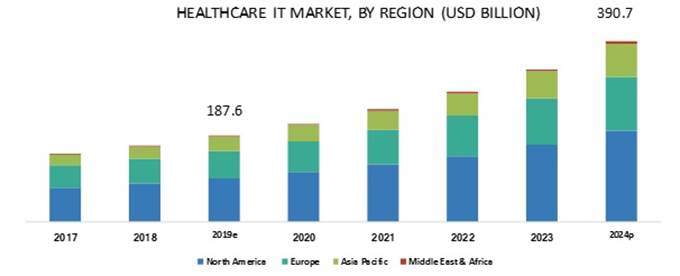 Source: Market Reports on Healthcare
TRUE has built a hyper sophisticated AI that can handle endless variables because it was trained by world-class medical experts from around the world.
"This vast infrastructure works to simplify an incredibly complex picture that is given from the patients input and data," says John Fraser, CEO of TRUE. "The AI factors in all of the patient's variables - height, weight, gender, health conditions, blood rate, diet, genetics, chronic conditions, previous surgeries, doctor reports, etc. – the AI absorbs all of this information – and – then thinking like a doctor – can leverage this information when analyzing a patient's current symptoms in order to provide a comprehensive diagnostic assessment of the patient with suggestions for immediate treatment and healing."
#4 Not your average AI developers
TRUE co-founder and CEO John Fraser has been involved in software IT for 20 years, starting at the Minnesota Department of Health where he was the architect of a statewide cancer surveillance system (at the time - the largest ever recorded) , and he has experience founding unicorns in the space, and is known for his expertise in scaling tech products and building valuable IP.
Fraser sold his first health care unicorn—Ability Networks - for over $1 billion to behemoth Inovalon (NASDAQ: INOV).

When Fraser launched cloud-based healthcare software platform Vision Share (which became Ability Networks), it was all about insurance claims and healthcare billings across the United States. The company developed a claims and eligibility service that was quickly adopted by payers and providers all over the country. It was sold six years ago for $1.2 billion, and now, it's among the Top 2 such providers in the U.S.
It's all led to Fraser's current move in the IT healthcare segment—Treatment.com International Inc. (CSE: TRUE; OTC: TREIF).
This will be Fraser's second attempt at scaling a cloud based healthcare SaaS platform, and if history is any indication, there is plenty of upside left for TRUE at these levels.
TRUE retained a global team of doctors to provide the foundation for advancing AI enough to truly think like a doctor.
And the rest of the management team are pioneers in the field.
Dr. Kevin Peterson, Treatment.com's co-founder and chief medical officer, and a front-running pioneer in the IT healthcare segment, is a 35-year professor at University of Minnesota. He built ECRN, automating clinical studies at scale. Dr. Peterson is an expert in chronic disease management, health services, diabetes, bioinformatics and clinical trials in primary care.
Dr Paul Markham. Chief Strategy Officer, a global veteran healthcare tech influencer and serial entrepreneur has joined Treatment to commercialize and grow the company.
David Poole, TRUE's Director of AI Research, is a professor of Computer Science at the University of British Columbia and the chair of the Association for Uncertainty in Artificial Intelligence, as well as Fellow of the Association for the Advancement of Artificial Intelligence (AAAI) and winner of the Canadian AI Association (CAIAC) Lifetime Achievement Award in 2013.
And this is just a brief selection of the stunning team of experts behind Treatment.com.
#5 The Real Value Goes Way Beyond This
Investors, this is where you'll really stand up and pay attention.
Not only does TRUE, with help from the Global Library of Medicine, driving CARA, plan on positioning itself to attract a huge North American market of healthcare users, including Americans who are fed up with the system on multiple levels …
It's also positioning itself to become an invaluable resource for a health insurance market that will be worth $4 trillion by 2027.
Insurance companies want the predictability and scalability of something like TRUE's AI.
Everyone is starting to understand the powers of AI, but we really haven't seen anything yet. AI will likely revolutionize many industries, but many don't understand how disruptive it can be in healthcare. We haven't really seen anything yet.
TRUE has both B2C and B2B capabilities.
As a software company, TRUE is ultimately focused on leveraging its artificial intelligence and analytics to monitor and enhance user's health (B2C) and to create licensable platform services (B2B) for the overwhelming number of corporations, health insurers and government health programs that are looking to serve their constituents.
Those programs have already shown massive interest in partnering with groups like TRUE for access to IP, services and data.

A key part of this business will be partnerships with government health organizations and insurers, and Fraser is connected to these from his 25+ years in the space, including a billion dollar exit in the healthcare IT and insurance software industry.
Ultimately, what could catapult this into a multi-billion-dollar company is the underlying AI intellectual property, or IP.
The AI is massive and it's completely proprietary and 100% the property of Treatment.com.
And AI on this scale could revolutionize every single industry … and healthcare is the ripest for revolution. We haven't seen anything yet. This is just the beginning of the disruption of an $11-trillion industry, and the first to tie it all together in the most sophisticated offering stands to benefit most.
From where we're sitting, that looks like Treatment.com International Inc. (CSE: TRUE; OTC: TREIF), and by the end of this year, the opportunity will be much clearer.
The key takeaways are this:
We're looking at a company with perhaps the most sophisticated AI the healthcare sector has ever seen, and it's 100% proprietary.
We're just at the beginning of a complete revolution in the healthcare industry, and Treatment.com is the first to truly attempt to empower the consumer with AI that thinks like a doctor because it was trained by doctors.
The company has a 41% reporting insider ownership.
The team behind it has the perfect track record in building and scaling IT infrastructure, particularly in the healthcare sector, and the CEO has done this before … to major rewards for investors.
Medical apps are tapped to be the fastest-growing IT healthcare segment, with consumers starving for better services that they can control and understand.
Better healthcare is a $12-trillion opportunity, and the best AI is about to launch … and it will be big.
Big pharma is still making moves in the healthcare industry:
Pfizer Inc (NYSE:PFE) is a pharmaceutical company dedicated to research and development of innovative medicines, some of which are already used by millions of people. The company's four primary businesses include: Pharmaceutical Products (R&D, manufacturing and sales), Consumer Healthcare (R&D, manufacturing and sales) Animal Health (R&D and sales) and Alliances/Licensing (licensing agreements for out-licensed products). As such, Pfizer offers world-class expertise in the fields of prevention; diagnosis; treatment; cure; rehabilitation after an accident or illness. Pfizer has been involved in medical innovations that have had a profound impact on human health since 1849 when it was founded as Charles Pfizer & Company.

Pfizer took the spotlight during the COVID-19 pandemic as one of the leaders in the global vaccine race. The company's innovative approach to medicine allowed it to achieve what was thought to be impossible just years ago. The vaccine rollout was one of the fastest and most widespread in history. Despite its dominance in the race to get the world vaccinated, Pfizer's share price saw a lot of ups and downs over the past year, but the company remains one of the top drug producers on the planet, and as such, especially with its attractive dividends, Pfizer will likely be a safe investment for years to come.
Teva Pharmaceutical Industries Ltd. (NYSE:TEVA) is a global pharmaceutical company that was founded in Jerusalem, Israel by Dr. Eliezer Dovid Romm and his son, Mr. Jacob Romm, an American Jew and graduate of the University of Pennsylvania's Wharton School in Philadelphia. They wanted to create a business that would serve others with their innovative medications while providing jobs for Jews who had been through hard times during the Holocaust era. Teva has over 30 manufacturing facilities on five continents which have led to them being one of the largest generic drug manufacturers in the world today with tens of billions of dollars in revenue per year.

Teva Pharmaceutical Industries, largely due to its series of aggressive expansion and acquisitions has played a major role in helping patients get the treatment they need. In fact, its focus on generic, non-brand-name, medications have made treatment of depression more affordable than ever. Some of the medications it distributes include escitalopram, a generic version of the widely popular Lexapro, and venlafaxine, which some may recognize as Effexor.

Johnson & Johnson (NYSE:JNJ) is another company that has received significant attention due to its COVID-19 vaccine, has also received widespread praise in the medical community. As one of the first approved vaccines, and the first one-dose vaccine, Johnson and Johnson was a dominant force in the healthcare realm over the past year and a half. But that's only one aspect of the company's massive business.

Johnson & Johnson is a pharmaceutical and medical device company that has been in business for more than 150 years. The company started out as a small family-owned business and now employs over 100,000 people around the world. Johnson & Johnson's products range from contact lenses to prescription drugs to baby lotions. They offer many different types of products which make it easy for people with any type of need to find something they can use.
Allergan plc (NYSE:AGN) is a global pharmaceutical company that specializes in the research, development and commercialization of prescription medicines. The company has operations in more than 100 countries worldwide and markets its products to patients under brand names such as Botox®, Restasis, Juvederm® and other well-known brands. Allergan also provides medical devices for ophthalmic use through its subsidiaries: Bausch + Lomb Incorporated, CooperVision LLC and P&G Ophthalmic Products Company.
Allergan plc's success can be attributed to their team of scientists who are dedicated to making groundbreaking discoveries. They also maintain an open-door policy for all physicians so they can learn about their newest innovations firsthand. Another major key to the company's success is its incredible patent moat. Allergan's incredible array of patents means that it maintains various streams of income from some of the most used drugs on the planet.
Merck & Co. (NYSE:MRK) is a pharmaceutical company that has been in the industry for over 150 years and have made significant discoveries in vaccines, medicines, and animal health. They are most well-known for inventing the polio vaccine. Merck & Co., headquartered in Whitehouse Station, New Jersey, employs more than 22,000 people worldwide with about 8500 of those being based in the United States. The company also manufactures products to help combat HIV/AIDS and they support programs fighting cancer around the world through donations from their philanthropic arm Merck Foundation.
Merck & Co is a global leader in healthcare innovation with a mission to create innovative ways to improve lives. The company has been researching, developing, manufacturing and distributing prescription drugs for over the past century. Merck & Co.'s research efforts are focused on areas such as cancer, HIV/AIDS and Alzheimer's disease. They also provide healthcare services to people living in countries where there is limited or no medical infrastructure by providing medicines, vaccines and other medical supplies to them at affordable prices through their Merck Foundation arm of the business.

With much of the COVID-19 hype dying down, companies with strong products and research and development teamslike Merck & Co. stand to regain some of their ground among the vaccine allstars. This bodes well for Merck & Co. in the coming months, and the $200 billion company is a good pick for investors looking into the future.

A lot can be said about how food providers are helping the health and wellness movement flourish, as well. Take, Burcon NutraScience Corporation (TSX:BU), for example. Burcon is a Canadian tech firm rethinking the plant-based diet. With a focus on high-purity, sustainable, flavorful, and affordable products, Burcon has checked every box in the consumer's book. Founded way back in 1998, the company has been at the forefront of the movement for over two decades, and it's only become more refined since.
According to its mission statement, Burcon "seeks to improve the health and wellness of global consumers through the discovery and development of sustainable, functional and renewable plant-based products for the global food and beverage industries."
Else Nutrition Holdings Inc. (CSE:BABY) is another innovative plant-based lifestyle company from Canada. Else Nutrition has taken a different approach than many of its competitors, targeting a particularly young market – babies. Else was a first-mover in this space, offering a well-rounded, clean, sustainable and most importantly, plant-based, approach to baby food.
Their products aim to deliver all of the same benefits as typical baby food, but with an organic twist. In fact, 92% of their products are made from three core healthy ingredients, almonds, tapioca, and buckwheat. And the best part, is they never alter the plants' chemistry or remove any of the micronutrients, they just alter the texture.
AEterna Zentaris Inc. (TSX:AEZS) is a major biopharmaceutical up and comer. The company has seen steady growth, and an array of new developments over the recent years. With a focus on oncology, endocrinology, and women's health solutions, AEterna has created a variety of new products, including Macrilen, the first and only FDA-approved oral test for the diagnosis of Adult Growth Hormone Deficiency.
Recently, AEterna received European approval to market Macrillen which has pushed its value even higher. Dr. Christian Strasburger, the Head of Clinical Endocrinology at Charité Unversitaetsmedizin Berlin and the principal investigator for macimorelin explained, "Clinical studies have demonstrated that macimorelin is safer and much simpler to administer than the current methods of testing for insulin-induced hypoglycemia, and is well-tolerated by patients and reliable in diagnosing the condition."
Aptose Biosciences Inc. (TSX:APS) is a biotech company specializing in personalized therapies to address Canada's unmet oncology needs. The company uses genetic and epigenetic profiles to gain insights into certain cancers and patient populations in order to develop new treatments within the space.
Aptose has an exclusive partnership with Ohm Oncology to develop, manufacture and commercialize APL-581 in order to treat hematologic malignancies and related molecules.

The Hexo Corporation (TSX:HEXO), as previously mentioned, made major waves with its partnership with Molson Coors to develop cannabis beverages. In Hexo's fourth-quarter press release, the company shared some optimistic news regarding Truss' progress, with Sebastien St-Louis, Hexo CEO and co-founder, explaining, "We are commanding significant market share in Quebec and this year we made major strides by launching Truss cannabis infused beverages in Canada in addition to our initial foray into the U.S. with Molson Coors, a world-class partner."

By. Lori Stevenson
** IMPORTANT NOTICE AND DISCLAIMER -- PLEASE READ CAREFULLY! **

PAID ADVERTISEMENT. This article is a paid advertisement. GlobalInvestmentDaily.com and its owners, managers, employees, and assigns (collectively "the Publisher") is often paid by one or more of the profiled companies or a third party to disseminate these types of communications. In this case, the Publisher has been compensated by Treatment.com International Inc. ("Treatment.com" or "Company") to conduct investor awareness advertising and marketing. Treatment.com paid the Publisher four hundred and fifty thousand US dollars to produce and disseminate four articles profiling the Company. This compensation should be viewed as a major conflict with our ability to be unbiased.

Readers should beware that third parties, profiled companies, and/or their affiliates may liquidate shares of the profiled companies at any time, including at or near the time you receive this communication, which has the potential to hurt share prices. Frequently companies profiled in our articles experience a large increase in volume and share price during the course of investor awareness marketing, which often ends as soon as the investor awareness marketing ceases. The investor awareness marketing may be as brief as one day, after which a large decrease in volume and share price may likely occur.

This communication is not, and should not be construed to be, an offer to sell or a solicitation of an offer to buy any security. Neither this communication nor the Publisher purport to provide a complete analysis of any company or its financial position. The Publisher is not, and does not purport to be, a broker-dealer or registered investment adviser. This communication is not, and should not be construed to be, personalized investment advice directed to or appropriate for any particular investor. Any investment should be made only after consulting a professional investment advisor and only after reviewing the financial statements and other pertinent corporate information about the company. Further, readers are advised to read and carefully consider the Risk Factors identified and discussed in the advertised company's SEC, SEDAR and/or other government filings. Investing in securities, particularly microcap securities, is speculative and carries a high degree of risk. Past performance does not guarantee future results. This communication is based on information generally available to the public and on interviews with company management, and does not (to the Publisher's knowledge, as confirmed by Treatment.com) contain any material, non-public information. The information on which it is based is believed to be reliable. Nevertheless, the Publisher cannot guarantee the accuracy or completeness of the information.

SHARE OWNERSHIP. The Publisher owns shares and / or options of the featured company and therefore has an additional incentive to see the featured company's stock perform well. The Publisher does not undertake any obligation to notify the market when it decides to buy or sell shares of the issuer in the market. The Publisher will be buying and selling shares of the featured company for its own profit. This is why we stress that you conduct extensive due diligence as well as seek the advice of your financial advisor or a registered broker-dealer before investing in any securities.

FORWARD LOOKING STATEMENTS. This publication contains forward-looking information which is subject to a variety of risks and uncertainties and other factors that could cause actual events or results to differ from those projected in the forward-looking statements. Forward looking statements in this publication include, but are not limited to, the size and anticipated growth of the market for the companies' products, the prospects for success of the Company's to be launched health and wellness app – "CARA", the reported scheduled release of CARA, the ability to acquire customers for CARA, and the projected growth and profit margins of the Company's core product offerings. Factors that could cause results to differ include, but are not limited to, the companies' ability to fund its capital requirements in the near term and long term, the management team's ability to effectively execute its strategy, the degree of success of the launch of CARA, competition, market saturation, pricing pressures, etc. The forward-looking information contained herein is given as of the date hereof and we assume no responsibility to update or revise such information to reflect new events or circumstances, except as required by law.
INDEMNIFICATION/RELEASE OF LIABILITY. By reading this communication, you acknowledge that you have read and understand this disclaimer, and further that to the greatest extent permitted under law, you release the Publisher, its affiliates, assigns and successors from any and all liability, damages, and injury from this communication. You further warrant that you are solely responsible for any financial outcome that may come from your investment decisions.

TERMS OF USE. By reading this communication you agree that you have reviewed and fully agree to the Terms of Use found here http://GlobalInvestmentDaily.com/Terms-of-Use. If you do not agree to the Terms of Use http://GlobalInvestmentDaily.com/Terms-of-Use, please contact GlobalInvestmentDaily.com to discontinue receiving future communications.
INTELLECTUAL PROPERTY. GlobalInvestmentDaily.com is the Publisher's trademark. All other trademarks used in this communication are the property of their respective trademark holders. The Publisher is not affiliated, connected, or associated with, and is not sponsored, approved, or originated by, the trademark holders unless otherwise stated. No claim is made by the Publisher to any rights in any third-party trademarks.
© 2005-2019 http://www.MarketOracle.co.uk - The Market Oracle is a FREE Daily Financial Markets Analysis & Forecasting online publication.

Only logged in users are allowed to post comments.
Register/ Log in