Capitalizing on Global Growth from Emerging Markets
Companies
/
Emerging Markets
May 02, 2007 - 12:51 PM GMT

The latest revelation on CNBC is that overseas growth can offset a slowing U.S. economy enabling the big U.S. multi-national companies to continue generating outstanding earnings. Talking head after talking head have parroted this theme for the last week and a half. Well, it is nice to be ahead of a trend for a change. Over the past three years, this has been the predominant theme of stocks in my portfolios. However, I haven't limited myself to U.S. companies.


If you have read any of my previous articles, you will know that some of my favorites companies are BHP Billiton (BHP), Companhia Vale do Rio Doce (RIO) and Southern Copper (PCU). These companies provide key commodities essential to the industrialization of countries that are growing at incredible rates like China and India. Chip Goodyear, CEO of BHP Billiton, has made it quite clear that a slow down in the U.S. would be offset by growth in the emerging markets with the statements such as the following:
"The incremental copper required as that person upgrades from a Chevrolet to Mercedes is not significant. However, when a consumer moves from a bicycle to a motor cycle to a car, as the Chinese are now doing, the incremental demand is quite substantial."
It's great that CNBC is finally getting religion, but why limit it to U.S. based companies.
The second part of their eye-opening news is that U.S. based companies also receive a currency benefit from the declining dollar. Although the dollar has been in free-fall since 2001, it is very seldom discussed. Now, there is finally a politically correct benefit for a declining dollar. Portfolios favorites such as heavy equipment manufactures Caterpillar (CAT) and Terex Corp. (TEX) completely capture CNBC's latest money making idea. View the remaining stocks in my industrialization leveraging portfolio here .
The social and economic benefits of industrialization are desired by many undeveloped countries. Interestingly, the developed countries benefit nearly as much from their industrialization as new markets and labor pools become available. Try to envision the size of China's middle class in 10 years. Now visualize the potential consumption boom. Are you seeing dollar signs yet? Maybe these statistics from the McKinsey Quarterly will help:
By 2025 China's urban households will make up one of the largest consumer markets in the world, spending about 20 trillion renminbi annually - almost as much as all Japanese households spend today
By 2011 the lower middle class will number some 290mn people, representing the largest segment in urban China. By 2025 this segment will comprise a staggering 520mn people
CNBC's discovery was far from earth shattering, but it did prompt me to shift my thinking to the second order effect of industrialization – consumption.
Two companies that recently reported earnings, the ipod phenom Apple (AAPL) and KFC, Pizza Hut and Taco Bell operator Yum! Brands (YUM) are ideal candidates to capitalize on the consumption theme. Yum highlighted its powerful growth in China and International divisions in its earning's press release.
Worldwide operating profit increased 12%.
Strong double-digit operating-profit growth from our international divisions: China, +31%, and Yum Restaurants International (YRI), +25%.
Mainland China restaurant unit growth of 19%.
Finally, how can one truly be a consumer without a credit card or two or three? Hello, MasterCard.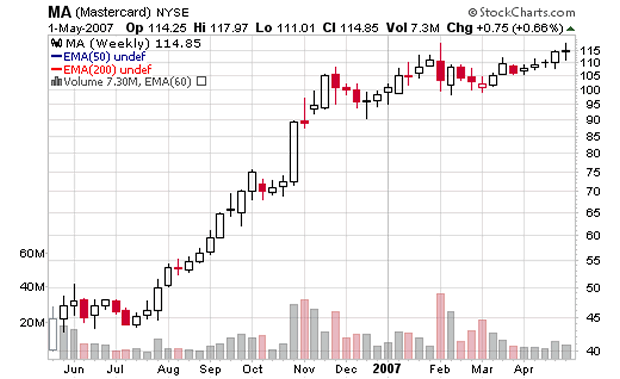 I am in the process of extending my industrialization portfolio to include companies positioned to capitalize on the upcoming consumption boom in the emerging countries. My current thinking is that Apple's slick gadgets will make it a fine center piece.
I would love to hear your thoughts on other companies that fit this profile.
By Michael K Dawson
http://www.thetimeandmoneygroup.com/
Copyright © 2007 Michael K Dawson
Michael K Dawson founded the Time and Money Group with the aim of educating and sharing 20 years of experience on how to reach financial freedom. "Financial Freedom is freedom to focus on what is truly important to you and your family without having to trade time for a wage. It is enabled by a portfolio of income producing assets, managed by you, which generates sufficient income to cover your yearly expenses on an ongoing basis. It provides both time and money". The intent of his website is to become a repository of information to put you on the fast track to becoming financially free. For further infromation visit http://www.thetimeandmoneygroup.com/
© 2005-2019 http://www.MarketOracle.co.uk - The Market Oracle is a FREE Daily Financial Markets Analysis & Forecasting online publication.

Only logged in users are allowed to post comments.
Register/ Log in