Stock Market Indices Witness Strong Selling
Stock-Markets
/
Stock Index Trading
Mar 23, 2009 - 12:46 AM GMT


And this is because the Sp and Dow failed at their 50's and the bulls couldn't stop the same old which has been to fall from those 50 day tests. The Nas and Ndx cleared it but now the Nas is slightly below. Nothing terrible but a few points below and it's not great to see similar behavior as we have seen for this entire bear market. Get to the 50's with some indexes clearing the 50's and then things just fall apart. The bulls need to take a stronger stand than this. The rally so far has been on excellent internals and this has kept the rally going but it's time for the bulls to step up here or we're headed right back down.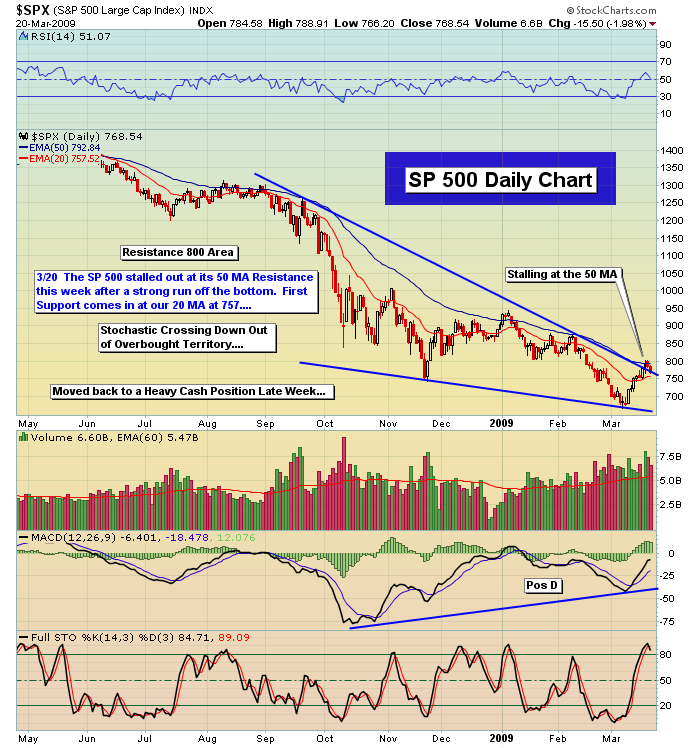 They need to create a change of character which again, would be to stop the intense selling when we get to those 50 day exponential moving averages. It's very easy to get bearish when these events take place at the 50's and to some degree it's understandable but you have to look no further than the daily and weekly charts to know there is more of a chance things won't fall apart this time as they have every time we've seen this take place since the bear market began in October of 2007. So are we headed back to the old lows all over again Emotionally it feels that way but I am not at all convinced. A very critical time is upon us as we head in to Monday as the bulls need to make their stand right here and right now and not let that 50 day moving average headache get any further away from them as it has due to today's action. Stop the bleeding here and now or watch this all go away.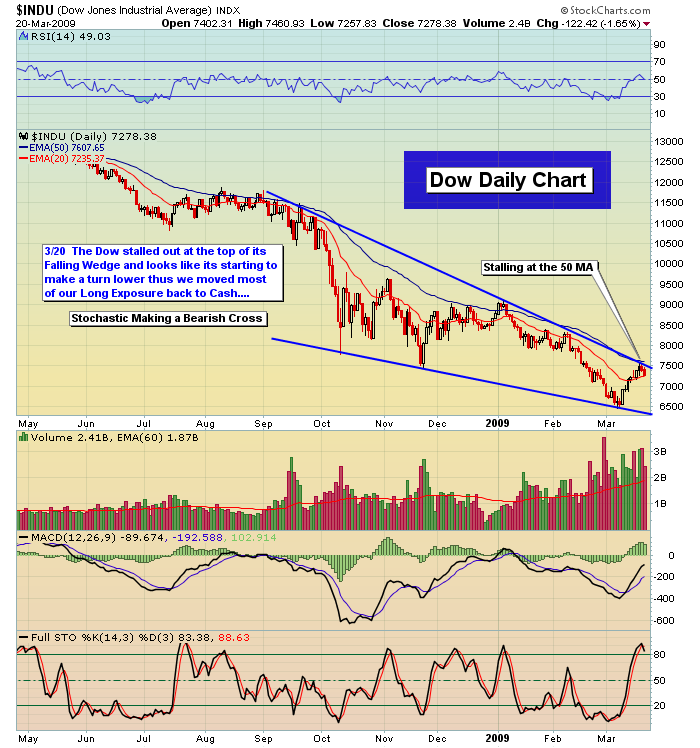 The market started out to the up side today but that didn't last very long as the selling kicked back in following yesterday's move down. The overbought 60's were certainly in need of deeper selling thus it shouldn't have come as a big surprise but what was disturbing was how the selling accelerated slowly but surely throughout the day. We closed very close to the lows and this too is disturbing as the short term charts, which include the 15, 30 and 60 minute charts, are all deeply oversold now yet they couldn't get the market to bounce but for a few minutes. These deeply oversold short term charts should provide some type of bounce early on next week but that bounce needs to hold. Another strong day of selling will put the entire bottoming scenario in doubt.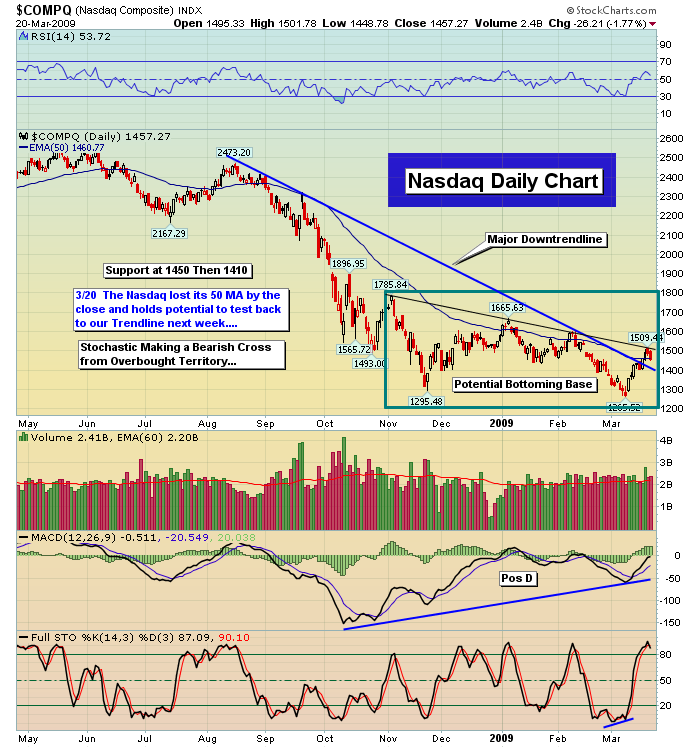 The good news is that what needs to lead is still leading. The Nas/Ndx are showing the best relative strength and leaders such as Apple (AAPL), Amazon (AMZN) and Google (GOOG) are holding up extremely well throughout this selling episode. If they start to crack early on next week then the bulls can start bowing their heads in defeat and this rally will just about be officially terminated. Strong patterns exist on all of the leaders, including Goldman Sachs (GS) in the financial sector so it's really now or never for if the market can't bid, these stocks will start to erode and again, it's lights out for the bulls. Let's watch those stocks very closely on Monday and Tuesday for more insight.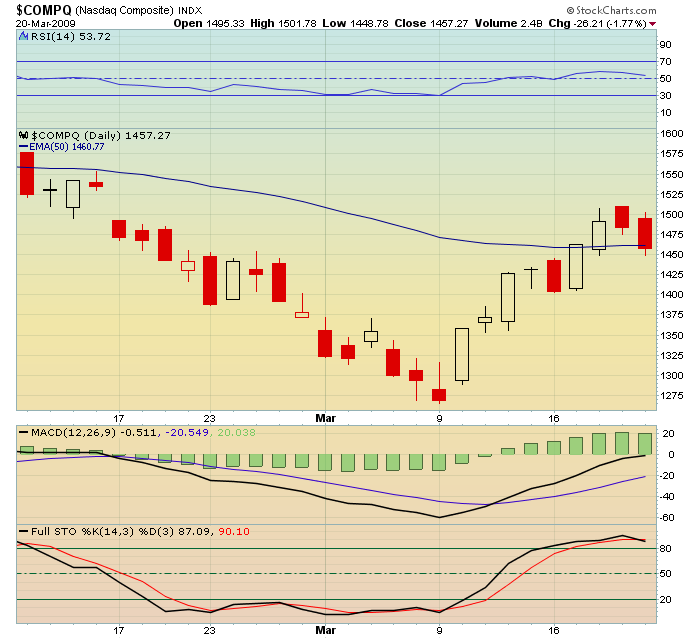 1440 is now support on the Nas as is 757 or the 20 day ema then 741 down to that gap at 734/729 on the Sp. The selling needs to really stop before it tests 741 but if got there, that would need to be held or things would be falling apart rapidly. The Sp took out multiple resistance levels with very powerful internals and with some genuine accumulation thus it's hard to imagine things just falling apart here. 800/805 Sp, 7500 Dow and 1495 Nas are the breakouts. If these get taken out the market will rise very quickly. The shorts will know they have to cover and things could get frothy but for now, the concern is more for these major indexes holding their support levels.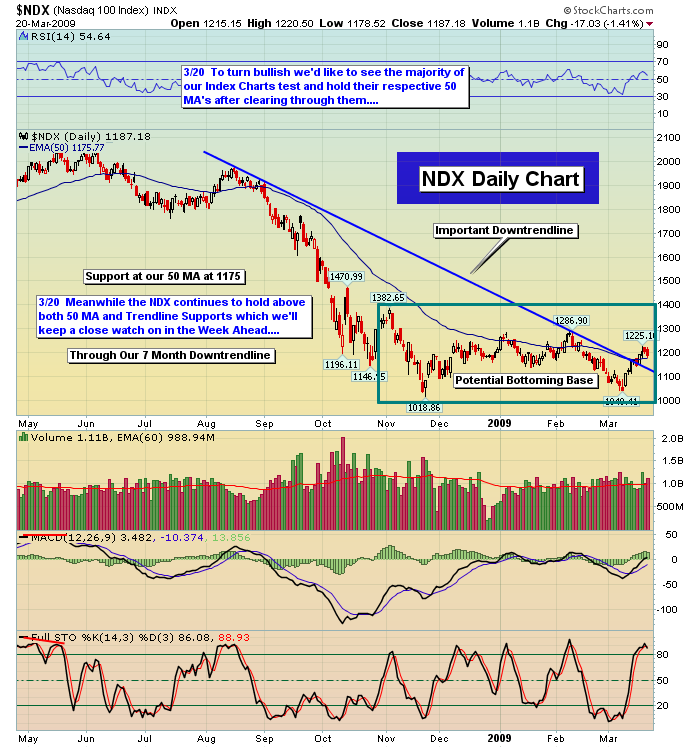 The Vix had a head fake breakdown but it occurred when it was extremely oversold the same way the markets were extremely overbought on all the short term time frames. That no longer exists. I'll talk about that in a moment. The Vix has held where it needs to unfortunately for the bulls although it's far from healthy overall. The Macd is lagging some but for now the bulls know that the bears held critical support on the first test down which is normally the case. If additional selling takes place in the market the Vix will rise further making the breakdown less and less likely. Again, the bulls need to get going here. The Sp. Dow and Nas are now oversold although not at extremes on all the short term time frame charts meaning the 15's, 30's and 60's. Here are the numbers. On the 60's, the three major indexes are averaging stochastic's at 7 with Rsi's at 44. The 30's and 15's have slightly higher stochastic's but Rsi's in the 30's. Getting down there and some type of bounce will be needed sooner than later. Watching the nature of that bounce will be critical to understanding where this market is in terms of this particular bear market rally. Over or still more to go. We'll know soon enough.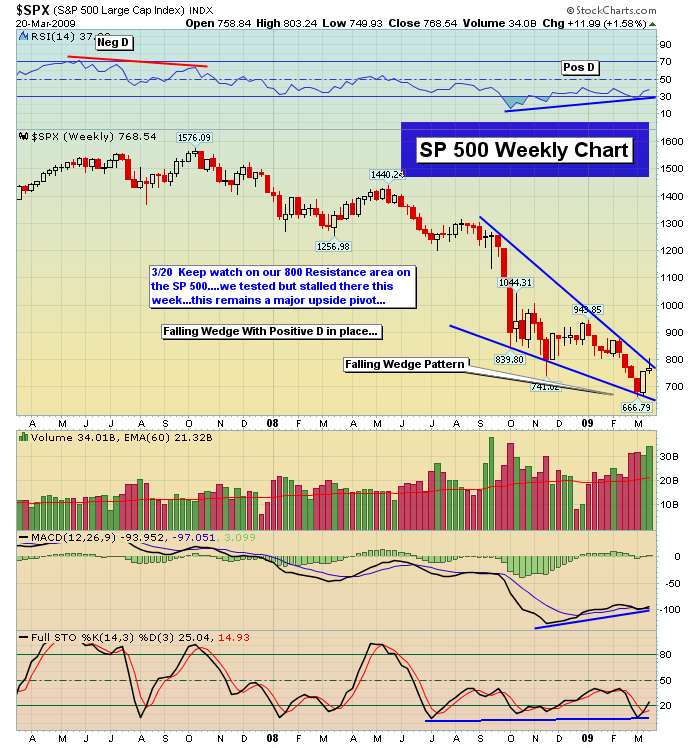 We've been fortunate these past many weeks and months. Jacobs Enginerring (JEC) got caught up in some very bad news from Fluro (FLR) which lost a $2 billion contract and thus the whole sector got crushed from the typical guilt by association nonsense. No excuses. it is what it is. Can't get them all. It has been a great run overall and we'll be sure to get very defensive if the market flashes a sign that says the current bear market rally has ended. The early part of this week will be very telling for sure. Slow and easy as always.
Peace,
Jack
By Jack Steiman
Jack Steiman is author of SwingTradeOnline.com ( www.swingtradeonline.com ). Former columnist for TheStreet.com, Jack is renowned for calling major shifts in the market, including the market bottom in mid-2002 and the market top in October 2007.
Sign up for a Free 30-Day Trial to SwingTradeOnline.com!
© 2009 SwingTradeOnline.com
Mr. Steiman's commentaries and index analysis represent his own opinions and should not be relied upon for purposes of effecting securities transactions or other investing strategies, nor should they be construed as an offer or solicitation of an offer to sell or buy any security. You should not interpret Mr. Steiman's opinions as constituting investment advice. Trades mentioned on the site are hypothetical, not actual, positions.
© 2005-2019 http://www.MarketOracle.co.uk - The Market Oracle is a FREE Daily Financial Markets Analysis & Forecasting online publication.

Only logged in users are allowed to post comments.
Register/ Log in